India's indigenously built Light Combat Aircraft (LCA) Tejas Mk1 is set in for another rigorous testing process at a time when the India Air Force (IAF) is aggressively pitching its aircraft to friendly countries.
The Tejas Light Combat Aircraft (LCA) Mark I is geared to undergo main airframe fatigue testing. The aircraft will be evaluated at the newly created Main Airframe Fatigue Test (MAFT) facility at its Ground Test Centre, at the Aircraft Research and Design Centre (ARDC), in Bengaluru, according to Hindustan Aeronautics Limited (HAL).
For military airworthiness, the MAFT must show that the airframe can survive four times its normal service life.
"These tests will be carried out on the LCA (Air Force) Mk1 airframe over eight to nine years," HAL said in a statement on 27 April. "The successful completion of MAFT will qualify the [IAF's] LCA Mk1 airframe for its full-service life."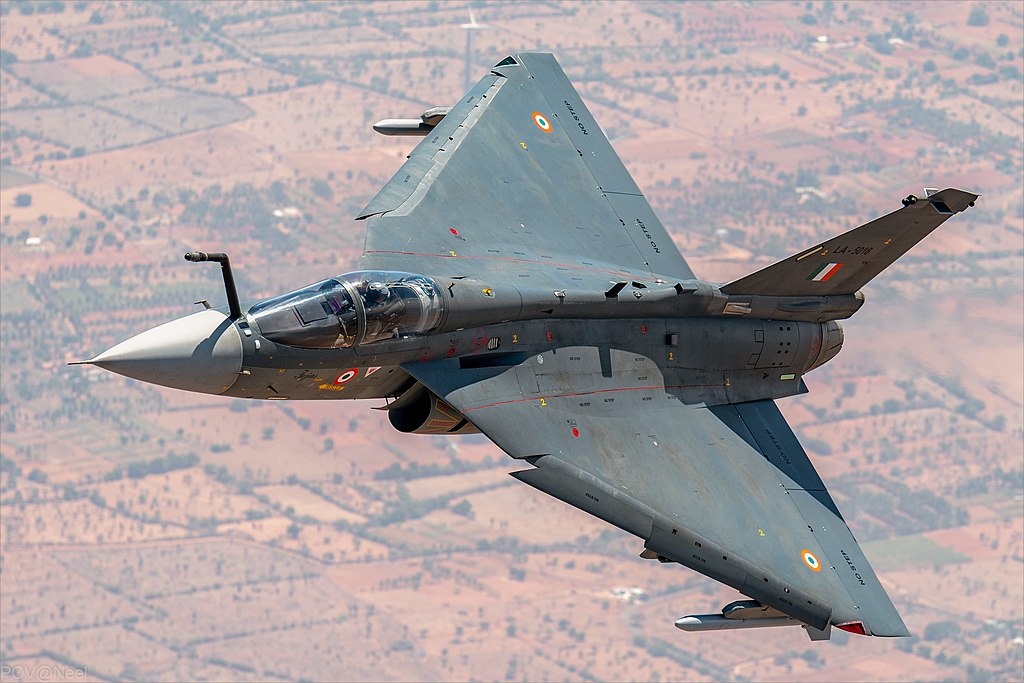 Experts pointed out that fatigue is very common happening in airframes. Due to the frequent flights, the metal of the aircraft becomes weak which needs checks and repairs.
This fatigue could begin with microscopic cracks. Eventually, the cracks grow bigger and become visible. A plane begins to age after its first flight, and the impact of erosion and fatigue occur almost simultaneously.
The signs of fatigue are more prominent in an older aircraft and become more precarious as the aircraft is often exposed to atmospheric pressure. Besides fatigue, atmospheric pressure, G-loads, turbulence and other elements impact the aircraft.
The LCA Mk1 is already in service and the more capable LCA-Mk1A, of which the IAF had ordered 83 in February last year, would probably have the same airframe.
Though Tejas Mark I underwent preliminary airframe fatigue testing at the National Aerospace Laboratories (NAL), the aircraft has now evolved from a light to a medium-weight aircraft due to the inclusion of a more powerful engine, upgraded avionics, and composite airframe components.
Carbon-fiber composites grew from 30% of airframe weight in the technology demonstrator 1 and 2 (TD1 and 2) prototypes to 45% in the first operational clearance (IOC) Tejas, according to Janes. Aluminum alloys were reduced from 57 percent to 43 percent.
While R Madhavan, CMD, HAL, and Dr. Girish Dheodhare, PGD (CA) & DG-Aeronautical Development Agency, expressed their satisfaction with the timely MAFT testing despite the delays caused by the pandemic, Air Vice Marshal KVR Raju, Director Indian Air Force-Project Management Team, has asked the team to maintain the pace of the tests to meet the IAF's ongoing flying requirements.
LCA Tejas – Marching Ahead
The LCA Tejas is a fly-by-wire (FBW) fighter with the ability to refuel in the air. It has a glass cockpit and a satellite-assisted inertial navigation system, making it a fourth-generation fighter.
It can transport air-to-ground bombs and attack systems that can be used to strike targets on land or at sea. It's a supersonic combat jet with a 50,000-foot service ceiling. Its wingspan is 8.20 meters, its length is 13.20 meters, and its height is 4.40 meters.
HAL had earlier agreed to pay $716 million to GE Aviation for 99 F404 aircraft engines and related services to power the indigenous Tejas LCA Mk-1A. Furthermore, it is now developing its indigenous engine, which will be used to power both Tejas and AMCA aircraft.
As previously reported by the EurAsian Times, the creation of an indigenous AESA radar, which will be put in the Tejas, is a significant step forward and aimed at achieving a power balance with China, which also has AESA radars.
The Tejas received the initial operational clearance in December 2013, and the IAF acquired the first aircraft with final operational clearance in 2019. On January 13, 2021, the Cabinet Committee on Security approved a Rs 48,000-crore procurement for 83 Tejas LCAs, including 73 Mark 1A versions, giving a push to the government's 'Make in India' initiative.
The state-owned HAL developed and tested the first LCA-MK1 Final Operational Clearance (FOC) variant aircraft in May 2020. The FOC variant is considered an operational improvement to the Initial Operational Clearance variant which is already in service.
The Indian Air Force had handed 16 IOC variant aircraft to the Sulur Air Force Station's No 45 Squadron, popularly known as the Flying Daggers. It has also operationalized the No 18 squadron called Flying Bullets, which also has FOC variants at the same airbase.
As previously reported, once the IAF receives all 24 FOC types (16 FOC single-seater and 8 FOC twin-seater), the 45 Flying Daggers will be upgraded to the same variant, according to officials. In all, the IAF is to induct 40 Tejas Mk1 and about 83 Tejas Mk1A. Further, a more advanced variant Tejas Mk2 is also in the development stage.
HAL Tejas Mk 1 Two Seaters in Royal Malaysian Air Forces ingsina and flag. If Choosen by RMAF generals for sure. pic.twitter.com/rj4qShNe3H

— James Regaz (@JamesRegaz) January 19, 2022
India first displayed the LCA Tejas to potential overseas consumers at the Bahrain Air Show in 2016. HAL has been vigorously marketing this jet throughout Southeast Asia, West Asia, and North Africa since then. It has emerged as the final two contenders for Malaysia's LCA contract against Turkey's Hurjet.
In addition to Malaysia, Argentina, Egypt, and the United Arab Emirates had expressed interest in the Indian LCA. The Royal Malaysian Air Force (RMAF) could be Tejas' first overseas customer if HAL wins the contract.