The Ocean Cleanup, a Non-Profit organization, is now deploying its semi-autonomous craft, Interceptors, to suck up plastic debris from Vietnam's Mekong Delta to rid the ocean of plastic pollution. 
The electric vessel joins a fleet of similar ships made by the Ocean Cleanup that is impacting Malaysia to Indonesia, reported Asia Nikkei. British rock band Coldplay, the beverage behemoth Coca-Cola, and the South Korean carmaker Kia fund these vessels.
The semi-autonomous ships of the Ocean Cleanup employ solar power to gobble up waste in waterways such as Malaysia's Klang River and Indonesia's Cengkareng Drain. 
Boyan Slat, the company's founder and CEO, initially unveiled the Ocean Cleanup Interceptors in 2019. The trash interceptors are tethered to river beds and use river currents to grab trash floating on the surface. 
The waste then goes onto a conveyor belt, which transports it to six big onboard dumpsters. An integrated computer ensures that items are dispersed evenly throughout six bins, with sensors indicating when they are full. 
The Ocean Cleanup aims to collect enough plastic garbage from the oceans and rivers to fill 500,000 football fields. It has achieved half of that goal, primarily through using interceptors in rivers.
Are Big Corporations Greenwashing Their Image? 
The project's dazzling technology and glossy sponsorship have created quite a stir. However, the question is whether these boats are efficient weapons in the fight to clean up the oceans. 
The Ocean Cleanup's science and operations director, Lonneke Holierhoek, defined them as "the last resort," a stopgap solution until the waste reduces through better infrastructure, recycling, and less consumption.
"We can't be the cleaners of the rivers and oceans until eternity," she said. 
However, Break Free From Plastic, a global movement envisioning a future without plastic, which tallies brand tags on collected garbage, stated in a 2021 report that Coca-Cola "retained its dirty crown as the world's top polluter for the fourth year in a row." 
The group also chastised companies such as PepsiCo, Unilever, and Nestle, warning large corporations exploiting green programs to create a deceptive image of environmental responsibility.
In May 2021, the group identified Vietnam as one of the top four countries contaminating the world's oceans with plastic, owing primarily to wealthier countries transporting their waste to Asia.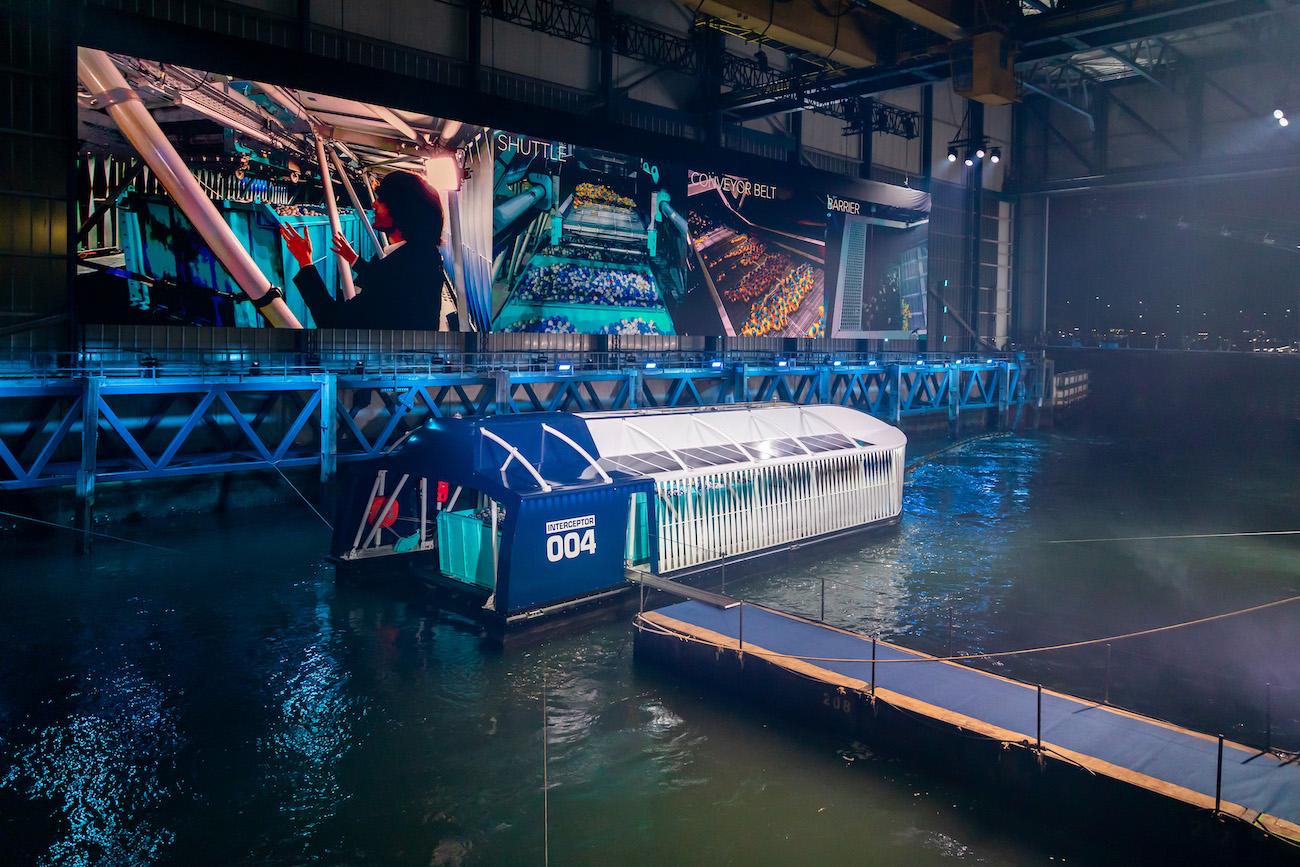 The Interceptors frequently vacuum up Coca-Cola bottles. The corporation is supporting a fleet of boats to clean up 15 rivers and claims to be on track to achieve 100% recyclable packaging by 2025. 
The company told the Asia Nikkei that it is "rethinking how we get products to consumers," intending to have one in four of its drinks in refillable or returnable containers by 2030. 
Vietnam has one of the 15 rivers that Coca-Cola hopes to clean. The boat will depart from its experimental phase in September, with locals recommending adjustments such as enclosing its dumpsters with netting to make trash removal easier.
Activists have long attempted to draw attention to the problem of plastic waste entering rivers and oceans. The ocean's plastic is expected to double in the next 15 years, and by 2050 there could be more plastic than fish in the sea (by weight), say researchers.

"We ask external stakeholders to challenge us when we get off track toward these goals," it said. "We recognize our responsibility to help solve the global plastic packaging waste issue, which is a critical business focus for us."
According to Ocean Cleanup, its partners cannot just pay cash to greenwash their image. "We do need to make sure that's not part of the game," Holierhoek said.
"We need people to make a true contribution, to make a true commitment to change themselves," she continued, adding that its corporate partners must put "boots on the ground" or otherwise work directly with the organization.
What Do Experts Have to Say About the Project? 
Every year, around eight million metric tonnes of plastic enter the world's oceans, endangering marine life. In 2019, Assistant professor Rebecca Helm from the University of North Carolina pointed out that Ocean Cleanup's plan to remove plastic straight from the ocean could strangle marine organisms. 
.@MiriamGoldste, who spent years sorting floating marine life from plastic confirms. Here is my article predicting this problem almost a year ago. https://t.co/wO7G5hHAnj

— Open Ocean Exploration (@RebeccaRHelm) October 3, 2019
Scientists have also suggested that preventing plastic from entering the ocean in the first place would be more efficient. Meanwhile, the non-profit organization appears to be open to new ideas.  
"The scientific community has been saying for years that moving upstream is the way to solve this problem correctly," says Adam Lindquist, director of the Waterfront Partnership of Baltimore's Healthy Harbor campaign. "And certainly imitation is the greatest form of flattery." 
After that, Ocean Cleanup started installing Interceptors in rivers to divert plastic, which will prevent it from getting into oceans. According to the company, Interceptor is structured like a catamaran, with water flowing through the center. 
The water movement drives plastic onto a netted conveyer belt, through which water filters and returns to the river, and plastic flows from the conveyer belt into the shuttle. 
The debris is then thrown into six onboard dumpsters, each of which has a capacity of 50 cubic meters of garbage and may eventually gather between 50,000 kilograms and 100,000 kilograms of trash daily.