The trial of transporting Russian goods from Astrakhan to a southern Iranian port to its destination at Mumbai's Jawaharlal Nehru Port Authority (JNPA) under the International North-South Transport (INSTC) Corridor marks the baby steps toward India joining an emerging Russia-Iran-India axis.
It comes amidst cracks in the India-US relationship over the former's burgeoning oil trade with Russia and refusal to join the Western camp in criticizing the country, all the while finding itself on the same page with China over what is perceived as unilateral US pressure in taking sides in its geopolitical rivalry.
The trial was set in motion after Iran's FM Hossein Amirabdollahian visited India on June 8, and a call between Russian President Vladimir Putin and Iranian President Ebrahim Raisi took place the same day.
Part of the International North-South Transport Corridor (INSTC) to connect Russian, Persian and Asian markets, it can be seen in the broader context of shifting alliances and pragmatic normalizations – forced mainly by the economic vagaries of a Covid economy and anti-Russia sanctions.
The consignments are two 40-feet containers of wood laminates weighing a total of 41 tons that were loaded at St Petersburg and are heading toward Astrakhan, where they will bIte loaded again at Solyanka Port.
Then sailing over the Caspian Sea, they will reach Iran's Anzali Port, further to their onward journey to its Bandar Abbas in the south, and onto their last leg to JNPA (or Nhava Sheva), according to Dariush Jamali, director of a joint-owned Iranian-Russian terminal in Astrakhan.
Iran then seemed to push its own parallel regional connectivity project in the form of the Khaf-Herat railway.
Cutting the journey to 25 days from 40 since it avoids the longer Suez Canal route and reducing freight costs by 25% is significant amidst today's high inflation times.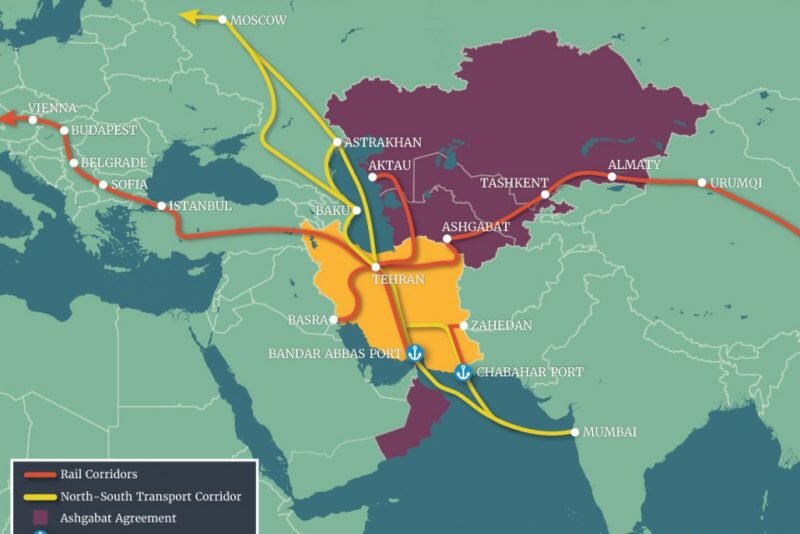 The pragmatism to put differing positions aside over a more substantial cause could be seen in Amirabdollahian raising the anti-minority sentiment in India in a non-hawkish language.
"Tehran & New Delhi agree on the need to respect divine religions & Islamic sanctities," he tweeted, adding, "Iran and India determined to bring relations to new heights."
Pleased to meet PM Modi, FM Jaishankar & other Indian officials to advance our bilateral strategic dialogue.

Tehran & New Delhi agree on the need to respect divine religions & Islamic sanctities & to avoid divisive statements.

???? determined to bring relations to new heights.

— H.Amirabdollahian امیرعبداللهیان (@Amirabdolahian) June 8, 2022
The same day, a telephone call between Putin and Raisi saw the two committing to implement "joint projects in economy and trade," according to the Kremlin readout.
India had previously pursued regional connectivity counter-productively. While at the height of its strategic alliance with the US in 2020, it could not continue with the financial modalities with the Chabahar project owing to US sanctions on Iran over the nuclear deal under the Donald Trump administration. This led it to be dropped by Iran from the project in June 2020.
Thus, its own declared goal of accessing Central Asia (through Chabahar) could not be achieved owing to Western power. Seventy-three years ago, the departing British divided the subcontinent that de-linked Central, South, and West Asia to check the Soviet Union's influence in the region.
India shared a land border with Iran and Afghanistan, and an elaborate plan to access Central Asia would have been moot. Overland integration through the natural continuity of the massive Eurasian landmass undermines sea lines of trade, which historians say has been a primary tool for Western colonial domination.
Today, India is keeping ties with Pakistan on an even keel where rhetoric over its support for the militancy in Kashmir and non-state terror actors is nearly absent from the political leadership.
It is also engaging the Taliban, a sign of India coming to the regional Central Asian, Russian, Iranian, and West Asian views about accepting the Taliban's existence as a political reality. It calls for overlooking the group's ultra-conservative and orthodox doctrine for its genuine interest in Afghanistan's stability.
US allies meanwhile see an increasingly protectionist Washington, regardless of Republican or Democratic persuasion, which will not come to their rescue in the event of a conflict and avoid any further military interventions.
The fluidity of global alliances triggered by the Russia-Ukraine conflict can be seen in Israel and Iran's shifting positions where they moved between the Russian and US camps.
For instance, Israel went from the most preferred go-between, relaying Putin's thinking to Europe, the US, and Ukraine in the initial days of the war, to Moscow's harshest critic in return for the US stalling on the Iran Nuclear Talks.
In March, the US was desperate to close the deal to secure additional Iranian oil supplies and cool international crude prices.
Iran then saw an opportunity and briefly flirted with the US by deviating from its "resistance economy" and "pivot to the east" doctrine – of enduring devastating US sanctions by enhancing cooperation with Eurasian majors – to engaging the West in the nuclear talks and get some economic relief. It returned to a hard-line position after the US turned up the heat on Iran and stalled the deal following Israeli pressure.
Iran and India also saw President Joe Biden's and his Defence Secretary Lloyd Austin's comments ("this man cannot remain in power," "the goal is to weaken Russia") as aimed more at confronting Moscow than defending Ukraine in what is emerging as a US-backed proxy war.
Russian successes in Mariupol, where over 2,000 neo-Nazi fighters surrendered from the Azovstal steel plant, and the current loss of "100 Ukrainian soldiers every day" in Donbas, according to President Vladimir Zelensky himself, portends Russia likely emerging triumphant. 
It is a different matter that while India still hasn't embraced the Russian-Iranian-Chinese axis fully, seen from its joining the Israel-India-USA-UAE format (I2U2) grouping, where Israel and UAE share a mutual suspicion of Iran.
India's heightening ties with the Emiratis, where the latter led the outrage over suspended BJP spokesperson Nupur Sharma's controversial comments; the Emiratis' thick relations with Israel since the Abraham Accords in 2020; and Washington's desperate mollifying of an Abu Dhabi to raise oil production after it was miffed over the former's failure to condemn Iran-backed Houthi attacks puts the larger pressures and pulls in perspective.