East Timor's upgraded diplomatic ties with Communist China have caused regional security concerns. But days later, East Timor President Jose Ramos-Hor assured neighbors Indonesia and Australia that his nation hasn't forged military ties with Beijing and they can "sleep in peace."
Earlier this month, East Timor or Timor Leste and the People's Republic of China (PRC) established a Comprehensive Strategic Framework, potentially increasing Beijing's influence in the region, gratifying the former's desire for closer links with developed nations.
The Chinese Foreign Ministry announced on September 23 that Chinese President Xi Jinping met with Prime Minister Xanana Gusmao of East Timor in the eastern Chinese city of Hangzhou, ahead of the Asian Games opening ceremony, when they decided to upgrade the bilateral ties.
"It was never discussed in terms of military cooperation, never discussed, and the Chinese side also never raised this issue," President Ramos-Horta said in the latest statement. He noted that his country will seek ASEAN membership by 2025.
"We would never bring in a foreign element into Timor Leste that the rest of ASEAN would view as endangering ASEAN policy of neutrality or peace and security," he said.
"Indonesia and Australia…we can include Singapore and Malaysia…they are the countries closest to us…can always sleep at peace. Timor Leste will not be a nuisance, a concern in terms of security."
The reassurance by East Timor's President came in the wake of concerns expressed by Australian politicians that its agreement with Beijing covered military exchanges. East Timor is located just about 700 kilometers to the northwest of Australia.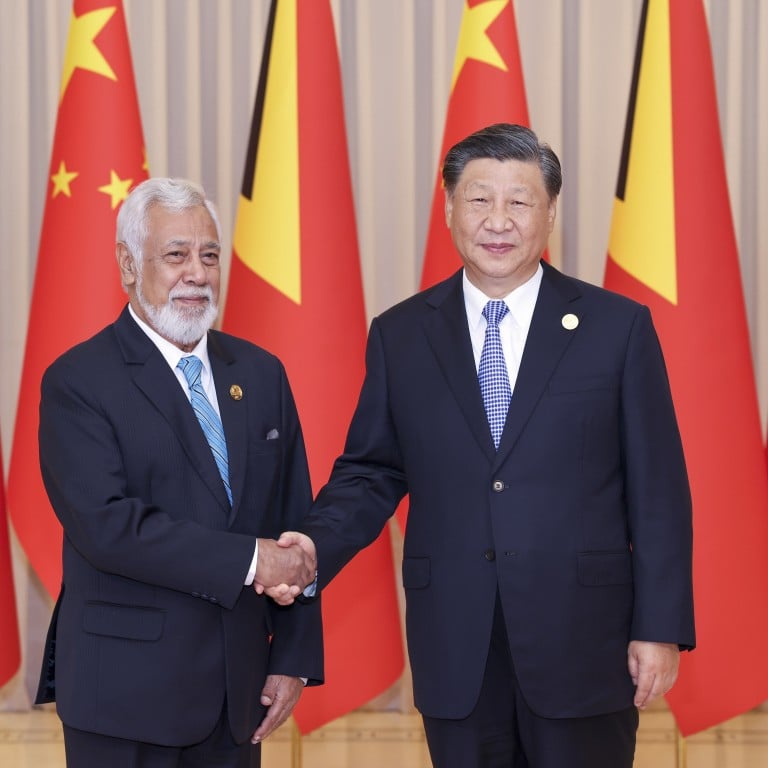 East Timor is a country in Southeast Asia that comprises the eastern half of Timor Island. Indonesia administers the western half of Timor.
Australia was crucial in ensuring peace and stability in East Timor in the first ten years of its independence in 2002. Australia is the most significant bilateral contributor of development assistance to East Timor.
Although Indonesia and Australia influence East Timor due to its history and geographical proximity to the two neighbors, upgrading ties with China has been on the agenda for a while. Jose Ramos-Horta became East Timor's fifth president and committed to bettering relations with China in infrastructure, energy, and agriculture.
Last year, he pledged to maintain diplomatic ties with the US while reiterating that East Timor will not join any contest between Beijing and Washington. Ramos-Horta announced that East Timor would have robust relations with all nations, including Australia.
However, China and East Timor strengthened their relationship by agreeing to collaborate through the Belt and Road Initiative, led by Xi, and may pave the way for infrastructure investment. China's BRI has had its rivals concerned for a long time. BRI is Beijing's way to expand its political-military influence in rival-dominated regions.
Australia Is Wary Of China In Timor Leste & This Is Why!
China's critics in the West frequently warn against Beijing's attempts to establish military outposts by taking over infrastructure from nations that default on loan repayment,  notorious as Xi Jinping's "debt trap diplomacy." In Sri Lanka, China took over Hambantota port over loan repayment default.
The Comprehensive Strategic Framework between China and East Timor provides scope for funding from the former, including government and commercial loans. However, "right now, we don't have a single loan from China," the President said. "In the future, we might request a loan from China. We will not accept any unmanageable, unsustainable loan with too high interest payment."
Canberra is concerned about China's growing aggressiveness in its efforts to forge security connections with nearby developing nations. Australia has reorganized its defenses recently to focus on safeguarding northern approaches. The concerns, however, are not without reasons.
Last year, China signed a security agreement with the Solomon Islands, located 2,000 kilometers to Australia's northeast, triggering concerns that it will eventually lead to China establishing a naval base there. Although the Pacific Island has given assurances against it, the security threat persists.
China is known to have reached a deal with Vanuatu in May last year to upgrade an international airport in Luganville, a key US military base during the 2nd World War. Reports said Beijing was also in talks with another Pacific state, Kiribati Islands.
An Australian security assessment last year concluded that the current balance of power in the South Pacific would be altered entirely if China established a foothold on the Solomon Islands or Vanuatu. Beijing has courted both countries in recent times.
China's fast-growing foothold within the Pacific island nations has been a growing concern for Australia and the US because of their geostrategic value.
The concerns related to East Timor's military cooperation agreement with China extend the broader worries about China's growing influence in the region and the security risks associated with Chinese military outposts springing up near Australia.
Timor and Australia have a strong security partnership, with Canberra supplying military and police advisers and patrol boats.
However, analysts say Australia would have to bring more investment to the table to prevent Timor Leste from being lapped up by China's big money. In 2022, Ramos Horta warned Australia, saying he would welcome Chinese investment in Greater Sunrise if Canberra did not step in to persuade the project's corporate partners.
The Greater Sunrise fields in East Timor will begin producing natural gas around 2030, which will be crucial for the island nation's economy. To hasten negotiations between East Timor and Woodside, Australia sent an envoy. Gusmao's administration wants the gas supplied to East Timor rather than Australia.
Analysts believe Canberra would have to come through as the primary provider for Timor Leste to steer the course in its favor since the latter's close partnership with Beijing may come as a security shock.
Contact the author at sakshi.tiwari9555 (at) gmail.com