On May 21, in its program "CBS 60 Minutes," CBS News aired an episode that revealed how the US arms manufacturers are indulging in "price gouging" and hitting the Pentagon with inflated prices for planes, submarines, and missiles.
The episode implies that these manufacturers now have a monopoly in supplying weapons and that they have benefitted the most from the ongoing war in Ukraine.
The program made many feel that the US arms manufacturers would like the United States to keep fighting or providing military assistance (as they are doing in Ukraine) in as many troubled spots of the world as possible.
Before explaining how and why this gouging occurs, let us see what it exactly is at the moment. Experts say that Lockheed Martin, Raytheon, Boeing, and Northrop Grumman — all from the US — are among the top contractors producing some of the most in-demand and expensive weapons sent to Ukraine. And they have profited the most.
For instance, in the weeks after Russia's invasion of Ukraine, the market capitalization of Raytheon Technologies shot up to $155 billion from $128 billion at the start of the year.
Lockheed Martin started 2022 at worth $98 billion; by the end of the year, it had reached $127 billion — its highest since records show.
Northrop Grumman started the year at $61 billion and ended at $84 billion.
The war in Ukraine has accordingly sent the stocks of the American weapon-makers surging, with the share price of Northrop Grumman increasing 40 percent by the end of 2022, while Lockheed Martin's was up by 37 percent.
"It's a huge profit center for the big companies: Lockheed Martin and Raytheon and Boeing," says William Hartung, a senior research fellow at the Quincy Institute for Responsible Statecraft, where he focuses on the global arms trade and Pentagon spending.
"At the moment, I think they're riding the wave."
According to Hartung, because of the Pentagon's need to procure arms for the country itself and meet the demands of countries like Ukraine, it provides the arms manufacturers with huge amounts of money.
"Expanded production, quicker approval of foreign sales, multiyear procurement, which locks in contracts in a less competitive way, reducing reporting to do with price and the availability of goods, which could lead to price gouging," he points out.
For instance, the Pentagon announced $US1.2 billion in contracts to American arms manufacturers in October last year. This resulted in the production of Lockheed Martin's popular Javelin anti-tank missiles — dubbed "Saint Javelin," supposedly the protector of Ukraine — increasing from 2,100 to nearly 4,000 per year.
Likewise, the High Mobility Artillery Rocket Systems (HIMARS) production shot up from 60 to 96 units a year.
One month later, in November, the Pentagon further hikes its orders, awarding Raytheon — which also co-produces Javelins — a $US1.2 billion contract for another six National Advanced Surface-to-Air Missile Systems (NASAMS) for Ukraine.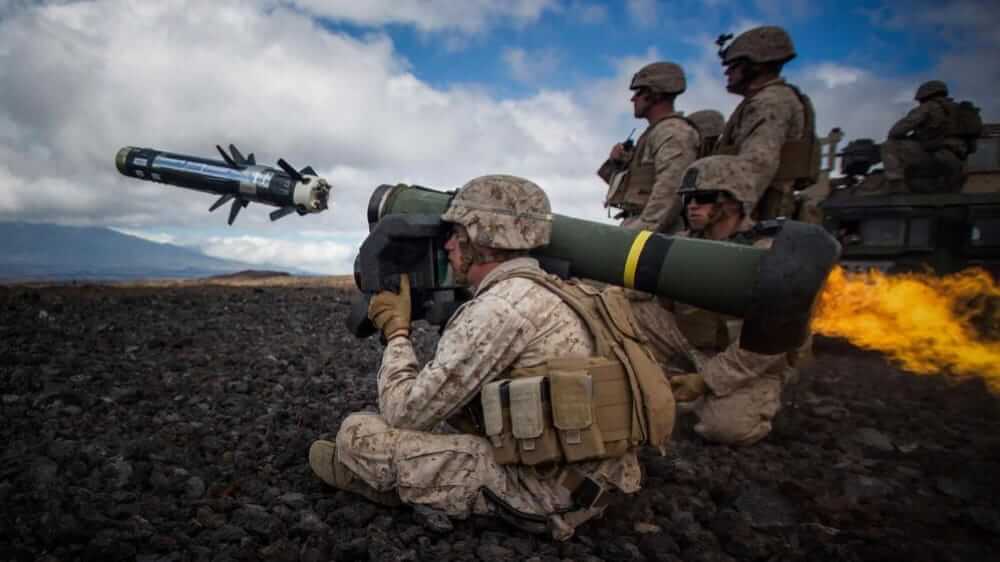 Soon after, Lockheed Martin won a $US7.8 billion contract modification for F-35 aircraft and $US431 million to deliver new HIMARS and support services for the US Army and its foreign allies.
In March this year, the Pentagon announced its largest budget: $842 billion. Almost half of it will go to the country's defense contractors.
It is against this background that the point that "CBS 60 Minutes" has made is very pertinent. More important than the Pentagon or the US government asking the weapons-makers to deliver products quickly is the skyrocketing price at which the former has agreed to receive them from the latter.
And here, "CBS 60 Minutes" has based its argument on the revelations by two former officials who spent years in the arms-procurement.
One is Shay Assad. In the 1990s, he was executive vice president and chief contract negotiator for defense giant Raytheon. Later he joined the government and became the Defense Department's most senior and awarded contract negotiator under Presidents George W. Bush, Barack Obama, and Donald Trump.
The other is Retired Air Force Lieutenant General Chris Bogdan, who spent his career overseeing the purchase of some of the most critical weapons systems for the United States.
If Assad is to be believed, in 2015, he ordered a review. Army negotiators discovered Lockheed Martin and Boeing were grossly overcharging the Pentagon and US allies by hundreds of millions of dollars for the Patriot's PAC-3 missiles.
According to him, these companies should have been pleased under normal circumstances to make a good 15 percent profit from their deal, but in reality, they were making profits approaching 40%.
He says that a shoulder-fired stinger missile cost $25,000 in 1991. With Raytheon now the sole supplier, it costs more than $400,000 to replace each missile sent to Ukraine … "Even accounting for inflation and some improvements, that's a seven-fold increase."
Assad points out how even spare parts manufacturers for fighter aircraft like TransDigm are making money. His review team found that the government "will pay" TransDigm "US$119 million" for parts that "should cost US$28 million." No wonder why TransDigm's stock has soared.
General Bogdan says that in 2012, he was tapped to take the reins of the troubled F-35 Joint Strike Fighter program – it was seven years behind schedule and $90 billion over the original estimate. But now, let alone costs, support, and maintenance of the program "could end up costing taxpayers $1.3 trillion".
It may be noted that things were not like this before. Unlike today, the companies did not enjoy such a monopoly in supplying weapons in the past. Things turned so in the early 1990s, 1993 to be precise, when the Pentagon, looking to cut costs, urged defense companies to merge.
At that time, there were 51 major contractors. Now they have been consolidated into 5 (five) giants. They are Lockheed Martin, Boeing, Raytheon, General Dynamics, and Northrop Grumman. The last major merger in this context was made in 2020 – of Raytheon and United Technologies.
No wonder these five are said to have shared over $118 billion in Pentagon contracts in Fiscal Year 2022, amounting to nearly one-third of all contracts issued by the Pentagon last year. These five companies make most of America's bombs, missiles, combat aircraft, helicopters, tanks, and other major weapons systems and sell them to the US government.
With such a narrow base, the Pentagon has very limited leverage when negotiating reasonable prices or holding contractors accountable for poor work.
Secondly, the big five defense contractors are all interlinked. Each supplies the others with various programs, and all have their suppliers, meaning a problem for one is a problem for all. Reportedly, Lockheed Martin had at least 110 subcontractors for the Himars and 60 for the GMLRS in fiscal years 2019, 2021, and 2022.
Thirdly, as Assad pointed out in "60 Minutes," the problem was compounded when the Pentagon, in another cost-saving move, cut 130,000 employees whose jobs were to negotiate and oversee defense contracts. "The watchdogs, the negotiators, the engineers, the program managers. Over 50% was removed", he said.
In a way, this granted companies unprecedented leeway to monitor themselves in dictating their price, he added.
In other words, the Pentagon has a tremendously lax oversight practice today. There are not enough personnel in the Ministry of Defense (MoD) of the United States to gather adequate background information for price negotiations or, for that matter, to hold contractors accountable for cost overruns and poor performance.
As William D. Hartung argues, "In some cases, as when the Pentagon pays Lockheed Martin to go back and fix defects in planes that have already been deployed, companies may actually profit from their own mistakes."
As Hartung adds, "weapons or research new ones, the major contractors have been putting the bulk of their windfall into tens of billions in buybacks of their shares to boost their prices, along with hundreds of millions in compensation for top executives. This does nothing to enhance our defense and everything to enrich military corporations."
Fourthly, Hartung makes another significant point. He says that efforts to alleviate some of these problems, advocated by reformers like Sen. Elizabeth Warren (D-Mass.), have faced an uphill battle in a Congress that is too often in thrall to the money and lobbying power of the arms industry.
It is well-known that American Defense majors have always exerted influence over government policy, especially if there are legislators who can benefit from the partnerships. After all, they have a vested interest in keeping the military industry thriving if it helps the local economy and provides employment to the locals. It is said that about 800,000 jobs in the United States are directly tied to the military industry.
But then, a "Financial Times" study throws light on the other side. That is the military industry's challenges and grievances. Industry executives say they need the government's reassurance that they will not be stung by ramping up production for Ukraine and other Western nations. They do not want the government's orders to collapse when the conflict ends in Ukraine.
The study reveals how in the aftermath of the fight against ISIS, for example, demand from the Pentagon declined significantly. The DoD invested all this money to ramp up Hellfire production to 10,000 a year, and then the US said, 'We don't want those anymore.'
"[The manufacturers] couldn't responsibly just go out and build a factory and hire 3,000 people without any hope of a budgetary [signal]," the study said, quoting Martin of Rand Corporation. "And is the government doing it? No, absolutely not."
The point that the industry makes is that it would be willing to invest more in expanding capacity and purchasing materials with long lead times when it has a clear understanding of what the demand signal will be for some of its systems. That will make the costs rational.
Be that as it may, the "60 Minutes" episode seems to have sparked a thorough debate about the functioning of the US arms industry and how the government is dealing with it. But one thing seems clear: the industry has the upper hand now.
Author and veteran journalist Prakash Nanda has been commenting on politics, foreign policy, on strategic affairs for nearly three decades. A former National Fellow of the Indian Council for Historical Research and recipient of the Seoul Peace Prize Scholarship, he is also a Distinguished Fellow at the Institute of Peace and Conflict Studies. VIEWS PERSONAL OF THE AUTHOR
CONTACT: prakash.nanda (at) hotmail.com