The US Navy (USN) is considering roping in private Japanese shipbuilders to undertake repairs, maintenance, and overhaul of its warships based there to take the load off overburdened shipyards back home. 
The plan could also encompass shipbuilding industries in the Philippines, South Korea, and Singapore. If realized, it could mark a new phase of defense industrial collaboration with its allies and resultant economic effects.
The development comes amid rising military and political tensions with China and a burgeoning People's Liberation Army Navy (PLAN) fleet in the western Pacific.
A report in Nikkei Asia said the new plan envisages repairing even frontline forward-deployed warships like destroyers, frigates, and amphibious vessels in Japan. India and the Philippines already repair logistics and auxiliary vessels like fleet replenishment tankers.
"Nuclear-powered ships, such as aircraft carriers and submarines, are not part of the consideration," the report said. 
The proposal was tabled by US Ambassador to Japan Rahm Emanuel at a March seminar hosted by the Milken Institute. Emanuel had noted how Japan's "tremendous" industrial and shipyard capacity "could be a big part of the solution." Japan once upon a time was the world's largest shipbuilder, holding 50 percent of the global market share in the 1970s, until losing out to South Korea and China. 
More Japanese Shipyards, Undertaking Bigger Repairs Of Bigger Warships
US ships based in Japan are currently serviced on-site at two US naval bases: Yokosuka in Kanagawa prefecture and Sasebo in Nagasaki prefecture. In the case of big repairs and overhauls, the Japan-based ships travel back to a homeport in the US and are replaced by a replacement vessel that sails to Japan. 
Servicing warships at off-base Japanese private shipyards would help spread the workload. Japanese shipyards that handle Japanese Maritime Self-Defense Force (JMSDF) vessels are located at Yokohama, Kanagawa prefecture; Maizuru, Kyoto prefecture; and Kure, Hiroshima prefecture.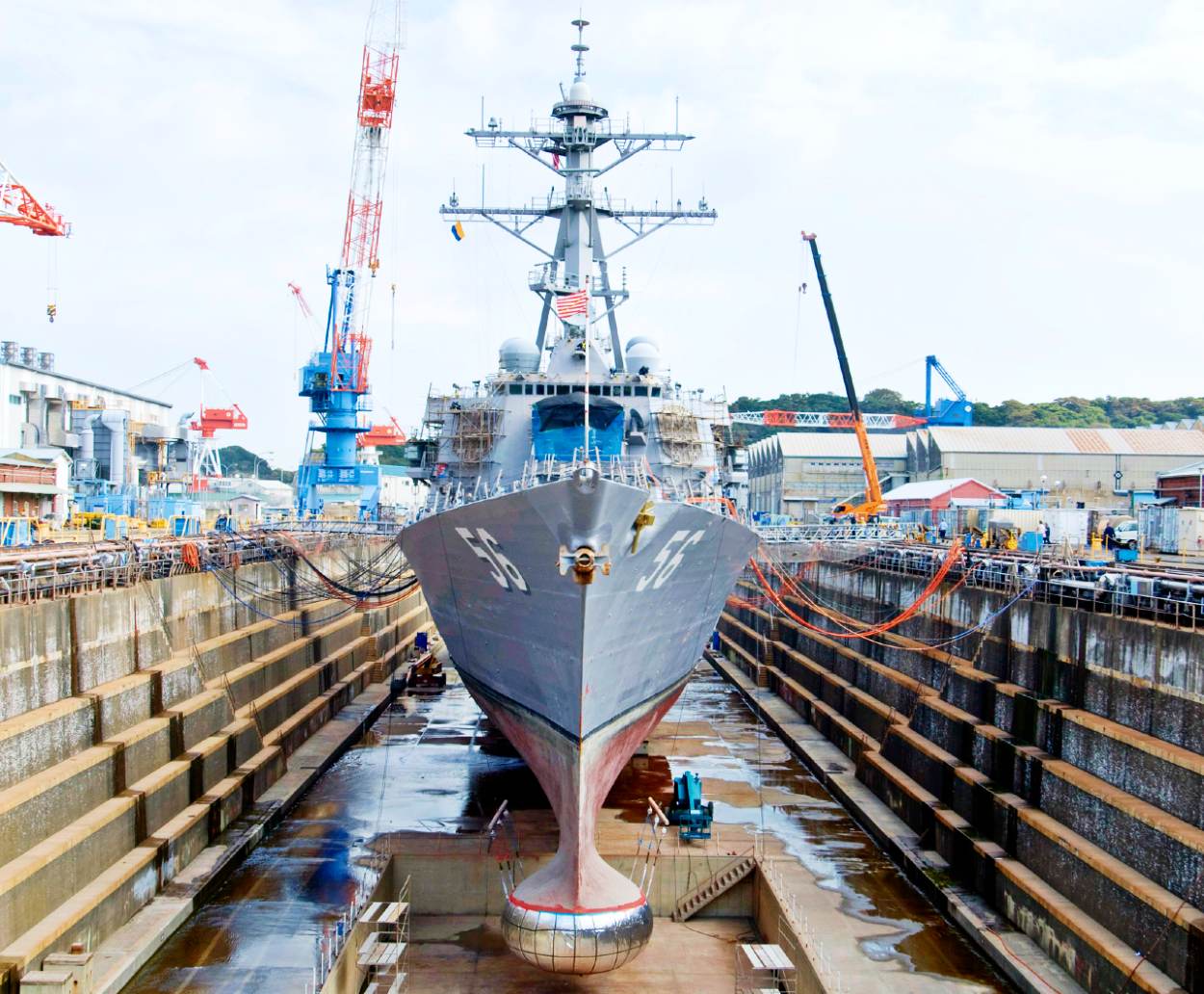 USN warships, meanwhile, are usually serviced and maintained at two shipyards: the General Dynamics National Steel and Shipbuilding Company and BAE Systems Ship Repair. With a fiscal budget of $13.9 billion, the US Navy is struggling with a massive ship repair backlog. 
According to Secretary of the Navy Carlos Del Toro, the PLAN has added 100 warships to its fleet over the past two decades with a 340-vessel armada, expected to reach 440 ships by 2030. Del Toro submitted to Senate Armed Services recently, the report in Nikkei Asia added. 
But the USN, on the contrary, would have only 352 ships by 2052, even after the most aggressive push under the 2023 shipbuilding plan. 
Shipbuilding Backlogged Too – The AUKUS Case
Rear Admiral Scott Pappano, the Program Executive Officer for Strategic Submarines, touched upon the massive bottlenecks and overburdened capacity at US-based shipyards in September 2022. 
Speaking in the context of building nuclear-powered submarines for Australia under the Australia-United Kingdom-United States (AUKUS) Pact at a seminar organized by the Mitchell Institute of Aerospace Studies (MIAS), Pappano mentioned the US Navy already having to reduce the "build-time" of the USS Columbia nuclear submarine at overburdened shipyards like the General Dynamics Electric Boat (GDEB) in Connecticut.
Pappano said at the interaction, "If we were going to add additional (Australian) submarine construction to our base, that would be detrimental. I think that exists for both the US and the UK."
The Columbia-class SSBN is a massive priority for the US Navy, aimed to replace the aging Ohio-class vessels scheduled for their first delivery by 2027. At 580 feet in length and displacing 20,810 feet, they will be the largest submarines built in the US, expected to stay in service until the 2080s.
Pappano's concern was reducing the build time from 84 months to 78 months to reduce potential gaps as the existing 14 Ohio-class submarines are phased out from service. The USN wants a total of 12 Columbia-class boats.
But the shipbuilder has been struggling with building the submarines faster, according to Pappano. "We have worked on (planning for) a 78-month delivery schedule; we are behind that now [and] still at 84 months," Pappano said.
Simulation Calculates One Year To Repair A Ship
Industrial issues are a larger part of the decline in US manufacturing over the last several decades, depending on massive imports of many of its goods from countries like China, where factories had moved to cut costs.
In his 2020 report, Naval Campaigning: The 2020 Marine Corps Capstone Operating Concept, Marine Corps Commandant General David H. Berger raised serious issues about the United States' ability to replace combat losses in the event of a war in the western Pacific. 
Berger noted that repair ability is an element of deterrence. Adversaries will be more ambitious in their military campaigns if they see the US defense and manufacturing industry unable to engage in a protracted fight and rapidly fix and send weapons platforms back into the fight. 
Writing in the US Naval Institute (USNI) publication, Proceedings, Lieutenant Keegan Hoey mentioned a simulation study, 'An Examination of the US Pacific Ship Repair Industry's Workforce and Facilities Capabilities in the Event of Missile Centric Warfare in the Western Pacific Ocean.' 
While limited to only destroyers, the simulation concluded a 14-month duration to fix destroyers with heavy damage. 
The report recommended that US shipyards, based on its Pacific coast, add at least seven drydocks (50 percent increase) that can repair a destroyer and at least 5,000 more workers before any conflict starts.
"Fourteen months is too long to get damaged ships back in the fight. The United States must find a way to repair ships faster, and the process must begin now," Hoey wrote.