Article republished with additions
While warships from India, Japan, Australia, and the US are engaged in high-end warfare training in Australia as part of the Malabar Exercise 2023, hundreds of Chinese satellites are reportedly collecting valuable intelligence on the ongoing military drills. 
The origins of Exercise Malabar trace back to 1992 when it started as annual bilateral naval drills between India and the US. However, it has since evolved to encompass all four Indo-Pacific partner nations constituting the Quadrilateral Security Dialogue (QUAD) and includes Japan and Australia, besides India and the US.
Subjected to consistent criticism from China, the drills are frequently viewed as a collective reaction by Quad nations to safeguard stability and security in the Indo-Pacific, given mounting concerns over China's growing influence. 
Amid the ongoing 31st iteration of the Malabar multinational exercise, a report by Australian Broadcasting Corporation has claimed that China has taken a proactive step to monitor and gather data on the Malabar drills.
The report claimed that many of China's low-orbit satellites (LEOs) are strategically positioned over Australia, systematically acquiring information about military training operations.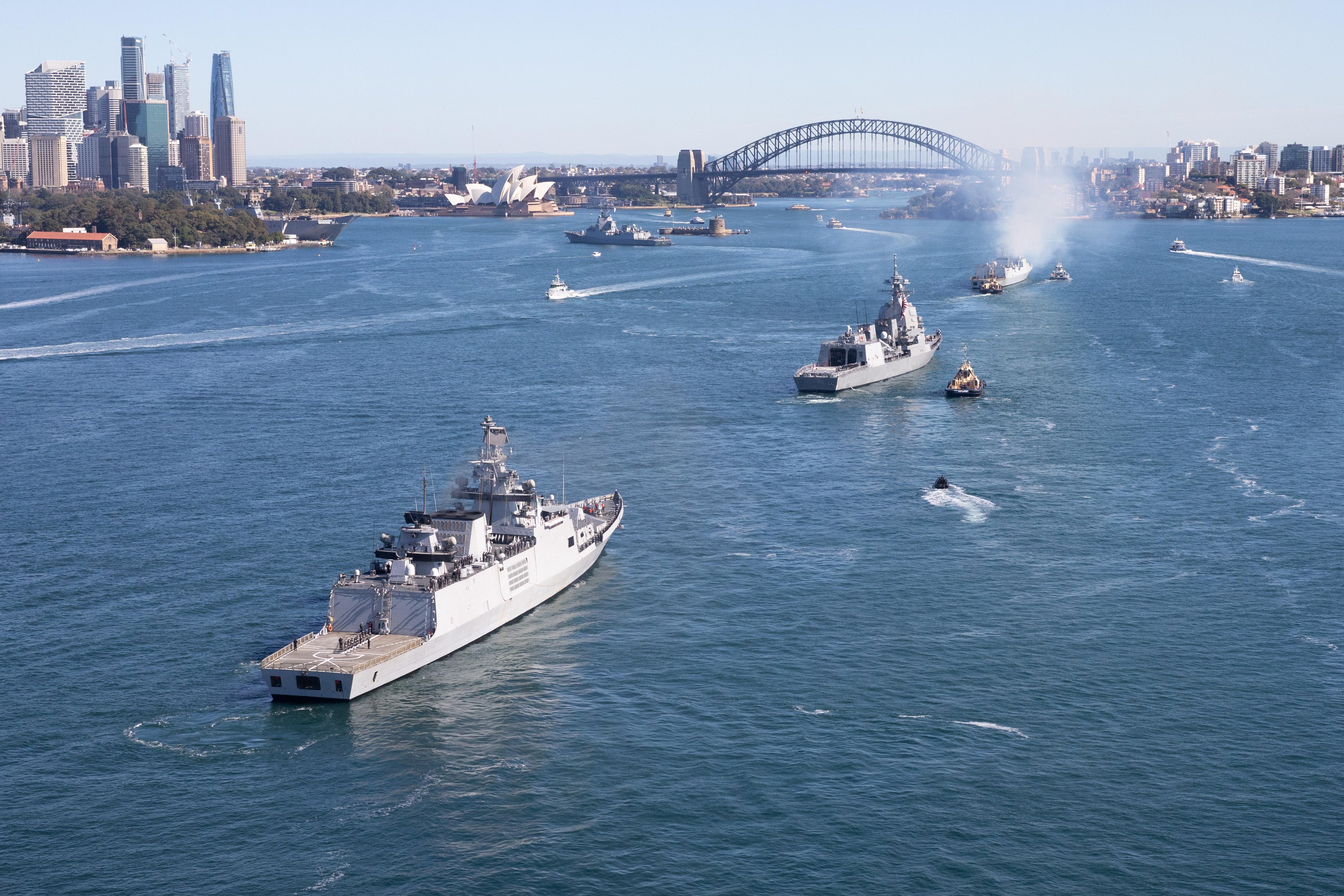 The ABC, citing commercial space data, reveals the extent of Beijing's surveillance activities during the recent completion of "Exercise Talisman Sabre" and the ongoing "Exercise Malabar."
In July, the report added that EOS Space Systems, a defense company based in Canberra, monitored the movements of three Chinese geostationary orbit satellites. These Chinese satellites strategically positioned themselves below the equator to closely monitor the Talisman Sabre war games across northern Australia.
China's Shiyan 12-01 satellite was identified among these satellites as it gradually drifted westward over the northern Australian region.
Concurrently, the Shijian-17 and Shijian-23 satellites were tracked as they maneuvered eastward, enabling them to effectively observe and gather data from various key areas where these exercises were meticulously executed.
Through a systematic approach, the firm collected optical surveillance data from Chinese Earth observation satellites during the Talisman Sabre and Malabar exercises. 
The analysis by the Canberra-based company reveals the significant activity of Chinese satellites in surveying terrestrial operations during these events.
The EOS Space Systems also disclosed that over 300 satellites meticulously scrutinize ground-based activities during military drills. Notably, over 3,000 overflights have occurred since the start of the Malabar exercise, centered around Sydney Harbour. 
China's Capabilities In Gathering Intelligence Via Low Earth Orbit Satellites
The scenario involving potential intelligence collection via satellites evokes parallels with recent events, most notably earlier this year when a Chinese high-altitude spy balloon traversed US territory.
Subsequently, reports emerged indicating that a similar high-altitude balloon was observed in the skies above India's Andaman and Nicobar Islands in January 2022.
This development raises the possibility that Beijing could be monitoring the tri-service military drill being conducted in Australia. 
The latest report highlights that the substantial presence of Chinese geostationary and low-orbit satellites over Australia offers Beijing unprecedented detailed and continuous surveillance capability. This enables them to closely monitor onshore and offshore activities with exceptional details.
Debadatta Mishra, a former senior ISRO scientist, told the EurAsian Times that China's utilization of low-orbit satellites, benefiting from their low latency advantage, enables it to monitor such military activities effortlessly. 
However, he emphasized that this capability is not a novel development. In the past, even the United States and Russia employed their satellites to monitor the military maneuvers of other nations. 
Mishra, who is currently serving as Director and COO of Erisha Space Private Limited, further added that although satellites serve a diverse spectrum of functions, encompassing weather forecasting and broadcasting, it remains undeniable that their inception was primarily driven by defense and strategic objectives. 
Drawing attention to a case in point wherein the United States undertook satellite surveillance of India at the time of New Delhi's successful atomic test, the ex-senior ISRO scientist remarked that every major space power possesses similar capabilities and frequently deploys them to advance their strategic interests. 
But, he noted that Beijing's deployment of LEO satellites to observe the military exercises conducted by the Quad nations illustrates its ambitious drive to expand dominance. This, in turn, bolsters the prevailing notion that China's trustworthiness continues to be a subject of uncertainty. 
Meanwhile, Dr. Malcolm Davis, Senior Analyst at Australian Strategic Policy Institute, said, "This is how future intelligence from space will be done – with swarms of small satellites working in coordination to provide pervasive surveillance from Low Earth Orbit through hyperspectral capabilities."
Davis elaborated that following the decision of the present Australian administration to abandon the NSMEO (National Space Mission for Earth Observation) program in favor of reallocating funds for fiscal consolidation, Canberra must move ahead toward future capabilities. 
With a focus on space-based Intelligence, Surveillance, and Reconnaissance (ISR), Australia must draw lessons from this instance, particularly as it contemplates forthcoming defense-oriented space ventures such as DEF 799 Phase 2, according to Davis. 
He further suggested that it is crucial not to repeat the error of embracing outdated paradigms by investing in a restricted number of sizable and costly satellites, which would subsequently yield a fragile and highly specialized capacity. 
The trajectory of progress lies in the widespread deployment of constellations within Low Earth Orbit (LEO), an approach that should be adopted in the future. 
The latest report also mentioned that the employment of these satellites could enable China to gather insights into the capabilities and equipment utilized, as well as the operational procedures of terrestrial military engagements. 
Subsequently, this gathered intelligence could be used to acquire considerable information concerning military activities occurring within Australia.
Nonetheless, the significance of space as a pivotal domain for modern global war-fighting operations continues to grow exponentially.
This expansion is particularly evident through China's substantial and concerted investments, aimed at positioning itself ahead of the United States in this burgeoning space race.