The Indian Air Force (IAF) is working towards building, deploying, and controlling thousands of small drones that can flock together to overwhelm anti-aircraft defenses with their sheer numbers.
The fourth largest air force in the world, drawing lessons from the Ukraine war, has already awarded a contract to a domestic firm to develop a swarm of drones.
The Russia-Ukraine war has shown how small drones, including commercial quadcopters, can inflict large damage by carrying out reconnaissance, guided artillery fire, and annihilating tanks.
The major limitations of these drones are that each requires its operator. Contrary to this, a swarm that includes hundreds or thousands of drones is controlled as a single unit.
The IAF wants the home-grown industry to come up with the capability. "As part of its commitment to handhold the domestic drone startup ecosystem, the IAF has awarded a contract worth nearly Rs 300 Crore to Veda Aeronautics. This award is under the auspices of the IAF's Mehar Baba Swarm Drone Competition," the IAF said on its social media.
The statement belies the real import of the development – the IAF will have indigenously developed drones that will carry out missions at its bidding. In a swarm, the drones fly together and are aware of their surroundings and how close they are to one another, and they use algorithms to avoid bumping into each other, like a flock of birds.
More advanced versions use AI to coordinate the actions for tasks such as spreading out to search an area or carrying out a synchronized attack. The drones are pre-programmed to carry out designated tasks like kinetic attacks, intelligence, surveillance, and reconnaissance.
The announcement has come when the IAF struggles to maintain the sanctioned strength of fighter jets in its inventory. Swarm drones are the solution for a closely contested airspace where individual drones can be taken down. The technology is going to be a real force multiplier for the IAF.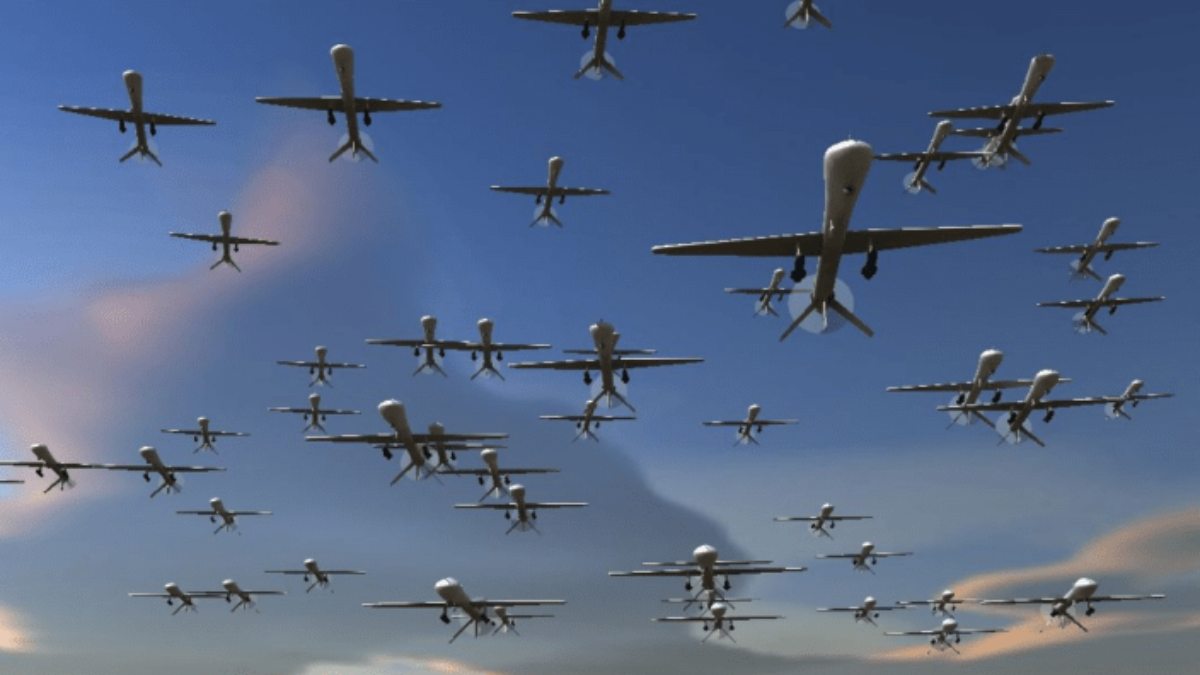 Swarms could break through the strongest existing air defenses. Dozens or hundreds of drones might be shot down, but thousands more would manage to get through with enough munitions to take out air defense radar and other defenses. Attacks by cruise missiles, crewed aircraft, and other traditional weapons would follow this.
Last year, amidst simmering border tensions with China, the Indian Army inducted Swarm Drones in Mechanised infantry. Announcing it, the Army said in a tweet with the hashtag "In Stride with the Future Pic": "Know Your Army – Swarm Drones being inducted into the Mechanized forces, duly embracing the niche & disruptive technologies, will provide an edge to Indian Army in meeting future security challenges."
Supplied by an Indian startup – Bengaluru-based New Space Research & Technologies – the swarm of 100 drones can hit targets at least 50 km away into enemy territory. It utilizes algorithms to enable them to distribute tasks automatically.
The Indian Army has procured swarm drones from two Indian startup companies. It has also initiated a Make-II case, Autonomous Surveillance and Armed Drone Swarm (A-SADS), which includes several improvements and a version for high altitude areas.
"We need swarm drones to provide tactical commanders with a force multiplier capable of providing surveillance inputs, undertaking close recce of a particular area to confirm inputs received from other ISR resources, engage varied targets like vehicles, artillery and air defense equipment, enemy command and control centers and opportunities," the Indian Army said in a statement.
In conjunction with the ground maneuver forces, the swarm drones will provide aerial maneuver capability during offensive and defensive operations.
India might be late when it comes to UAV technology, but in the last year, it has made considerable progress. The IAF recently deployed Heron Mark 2 along the country's China and Pakistan border. The satellite-linked Israel-made drones can operate for 36 hours at a stretch to carry out surveillance missions. The long endurance helps them in covering the entire country in one go.
The Heron Mark 2 can be equipped with air-to-ground missiles, air-to-ground anti-tank weapons, and bombs. The IAF is also working on Project Cheetah to upgrade 70 Heron drones with satellite communication links and weapons.
India is also working on Medium Altitude Long Endurance (MALE) under the 'Make in India' program. It will also procure 31 Predator drones from the US defense firm General Atomic.
Swarm Drones Swarming The World's Military
The militaries around the world have announced their respective swarm drone programs. The French Icarus project, the Russian Lightning, the Spanish RAPAZ, the UK's Blue Bear swarm, and the UAE/South African N-Raven, and a drone swarm on show hitting targets at India's Army Day.
Last week Armenia, which suffered heavy casualties from Azeri drones in the recent conflict, announced its own new swarming attack drone.
China has been taking the swarm drone technology to another level. It displayed the large drone swarm ever deployed as 1,180 drones danced and blinked at an aerial show. It is also looking at taking its drone swarms into near space. The high-altitude micro-UAVs have passive sensors for detecting electromagnetic activity and can map terrain.
The US has the Perdix system drone swarm, in which the micro drone swarm is launched from F/A-18 Super Hornets and autonomously carries out a slew of missions demonstrating collective decision-making, adaptive formation flying, and self-healing.
Talking about these 3D printed micro drones, William Reaper of the Department of Defense said: "Perdix are not pre-programmed synchronized individuals; they are a collective organism, sharing one distributed brain for decision-making and adapting to each other like swarms in nature. Because every Perdix communicates and collaborates with every other Perdix, the swarm has no leader and can gracefully adapt to drones entering or exiting the team."
The swarm drones fit effectively in the Defense Advanced Research Projects Agency's (DARPA) 'Mosaic Warfare' – banking on cost-effective complexity to overwhelm adversaries.
Ritu Sharma has been a journalist for over a decade, writing on defense, foreign affairs, and nuclear technology.
She can be reached at ritu.sharma (at) mail.com