OPED By Gp Cpt TP Srivastava (Retd)
Bureaucrats and politicians have done their bit by reaching an agreement with General Atomics for supplying 31 MQ-9B Reaper, the most modern weaponized drone in the world. It is now over to the military for its optimal use.
Distribution Philosophy Among The Three Services 
A total of 31 new platforms will be divided among Indian Air Force, Army, and Indian Navy (not Indian Military). As per media reports, 15 platforms will go to the Navy and eight each to Air Force and Army.
While a lot of noise has been made over the past three years, especially after the theater command concept was forced on Indian Military to improve joint working mechanisms, the distribution of such platform service-wise reflects our mindset of absolutely unwanted and undesirable loyalty to the color of uniform we wear.
The issue will be highlighted subsequently, considering the total area that should be under surveillance.
Distribution of platforms should be based on threat and must be kept under surveillance, not ownership. Why can't the IAF and Army use the inputs from the same mission?
Air Force and Army would be interested in spotting surface threats, whereas the Navy will have to focus on unseen sub-surface threats.
In the foreseeable future, the most formidable threat might emerge from seas around the Indian mainland. China's strength is its submarine fleet, which can operate near India for offensive missions.
Total Area Of Surveillance
1.     China – Land borders with China are about 3,500 km.
2.     Pakistan – Land borders with Pakistan are about 3,300 km.
Assuming that we should aim to peep at least 400 km inside China and Pakistan from the current border total area under surveillance works out to about 2.72 million sq km (3500×400 + 3300×400).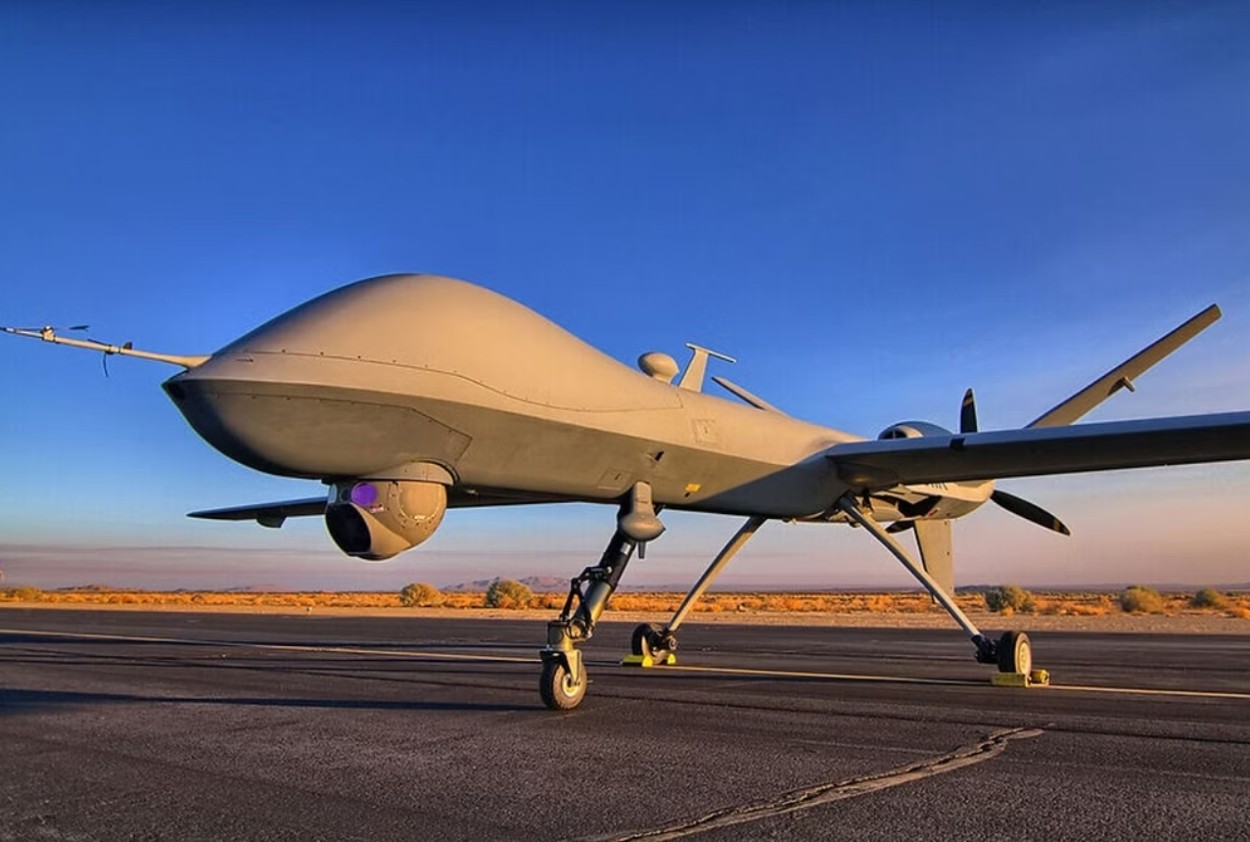 The combined area of the Arabian Sea (3.862 million sq km), Bay of Bengal (2.172 million sq km), and Indian Ocean (70.56 million sq km) is about 76.594 million sq km.
Thus land borders that need to be under surveillance are about six million sq km as against sea surveillance area of about 76 million sq km. Even if half of the sea area were to be kept under surveillance, about 38 million sq km of seas around India would have to be monitored.
The above facts imply that the land area required to be under surveillance is barely 14% of the total area to be scanned. 86% area to be scanned is over high seas — the main threat area from Chinese submarines.
If it were assumed that equal time would be devoted to surveillance of sea and land area, the distribution of 31 Reapers should also have been done in the same proportion.
According to this, the mathematically correct assumption would be — 26 Reapers should have been allocated to the Navy, and five should have been tasked with surveilling land borders.
However, considering the highly volatile situation along land borders, the number of Reapers allocated for land borders should be doubled to 10. The remaining 21 should be allotted to the Navy.
But we, in India, buy weapons for each service, not the Indian Military. The Reaper deal is genuinely a tri-service deal.
The allocation should have, therefore, been based on land area and sea area to be kept under surveillance and not service-wise. The IAF and Indian Army will be interested in surveillance of the same land border areas.
Hence allocating eight each to IAF and Army does not make professional sense. Independent operations of surveillance of land borders will almost certainly result in duplicity and possible waste of precious resources.
Indian military suffers from the incurable disease of 'ownership.' Non-belief in the precept of 'mutual interdependence' has led to a trust deficit among services—a harsh truth that cannot be denied.
Figures for land borders and sea areas have been obtained from National Geographic.
Reaper Utilization
Without a doubt, it is a modern platform with multi-dimensional capability. But launching a Reaper for an operational mission (incidentally, every mission that Reaper will be used for must be considered an operational mission), a large number of highly trained ground staff, both technical and operational crew, will be required.
It is a mistaken belief that an unmanned drone can be operated by remote control. Once a Reaper launches, the entire crew remains tied to the mission until recovery.
Interpretation of massive voluminous data will be an exercise in itself. Comparing scans of the same area where surveillance was done in different time slots will require meticulous and dedicated effort. The maintenance of ground support equipment and the flying machine will require highly skilled and trained manpower.
Utilization of this expensive and potent platform should be based on threat appreciation and land and sea area to be kept under surveillance and not by a particular service in case of land borders.
Operational Use
The model of US Military use of Reaper, particularly in Afghanistan, has been in a highly sterile environment with virtually no threat from the ground or air. In our case, the situation is/will be entirely different.
Across land borders, both with China and Pakistan, Reaper will be under threat from fighters and SAMs (surface-to-air missiles).
Hence operations at or beyond international borders will be fraught with the risk of losing the machine. Likewise, Naval drones also will be under threat from land-based fighters, SAMs, and/or ship-based missiles even at 50,000 feet.
The data on Reaper's radar/heat signature is not yet known. However, considering its size, it would be safe to assume that Reaper will paint ground-based radars.
AAMs (Air-to-Air missiles) with IR heads should be able to lock on the Reaper. Purposely, weaponized Reaper utilization has not been discussed because it will, always and every time, have highly sensitive and real-time intelligence and security inputs.
Gp Cpt TP Srivastava (Retd) is an ex-NDA who flew MiG-21 and 29. He is a qualified flying instructor. He commanded the MiG-21 squadron. He is a directing staff at DSSC Wellington and chief instructor at the College of Air Warfare. VIEWS PERSONAL OF THE AUTHOR
Follow the author on Twitter at @capt_tp