OPED By Lt Gen KJ Singh (Veteran)
There was tremendous hype on the recent state visit of Indian PM Narendra Modi to the US. It is being hailed as a significant defining step in the growing strategic relationship between the two leading democracies.
Besides his unprecedented personal popularity, PM Modi carried legitimate expectations of rising and aspirational India to the US.
The itinerary indicated prominence being accorded to this visit. In the run-up to the visit, defense deals like the purchase of much-delayed Reaper armed drones worth US$3 billion have been finalized. The US has also agreed to the Transfer of Technology (ToT) of FE-414 engines for Tejas-2 fighters.
The visit appears to cover most bases, programming-formal and informal events, defense deals, interaction with the diaspora, and tech honchos with accompanying publicity. Yet, it is appropriate to look beyond the hype and examine the nitty-gritty. Few hard choices, if made, can foster long-term and meaningful strategic partnerships.
American expectations are based on compliant if not client character of the relationship. Despite declining US power, the vast asymmetry between two prospective partners, especially in defense technology and net hard power, fuels such expectations in Washington.
Conversely, India is known to be a difficult ally, fiercely safeguarding its strategic autonomy, a refined version of non-alignment. Indian reticence resulted in giving new customized names to bilateral foundation agreements.
Communications Compatibility and Security Agreement (COMCASA) had to be tweaked and customized as a Communication and Information on Security Memorandum of Agreement (CISMOA), and the Logistics Services Agreement (LSA) as a Logistics Exchange Memorandum of Agreement (LEMOA) with India.
Such complexity, often dubbed as bureaucratese, has prompted experts like Ashley Tellis to highlight the limitations of promised relationship and the possibility of India changing course.
India wants to be seen as the 'ultimate balancer' and promote multi-polarity as the voice of the 'Global South.' New Delhi insists on partnership even when it remains the net recipient or beneficial in the near and mid-term.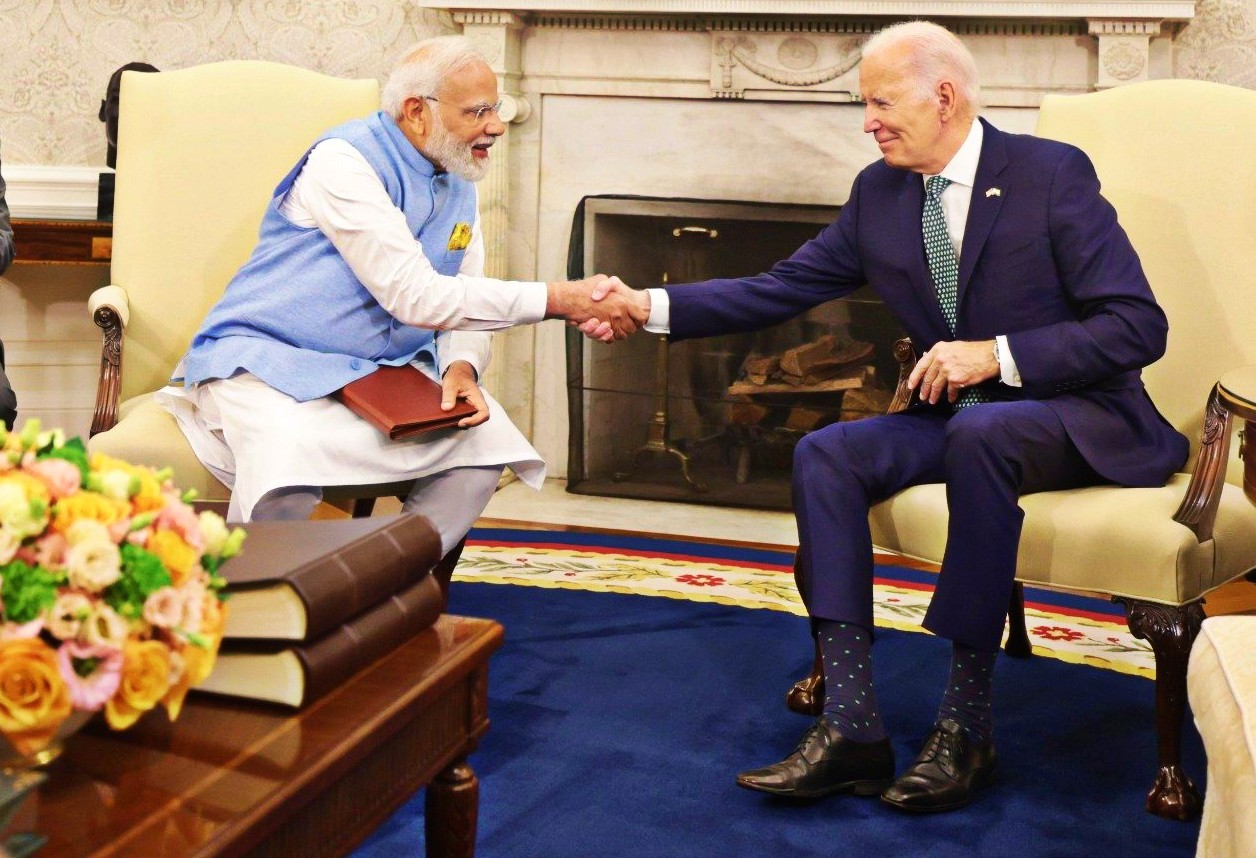 Geo-political compulsions of dealing with aggressive China have forced India towards Quad to dissuade the aggressive neighbor. India knows the limitations of such relationships and doesn't expect boots on the ground. It also realistically appraises the concentricity of Washington-led alliances, like I-5 with Quad, where India is missing.
With its affliction with Pakistan, India was content to accommodate Chinese sensitivity until 2020. Without an idea of the 1962 humiliation, millennials were content to remain focused on geo-economics.
The US needs to connect with millennials on this theme. Coupled growth with China seemed to be fait-accompli, as visualized in Deng's vision.
With his tactical and brash aggressive maneuver on the Sino-Indian borders, Xi Jinping has destroyed that strategic dream. Self-reliance, de-coupling, and standing up to bullying are now part of the altered discourse in India. While America may have failed to mold India as expected, Xi has undoubtedly created a strategic gulf between the two neighbors.
In the future, while Washington may not have a fully compliant ally but it can certainly bank on rising India, competing with, countering, and balancing Beijing. Hence, convergence is natural despite differences.
India had depended on Russia for its armaments and munitions since 1971 when Nixon-Kissinger, assisted by Rawalpindi brass, were courting China. It bears reiteration that Pakistan was already in Central Treaty Organization (CENTO.)
Later, Pakistan misused the great game in Afghanistan to retain relevance and supply American weapons. Russia has been a dependable ally, but its capacity in the post-Ukraine scenario is severely circumscribed.
More importantly, the myth of Russian ToT stands exposed with continued dependency on critical components. It amounted to licensed production. The first brass-tack expectation is genuine hand-holding with 'print to design' (know-how and so know-why.)
India deploys probably the largest inventory in war-like scenarios, including proxy war with Pakistan in the West and combat-ready deployment to ward off China in the North. Unlike many smaller nations, India has not only displayed the nerve to stand up to China but has undertaken quid-pro-quo (QPQ) operations debunking Chinese invincibility.
Indian crews have the magical quality to master equipment and improvise what is called Indian "jugaad." This has been demonstrated in many inferior Gnats taking on Sabre jets and near-obsolescent Centurions creating a graveyard of Patton tanks. Unfortunately, American equipment in Pakistan's hands was on receiving end.
In 1971, Indians once again defied riverine terrain in a lightning strike. Medium tanks, T-55s waded through boggy fields, and PT-76 floated across mighty rivers with helicopters ferrying infantry. They are devoted to and worship their weapons. Ukranian and other conflicts have busted the invincibility of many famed weapon systems, primarily due to inept handling.
One is reminded of a horse breeder who mandated compulsory riding tests for his customers. There can indeed be a vested interest in the US military-industrial complex – sell your equipment and technology to capable users of professional armed forces.
A partnership can flourish with a genuine commitment to empowerment and assured life cycle support. It should empower hosts with spares, repairs, and overhaul capability. Indians are known for not discarding their equipment in a hurry.
T-55 tanks, that I was commissioned on, continue to be in service. Life cycle extension and retrofitting would be in keeping with Indian ethos. Russia sold India weapons in famous barter deals with bananas for gun exchange. The recent sale of oil at discounted prices is another example.
The Reaper drone deal was delayed due to prohibitive concerns. The Russian example is hoped to inject pragmatism in working out costing packages, especially for life-cycle support.
Ideally, a regional repair and servicing hub needs to be set up. There is evolving cooperation on joint space missions to International Space Station (ISS) in 2024. India has also agreed to sign the Artemis Accords. Micron and Applied Materials have committed to investing substantially in chip manufacturing and semiconductors.
Even if not cutting-edge, it can create a manufacturing ecosystem. Initiative on Critical and Emerging Technologies (ICET), which replaced Defense Technology and Trade Initiative (DTTI), is not bundled as INDUSX- India US Defense Acceleration Ecosystem—however, the real challenge in leveraging these pacts and new empowering mechanisms is to kick-start our indigenous ecosystem.
Lt Gen KJ Singh, PVSM AVSM & Bar (Veteran), is a  former Western Army Commander & State Information Commissioner. Views Personal