Global fighter jet contracts usually see competition from stealth F-35 aircraft competing against French Rafales, Eurofighter Typhoons, F-15EX and many others. Any of one of the warplanes is enough to make an Air force powerful, but what if someone has all four?
---
A Middle-East nation, amid regional tensions, is spearheading massive modernization efforts to replace its aging Mirage 2000 fighter fleet. Billions of dollars have been invested in a bid to procure 96 super-sophisticated aircraft.
The US, the UK, and France are the key recipients of these contracts. One of the richest nations in the world is now interested to acquire F-35s from the US after signing deals to acquire Dassault Rafales, Eurofighter Typhoons, Boeing F-15EX.
Qatar's Rafale Deal
In a bid to replacing its aging fleet of 12 Mirage 2000jets, Qatar kicked off its air force modernization program in 2015.
It signed a $6 billion contract with Dassault Aviation, for the procurement of 24 Rafale multi-role Fighters. Twelve more were ordered in 2018, taking the tally to 36 Rafales. Furthermore, Qatar has the option of procuring 36 more Rafales.  
The Rafale is a twin-jet multi-mission capable fighter aircraft designed for the French Air Force and Navy. The aircraft has been designed to carry out a myriad of short and long-range missions which include ground and sea attacks, reconnaissance, precision strikes as well as nuclear deterrence.
Rafales are battle-tested and have been deployed in the war zones of Afghanistan, Mali, Libya, Syria, and Iraq.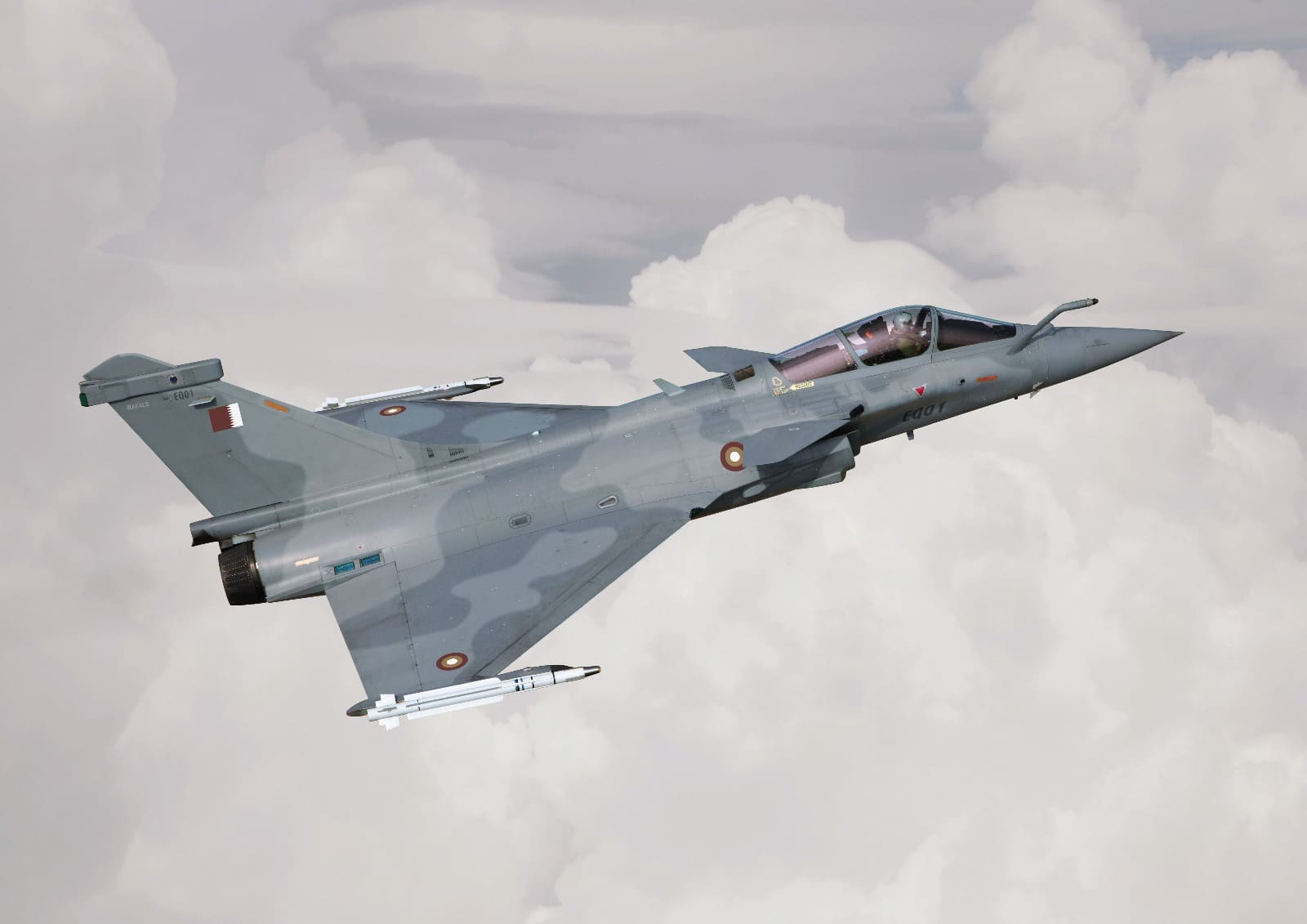 Development began in July 1986 with the Rafale taking its maiden flight the same month. The Rafale is equipped to carry a host of smart munitions based on the mission profile. Some of the high-end munitions the Rafale boasts are the MICA, METEOR, HAMMER, SCALP, AM39, and EXOCET.
The Rafale can deploy laser-guided bombs [with a selection of warheads], classic non-guided bombs, the 2500 rounds/min NEXTER 30M791 30 mm internal cannon. Client-specific armaments are also available for Qatar to choose from.
Rafale's flexibility aided by its multi-sensor-data-fusion makes it an effective deterrent against both traditional and asymmetric threats. As of 2020, Qatar had received 15 Rafale jets. Its first squadron is based at the Tamim Air Base in Dukhan.
Qatar's

F-15QA Contract
In 2017, Qatar signed a $12 billion contract with Boeing aerospace for the procurement of 36 F-15QA fighter aircraft, tailor-made for QAF's operational requirements. The company has recently delivered the first batch of jets to Qatar.
While the F-15QA has an old airframe, it is still considered the top of its line. The Qatari variant comes with upgraded sensors and increased weapons capacity and is believed to have superior long-range ground attack capability, adding to its lethality.
The F-15QA made its 90-minute-long test flight from the Lambert International Airport in Saint Louis during which it displayed next-generation capabilities. The F-15QA's vertical take-off (Viking takeoff) was a feat, that highlighted the aircraft's maneuverability and reportedly pulled off 9Gs.
Matt Giese, Boeing's Chief Test Pilot, conducted the evaluation during the maiden flight that was termed as successful by the test team. Wing Commander Ahmed Al Mansoori, a QAF officer, had expressed his satisfaction over the aircraft's capabilities.
The F-15QA was rolled out to all key stakeholders at the company's production facility for the first time on August 26, 2020.
According to Janes, the F-15 QA will come with a variety of weapons, including the "Raytheon AIM-9X Sidewinder short-range air-to-air-missile, the Raytheon AIM-120 Advanced Medium-Range Air-to-Air Missile (AMRAAM), the Boeing AGM-84A Harpoon anti-shipping missile, and the Boeing GBU-31 Joint Direct Attack Munition (JDAM) precision-guided bomb".
Recently, Boeing delivered the first batch of the F-15QA (Qatar Advanced) fighter jet to Qatar. The QA is said to be the most advanced variant of the fighter jet. It is based on the F-15SA that is in production for Saudi Arabia and has the same fly-by-wire flight control system.
The Eurofighter Typhoon Deal
Qatar is perhaps the only air force in the world, which will soon boast Rafale and Eurofighter Typhoon in its fleet.
In 2017, Doha signed a $6 billion contract with the UK for the procurement of 24 Eurofighter Typhoons. The aircraft was a collective effort by the UK, Germany, Italy, and Spain.
The fighter is a foreplane delta-wing, beyond-visual-range, close-air combat aircraft and is capable of both surface attack and 'super cruise'. The latter enables the Eurofighter Typhoon to maintain over Mach 1 speeds without the need to deploy afterburners.
The fighter comes with two Eurojet EJ-200 engines developed in Munich. It boasts high-end avionics, countermeasures, and a host of pilot-friendly cockpit features. The Eurofighter Typhoon comes fitted with an internally mounted Mauser BK27mm revolver gun system supported by a linkless-closed ammunition feed system and has 13 hardpoints to carry weapons.
The Eurofighter Typhoon can carry a host of missiles depending on mission requirements.
These include six BVRAAM/AMRAAM air-to-air missiles, two ASRAAM short-range air-to-air missiles for air-superiority roles. The aircraft can carry four AMRAAM, two ASRAAM, two cruise missiles, and two anti-radar missiles (ARM) for air interdiction operations and up to four AMRAAM, two ASRAAM, six anti-radar missiles for suppression of enemy air defenses.
In multirole missions, it can hold three AMRAAM, two ASRAAM, two ARM and two GBU-24 Paveway III/IV. The Eurofighter may also be called upon for close air support for which it may be armed with four AMRAAM, two ASRAAM, 18 Brimstone anti-armour missiles. For maritime attack ops, the fighter can carry four AMRAAM, two ASRAAM, and six anti-ship missiles.
The first aircraft is slated to reach the Qatar Air force in 2022.
Is US F-35 Next In Line?
Last year, Qatar submitted a formal request to Washington for the procurement of the F-35 stealth fighter.
The request follows an August 2020 deal between the US and the UAE in which Washington agreed to consider giving the Gulf state approval to buy F-35s in a side deal to a US-brokered agreement called the Abraham Accord to normalize diplomatic ties with Israel, according to a Reuters report.
Insiders believe that Doha's request is considered, it could strain America's bilateral relations with Israel and Saudi Arabia — major stakeholders in the US military-industrial complex.
Potential deals of F-35s with Qatar or the UAE hinge upon the US' decades-old agreement with Israel that says any American weapon sold to Middle-Eastern nations must not affect Israel's "qualitative military edge" in the region.
While the US, the UK, and France have promised to train Qatari pilots and handle logistical challenges, effective integration of complex aviation systems is not simple and may prove more challenging than anticipated.
Furthermore, a diverse range of fighters from different countries could be a double-edged sword and may potentially lead to supply chain disruptions. However, Doha does not just face a logistical problem but a human resource one as well.
The country's 2.78-million-strong population finds it difficult to grapple with the evolving nature of 21st-century warfare and has long been myopic in its approach. Qatar's emphasis on internal security challenges led to a neglect of external military threats.
These factors along with political compulsions have led experts to question the utility of Doha's newfound arsenal. Some have called QAF the world's weakest air force despite these procurements. However, a counter view is that Doha has not yet been militarily tested in combat so the jury is still out. 
Aritra Banerjee is a defense journalist who has worked in both online and print media. He has laid an emphasis on issues related to military human resources, tactical psychology, military-media relations, professional military education, and combat fitness. He can be reached at: aritrareporter@gmail.com.