Former motorsports events producer Neal Darnell took on a unique venture to get back the adrenaline rush that he was missing in his new job. Now a real estate developer, Darnell's interest in jet engines vested him in a rather curious task: to equip a Chevy Pickup Truck with a military fighter jet engine.
This is how the Flash Fire Jet Truck was born. This truck boasts over 12,000 Horsepower alongside the capability of reaching speeds close to 645 km per hour.
Darnell later decided to start performing at airshows, soon developing a reputation for racing against some extremely fast airplanes. At a show at Andrews Air Force Base in Washington DC, in 2011, his Flash Fire Jet Truck even beat an F-16 aircraft, according to Darnell's website.
In 2005, it had set an airshow speed record of reaching a speed of 603 km/hr at the Tyndall Air Force Base located in Florida. The Flash Fire was then ordained with the title of the "World's Fastest Jet Truck".
Darnell's son Chris Darnell joined the fray and took this business to another level. He fitted a truck with three J34-48 Pratt & Whitney Jet Engines that are also used by the US Navy's T2A Buckeye aircraft. Together, they deliver a horsepower of 36,000 to this beastly vehicle labeled the "Shockwave".
Combined, the engines produce over 9,500 kg of thrust. This has enabled the Shockwave to claim for itself the record of the "Fastest Semi-Truck" with a demonstrated high speed of 605 km/h. It flaunts its ability to do a quarter-mile within 6.63 seconds!
The Shockwave raced a North American T-6 Texan jet that even received a headstart in this competition.
Shockwave's engines are placed in a pyramid formation and are tilted at a three-degree angle to keep the over 3,000 kg weighing truck on the ground. The engine's outlet is equipped with a special fuel line, which carries raw diesel to a ring-like burner that is present inside the outlet.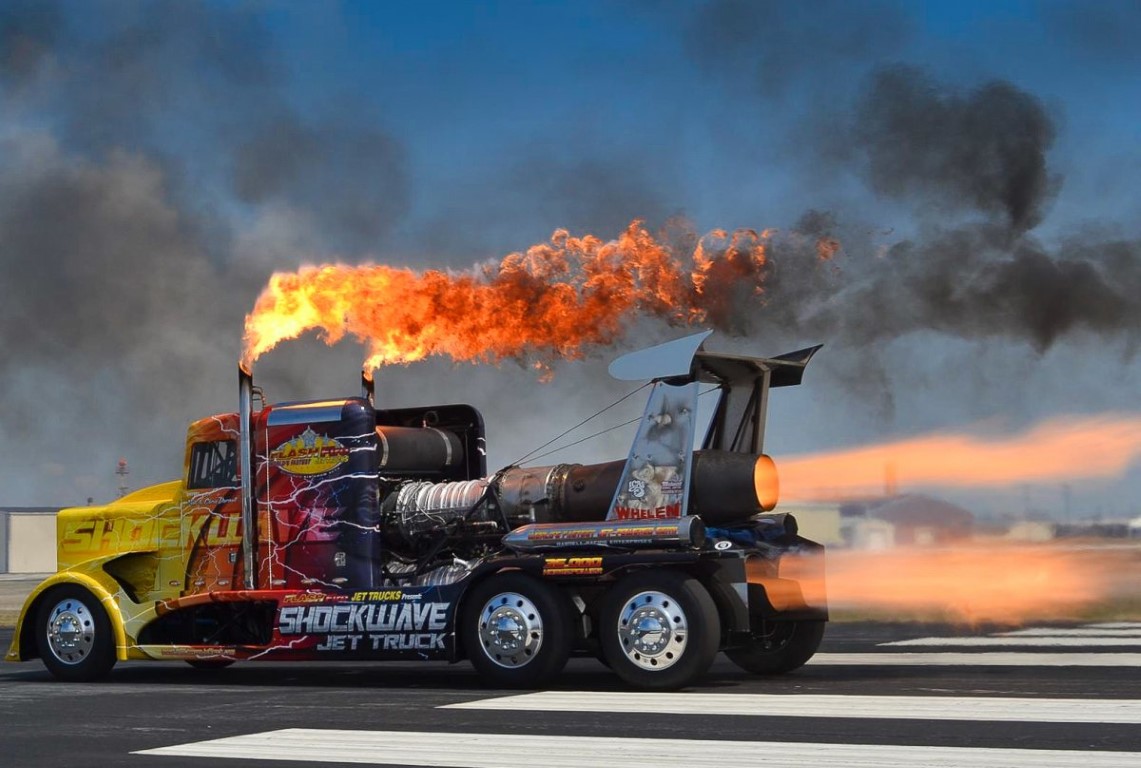 Dumping raw diesel into the burner in this way creates huge flames and massive clouds of smoke. For lighting the raw diesel fuel to let out flames, the usual twin vertical chrome exhaust stacks are modified with piezoelectric ignitors.
The fire and smoke clouds act as high-quality special effects in the airshows that the Darnell family performs.
Thanks to these powerful engines, Shockwaves gulps down a large amount of fuel. This truck uses up around 400 gallons or over 1,800 liters of fuel per mile during a race. In the case of the afterburner mode being used, the fuel consumption happens even quicker.
The engines aren't the only thing this wondrous vehicle has borrowed from jets. The Shockwave truck also uses aircraft-type parachutes to slow itself down at the end of a swift run.
While this truck uses conventional truck tires, close to 85 pounds of tread is shaved off of each one to reduce the weight or the mass of the tire. This keeps the tread from separating and flying off, especially when the vehicle is traveling at speeds of around 480 km/hr. Each wheel uses an all-wheel, large-diameter disc brake.
In a usual show, the chosen aircraft approaches the jet truck from behind. The aircraft is typically flying at about 320 km/h. The Shockwave jet truck then accelerates all the way from 0 to about 500 km/h in a short time span of approximately 11 seconds in an effort to catch up with the aircraft overhead. More often than not, the supremely fast truck ends up winning the race.
The Darnells, along with these trucks, are in the middle of what seems to be a very successful Airshow 2021 season. According to their latest website update, they have already booked 40 shows for the next year! These swift, fire-breathing trucks seem to be the favorites no matter where they go.