After gaining popularity in Europe and securing a massive order from Poland, the South Korean homegrown Main Battle Tank, the K-2 Black Panther, is entering its fourth batch of mass production for the Republic of Korea (ROK) Army.
The mass production was authorized by South Korea's Defense Acquisition Program Administration (DAPA) which announced on May 25 that KRW1.94 trillion (USD1.46 billion) would be allotted to construct the batch-four MBTs, Yonhap News Agency reported.
The 'improvement of the mobile corps' ability to perform offensive maneuvers" will be facilitated by the additional K2, according to the statement. However, how many K2s would be produced in the upcoming batch was not disclosed by DAPA.
K2 tanks have been in service in the Army since 2014.
Although these third-generation South Korean MBTs have been around for a while, they shot to fame when Poland announced the purchase of 1,000 K2 Black Panther tanks as part of a larger defense deal signed to bolster Warsaw's defenses in the wake of Russia's invasion of Ukraine.
The purchase of a thousand K2 Black Panther tanks caught global attention as Poland was already undertaking a tank modernization program by purchasing 250 US M1A2 Abrams tanks. The induction of K2 tanks will now complement the Abrams and the Leopard-2 MBTs in the Polish arsenal.
The Polish purchase triggered speculations that the South Korean Black Panther tank might eat into the popularity of German Leopard-2 tanks operational in several European countries.
South Korea provides several incentives for the European countries looking to purchase tanks and artillery to fill an essential security requirement that the Russian invasion of Ukraine has left.
For instance, the Korean contract enabled Warsaw to acquire tanks at a reasonable price and much more quickly than Rheinmetall of Germany was able to while also achieving Poland's goal of technology transfer to improve its domestic military sector.
On December 7 last year, the first shipment of South Korean tanks and howitzers was delivered to Poland just months after Warsaw placed an order in the face of a bloody war raging in its neighborhood.
Additionally, some states looking to replace their outdated T-72 tanks, like Slovakia, have contacted South Korea. Earlier, there were reports that Norway was evaluating the K2 battle tanks alongside the German Leopard 2A7 model.
South Korea's flexibility and lightning-fast delivery are expected to sweep Europe, according to the predictions made by some military experts. The massive purchase made by Poland is also likely to encourage more and more European Armies to look for tanks to go the South Korean way.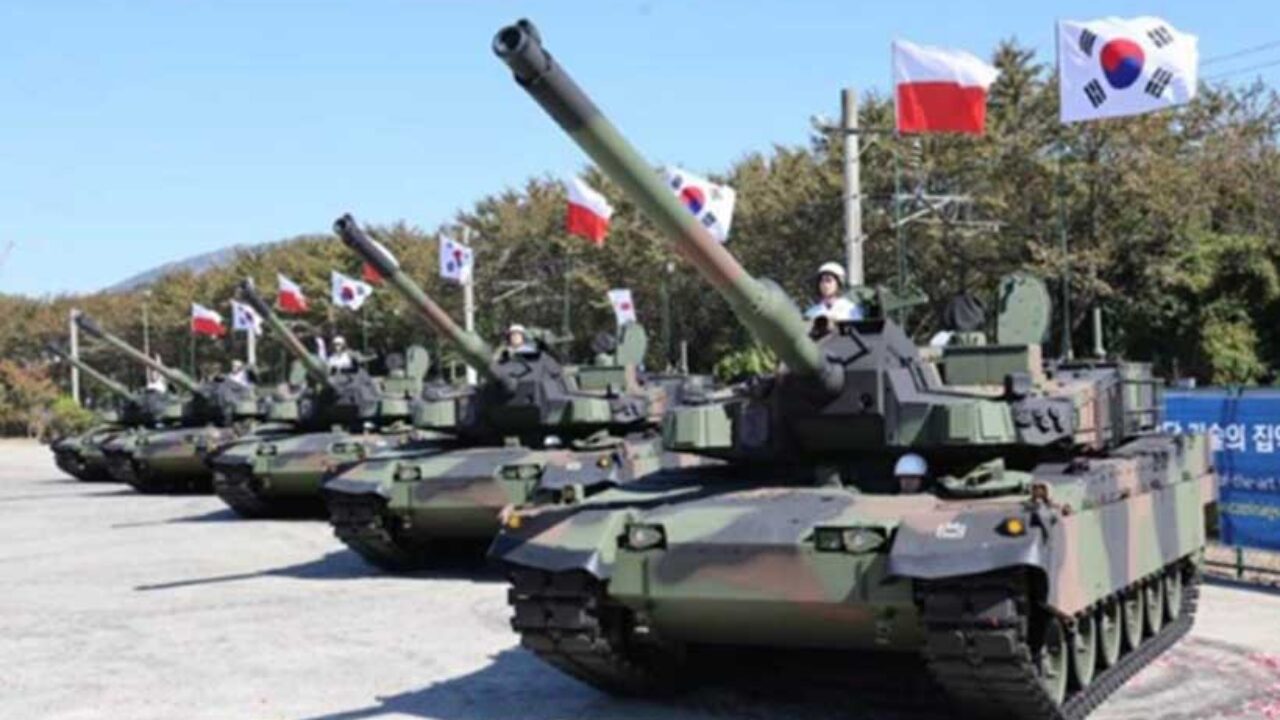 South Korea's K2 Black Panther MBT
The K2 has several qualities, making it incredibly powerful and deadly on the battlefield. Hyundai Rotem, a division of the Hyundai Motor Group, created the K2 Black Panther for the Republic of Korea Army (ROKA).
To create a combat vehicle that would satisfy its needs in the face of unique obstacles and terrain that isn't exactly tank-friendly, South Korea integrated technology from around the world with its innovation.
The MBT is built to perform better in the field by adding better ergonomics and digitization. The K2 Black Panther has a hunter-killer feature and an auto-target identification and tracking system.
The K2 Black Panther, which a crew of three members can operate, has a length of 10.8 meters, a width of 3.6 meters, and a height of 2.4 meters. The vehicle's ground clearance is 0.45 meters, and the combat weight is 55 tons.
The K2's armament features a 120mm L/55 smoothbore cannon, a co-axial 7.62mm machine gun, 12 turret-mounted smoke grenade launchers, and a roof-mounted 12.7mm machine gun.
The K2 can lock on targets thanks to an Extremely High-Frequency radar system, a Raman laser rangefinder, and a crosswind sensor. This means the tank can locate and follow targets using a thermographic camera up to six kilometers.
Its powerful pistol can shoot while moving and even take on low-flying aircraft.
The tank's movement across uneven terrain can also be taken into consideration by the firing control system, which can make minute modifications to increase accuracy while the tank rolls over divots and bumps.
Moreover, the K2 Black Panther is a mobile tank. It can go from 0 to 32 kilometers per hour in just 8.7 seconds and has a top speed of 70 kilometers per hour.
The K2 can travel at cruising speeds of up to 52 kph while off-road. The K2 can scale 1.8-meter-high vertical objects and climb slopes of 60 degrees because it was built for rough warfare terrain.
The tanks are replacing the RoKA's aged inventory of M48 Patton tanks and older types of the K1 MBT, which were produced by Hyundai Rotem up until the mid-1990s. The RoKA is estimated to have ordered roughly 260 K2 tanks in the first three production batches, most of which were delivered.
Contact the author at sakshi.tiwari9555 (at) gmail.com