The Islamic Republic of Iran Air Force (IRIAF) has unveiled a domestically produced jet trainer 'Yasin' that is hoped to address many of its issues with training pilots in basic flying and combat.
It was revealed alongside a production facility, indicating it was the final production variant that would soon enter mass production.
Malaysia-based Asian defense aerospace commentator Garuda Rajawali, who tracked the development history of the Yasin, says the plane is a further refinement of the Kowsar 88 jet, especially "its canopy, air intakes, exhaust pipes, etc."
The Kowsar is a reverse-engineered F-5F Tiger II two-seat trainer meant to train IRIAF pilots slated to fly the F-14A Tomcat, or the HESA Azarsksh Multirole Combat Aircraft (MRCA) – a highly modified variant of single and two-seat F-5s, with distinctive canted tail fins.
The Yasin is also claimed to possess weapons release capability. "Yasin is capable of carrying out combat missions as well. The Iranian jet is also designed to perform other military operations, such as close air support (CAS)," said one report.
The second 2nd Yasin advanced trainer jet has finally been unveiled, after the first prototype appeared in 2019

A production line has been formed. If there's still plans for a CAS variant, we'll likely see the design for it soon https://t.co/jLiEwUhpCK pic.twitter.com/UTABSYMk1o

— Iran Defense|نیروهای مسلح جمهوری اسلامی ایران (@IranDefense) March 11, 2023
However, experts indicated this variant is not weapon ready, and such a version would need more development. "If there are still plans for a CAS variant, we'll likely see the design for it soon," the handle's tweet said.
This version unveiled is the final production variant and is more advanced with greater indigenous systems, electronics, avionics, ejection seats, engines, airborne weather radars, and landing gears. The prototype of the jet was unveiled in October 2019.
Also, based on pictures released by Mehr and IRNA news agencies, there seem to be two versions of the Iranian copies of the J85 engine. One is known as the 'Owj,' an afterburning powerplant for the Kowsar jet, and the other without an afterburner for the Yasin.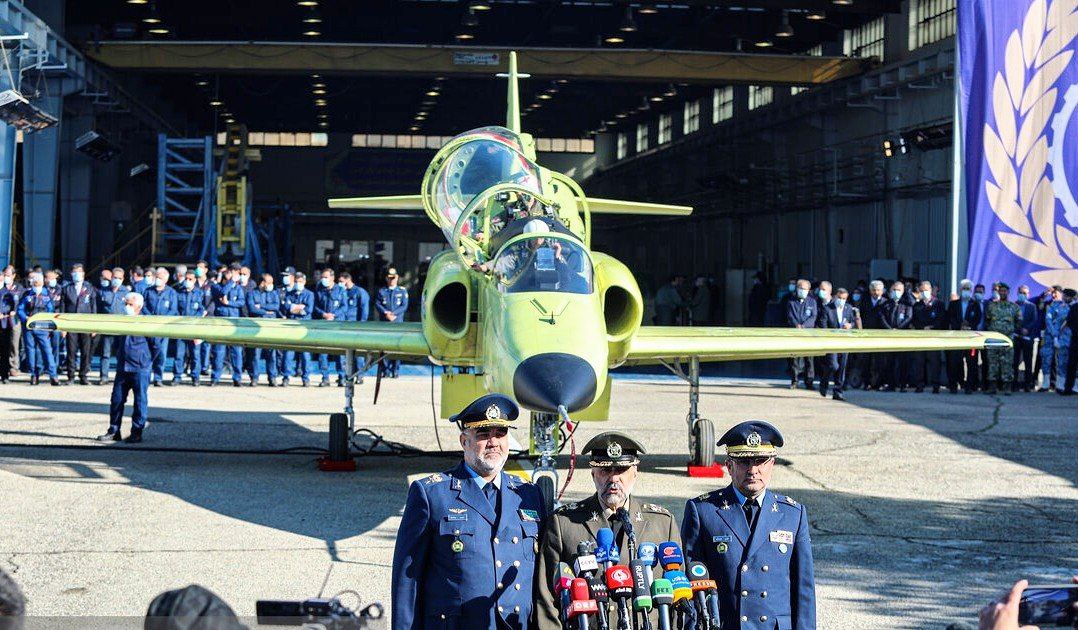 Will Yasin Help Train Iranian Pilots On The Su-35?
Military analysts believe Yasin's upgrades allow it to prepare pilots to fly Iran's future batch of Sukhoi-35 fighters from Russia.
The jet can help pilots learn basic tactics and techniques of air and air-to-surface combat before they begin possibly flying the F-14 Tomcats, the F-4E Phantom II, the Russian MiG-29s, or the F-5E Tigers.
Except for the Russian MiG, the US-origin fighters are reported to be flown very sparingly by Iran, given the sanctions since 1979 that have cut it off from accessing any spare parts.
This hampers Iran's airborne air defense and strike options, triggering the development of a diverse and capable range of drones, long-range surface-to-surface missiles, and proxy militias in Iraq, Syria, and Yemen to strike Israel.
Therefore, Iran has a shoddy air safety record, owing to a dwindling amount of spare parts, which forces fewer flight hours to prevent wear and tear, breeding poor flying experience.
An F-7 jet that crashed on May 24 last year near Anarak, 200 km (124 miles) east of Isfahan, which killed two pilots, according to the state-run IRNA news agency, can be concluded to be owing to a combination of the above reasons.
In February of that same year, an F-5 crashed into the wall of a school in the northwestern city of Tabriz, killing two pilots and one person on the ground.
Given its size and general configuration, the Yasin largely falls in the same class as India's Hindustan Aeronautics Limited (HAL) Intermediate Jet Trainer (IJT), used in Stage II flight training.
Trainee pilots in the IAF then proceed to Stage III training, which involves flying the BAE Hawk, which apparently can double up as a ground attack or point defense aircraft.
IRIAF trainee pilots will likely directly progress to flying frontline squadron jets after their Stage II training on the Yasin. The Su-35 is a single-seat jet and does not have a twin-seat training variant.
How the IRIAF pilots might manage flying the highly advanced and complex aircraft directly from Stage II jet aircraft remains to be seen.
The Su-35 would require a significant amount of experience as a frontline fighter. To prevent accidents and loss of operational capability, Russian advisors and pilots would likely be posted in Iran to help with the induction.
Another possibility is that IRIAF and technicians might also be sent to Russia for extensive training.
The finer details between Russia and Iran are unknown, except for the official announcement from Iran's Permanent Mission to the United Nations (UN). But given the burgeoning military, strategic and commercial ties between the two countries, the sale without any substantial Russian assistance in maintenance and training is unlikely.
Iran Has A Long Way To Go
At a broader level, therefore, Iran does have a long way to go in addressing its air force training and maintenance issues, and the Yasin is only a small step in that direction. It largely remains weak in pure aerial strength.
But that does not mean the exponentially advanced Israeli Air Force (IsAF) would have complete sway over Iran and itself faces significant constraints – even without Iran's capable air defense systems.
According to the Jerusalem Post, the IsAF has no jets capable of traveling the roughly 1,900 km necessary to strike targets in Iran and return, as they would need to stop and refuel. The KC-46 airborne refueling planes that could address this issue will not be delivered until 2025.
Neither does Israel have access to air bases in Azerbaijan to strike Iran, as was previously reported, following the denial of the claim by Baku's newly appointed ambassador Mukhtar Mammadov.