In a recent interview with Freedom channel, Yuriy Ihnat, the spokesman for the Ukrainian Air Force, claimed that the Russian military had 50 Kinzhal hypersonic missiles meant to strike "decision-making centers."
A deadly missile attack early on March 9—in which Russia employed several powerful hypersonic Kinzhal missiles—sent a harsh warning that even some of the most sophisticated air defense systems supplied by the West are powerless to stop this threat. 
Long-range, highly maneuverable hypersonic weapons can travel at least as fast as Mach 5, which is more than a mile per second. These missiles are difficult to detect because they move so quickly that typical air defense systems are practically useless against them. 
Moscow launched six Kh-47 Kinzhal missiles into Ukraine on March 9. 
MiG-31 fighter jets, some of which are based in Belarus, are equipped with the air-launched Kinzhal missile. Ukraine cannot currently counter these weapons, but its leaders hope they will soon get the first batches of Patriot air defense systems that the US and other European nations have pledged.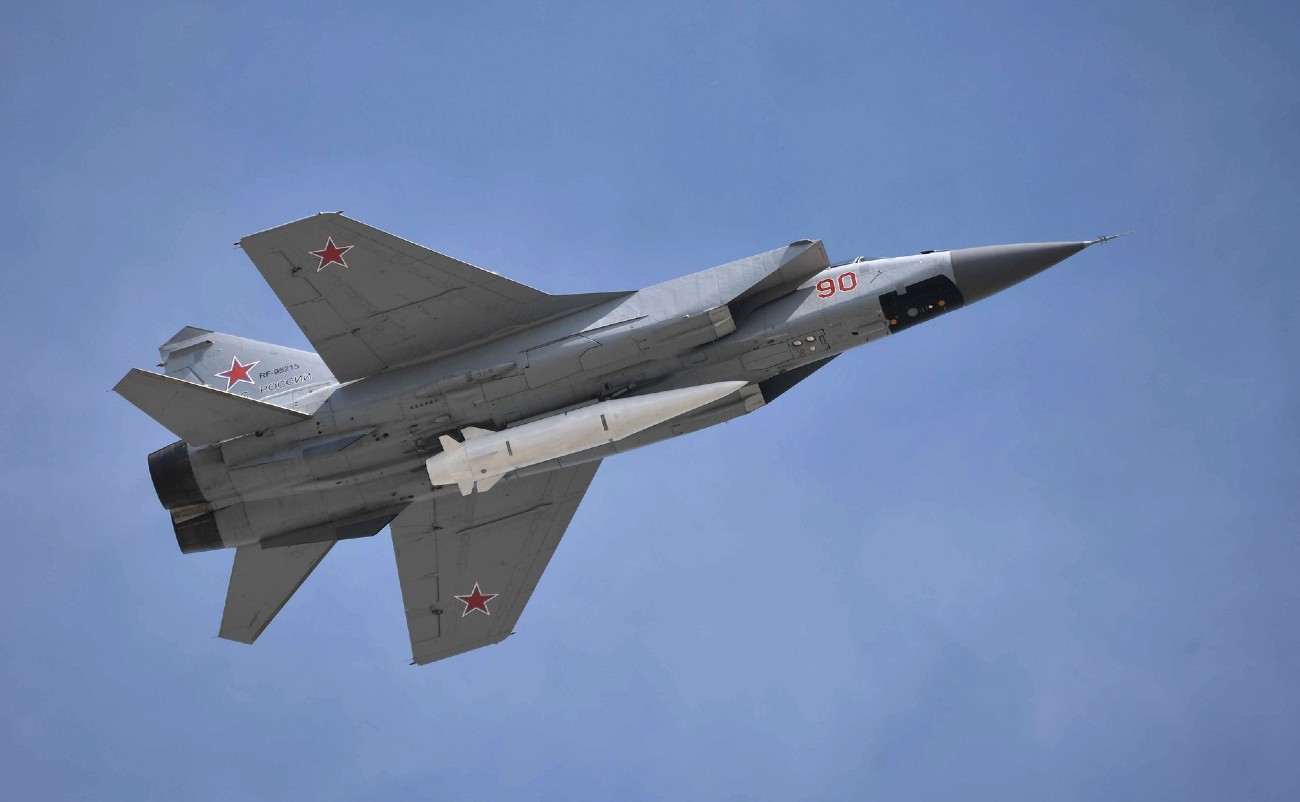 In the upcoming months, Kyiv hopes to intercept advanced Russian cruise missiles, such as older Kh-22 missiles with the Patriot air defense system. Yet there's a big question about how effective this weapon system will be against hypersonic missiles. 
Currently, 65 Ukrainian soldiers are receiving training at Fort Sill, Oklahoma, for using the  Patriot air defense system, according to US Department of Defense spokesperson Garron Garn.
Meanwhile, Nataliia Humeniuk, the spokeswoman for Ukraine's security and defense forces' Operational Command South, claimed that the Russians were trying to locate Patriot SAM systems on March 9 when they launched a vast missile attack on Ukraine.
She alleged that the Ukrainian Defense Forces anticipated the adversary preparing a force for the attack and knew it would be uneven. Before firing missiles toward Ukraine, the Russian troops first sent out kamikaze drones.
These strategies, according to Humeniuk, were used to see if Ukraine had already installed  Patriot air defense systems. Nevertheless, experts pointed out that the latest strikes differed from previous attacks. This time they included a larger number of advanced hypersonic missiles.
Why Did Russia Use Kinzal Missiles?
The Kinzhal is one of Russia's newest and most sophisticated weapons. According to the Russian military, the air-launched ballistic missile has a range of up to 2,000 kilometers (1,250 miles) and travels at ten times the speed of sound.
The Kinzhal can destroy heavily protected targets, like subterranean bunkers or mountain tunnels, using a large warhead in tandem with hypersonic speed.
Since the beginning of the invasion, Russia has utilized Kinzhals to strike targets in Ukraine, but it has only done so rarely and against high-priority targets, ostensibly because of the small number of Kinzhals on hand. 
The precise targets of Russian strikes and the extent of the damage are still unknown because Ukrainian officials have kept such information tightly under wraps so as not to give Russia any ideas for future operations.
According to certain accounts, Russian hypersonic missiles targeted Ukrainian command centers to paralyze Ukrainian military activities. 
Vijainder K Thakur, an Indian Air Force veteran and a defense analyst closely following the conflict, told the EurAsian Times, "Because of its hypersonic velocity, the Kinzhal missile is very destructive, even when the target is fortified/underground."
"It is also effective if the geographical spread of the target is large, as would be the case with an AD system such as a NASAMS or IRIS-T battery," he said.
He noted, "the use of at least one Kinzhal missile against a target in Kyiv, likely TPP-5 [Ukraine's second-biggest heat and power plant], has been confirmed by RuMoD and official Ukrainian sources."
Thakur mentioned, "It appears that Ukrainian energy facilities were hard hit during the strike, besides defense, industrial & military infrastructure. Power generation/distribution facilities in Kyiv, Kharkiv, and Odesa region were hit by reported power outages."
Meanwhile, western officials and military analysts have suggested that Russia has faced a growing shortage of cutting-edge weapons. The new production process is moving too slowly to compensate for the amount already spent. 
The British Defense Ministry recently noted that there are now longer stretches between Russian missile strikes. This is probably because "Russia needs to stockpile a critical mass of newly produced missiles directly from the industry before it can resource a strike big enough to overwhelm Ukrainian air defenses credibly."
Nonetheless, Russia might find it quite simple to restock the Kinzhals. The Kinzhal could be simpler to manufacture since it is essentially an adapted version of an existing missile instead of producing more Zircons, which must be developed from the ground up.