On August 12, 1963, a British-made single-engine Hawker Sea Hawk aircraft taxied out and took off from the Meenambakkam civil airport in Chennai.
For the denizens of this southern Indian city, nothing was remiss. But, the roar of the fighter jet taking off on an off day triggered a flurry of frenzied activities in the Air Traffic Control (ATC) tower.
It turns out an Indian Navy sailor, Leading Aircraft Ordnance Mechanic, AS Gill, bitten by the flying bug, had managed to fly away with a Sea Hawk tail number IN 163.
The sailor had never learned to fly Sea Hawk but became the first pilot to come out alive after landing the aircraft on the eastern sea coast. He not only survived the ditching but hardly suffered any injury.
It was a routine home-porting for the Indian Aircraft Carrier INS Vikrant during the monsoons. The Sea Hawk aircraft onboard were housed in the hangar at the civil airport in Chennai and were clocking 50-60 sorties every day. The 25-year-old aircraft mechanic was a privately trained flier and an avid air modeler.
His passion for military aviation made him apply to the Indian Air Force and become a Naval aviator in the Indian Navy. His efforts did not get desired results owing to bureaucratic hurdles, but his desire to fly a fighter jet was ablaze unabated.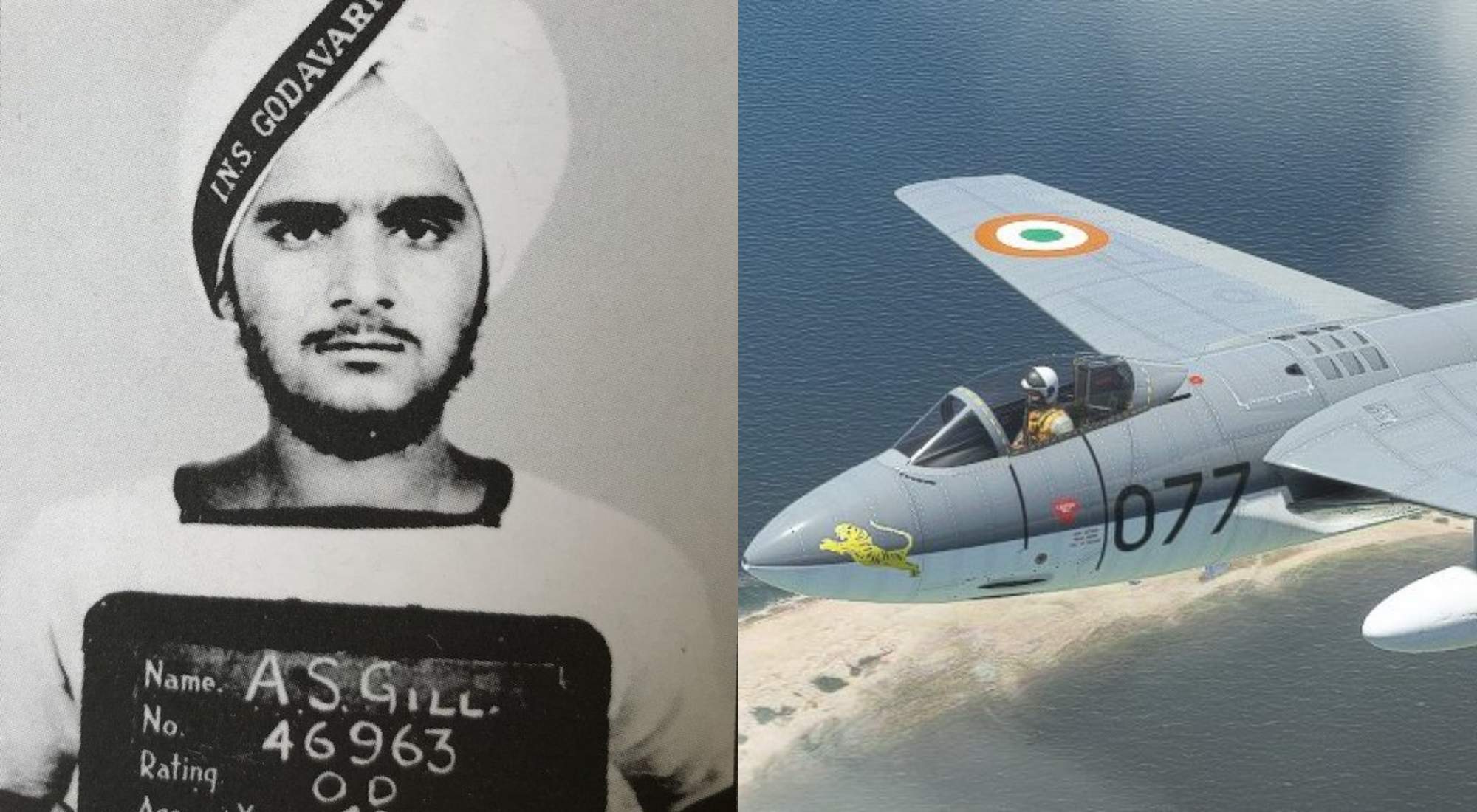 "I have been trying to get in touch with him or his family. But I have not been successful. I gathered during my research that he moved to Canada and passed away two years ago," Vice Admiral (Retd) Vinod Pasricha, who has written a book 'Downwind, Four Green' on the fighter jet, told the EurAsian Times.
The riveting story of the sailor's adventure lives on, though. Gill was posted to the Indian Navy's 300 'White Tiger' that operated Hawker Sea Hawks. Due to his commitment to Squadron duties, Gill could not keep current with his private pilot license. "So, he volunteered to 'strap-up' the pilots, where he would ask many questions about cockpit switches and Sea Hawk's pilots' notes," narrates Vice Admiral Pasricha in his book.
"The one thing that worked in his (Gill) favor was that the Sea Hawk had a cartridge-fired start. Thus, one had to merely open the fuel cock, press one button to start the engine and then just take off," Vice-Admiral Pasricha added.
Since there was no helmet or flying overall in the hangar, Gill decided to fly without it. He was flying without a crash helmet. After take-off, he went over the INS Vikrant in the harbor and 'beat up' the ship by buzzing the flummoxed ATC several times in Maverick-style from Top Gun.
He was unable to connect with the ATC as he was not wearing a 'Bone Dome' – a flying helmet with a radio set; and his limited knowledge meant that he did not have the know-how to switch to powered flying controls from manual flying controls.
He did not know how to apply brakes or, worse, land! Hand gestures were made, and red cartridges were fired by the ATC to dissuade Gill from landing, who did several high-speed passes at the aircraft carrier's ATC.
Not managing to reduce the speed of the aircraft, he eventually flew towards the water and, after an hour of flying time, ditched his aircraft in the water. As his aircraft sank to the bottom of the sea, Gill opened his seat belt and floated to the surface, where he was rescued by a few fishermen.
His ditching of the aircraft was so by the book that it was mentioned during briefing sessions conducted for the pilots where emergencies and related actions were discussed. "If ever you have to ditch a Sea Hawk, make sure it is done as perfectly as Gill did," became the takeaway from the incident.
Gill was tried by Court Martial and awarded two years of rigorous imprisonment, which resulted in his discharge from the service. Gill never narrated his side of the story, but his father, in his defense during Court Martial, came with an aircraft model and contended that his passion for flying and frustration at being unable to become one made him do it. He intended to return the aircraft after the joyride.
The Sea Hawk wreckage was later found by a group of divers called Temple Adventures in 2019. In a tale of serendipity, the grandfather of the diver, who had discovered the wreckage, was the one who rescued Gill in 1963.
"Whilst there is little doubt that what Ajit did was wrong. I fully understand his frustration and bravado. I think he would have made an excellent fighter pilot because he seemed to have all the right ingredients – courage, determination, capability, enthusiasm, and perhaps the little madness associated with all of us!" Vice Admiral Pasricha signed off.
Ritu Sharma has written on defense and foreign affairs for over a decade. She holds a Master's Degree in Conflict Studies and Management of Peace from the University of Erfurt, Germany. Her areas of interest include Asia-Pacific, the South China Sea, and Aviation history.
She can be reached at ritu.sharma (at) mail.com