It is no secret that China's PLA Navy (PLAN), the world's largest naval force, continues to add new warships to its fleet.
The PLAN's first Type 075 amphibious assault ship, the Hainan, has reached initial operational capability, and the vessel is set to visit harbors and ports across the world, state-run Global Times claimed.
Captain Lü Yongjun, the ship's commander, told China Central Television (CCTV) on February 26 that the Hainan will have the full operational capability in the not-too-distant future after about a year of training.
A Pentagon report released last November said China has the biggest maritime force on the globe with 355 warships. PLAN is poised to expand its inventory to 420 ships within the next four years and 460 by 2030.
The report, which is mandated by Congress each year, highlighted PLAN's "growing ambitions" to operate with more versatile platforms beyond the Indo-Pacific region, according to USNI News.
Notably, America's Chief of Naval Operations, Adm. Mike Gilday said recently that the US Navy will need a fleet of more than 500 ships to meet its commitments under the soon-to-be-released National Defense Strategy.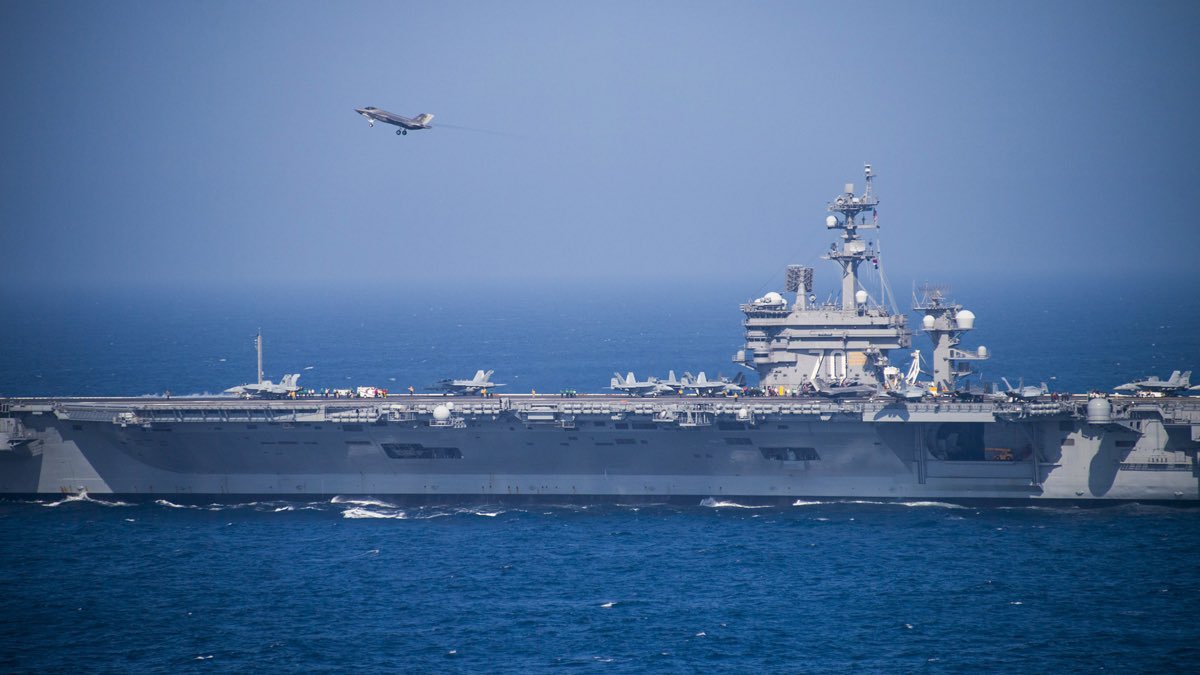 "We need 12 carriers. We need a strong amphibious force to include nine big-deck amphibs and another 19 or 20 [LPDs] to support them. Perhaps 30 or more smaller amphibious ships to support Maritime Littoral Regiments… to 60 destroyers and probably 50 frigates, 70 attack submarines and a dozen ballistic missile submarines to about 100 support ships and probably looking into the future about 150 unmanned," (sic) Adm. Gilday said.
These remarks indicate the importance of amphibious assault ships for the US at a time when it has assumed the role of a major player in potential maritime conflicts with China, notably in the Taiwan Strait.
Chinese Hainan Ship
The Hainan was commissioned into the PLA Navy as China's first amphibious assault ship in April last year. It is slightly smaller than the US amphibious assault ships of the American Wasp classes. The Type 075 is, nevertheless, substantially larger than the amphibious assault ships of Japan and South Korea. There are also rumors that China is planning to develop a larger amphibious assault ship.
The ship will carry helicopters such as Z-8, Z-9, Z-18, Ka-28, and Ka-31 helicopters. Helicopters will be able to land in around 6 positions on the flight deck. Transport helicopters will make up the majority of these helicopters.
Chinese Navy demonstrates capability of new amphibious assault ship Hainan 31 LHD. pic.twitter.com/5QiNBTrOEs

— 彩云香江 (@louischeung_hk) July 30, 2021
VSTOL aircraft might be carried by the Type 075 class; however, China currently lacks suitable aircraft for these warships. A related engine development project is now in progress.
A warship's initial operating capability means it's ready for basic missions and can begin participating in more complicated, realistic combat-oriented exercises to improve its combat readiness before becoming fully operational, according to a Chinese military expert who spoke on condition of anonymity to the Global Times.
Chinese military observers expect the Type 075 to play a key part in operations against Taiwan's island, as well as islands and reefs in the South China Sea.
??Project 075 PLA Navy amphibious assault ship "Hainan" during exercises in the South China Sea.
December 2021.#China pic.twitter.com/uH8ljeKK1q

— The RAGE X (@theragex) December 30, 2021
Type 075 is expected to improve not only the PLA Navy's amphibious combat capability but also contribute to the force's far sea defense strategy, Lü said, adding that the Hainan would appear in any marine region around the world if necessary.
Experts say along with amphibious landing missions, such ships can conduct anti-terrorism, disaster relief, humanitarian aid, and national evacuation operations.
The non-combat missions of the Type 075 ship and its ability to traverse the oceans to reach any place in the world could also allow it to wield influence among states, like Tonga, where it has been instrumental in carrying out relief and rehabilitation operations in the aftermath of a devastating tsunami in Tonga.
American Amphibious Ships
The US Navy has two classes of amphibious assault ships in its arsenal as of now — the American class and the Wasp-class. Northrop Grumman Shipbuilding built the America-class ships. The amphibious assault ships of the Tarawa class were superseded by these ships.
The US Navy's large-deck multipurpose amphibious assault ship, the Wasp-class, is also built by Northrop Grumman. There are eight Wasp-class ships in total, all of which were operational as of June 2020.
The US Marine Corps aims to employ the Light Amphibious Warship (LAW) to move troops across islands and shorelines in the Indo-Pacific, according to an ongoing study undertaken by the US Navy to boost the capability and scale up its fleet.
LAW is typically constructed to dock itself so that Marines can be deployed to the coast rapidly. The platform would be purchased with money from the Navy's shipbuilding budget.
There have been concerns in some quarters that the Chinese 075 assault amphibious ship aims to match the American aircraft carriers equipped with F-35 jets, as previously stated by the EurAsian Times. Currently, the United States Navy has 11 aircraft carriers compared to PLAN's two carriers with a third on its way.