On January 12, Japan began building a Self-Defense Force base on Mageshima, an island in Kagoshima Prefecture. The facility will be constructed as part of a plan to relocate the joint naval and marine exercises with the US.
It would serve as a new training facility for US carrier-based F/A-18 Super Hornets and F-35 fighters to simulate aircraft carrier landings close to China. The SDF will also employ the site as a logistic and maintenance depot to defend Japan's Nansei southwest islands.
The ministry also intends to construct a runway, hangars, and pier facilities for ships used by the Self-Defense Forces. Although the development is anticipated to take roughly four years, the ministry wants to finish the runway and associated facilities in about 24 months.  
The plan will make it possible for the US fighter jet training facility to be moved from Iwoto Island in the Pacific, which is located about 1,250 kilometers south of Tokyo.
On Thursday morning, about 40 people—including ministry representatives and construction workers—arrived in Mageshima. 
The relocation plan began more than a decade ago, following a mutual agreement between America and Japan. However, due to opposition and a lack of urgency, preparations were put on the back burner. 
It is no longer a secret that the expanding presence of the Chinese military in the region is driving Tokyo to take these significant steps to strengthen military ties with the US.
"Given the most severe and complicated security environment of the postwar era, the government will build this facility and begin its operation early," the top government spokesman told reporters.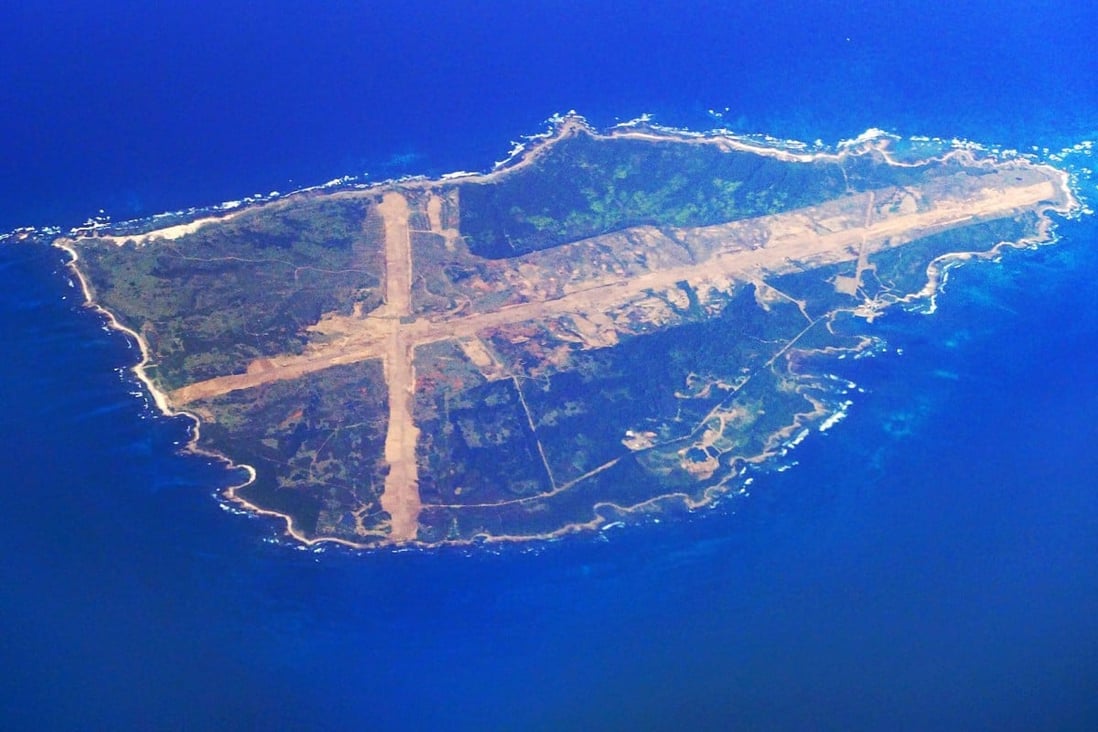 The Chief Cabinet Secretary, Hirokazu Matsuno, said the new military installation would be "indispensable" for the United States. Thus, American aircraft carriers will be able to continuously monitor the Indo-Pacific region and respond swiftly to any big threat. 
Officials from both countries agreed that China's growing power poses the "biggest strategic challenge" in the Indo-Pacific region and beyond. Both countries also pledged to boost deterrence and broaden the scope of their security treaty to include space.
On January 11, Japan formally approved US plans for a new Marine quick-reaction force on Okinawa and disclosed plans to strengthen military cooperation on remote Japanese southwest islands close to Taiwan. 
The new Marine littoral regiment would be deployed and equipped with cutting-edge anti-ship, transportation, and intelligence capabilities by 2025.
US Carrier-Based Fighters To Practice Carrier Landings 
The new facility would allow the US carrier-based Super Hornets and F-35s to practice aircraft carrier landings. 
Mageshima will be handier for US carrier pilots as a practice area than Marine Corps Air Station Iwakuni, which is currently the principal base for many of these pilots on the Japanese main island of Honshu.
The US pilots currently train "touch and go" carrier landings on Iwo Jima, which is over 850 miles (1,360 kilometers) away. By flying to Mageshima, the distance would be reduced by 600 miles (960 kilometers).
The carrier USS Ronald Reagan of the 7th fleet is based in Yokosuka, Japan. Since the early 1970s, the United States has homeported an aircraft carrier in Japan, primarily for strategic reasons.
A carrier based in Japan assures that one is already in the region and ready to respond to any crisis that may develop.
A squadron of F/A-18E Super Hornet strike fighters operating from Marine Corps Air Station, Iwakuni, Japan, is attached to forward-deployed Carrier Strike Group (CSG) 5 and flagship USS Ronald Reagan (CVN 76). 
These fighter jets regularly engage in training exercises with the Japan Air Self-Defense Force to enhance readiness.
On the other hand, the US Navy and Marine Corps F-35s are also regularly participating in such exercises to improve combat readiness and interoperability with their Japanese counterparts. 
Future military collaboration between the US and Japanese forces, notably with F-35 stealth fighters, may also be facilitated by Mageshima. Japan has already announced that it will upgrade its Izumo-class helicopter destroyers to accommodate US-made F-35B fighter planes. 
Meanwhile, the diversification of Japanese and American bases (individual or combined) has evolved into a pattern over time. Bases and equipment spread out more would make the alliance more resilient.
The idea is that the more bases you have, the more missiles your adversary would need to launch to overpower its target and gain the upper hand in combat.
Permanent land bases are more practical than aircraft carriers since they can withstand many weapons. Theoretically, a carrier can be destroyed with a single strike or torpedo.
Compared to a sophisticated war machine like an aircraft carrier, battle damage to land bases can also be restored far more swiftly. 
Furthermore, Mageshima is also sufficiently far away for the Japanese or US military to conduct live fire drills using missiles, cannons, or free-fall ordnance. However, the government has not given any indication of such exercises.