India is now exporting more defense hardware to South-East Asia, the Middle East, and Africa, but it has surprisingly lost its position as a major defense exporter as certified by the highly respected Stockholm International Peace Research Institute (SIPRI) of Sweden.
The "value of defense exports" by India over the last five years was INR 4,682 crore in 2017-18, INR 10,746 crore in 2018-19, INR 9,116 crore in 2019-20, INR 8,435 crore in 2020-21, and INR 12,815 crore in 2021-22. 2022-23 stood at INR 13,399 crore on March 14. 
So much so that Indian Prime Minister Narendra Modi believes that his government's efforts will lead to a further five-fold increase in India's annual defense exports to INR 35,000 crore (US$5 billion) by 2024-25, up from approximately US$1.5 billion presently.
India is said to be exporting to 85 countries a wide range of systems that include helicopters, patrol vessels, personnel protective gear, surveillance systems, radars, and various components.
And yet, the SIPRI  has edged out India from the list of the 25 largest exporters of arms — a league it broke into in 2015-19 with a 0.2 percent share of the global exports.
In the previous year's SIPRI report, India was ranked 23rd largest exporter above Brazil and Portugal, though all three had an equal share of 0.2 percent. It was also the highest share India managed to garner before bowing out of the league in this year's report.
That India continues to be the largest importer of arms in the world, according to SIPRI, a league India would instead like to come out of, is a different story. SIPRI lists India as the largest importer of arms for 2018-22.
China held this dubious distinction in 2005-09 and Saudi Arabia thrice during 2014-18, 2015-19, and 2016-20.
And all this despite the series of steps that the Government of India has taken through its program of "Make in India" and systematic pruning of the import items by notifying four 'Positive Indigenisation Lists' of a total of 411 items of Services and three 'Positive Indigenisation Lists' of total 3,738 items of Defense Public Sector Undertakings (DPSUs).
Why Is India Lagging?
But coming back to the point of defense exports, how is it that despite selling or exporting more defense products, India has failed to be in the exalted list of 25 major exporters of arms in the world?
One explanation for this dichotomy is that, as SIPRI highlights, the global volume of international arms transfers fell by 5.1 percent last year. Because of economic reasons, many countries in Africa and Asia reduced their arms imports.   
There were decreases in arms transfers to Africa (–40 percent), the Americas (–21 percent), Asia and Oceania (–7.5 percent), and the Middle East (–8.8 percent). Indian arms exports have been adversely affected. Few countries continued to buy arms. The five largest arms importers in 2018–22, incidentally, were India, Saudi Arabia, Qatar, Australia, and China.
Amit Cowshish, a former Financial Advisor (Acquisitions) in the Ministry of Defense and a member of the EurAsian Times' Editorial Board, cites three other reasons. 
First, a closer look at the 25 exporters' league reveals that the top ten exporters -– the United States, Russia, France, China, German, Italy, United Kingdom, Spain, South Korea, and Israel — accounted for 90.7 percent of the global export of arms during 2018-22.
The major exports by these countries included combat aircraft, major warships, surface-to-air missile (SAM) systems, tanks, other armored vehicles, and artillery.
In other words, the rest 15 only account for nine percent of global exports and thus are at the far end of the race to be out of the margin any time. This also indicates that a country must have a wide variety of export-worthy "major military equipment" to make a dent in the global market.
Even Israel, which is tenth on the list with a global share of only 2.3 percent — the share of all other countries in the list is below 2 percent — had exported 18 combat aircraft, 26 SAM systems, 19 tanks, 69 other armored vehicles, and 87 pieces of artillery in 2018-22.
In contrast, India's exports are mainly low-value products, coupled with the modest size of export orders.
If the value of India's export orders jumped from INR 8,434 crore in 2020-21 to INR 12,814 crore in 2021-22, it was essentially because of relatively high-end products like BrahMos Aerospace signing a deal worth US$375 million with the Philippines for three batteries of the BrahMos supersonic cruise missiles and Kalyani Strategic Systems Limited bagging a contract worth US$155.5 million for export of 155mm artillery guns to an unnamed country.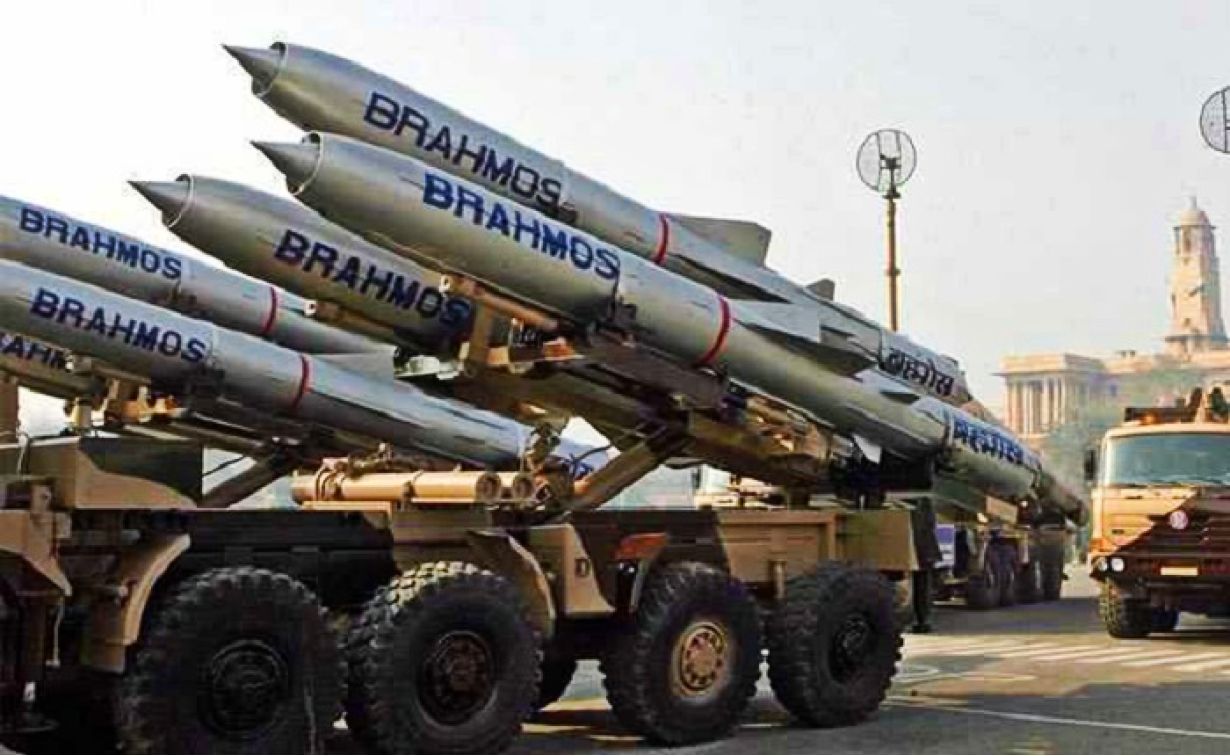 Second, the Indian defense products have not demonstrated an impeccable record of reliability, operational efficacy, and after-sales service for the potential importers to consider buying them seriously.
For instance, in 2015, Ecuador unilaterally terminated a contract with Hindustan Aeronautics Limited (HAL) after four of the seven Dhruv advanced light helicopters (ALH) it had purchased between 2009 and 2012 crashed due to mechanical failure and other reasons. Ecuador grounded the remaining three helicopters. This resulted in a legal dispute.
As it is, ALH's record of performance is dismal. In March this year, the three services and the coast guard grounded their entire ALH fleets for a comprehensive safety check, days after an Indian Navy ALH plunged into the Arabian Sea on March 8 due to an unexplained loss of power.
Less than six months earlier, in October 2022, a Rudra helicopter, an armed version of ALH Dhruv operated by the Indian Army, had crashed in Arunachal Pradesh, killing all five personnel on board.
An ALH also crashed in May 2020; there were another two crashes in January and August 2021; four emergency landings occurred in October 2020, March 2021, January 2022, and March 2023.
In March last year, an accidentally fired BrahMos missile landed in Pakistan, and only last month, three missiles were misfired in Pokhran during an Indian Army exercise. "Such incidents can be disconcerting for potential importers of arms from India and affect the export prospects," says Cowshish.
Third, if one goes through the SIPRI report of March 2023 carefully, it is seen that except for the United States, whose high-value exports are staggered across many countries, the bulk of exports by other major exporters is to a limited number of countries. For example, 63.3 percent of exports from Russia were to India (31 percent), China (23 percent), and Egypt (3 percent).
Likewise, of 55 percent of French exports, India accounted for 30 percent, Qatar 17 percent, and Egypt 8 percent. Even China, which has only a 5.2 percent share of the world exports, had Pakistan (54 percent) to thank for its place as the fifth largest arms exporter.
One Big Customer Can Change Fortune
As Cowshish emphasizes, China exemplifies how one big customer can make a difference in an exporting country's fortunes. In 2008-12, China displaced the United Kingdom to become the fifth largest arms exporter with a five percent share of global exports, with Pakistan accounting for 55 percent of its exports. China's share rose to 6.2 percent in 2012-16, with Pakistan again accounting for 35 percent of exports.
In between, China's share kept hovering around 6 percent, but Pakistan, which gets the largest chunk of the country's federal budget despite the state of its economy, has remained its biggest customer.
The above point implies that a country must have one or more long-term major buyers to become a major arms exporter. India does not enjoy that position. So far, says the SPRI report, the major importers of Indian defense equipment have been Myanmar (50 percent), Sri Lanka (25 percent), and Armenia (11 percent).
These were incidentally last year's figures. These countries do not have sustained long-term demand and, at any rate, cannot be expected to spend substantial amounts of money over a prolonged period on imports from India or any other country.
The moral of the story, thus, is that India will have to carve out a market by identifying countries with long-term demand and the financial resources to meet its military requirements through imports.
Author and veteran journalist Prakash Nanda has been commenting on politics, foreign policy, on strategic affairs for nearly three decades. A former National Fellow of the Indian Council for Historical Research and recipient of the Seoul Peace Prize Scholarship, he is also a Distinguished Fellow at the Institute of Peace and Conflict Studies.
VIEWS PERSONAL OF THE AUTHOR
CONTACT: prakash.nanda (at) hotmail.com