India's DRDO, on November 2, 2022, successfully tested the AD-1 interceptor missile, one of the two interceptor missiles of its Ballistic Missile Defense (BMD) Phase 2 system. The second interceptor missile, AD-2, is still under development.
According to the PIB release announcing the test, the AD-1 "is propelled by a two-stage solid motor and equipped with an indigenously-developed advanced control system, navigation and guidance algorithm to precisely guide the vehicle to the target.
"The AD-1 is a long-range interceptor missile designed for both low exo-atmospheric and endo-atmospheric interception of long-range ballistic missiles and aircraft.
"During the flight test, all the sub-systems performed as per expectations and were validated by the data captured by several range sensors including Radar, Telemetry, and Electro-Optical Tracking stations deployed to capture the flight data," read the release.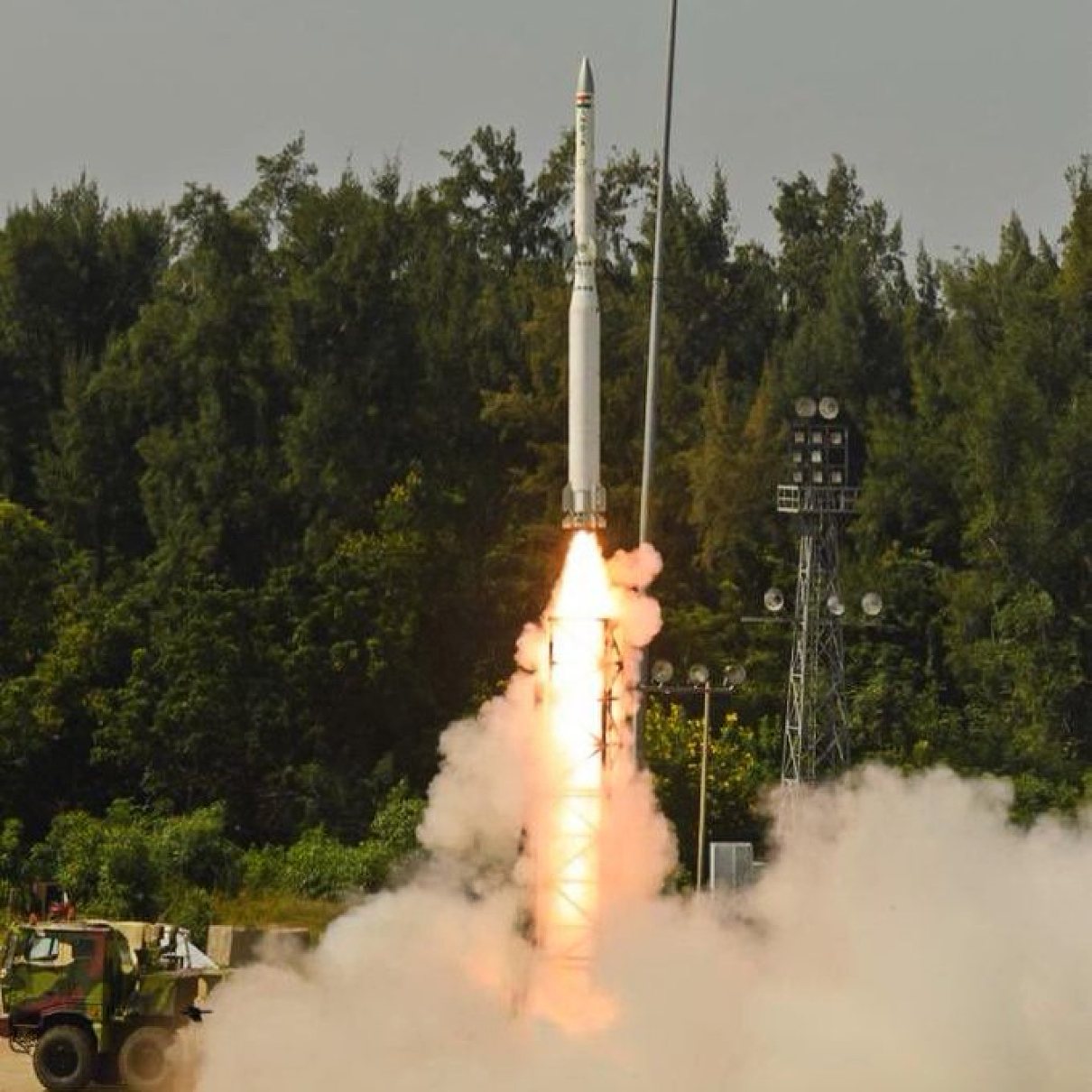 In the photo released by the PIB, you can see the aerodynamic surfaces for maneuvering on the missile's second stage. Aerodynamic surfaces can only be used for maneuvering within the atmosphere. Exo atmospheric manoeuvering requires thrusters.
The AD-1, with its limited exo-atmospheric capability, would be able to intercept ballistic missiles with a range of around 3,000 kilometers. Higher-flying, longer-range missiles would be handled by the AD-2, which would likely be a pure exoatmospheric interceptor.
Together, the AD-1 and AD-2 can shoot down ballistic missiles up to a 5,000-kilometer range.
Phased Development Of BMD System
DRDO is developing India's BMD system in two phases under a capability-based deployment plan. In the first phase, which has been completed, the DRDO developed a system for defense against missiles with less than a 2,000-kilometer range, like Pakistan's Ghauri and Shaheen missiles and China's solid-fuel Dongfeng-21 (NATO designation: CSS-5).
BMD Phase 2 can defend against missiles with ranges greater than 2,000 kilometers that can also deploy decoys or maneuvers.
Longer-range missiles climb higher following a ballistic trajectory and hurtle down on the target at much greater speeds than shorter-range missiles. During their final phase, ICBM warheads can reach speeds twice those of intermediate-range missiles.
The Phase 2 system will feature longer-range radars (detection range of 1,500 kilometers as opposed to 600 kilometers for Phase 1 radars) and hypersonic interceptor missiles flying at Mach 6-7 (as opposed to Mach 4-5 for Phase 1 missiles) with agility and the capability to discriminate against ballistic missile defense countermeasures.
Phase 1 Radar
DRDO is developing an Over The Horizon (OTH) radar for Phase 2, based on the Swordfish radar acquired from Israel. Israel will provide some equipment and consultancy for the new radar, which would feature 80% indigenous components.
Missile Testing Infrastructure For BMD Phase 2 System
Phase 2 testing of the BMD system requires two ranges placed well apart along the missile trajectory. DRDO is developing two new missile ranges at Machilipatnam in Andhra Pradesh and Rutland Island in the Andamans.
Target missiles would be launched from a floating test range (FTR), a 10,000-ton displacement ship under construction.
A DRDO scientist told The Hindu that the FTR "will pave the way for conducting trials for different trajectories, varying altitudes and higher ranges. We can go up to 1,000-1,500 kilometers without any problem. Currently, we have to conduct simulation tests for longer ranges."
Missile trajectories would be monitored using a missile-range instrumentation ship (MRIS). The ship built by Hindustan Shipyard Limited (HSL) Visakhapatnam has already been handed over to the Indian Navy for operations.
The MRIS features an X-Band primary AESA radar and an S-Band secondary AESA radar.
The tracking radars can track the inbound flight trajectories of surface and submarine-launched ballistic missiles, including any maneuverable warheads released by the missiles.
Cochin Shipyard is building another MRIS for tracking cruise missiles.
Vijainder K Thakur is a retired IAF Jaguar pilot. He is also an author, software architect, entrepreneur, and military analyst. VIEWS PERSONAL
Reach out to the author at vkthakur (at) gmail.com