Germany is gearing up to simplify its procedures for exporting defense equipment to South Korea from next month amid intensifying rivalry between the United States and China in the Indo-Pacific.
On August 2, Seoul's arms procurement agency announced the intentions of Berlin to streamline its rules for exporting defense goods to South Korea. 
South Korea's Defense Acquisition Program Administration (DAPA) explained that Germany would eliminate the requirement for its companies providing non-sensitive defense and dual-use goods to South Korea to seek approval from its federal export control office. 
This new measure, set to take effect from September 1, marks a departure from the current practice where companies needed approval for exporting defense goods directly to South Korea and for any instances where South Korean military equipment containing their products was exported to other countries.
However, under the new regulation, German companies only need to report their exports to the authorities after making the shipments. According to DAPA, this move is based on information provided by Germany's Federal Ministry for Economic Affairs and Climate Action.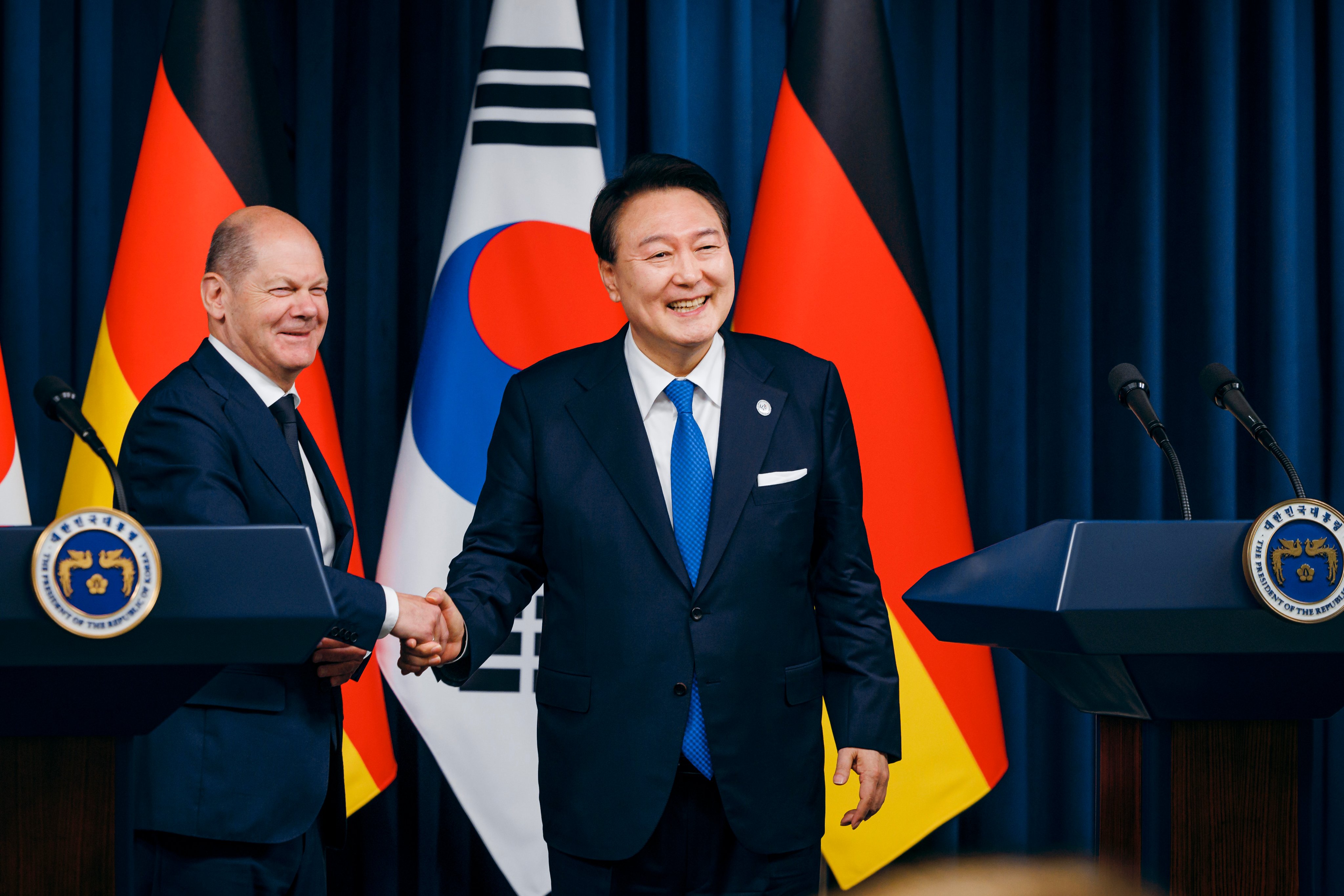 DAPA anticipates that this new approach will address various challenges arising from the existing export procedures, including delays in the deployment of military assets by South Korea. 
Moreover, this initiative is anticipated to promote enhanced cooperation among companies from both countries, encouraging their active participation in the global defense market.
South Korea's arms procurement agency noted that this measure underscores Germany's recognition of South Korea as a nation equivalent to a North Atlantic Treaty Organization (NATO) member under its arms export regulations. 
As a result, Seoul will now enjoy the same benefits accorded to European Union and NATO countries, as well as a select few others. Meanwhile, German companies are gearing up to collaborate with South Korean defense firms. 
In the past, a Germany-based Airbus Defense and Space presented a "win-win strategy" to Seoul, aiming to boost the sales of South Korea's FA-50 Fighting Eagles and other fighter aircraft in Western European countries.
Seoul's Collaboration With NATO Nations Amidst US-China Rivalry
The decision by Berlin comes in response to Seoul's recent endeavors to strengthen its diplomatic connections with NATO, driven by the mounting security uncertainties arising from the escalating rivalry between China and the United States.
In recent months, Seoul has taken proactive steps to bolster its ties with the North Atlantic Treaty Organization (NATO). In May, South Korea and Germany reached an agreement to sign a military deal aimed at sharing their military secrets, to streamline supply chains that involve their respective defense industries.
At the time, German media reported that the rationale behind the agreement could be attributed to Beijing's actions, which ranged from the unilateral occupation and militarization of disputed islands in the South China Sea to confrontations with Japan over islands in the East China Sea and clashes with India over territory in the Himalayas.
Dan Pinkston, a professor of international relations at the Seoul campus of Troy University, highlighted the "expansionist policies in Beijing" as a driving factor behind the increasing cooperation between countries that are not aligned with China.
Similarly, in July, President Yoon Suk Yeol took part in the NATO summit held in Vilnius, Lithuania, where he made a significant announcement regarding Seoul's intention to increase military information sharing with the alliance.
As South Korea actively seeks close allies in the Western world, China is conducting a robust diplomatic offensive concurrently.
Recently, Beijing has been reaching out to various states in the Middle East and Central Asia to forge its alliances. Consequently, both sides are working to strengthen their partnerships and promote their interests.
For example, Beijing recently made a significant announcement regarding its upcoming joint air force exercise with the United Arab Emirates, scheduled to take place in the Xinjiang autonomous region.
In addition, China organized a summit with five Central Asian nations, namely Kazakhstan, Kyrgyzstan, Tajikistan, Turkmenistan, and Uzbekistan, convening in the Chinese city of Xi'an. 
Moreover, China has assumed the role of a peace broker in the Middle East, facilitating a change from years of animosity between Saudi Arabia and Iran and garnering praise for its diplomatic efforts.
On its part, Seoul, a staunch ally of the US, has been actively engaging in military exercises with the US military and its European allies as part of its efforts to respond to the assertive actions taken by the Chinese military in the region.