A Turkish attack drone, Bayraktar Akinci, successfully test-fired a new laser-guided missile on Saturday, expected to become a game-changer, the chief executive of the Turkish national defense firm ASELSAN said.
China's 'Fake Space Station' Training Video Mocked By Netizens; Beijing Calls It 'Foreign Conspiracy'
"Our UAVs are now much more powerful and a better deterrent. ASELSAN LGK-82 (Laser Guidance Kit) smart high-impact bombs hit the target with precision… This strike force is truly a game-changer," Haluk Gorgun said on social media.
The drone took off from Corlu airfield in northwestern Turkey and struck the target with the aerial weapon at an altitude of 30,000 feet, state news agency Anadolu reported.
ASELSAN's laser-precision kit converts 500-pound and 2,000-pound unguided bombs, typically used by attack aircraft, into precision-guided munitions. The drone also carried a GOZDE guidance kit developed by arms maker TUBITAK SAGE.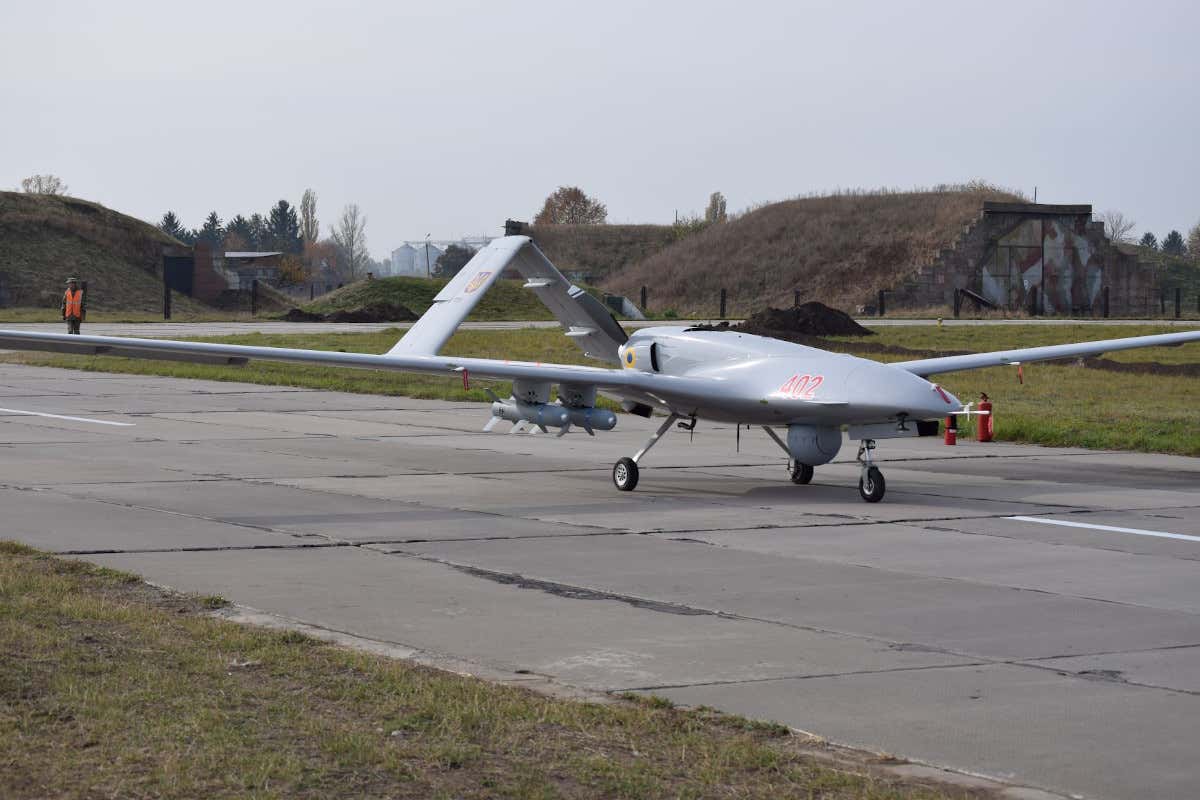 Earlier, Turkish defense company Baykar said that it intended to give Ukraine 3 unmanned aerial vehicles (UAV) Bayraktar TB2 without charge.
"Business leaders and ordinary people alike contributed funds – small and large – to reach this milestone within a matter of a few days' time. Baykar will not accept payment for the TB2s, and will send 3 UAVs free of charge to the Ukrainian war front," the company said in a statement shared on Twitter.
Last week, Turkish Defense Industry Agency President Ismail Demir said that his country was very cautious when it came to arms sales to Ukraine. When asked whether Turkey continues to supply Ukraine with weapons, in particular with Bayraktar TB2 drones, Demir said that "there is something going on."
In April, Russia sent a diplomatic note to all countries on the issue of arms supplies to Ukraine. Foreign Minister Sergey Lavrov noted that any cargo, containing weapons for Ukraine, will become a legitimate target for Russia.
On February 24, Russia launched a military operation in Ukraine after the breakaway republics of Donetsk and Luhansk requested help to defend them from intensifying attacks by Ukrainian troops.
Ukraine Hits Russia
Meanwhile, Russian electronic warfare posed a severe threat to Ukrainian drones including the Bayraktar TB2 drone, but it appears that Ukraine has finally found a way to get through it and strike Moscow's drone operators. 
A Ukrainian drone operator named Sergey Hadzhinov recently spoke with the Ukrainian news outlet Censort.NET about how they can avoid Russian electronic warfare and target Russian drone operators.
Hadzhinov is a part of Aerorozvidka, or "Aerial Intelligence," a civilian group founded in 2014 to assist the Ukrainian military with reconnaissance using consumer drones and has now been incorporated into the armed forces.
In the Russia-Ukraine war, consumer drones, particularly those produced by the Chinese company DJI, have been beneficial for gathering intelligence and supporting artillery operations. 
Although both sides are using these Chinese-made drones, Ukraine has regularly accused the Chinese company of siding with Russia. DJI sells AeroScope, a complete drone detection platform that quickly finds UAV communication links and gathers real-time information such as flight status, routes, and other data.
The system detects the drones and the operators' control units, allowing artillery to strike them. "The Chinese give Russians a program that can search us, spot us out," drone operator Volodymyr Demchenko told CNN in May. 
"Russians see from where we are starting and where we are landing. And once, it happened to us that we were attacked, like, right away. The drone was landing, and the next, like, in 30 seconds, a [rocket strike] was like really close, like 30 meters away."
Previously, Mykhailo Fedorov, the vice prime minister of Ukraine, accused DJI of giving Russia an improved version of Aeroscope. The firm rejected these accusations, saying its drones should not be used for military operations.
Ukrainian drone operators told CNN that they are looking to acquire US-made drones that won't be detected by AeroScope, boosting their operation and security.
Teal Drones, a US business that has already supplied Ukraine with a few quadcopters, claims to have received an order for 15 Golden Eagle small unmanned aircraft systems (sUAS) from a NATO member nation. 
This NATO member wants to send those drones to Ukraine. Ukraine appears to have discovered a method to avoid Russian electronic warfare and strike the Russian drone operators.
How Does Ukraine Avoid AeroScope Detection?
Hadzhinov claims that his team uses several drones, particularly the DJI Mavic 3. With a control range of five miles and a weight of fewer than two pounds, this drone can fly for more than 40 minutes. 
The Aerorozvidka drones have been hacked to render them invisible to the system. Therefore AeroScope appears to be no longer a challenge, he said.
"Now AeroScope sees what they're doing and doesn't see what we're doing," Hadzhinov tells Censor.NET. "They did not make any new firmware for commercial drones — so we see where they fly, where the operator is, and so on." 
On the other hand, Russian users of Chinese quadcopters are now vulnerable due to their inability to modify their drones as Aerorozvidka did. "We see where their pilots are, we are pointing artillery, we are destroying them, and they are no longer flying," Hadzhinov says. 
DJI Mavic drone with VOG-17 grenade and adapted drop-off system is launched with a "present" to Russian invaders.#RussianUkrainianWar #RussiaInvadedUkraine #Ukraine #UkraineWar #russianAggression pic.twitter.com/X32CbDdcE8

— Walter Report (@walter_report) June 19, 2022
Hadzhinov asserts that Ukraine rules the battlefield in terms of small drones and is using ten times as many drones as the adversary. To find Russian vehicles and set up ambushes for tank-hunting squads using Javelins and other weapons, Ukrainian soldiers deploy DJI drones as tactical scouts in urban areas. When heavier artillery guns are not accessible, Mavics are used by lone snipers to find targets.
Russia, however, continues to operate its fleet of larger fixed-wing Orlan-10 drones. Moscow keeps sending these drones out, but many of them are being taken down by Ukrainian forces.
Challenges 
Russian electronic warfare remains a critical issue. Hadzhinov describes how he quickly lost his first three drones right after it was launched and how his superior warned him that the fourth drone would be his last. 
Later, they observed other units and picked up the strategies and methods they employed to remain alive when radio signals were disrupted or blocked.
"Under the influence of enemy jamming, when you cannot see where you are, there are no GPS satellites, the radio channel is almost dead, there is no video signal – under such circumstances, it is simply impossible to fly, but you have to!" Hadzhinov said. 
"You will not find how to do this either in the manufacturer's instructions or on YouTube." That fourth drone survived for more than a month, which according to Hadzhinov, is uncommon. 
Since jamming systems require a line of sight to the target, keeping covert and avoiding detection are vital components of the expertise. Also, knowing when to fly and keeping track of the status of jammers is another crucial factor. For instance, jammers may be deactivated to avoid interfering with Russian drone activities.
Additionally, the signals that jammers generate can be used to find and target the jammers themselves. According to Hadzhinov, his unit will soon acquire drones resembling aircraft with a significantly longer range. 
These will provide him the control he needs to direct long-range weaponry, such as the recently acquired American HiMARS rocket system, to destroy Russian artillery and other threats. Nevertheless, Ukraine is using consumer drones to their best extent for close-range operations in the war.