Europe, the UK, and the US are in a race to develop their sixth-generation aircraft. The US is working on its ambitious Next Generation Air Dominance (NGAD) program; the United Kingdom has invested in its Tempest program while France, Germany, and Spain are collaborating on the FCAS.
---
Recently, Europe's sixth-generation aircraft program received a fresh thrust following the formalization of preliminary development plans. Called the Future Combat Air System (FCAS), it is an ambitious tri-national research and development program between France, Germany, and Spain to develop a next-generation fighter jet.
European FCAS
The tri-national agreement to build FCAS was signed in Paris on August 30. This development was followed by Germany's parliamentary approval in June to invest nearly €4.5 billion ($5.3 billion) in the program through 2027. The other two stakeholders are likely to make equally proportional investments into the project.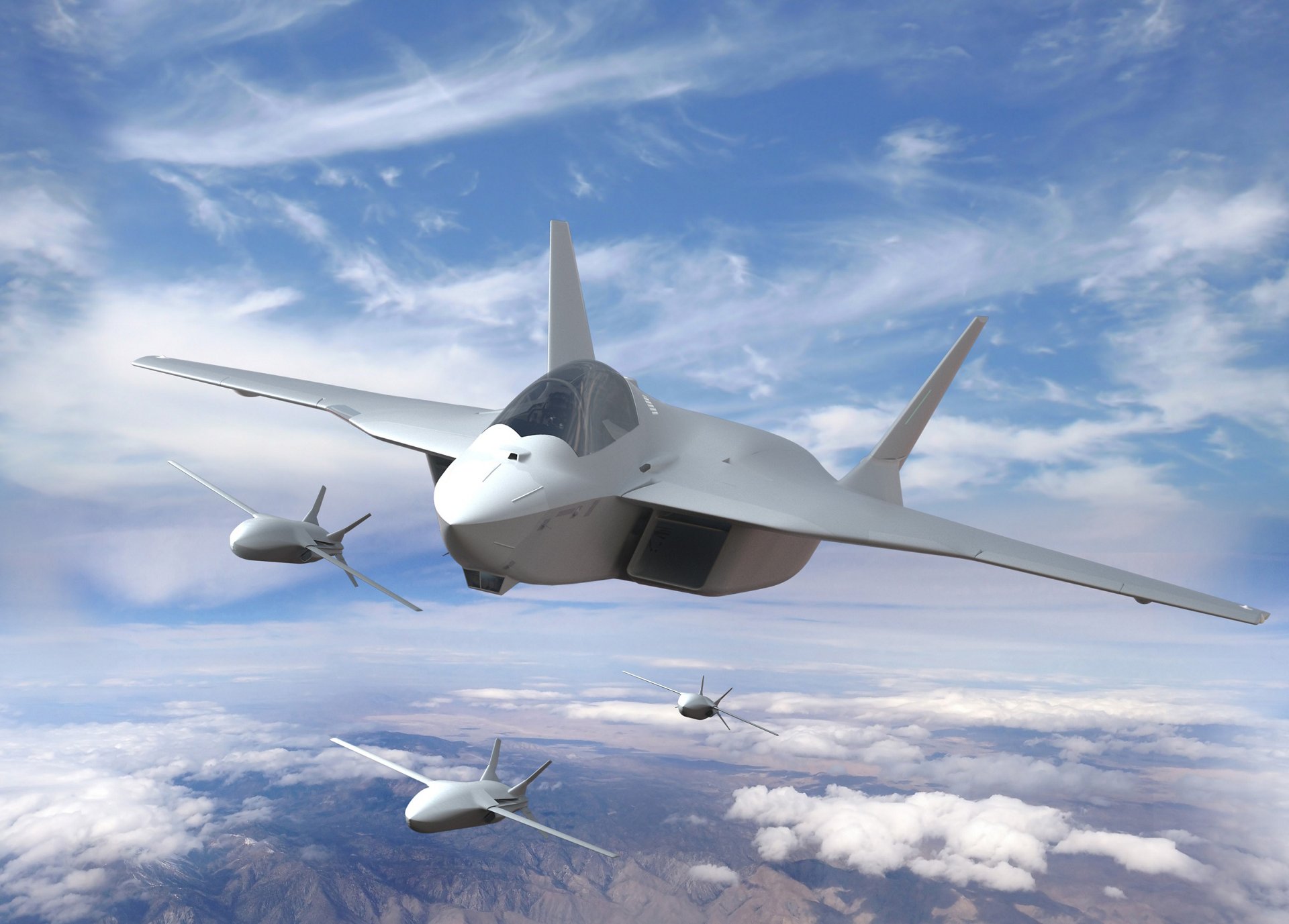 FCAS will give Europe a new fighter to replace the fleet of Eurofighter Typhoons, French-built Rafales, and Spanish EF-18 Hornets by 2040, The EurAsian Times reported earlier. 
France's Dassault Aviation is leading the development of the New Generation Fighter (NGF) while Airbus represents Germany's industry and Indra leads Spain's participation. The demonstrator portion of the FCAS program is slated to run through 2026 or 2027.
UK's Tempest
Tempest is a multi-billion-pound British military project and is expected to become operational in 2035. This aircraft is being designed to incorporate intertwined open-architecture technology to cater to a multitude of threat profiles.
Earlier reports had suggested that the Tempest would be a crewless aircraft, however, the latest reports indicate that it may have a virtual co-pilot.
Tempest is expected to combine a core aircraft with a whole network of capabilities such as uncrewed aircraft and advanced data systems to form a next-generation mix designed to enter service from the mid-2030s, a UK Ministry of Defense said in a statement in July this year.
Post-Brexit, the UK's fighter jet program is seen as a direct competitor to Europe's other next-generation combat aircraft project, the FCAS. Additionally, it was announced on September 15 at the DSEI arms trade show in London that Japan could emerge as the next partner in the Tempest program, which could give a big boost to the project. 
American NGAD
Testifying before the House Armed Services Committee, on the fiscal 2022 budget, Air Force Chief of Staff Gen. Charles Q. Brown Jr. said that there may be two variants of NGAD, one with long-range missions for the Indo-Pacific and one more oriented to the relatively short ranges between possible battle areas in Europe.
He clearly emphasized the importance of "air dominance" as a priority and informed the house that he wants NGAD to possess the multi-role capability.
He emphasized that the aircraft's primary role will be air dominance but will possess the ability to strike ground targets as well. Brown further added that USAF plans to reduce its fighter jet fleet to just four types of aircraft, including the F-35, F-15EX, F-16 as well as NGAD. 
The NGAD fighter is expected to fly alongside the F-35, with the latter being the cornerstone aircraft. The US Department of Defense has published its budget request for 2022, which included revised funding for NGAD.
The USAF is looking for $1.5 billion to support NGAD, which accounts for an increase of roughly $623 million. On Sept. 15, 2020, USAF Acquisition Chief Will Roper announced that the service had flown a full-scale flight demonstrator as part of the NGAD program. 
The EurAsian Times had quoted Roper earlier as saying, "We've already built and flown a full-scale flight demonstrator in the real world, and we broke records in doing it. We are ready to go and build the next-generation aircraft in a way that has never happened before.
"We're going after the most complicated systems that have ever been built and checked all the boxes with this digital technology. In fact, (we've) not just checked the boxes, (we've) demonstrated something truly magical."
5th-Gen F-22 Raptor vs 6th-Gen Fighter Jets
There are five universally accepted features that characterize a 5th-generation fighter aircraft: stealth, advanced maneuverability, advanced avionics systems, multi-role capabilities, and network or data fusion capabilities.
The era of the fifth-generation aircraft began in 2005 with the induction of the US F-22 Raptor into the US Military machine. The F-22 had long reigned as the undisputed 5th-gen ruler of the skies, zooming much ahead of Russian SU-57 and Chinese J-20.
In contrast, a 6th-gen aircraft is likely to comprise everything that defines a 5th-gen fighter jet besides some additional features. There is a school of thought which believes that the next-generation aircraft could be unmanned, whilst maintaining the option of keeping a manned crew.
While this is purely speculation, there may be some merit to this as air forces the world over are working on their loyal wingman concept of pairing a manned aircraft with one or multiple UCAVs.
The USAF under its Skyborg program and the US' Defense Advanced Research Projects Agency (DARPA) under its ambitious Artificial driven ACE initiative are collectively working on unmanned artificial intelligence-driven automation and have already made some headway.
Combat drones like the Russian Hunter-B combat drone and the American Valkyrie are AI-enabled drones. Swarm drones are likely to feature in the 6th-Gen fighter programs. Sophisticated AI-driven heads-up displays (HUD) and data fusions to enhance a pilot's situational awareness and reduce cognitive load during air combat are other predictions.
These systems may be akin to a boxer's coach guiding the pugilist during the middle of an intense bout, helping with a perspective that may not be seen in the heat of combat. Such features are already existing in 5th Gen fighters and may become more democratized in next-generation aircraft.
Smart munitions and weapon systems are ever-evolving with their ranges and autonomous capabilities growing at a blistering pace. The future of air operations may see the use of recon drones to acquire target information following which potent munitions may be unleashed at ranges previously unheard of.
The US Marine Corps (USMC) has already been able to relay targeting information from an F-35 to an M142 HIMARS artillery rocket system in proximity to the aircraft. With the artillery system acting on the data and firing on the target, this technology is becoming increasingly democratized and is likely to see a more widespread application.
An additional aspect that may truly mark 6th Gen fighters would be the ability to operate in previously non-permissive environments with lowered operational risk. This may be achieved by leveraging a combination of low observable technology and advanced electronic warfare capabilities including the USN patented laser-induced plasma filament holograms which may spoof enemy air defense systems and hostile infrared missiles.
Mark Stephen, a laser expert at Lockheed Martin, while speaking to reporters said – "Lockheed Martin is working to fly a laser on tactical fighters within the next five years,"
We're spending a lot of time to get the beam director right."
Most jets are restricted to passive defense mechanisms against missile attacks from enemy forces. The aircraft in a bid to evade attacks can either fly outside the missile's sensor arc, launch flares to distract an infrared missile seeker, or confuse the missile guider by spreading strips of aluminum foil, known as "chaff". The pod-mounted lasers should equip the fighters with an effective means to take down threats.
It is pertinent to note that at this juncture, assessments of 6th-gen capabilities and what they may constitute remain a hypothesis. Furthermore, there are no clear-cut generational distinctions and there may be broad overlap.
Another point worth noting is that the 5th Gen jets like F-22 or F-35 are not that old and only began around 2005 and most of the nations do not have access to fifth-gen technology.
Aritra Banerjee is a defense journalist who has worked in both online and print media. He has laid an emphasis on issues related to military human resources, tactical psychology, military-media relations, professional military education, and combat fitness. He can be reached on email: aritrareporter@gmail.com.