Last week, China launched what was seen as its most ambitious manned space mission. Shortly after this, the communist country has announced another breakthrough in its rocket engine technology.
On October 16, China launched a spacecraft with three astronauts (taikonauts) on board, including a woman, into the core module of what is believed to be China's own future space station in the Earth's orbit. The astronauts are expected to stay in space for six months, which is the longest duration for a Chinese manned space mission so far.
A Shenzhou-13 spacecraft, meaning 'Divine Vessel' in Chinese, was carried by a Long March-2F rocket. It lifted off from the Jiuquan Satellite Launch Centre in the north-western province of Gansu at 12:23 am Beijing Time.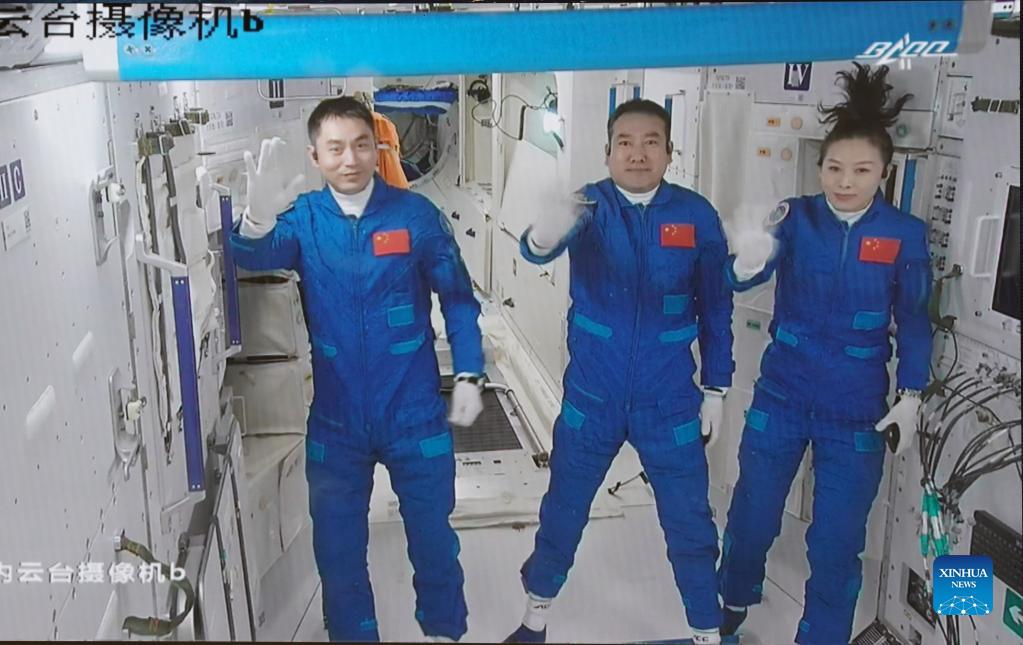 The construction of China's own space station began in April 2021 with the launch of Tianhe, the first and the largest of the three modules. Tianhe houses the living quarters of China's future permanent space station.
Shenzhou 13 successfully docked with the Tianhe core module. The was the first time a Chinese spacecraft carried out a complex vertical docking maneuver, which is considered much more difficult than regular horizontal docking.
The astronauts who went aboard the Shenzhou-13 were Zhai Zhigang, 55, Wang Yaping, 41, and Ye Guangfu, 41. They are expected to stay and work on Tianhe throughout their stay for a duration of six months.
During this mission, the astronauts will be testing key technologies as well as robotics on Tianhe which are crucial for the assembly of the space station. They will be verifying the onboard life support systems and will conduct a series of scientific experiments.
After being barred from working with NASA and the International Space Station (ISS) by the US, China has been constantly working on developing its own permanent space station. Once the ISS retires in a few years, China will be the only nation to own a space station in the Earth's orbit.
Another Breakthrough
Shortly after the spectacular launch of the Shenzhou-13 spacecraft, China claimed it had test-fired the world's largest, hi-tech solid-fuel rocket engine.
Researchers at the Academy of Aerospace Solid Propulsion Technology (AASPT) announced on October 19 that they had successfully conducted the running test of their locally developed solid rocket engine which has a thrust of more than 500 tons.
The test was conducted in Xi'an, the capital of north-western China's Shaanxi Province. This test is said to set a world record in the field of aerospace technologies.
The 3.5-meter wide engine can generate 500 tons of thrust, which is more than four times as powerful as the liquid fuel engine on China's largest launch vehicle, the Long March 5, according to South China Morning Post.
This test marks a major milestone in China's solid rocket technology and has also set a foundation for the development of large-scale, heavy-lift launch vehicle technology.
"The development of the 500-ton thrust solid engine has entered the engineering application stage, while the landmark test opened up a key technology link for the development of China's 1,000-ton solid thrust engine", AASPT said in a statement to Global Times.
Several "cutting-edge" technologies such as a high-performance fiber-composite shell, an integral-casting combustion chamber of high load as well as an oversized nozzle, make it a "world's leading" rocket engine.
"Today's testing was very successful. We have tested all the parameters, including the 500-ton thrust that worked for 115 seconds", said Ren Quanbin, president of the Fourth Research Institute of China Aerospace Science and Technology Corporation (CASC), the developer.
In contrast to a liquid-fuelled engine, a solid engine is powered by high-energy gunpowder. This provides several advantages such as a simpler structure, higher flexibility as well as a large instantaneous thrust. "For solid rocket engines, the gunpowder load was several hundred kilograms, several tons or dozens of tons," said Yu Ying, head of the 7416 plant under the Fourth Research Institute. "This is the first time to surpass 100 tons", he added.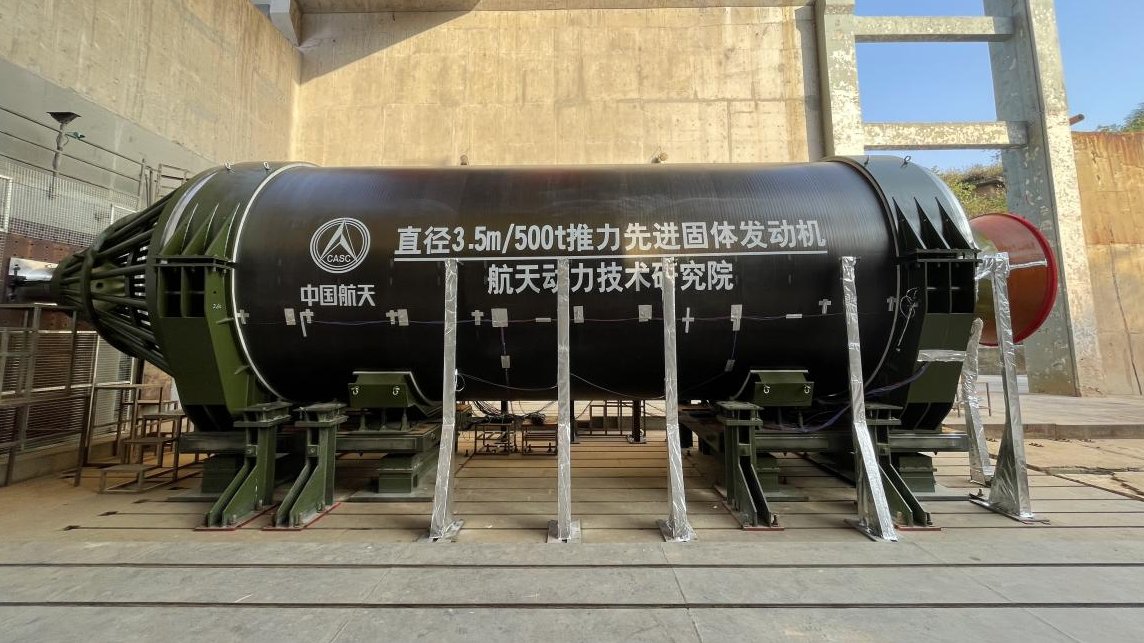 Based on this newly tested rocket engine, the developer has already started research on a five-stage booster engine, which can reach a thrust of more than 1000 tons. "The test's success meant that we have achieved substantial progress in improving the capability of our solid-propellant carrier rockets," Wang Jianru, the engine's chief designer, told China Daily.
This future engine is expected to be used in large and heavy rockets for conducting the manned Moon mission and deep space exploration. "We are at the international advanced level in the field of large solid rocket engines. Next, we will develop a 1,000-ton solid rocket engine to provide stronger thrust for China's carrier rockets in the future," said Ren.
Jayanta Kalita is the editor of The EurAsian Times . A former Associate Editor at Hindustan Times, Jayanta has worked for ThePrint, The Times of India, Mail Today among other media outlets. He can be reached at editor@eurasiantimes.com