With the dragon at its doorstep, the Philippines is in desperate need of lethal airpower! Manila has set out to purchase a fleet of US F-16 C/D fighters to counter the Chinese maritime aggression.
---
This procurement, however, may cost the country dear given the exorbitant $2.7 billion funding, more than half of its national defense budget. This begs the question; will this investment pay dividends?
Miguel Miranda, Founder of The 21st Century Asian Arms Race, a Philippines-based defense industry resource, shares some insights with The EurAsian Times.
Air Force Modernization
The Philippines Air Force (PAF) spelled out the need to modernize its aging air fleet in 2014. This led to the formulation of Flight Plan 2028 which was formally spearheaded in 2015.
"PAF badly needs to recapitalize its fleet after 30 years of dwindling airframes. In hindsight, the retirement of the branch's F-5s in the mid-2000s was an ill-conceived decision as it deprived PAF of genuine supersonic aircraft, leaving behind an assortment of propeller-driven aircraft instead.
As a stop-gap, a dozen South Korean KAI F/A-50's were purchased during President Aquino's years (2010-2016) and these became operational right on time for the Battle of Marawi in 2017."
PAF aims to "intercept and neutralize" threats to the island nation's airspace through Flight Plan 2028, which is being carried out in two distinct steps earmarked as 'Support Processes' and 'Core Process'.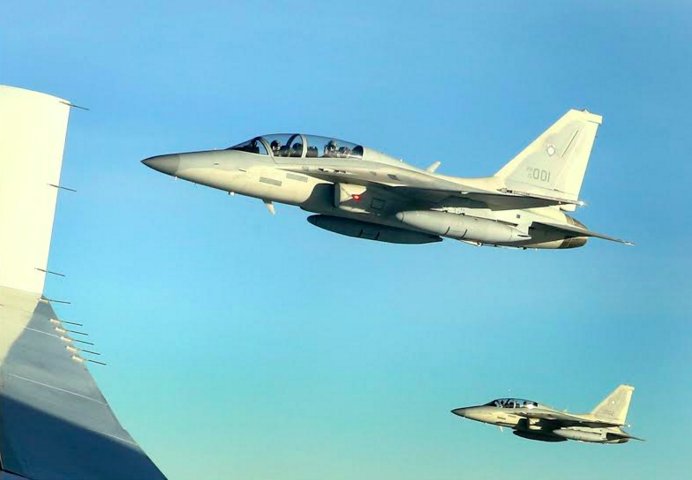 A dozen South Korean FA-50 light fighter aircraft have already been inducted into the PAF inventory following an order placed in 2014. These aircraft were delivered in 2017 at around half a billion dollars.
These FA-50s were quickly scrambled into action during the pitched Battle of Marawi, the same year where they provided close-air support against terrorists in Mindanao. The FA-50s empowered PAF to launch precision strikes against hostiles holed up in buildings and highlighted the merit in using airpower to support ground combat operations.
The battle was not without its costs and highlighted glaring shortcomings in Filipino airpower, including the need to procure advanced attack helicopters.
Interestingly, there were details published last year by the United States Defence Security Cooperation Agency (DSCA) about a potential military sale of AH-1Z or AH-64E Apache attack helicopters for the Armed Forces of the Philippines (AFP).
However, there have not been any confirmations or developments since then.
Going beyond fighter jets, Flight Plan 2028 saw procurements of critical air assets in 2017 such as the Agusta Westland (AW)-109 and Bell 412 helicopters and three C295 transport aircraft.
All of these orders were a part of its 'core process'. PAF had also placed an order for six A-29 Super Tucanos as part of its 15th Strike Wing that year.
The PAF C-130H Hercules air-crash in Jolo earlier in July this year saw 52 casualties. This accident may have served to reaffirm the nation's need for air force modernization through its 14-year blueprint.
Hunt For Single-Engine Jets
The focus on the procurement of single-engine fighter aircraft with BVR capabilities was felt for a while but the hunt only began recently. The DSCA announced that it would sell 12 F-16C/D multirole fighter aircraft to PAF.
Explaining the rationale behind single-engine fighters, Miranda said, "The preference for single-engine models stems from history – PAF was an early operator of the F-86 and even a squadron of F-86 Crusaders – and the conditions in the global aviation market. Single-engine fighters are affordable. I wonder if PAF will eventually recognize that it needs heavy twin-engine fighters too in the future."
When asked about why the F-16 was selected over the Saab JAS Gripen, he said, "The ultimate decision to acquire the F-16 is up to the Department of National Defense (DND). Owing to the lagging pandemic economy we may have to wait months before any confirmation (or none) is announced. Historically, the USA is the main supplier of the PAF so it's not surprising the F-16C/Ds are now being offered."
These F-16s will be armed with a host of smart munitions, with the combined contract amounting to an estimated $2.7 billion. This deal includes AIM-9X Sidewinder Block II air-to-air missiles worth $42.2 million dollars and 12 AGM-84L-1 Harpoon anti-ship missiles worth $120 million.
The Harpoons are believed to be used as a deterrent against maritime aggression by China's People's Liberation Army Navy (PLAN).
The F-16 procurement plan takes a chunk out of the Philippines' annual defense budget, which is a mere $4.26 billion.
"The greatest implication is that the Philippine government, particularly the legislative branch that oversees budget allocations, recognizes the need for high levels of spending over time.
The truth is $2.45 billion is a modest sum and only seems controversial when compared to a tight budget. If the annual military budget were raised 20% over five years this will go a long way in equipping the entire armed forces for its current mission, which is territorial defense," the defense analyst said.
The F-16 Block 70 
The Lockheed Martin F-16 as a platform was the US Air Force's first multi-role fighter aircraft. Also called Fighting Falcons, they are considered the most prolific fighter aircraft in military aviation history. USAF has over 2,000 F-16s in service while 2,500 F-16s are operational in 25 countries.
According to the aircraft's manufacturer, "The F-16 Block 70/72 combines capability upgrades, most notably the advanced Active Electronically Scanned Array (AESA) radar with a new avionics architecture, and structural upgrades to extend the structural life of the aircraft by more than 50 percent beyond that of previous production F-16 aircraft."
"F-16 Block 70 software takes advantage of technologies not available when earlier Block F-16s were developed and produced. Operational capabilities are enhanced through an advanced datalink, targeting pod and weapons; precision GPS navigation and the Automatic Ground Collision Avoidance System (Auto GCAS)," elaborated Lockheed Martin on their company website.
PAF will receive 10 F-16C Block 70/72 aircraft armed with 15 M61A1 Vulcan 20mm cannons, 24 AMRAAM AIM-120C-7/8s, 24 AIM-9X Sidewinder Block IIs, and 12 AGM-84L-1 Harpoon Block IIs along with two F-16D Block 70/72s equipped with 12 AGM-84L-1 Harpoon Block IIs, 6 Mk-82 500-pound bombs and 6 Mk-82 500-pound inert training bombs.
Additionally, 15 F-100/110 engines, 15 iPDG, 15 AN/APG-83 AESA radars, 15 modular mission computers, 15 LN-260 embedded GPS/INS, 15 tactical radio systems, 48 LAU-129 missile launchers, 6 sniper pods, JDAM bomb kits and 20mm cannon ammunition are to be delivered.
A Credible Deterrent Against China?
"Certainly. The F-16 enjoys broad use in the Asia-Pacific (South Korea, Taiwan, Singapore, Indonesia) and the global supply chain supporting it means the fleets are maintained over decades.
The F-16's payload and role is beyond reproach. It can perform any mission. A specific advantage of flying F-16's is the PAF can train with other foreign operators year after year," Miranda said.
However, PAF would require a diverse Air Force fleet with at least 100 fixed-wing aircraft, of which half are fighters in order to act as a credible deterrent against the airpower possessed by the People's Liberation Army-Airforce (PLAAF).
"By 2028 the PAF should be in commendable shape. The best of the lot are the long endurance Super Heron and Hermes 900 UAVs acquired from Israel. These will give the branch considerable situational awareness over vast distances. Geography matters and being able to watch over nearby seas is of paramount importance for the entire armed forces."
"If F-16C/Ds are operational by then the PAF should be expanding its bases to accommodate another dozen fighters. All in all, by 2028 the PAF is equipped for minimum deterrence. The real game-changer is any provisions for the US Navy to deploy here again. I think this is a possibility," he concluded.
Aritra Banerjee is a defense journalist who has worked in both online and print media. He has laid an emphasis on issues related to military human resources, tactical psychology, military-media relations, professional military education, and combat fitness. He can be reached on email: aritrareporter@gmail.com.