The US military's highly secretive Area 51 is once again in the news. The US Air Force's E-4B Nightwatch, nicknamed "Doomsday Plane", landed at an airbase near Area 51 with a VVIP onboard.
US' F-117 Nighthawks – World's 1st Stealth Aircraft Battles USAF' Latest Fighter Jets Near Mysterious Area 51
Earlier, The Eurasian Times reported that USAF's F-117 Nighthawk, the world's first operational stealth fighter jet, was seen in action in the 'Red Flag' air warfare exercise over the Nevada desert.
US Air Force's E-4B Nightwatch aircraft, also known as National Airborne Operations Centers (NAOCs), reportedly landed at the Tonopah Test Range Airport (TTR) on July 23, according to the open-source flight tracking websites.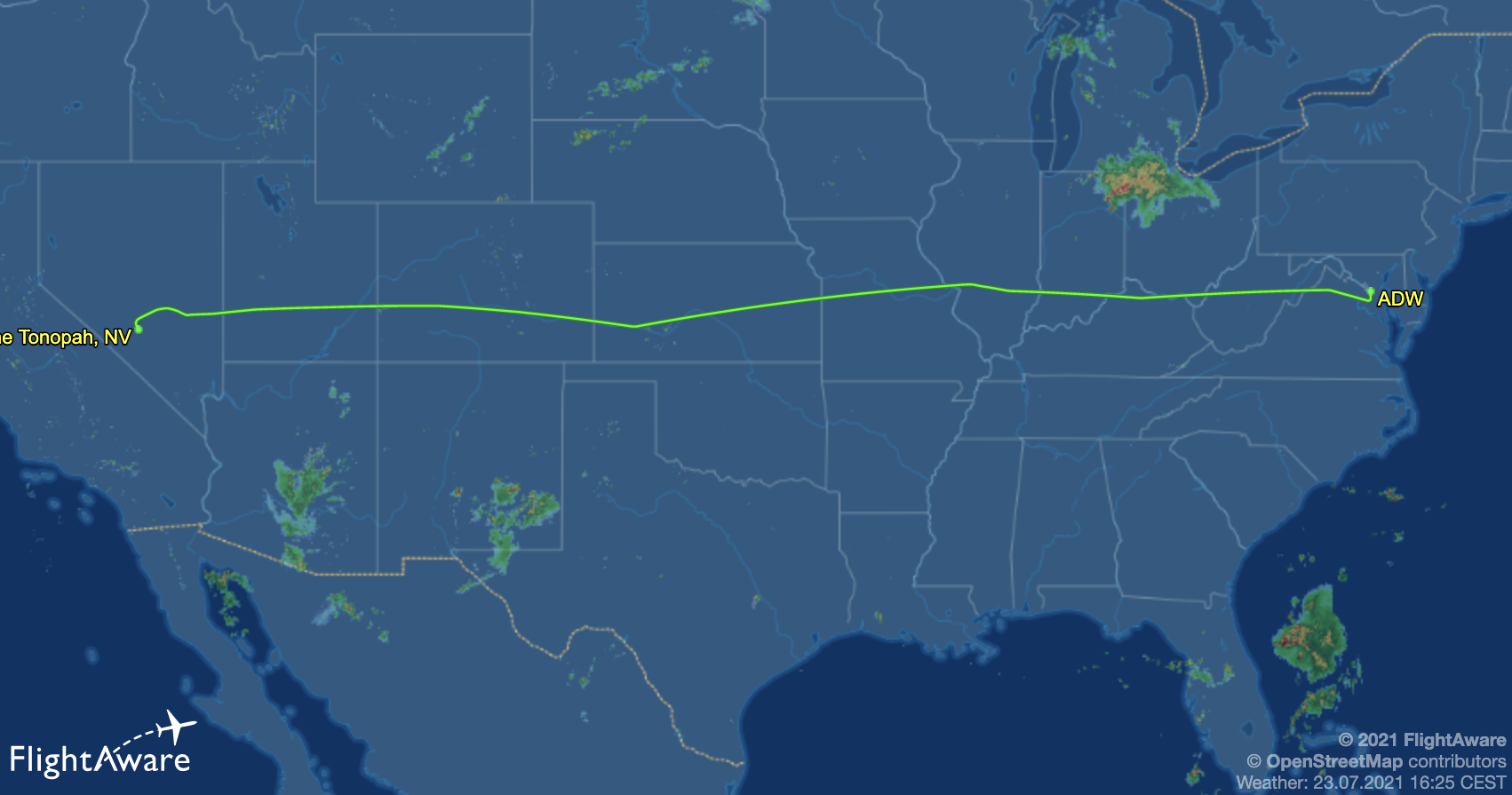 The Nevada Test and Training Range (NTTR) is located in southern Nevada's Great Basin Desert. The highly classified United States Air Force (USAF) facility, commonly called Area 51, is also located within the NTTR.
It was during the Cold War that this base acted as a host to Soviet fighters flown clandestinely for testing and as adversaries against American and allied fighters.
The E-4B Nightwatch
The US Air Force's four existing E-4Bs, also known as 'Doomsday Planes', are based on Boeing 747 airframes.
They are known for providing a robust and survivable airborne command post that offers a platform for the President of the United States, under a framework known as the National Command Authority (NCA), to initiate a nuclear strike, according to The War Zone.
The iconic E-4B's is nicknamed "doomsday plane" because of its ability to withstand a nuclear blast. It can also serve as a secure and survivable command center in the event of a nuclear war.
The planes serve other functions as well. They often direct large-scale military operations or work towards a response to other major contingencies, such as natural disasters. In addition, the Nightwatch jets are employed as a means of transporting the US Secretary of Defense to foreign countries.
First introduced in 1974, the E-4B was derived from the Boeing 747-200. However, after about 50 years of being in service, the aircraft is nearing the end of its service life.
Watch: The Ultimate Dogfight Between US & Russian Fighter Jets Over A 'Top-Secret' Air Base In Nevada
As of 2021, the Air Force has decided to replace its aging fleet of E-4B Nightwatch aircraft with new commercial-derivative planes that possess modern communications/command and control systems and can survive a nuclear blast, under the Survivable Airborne Operations Center program, or SAOC.
TITAN25 (E-4B NAOC) landing at Tonopah Test Range – TTR KTNX ?! ?? pic.twitter.com/3y3ps5XE5i

— Thenewarea51 (@thenewarea51) July 23, 2021
The Latest Sighting
An E-4B Nightwatch bearing the serial number 74-0787 reportedly landed at the Tonopah Test Range Airport after flying from Andrews Air Force Base in Maryland. The aircraft used the TITAN25 callsign, usually assigned when the Secretary of Defense is onboard.
It is not immediately known why Defense Secretary Lloyd Austin visited the secret airbase.
However, this would not be the first time a secretary of defense has visited components of the NTTR quite discreetly to assess future next-generation air combat capabilities, but a visit to Tonopah has never been reported before, and especially aboard an E-4B.
USAF

E-4B NIGHTWATCH
ABNCP

74-0787
TITAN25

Heading west from Joint Base Andrews.

Location noted at 14:00z pic.twitter.com/DbXiBscUNC

— BlueSky (@AirSpecInt) July 23, 2021
The aircraft departed the Nevada base after only a few hours of landing, taking off at around 3 PM local time, according to online flight-tracking sources.
A couple of military activity tracking Twitter accounts expressed their disbelief at the aircraft flying towards TTR, one reads 'TITAN25 (E-4B NAOC) landing at Tonopah Test Range – TTR KTNX ?!
'9/11 Redux': C-17 Globemaster Zips Past Aussie Skyscrapers In Dramatic Footage, Video Goes Absolutely Viral — WATCH
Adding context to the story, it has been reported that the Secretary of Defense is expected to leave for a three-country tour of Asia sometime this week, but his exact departure date is not known yet.
With that in mind, it's possible that Austin was making a visit to TTR ahead of leaving for his first destination in Asia, Singapore.
If the E-4B is taking the Secretary of Defense on an overseas tour, usually a press team is present onboard. This is highly unlikely considering the extreme security at TTR.
An E-4B flying to Tonopah is mysterious enough, but going there with the Secretary of Defence aboard before a major international tour raises questions about the purpose of this visit.
Contributed by Anshruta Banerjee