India has the most powerful Navy in the Indian Ocean region and one of the biggest, strongest in the whole of the world. While China has already emerged as the biggest naval power in the world and remains battle-ready, why has the Indian Navy been shying away from confrontations?
India's 5th-Gen Aircraft: IAF To Model Its AMCA On US' F-35s Instead Of J-20 Or Su-57 Jets – Experts
India's carrier development history dates back to the early 1960s, although these aircraft carriers have played a limited role in past wars.
The PLA Navy (PLAN) is on the verge of launching its third aircraft carrier. Recent satellite images indicate that the final phase of construction of the warship, known as Type 003, is in full swing.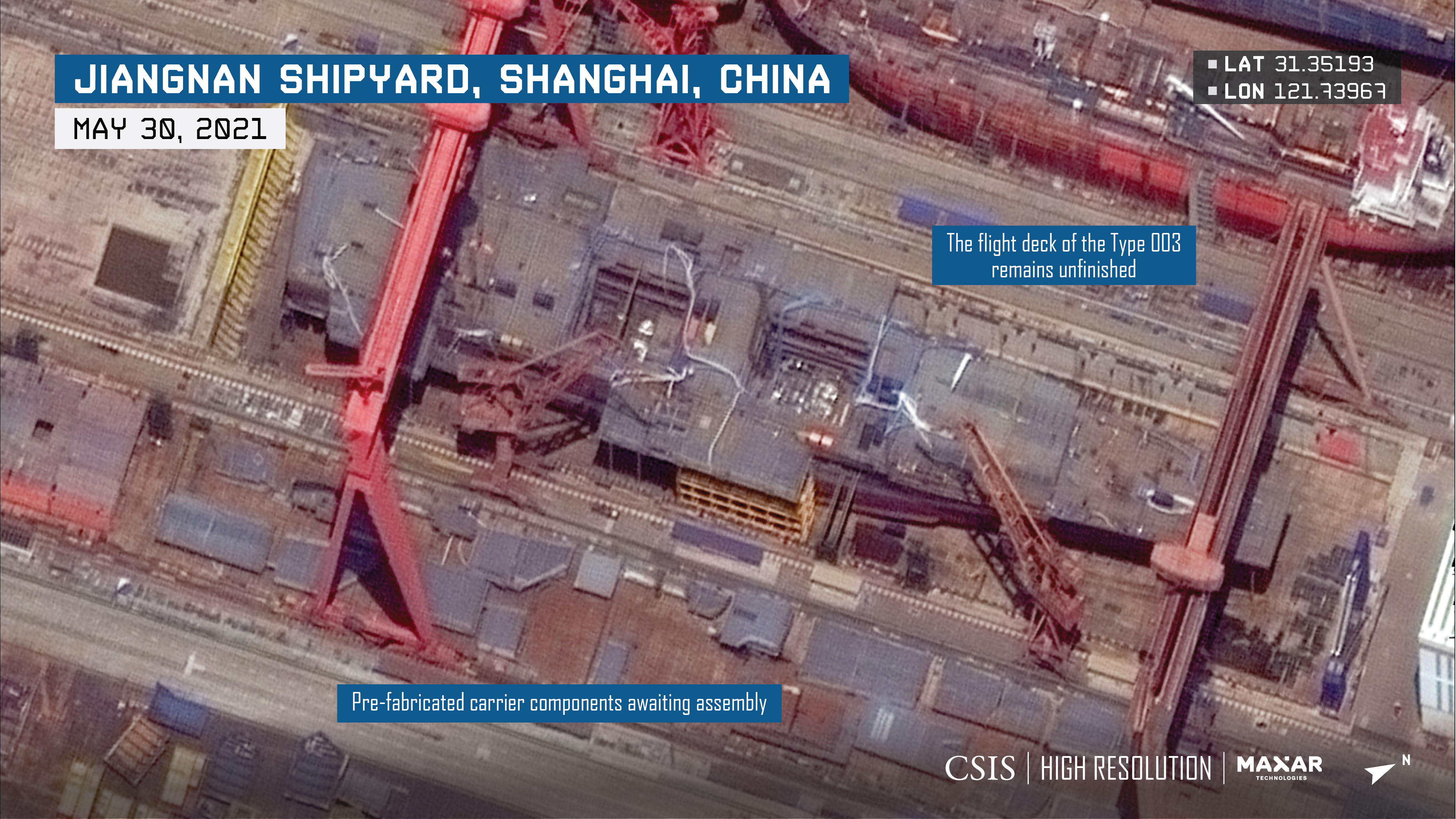 Indian news magazine The Week reported that the vessel will probably be the largest surface combatant for the Chinese People's Liberation Army Navy (PLAN). 
China commissioned its first aircraft carrier Liaoning in 2012, which was originally developed as an Admiral Kuznetsov-Class multirole aircraft carrier by the erstwhile Soviet Union. The second one, Shandong, was commissioned in 2019, China's first indigenously built aircraft carrier.
The Type 003 is currently being manufactured at Shanghai's Jiangnan Shipyard. This will have a flat-top flight deck with a catapult assisted take-off, but arrested recovery (CATOBAR) system for launching fighter jets with higher payloads or with greater quantities of fuel.
China may also convert the Type 003 into a nuclear-powered carrier later, experts noted. This would put China in the elite group of nations — the US and France — which operate nuclear-powered aircraft carriers.
Well … slowly the images of the latest progress on the Type 003 aircraft carrier's construction are getting better! ?

(via VESSEL/SDF) pic.twitter.com/RgLWXeyy1R

— @Rupprecht_A (@RupprechtDeino) January 18, 2021
According to reports, its main hull modules have been assembled at the Jiangnan Shipyard dry dock, and the assembly of the three-storey high hangar is under construction.
The Ordnance Industry Science Technology (OIST), a Chinese defense magazine, has indicated that the vessel is about 285m long, and will weigh approximately 80,000 tons.
'9/11 Redux': C-17 Globemaster Zips Past Aussie Skyscrapers In Dramatic Footage, Video Goes Absolutely Viral — WATCH
On its completion, it will be similar in size and capability to the USS Kitty Hawk class of conventional-fuelled aircraft carriers.
Type 003 is expected to be launched in 2021 and enter the service in 2025. "2021 is a year full of expectations, including the Type 003 aircraft carrier and also the H-20 bomber. It is time for our technological development to bear fruit," the state-run Global Times quoted Chinese military expert and TV commentator, Song Zhongping, as saying
India's Aircraft Carriers
Since independence, India has given its due attention to the aircraft carrier development, unlike China or the Soviet Union which invested heavily in submarines, noted a report by The National Interest.
INS Vikrant, a Majestic-class light carrier served the Indian Navy from 1961 until it was decommissioned in 1997.
INS Viraat, a former Centaur-class carrier HMS Hermes, served the Indian Navy from 1987 till 2016. Commissioned in 2013, INS Vikramaditya can operate approximately 20 MiG-29K fighters as well as utility helicopters.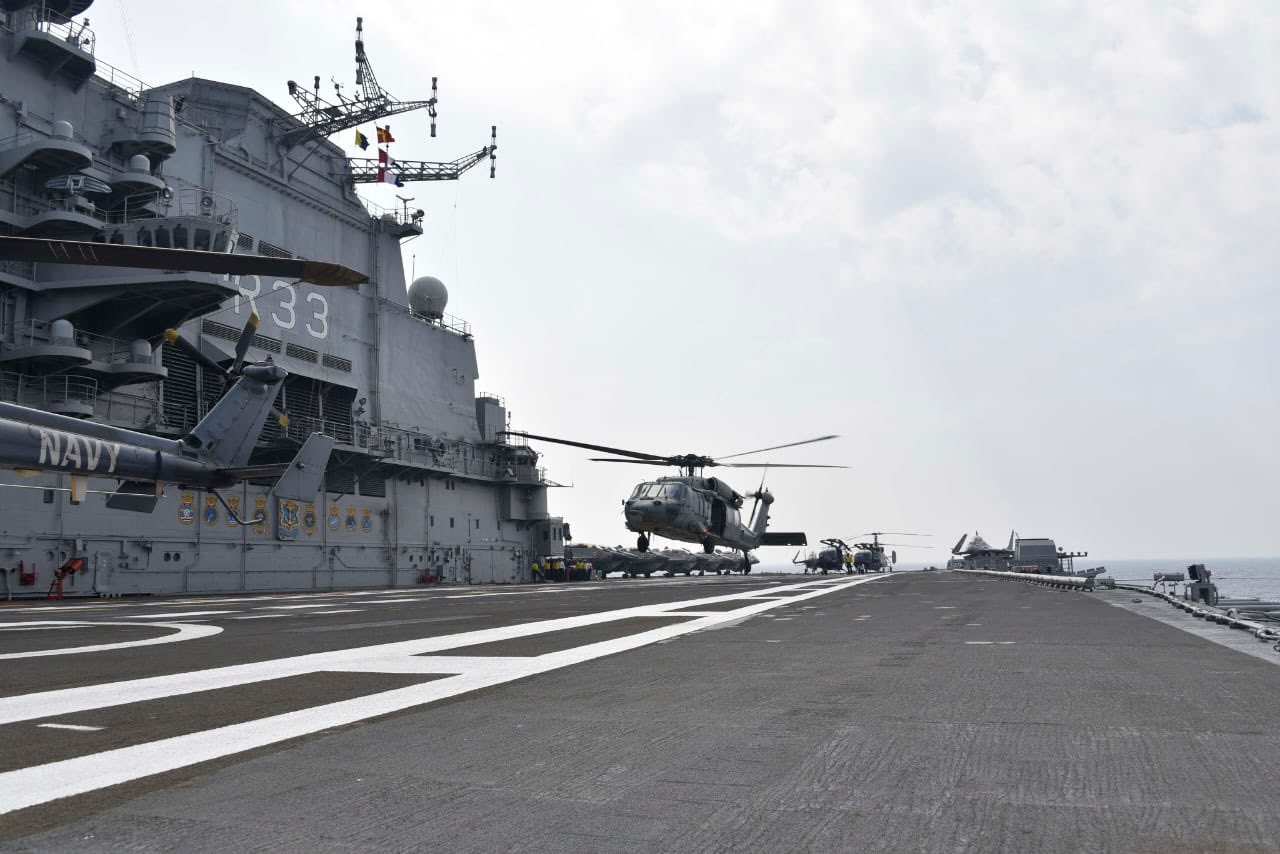 India's carrier force has a three-pronged rationale, mentions the report. The first is to support a conventional war against Pakistan and its capabilities to strike Pakistani naval assets and land bases.
The second rationale is based on the assumption that the carriers can help the Indian Navy be the foremost force in the Indian Ocean region, commanding it better than any foreign competitor.
VIRAL: Photos Of 'Chinese Workers Carrying AK-Assault Rifles In Pakistan' Take Internet By Storm
The Indian aircraft carriers will have better access to bases and support facilities in the Indian Ocean, in comparison to China, like from the UK, US or France.
The third rationale is China and the emerging geopolitical competition. The report mentions that though China may not have the experience of carriers like India, it has an efficient shipbuilding industry and a rapidly growing aviation sector.
But then, India can leverage its "proximity to bases to its advantage in the most likely areas of any conflict".
Indian Aircraft Carriers 'Resting' In Conflicts
India has consistently operated an aircraft carrier for over half a century. Since 1961, when India's first aircraft carrier was commissioned, India has had military confrontations with Portugal (1961), China (1962), and three times with Pakistan – 1965, 1971 and 1999.
Indian aircraft carriers, the jewel in the Indian Navy, have played a limited role and have not been utilized to their full potential in past wars, according to experts.
BrahMos-II Missile Program To Greatly Benefit From The Successful Test Of Russian Zircon Hypersonic Missile
INS Vikrant was not part of Operation Vijay — India's bid to liberate Goa in 1961. Due to the "fear of British submarines and inadequate knowledge about Portuguese defenses," India sidelined its naval option, according to an analysis by Raina writing for The Lowy Institute.
#WATCH MiG-29Ks of Indian Navy & F-18s of US Navy carried out simulated attacks on the surface force during multilateral naval exercise 'Malabar 2020' in the Arabian Sea & Indian Ocean.
The MiG-29s operated from the INS Vikramaditya aircraft carrier. pic.twitter.com/pTpim2CTe6

— ANI (@ANI) November 20, 2020
In the 1962 war with China, India did not see any naval participation and according to Raina was neither considered, a decision justified by a combination of India's inexperience with aircraft carrier operations and the decision to limit escalation with the Dragon.
India did not even use its Airforce, a decision that is even critiqued today.
In the 1965 India-Pakistan war, the Indian Navy had an opportunity to display its prowess. The INS Vikrant was at the Bombay (now Mumbai) harbor, however, at that time it was undergoing refitting, and its air squadrons were placed under the operational command of the Air Force.
In the 1971 war to liberate Bangladesh, INS Vikrant was initially deemed unfit to sail, as it was plagued by problems in its boiler. It was eventually deployed in the Bay of Bengal even if it was unable to fly its aircraft.
The Indian Navy opted to deploy INS Vikrant in the Bay of Bengal, where there was no Pakistani naval threat and the lone Pakistani submarine that was hunting for Vikrant sank on the second day of the war.
F-22 Raptors: Why Did The US Govt. Stop The Raptors From Becoming The World's Stealthiest, Deadliest Fighter Jets Ever
In comparison, the Bangladesh Liberation Army or the Mukti Bahini reportedly sank or paralyzed over 100,000 tonnes of shipping. Adverse wind conditions meant that the Vikrant's fighters (the Seahawks) were available for only about half the time – instead, it had to rely fundamentally on its antisubmarine warfare aircraft.
During the 1999 Kargil war with Pakistan, Vikrant's successor, INS Viraat, was once again at the dock undergoing refitting.
Lack of Investments?
As the Indo-Pacific becomes a significant geopolitical contest, investments, especially in India's hard-power capabilities, remain below par, according to a study by the Centre for Strategic and International Studies.
In the Indian Ocean Region, New Delhi spends way too little on its navy, in comparison to other nations. According to figures from FY 2017-2018, only 15 percent of India's total military expenditure was spent on the navy, which is far less than its QUAD counterparts.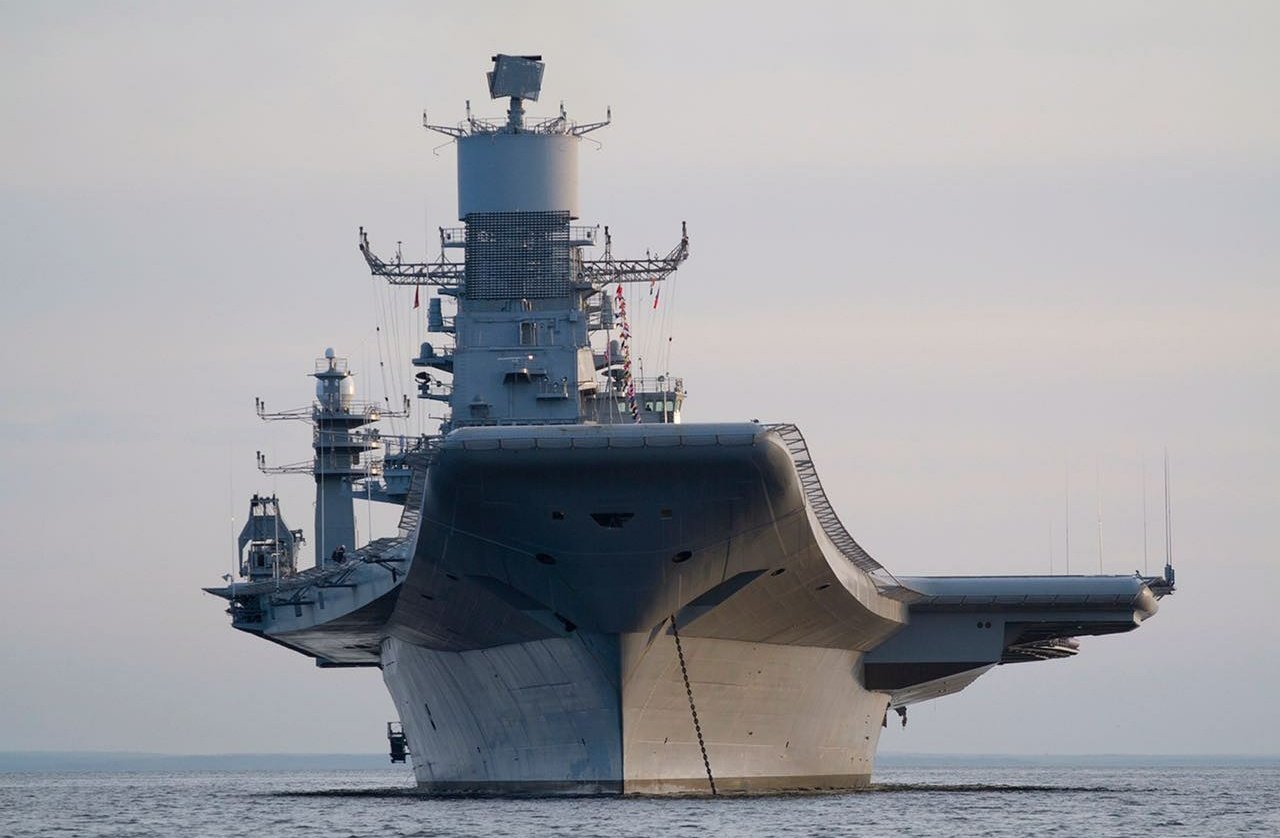 It is believed that China spends nearly "three times much as India on its military overall". During the same fiscal year, the Indian Navy had requested $5.2 billion but was allocated only $2.9 billion, which may have had an adverse effect on new acquisitions or further modernizations.

'India Has The Requisite Assets'
Indian Navy has the requisite assets, Admiral Shekhar Sinha (retd) told The EurAsian Times.
"We look at our threat perceptions; we should be in a position to protect our sea lanes of communication particularly in the Indian Ocean Region and the wider world in the Indo-Pacific.
And whatever assets are required, those assets are either available or are in the pipeline. The Indian aircraft carrier Vikrant is being built and it should shortly be out for sea trials."
When asked about India's naval prowess compared to China's, Admiral Sinha stated that the ambitions of the two countries are different.
HAL Tejas: India To Respond To Royal Malaysian Air Force's Request for Proposal For Tejas Fighter Jets
"China is making aircraft carriers because it has got an ambition of replacing the United States of America as the world's most powerful country, both economically and militarily.
India doesn't have those ambitions; Indian ambition or the foreign policy ensures that the Indian ocean neighbors, littorals and in the wider Indo-Pacific, whenever they seek help, we should be able to give them military support."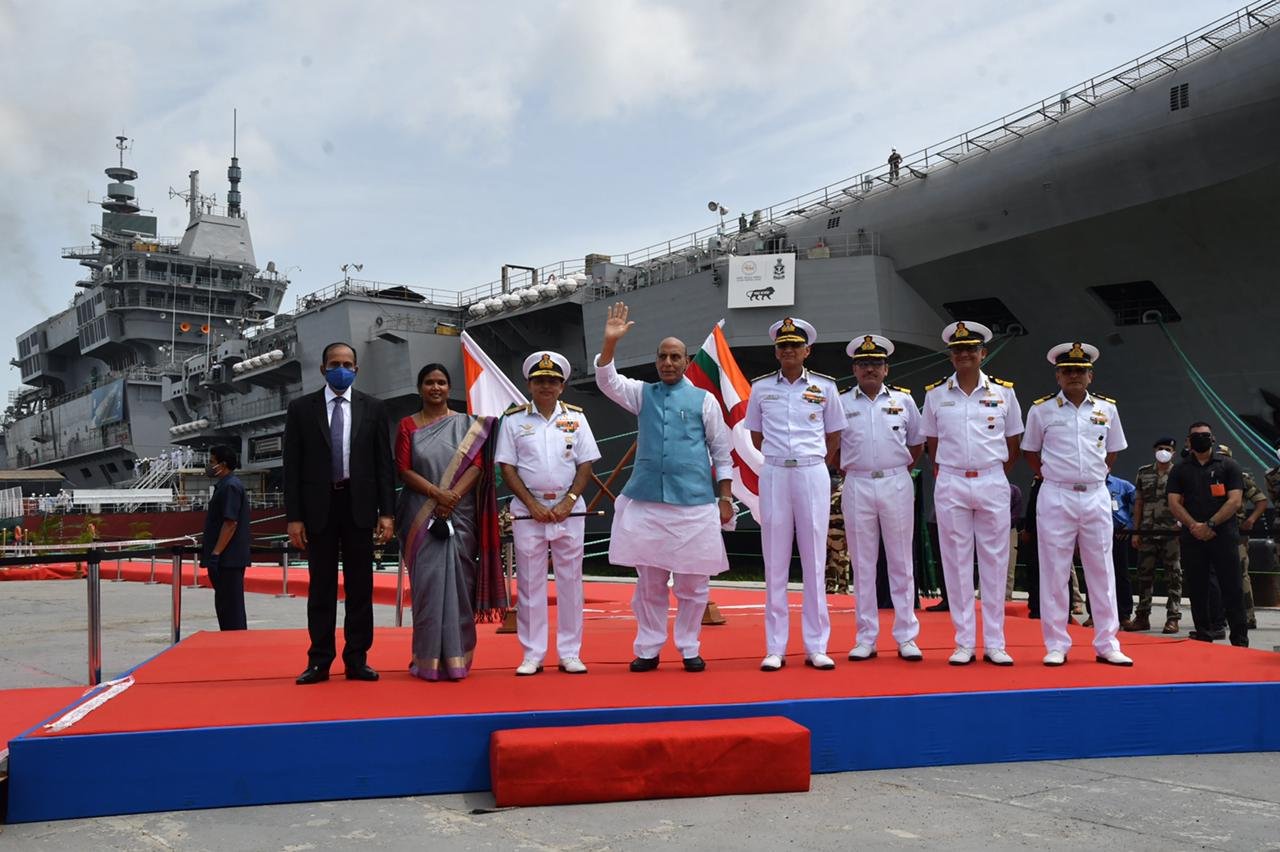 "China is five times our economy; China has a much larger navy, and therefore, we are not in any competition. Yes, we have assets and some more assets are in the pipeline which should deter China from taking any military action against India.
People do not take military action without any reason, and we have supremacy in the Indian Ocean region as of now," Admiral Sinha, a leading military expert, asserted.
Speaking about the Chinese capability building, he noted, "Capability building is a very planned event and is time-consuming, but our capability processes are on."
"For China to sustain aircraft carrier operations in the Indian Ocean is not going to be very easy, because aircraft carrier aviation is not something like a computer game, that you buy, play, and learn.
It takes years to imbibe the techniques and skills to operate the aircraft carrier –– not only the aircraft but also an aircraft carrier in a fleet.
"So China is someway away. But we should not rest our oars, we must keep watching this development from close quarters and then create the advanced technologies which can ensure that our maritime interests are not jeopardized."
— Co-authored by Anupama Ghosh