The US Marines have conducted drills with a mini unmanned aerial system (UAS) called Drone40 that could turn lethal when they attack in swarms.
CPEC: Internal Pressure, External Threat – Why China's $60 Billion Investment In Pakistan Is At Risk?
It was in February 2021 when this miniature drone caught the attention of defense enthusiasts when photos and videos of the British Army testing the UAS had gone viral.
Held at Camp Lejeune in North Carolina on July 7, the latest exercise was part of the 2nd Marine Division which is an "experimental infantry battalion to test new gear, operating concepts and force structures".
Reports suggest that the drone was operated by the British Army task group deployed in Mali as part of the United Nations Multidimensional Integrated Stabilization Mission.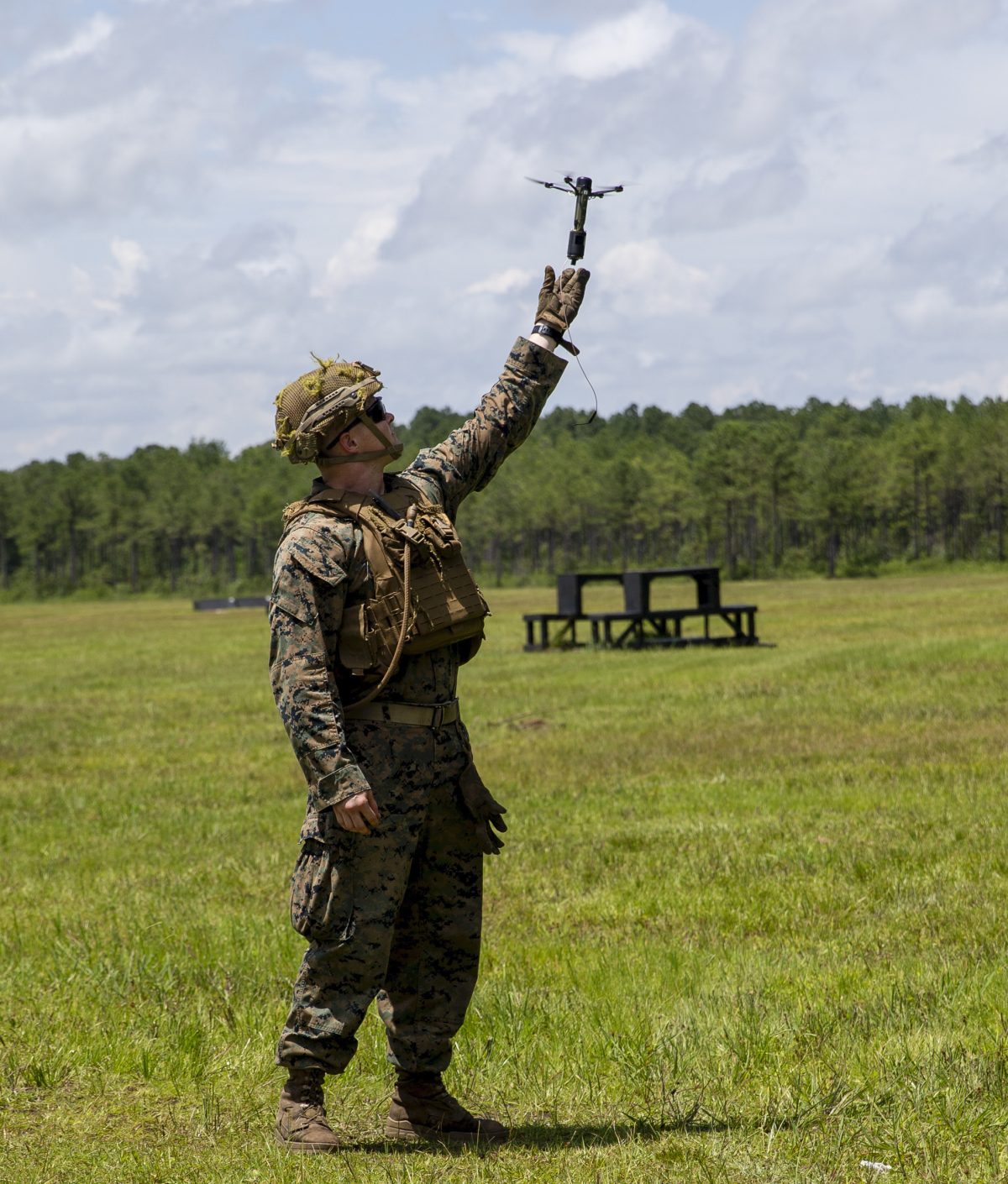 The US Marines operate other mini-drones like the combat-proven Black Hornet which is a part of the Pentagon's secretive Project Hornet. 
It is "an advanced, hand-launched unmanned aerial system (UAS) that can be used by forward-deployed personnel to interdict and disrupt adversary electronic capabilities in contested environments".
What is Drone40?
Drone40 is manufactured by Defendtex, an Australia-based defense company that initially designed the product keeping in mind the needs of the Australian army.
According to Australia Defence Magazine, Drone40 was first exhibited at Army Innovation Day 2016 after which it received the contract and funding for further development.
Watch A Giant 3D Cat Atop A Tokyo Train Station Catches Commuters By Surprise
Defendtex describes Drone40 as an autonomous loitering grenade, deployed either by grenade launcher or hand launch. Shaped like a 40mm canister or an oversized bullet, the drone is also waterproof, making it suitable for recovery during bad weather or missions at sea.
With a body of 120mm weighing 180 grams, the quadcopter drone can take a maximum takeoff weight of 300 grams and has multiple payload options for applications like long-range target engagement, intelligence, surveillance, and reconnaissance missions.
Drone40 possesses swarming capabilities, making it one of the most lethal UAVs in the world. The company claims that the swarming capabilities could enable "multiple round simultaneous impact," or MSRI. This means that a soldier can fire multiple munitions using a launcher, with each munition working as a force multiplier.
With a range of 20 km and flight time between 30-60 minutes depending upon the payload, Drone40 system is marketed as expendable or reusable at an existing price of less than $1000 per piece.
According to reports, DefendTex is working on Drone 81, a larger round-shaped to work with mortar tubes, and there are other drone models in the works to match specific munition sizes. Another variant, Drone155, was also on display during the Australian Army Innovation Day in April 2021.
UK troops have deployed to #Mali with two types of small #drones. The Puma AE and the DefendTex D40 (which can carry a small munition).
More details here: https://t.co/OsAZOyiZGQ pic.twitter.com/B7LvqIlqcQ

— Drone Wars (@Drone_Wars_UK) December 4, 2020
"Investment from Five Eyes military partners has evolved the Drone40 into a family of drones now covering 60, 81, and 155 mm derivatives with greater payload and range capacities," a DefendTex spokesperson told Australia Defence Magazine.
The Era of Miniature Drones
The integration of hand-launched and mini-drones in defense systems shows how militaries around the world are blending traditional weapons with autonomous vehicles to enhance surveillance and intelligence activities along with preparation for future warfare.
Apart from the US, there are other countries that have invested in miniature drone models.
Spike Firefly is one such miniature tactical loitering weapon built by Israeli Rafael Advanced Defence Systems. It was designed for light maneuvering ground forces such as Infantry, Special Forces or Marines.
Indian Air Force Shows Its Prowess With 'Swarm Drone Technology'; Tweets Images: Watch
It can carry an omnidirectional fragmentation warhead of maximum 350 grams with a range of 500 m in urban areas and a kilometer in open.
The UK is developing a nano-drone called Bug, developed by the London-based BAE Systems in collaboration with British drone manufacturer UAVTEK. Weighing roughly 196 grams, the Bug can fit in one's palm and has the ability to spy on targets 2 kilometers away, The Eurasian Times earlier reported.
RQ-11 Raven is another hand-launched drone, which is currently operated by more than 30 countries. Developed by the US-based AeroVironment, the Raven is famous for autonomous landing to a predefined point after being thrown into the air like a free-flight model airplane.
Russia also has developed a mini-spy drone known as Zala, which recently was tested in the extreme cold conditions of Antarctica. Weighing 1.7 kilograms, Zala can travel as far as 15 kilometers and has a top speed of 150 kmph.
Turkey's 1.9 kg Alpagu drone can be carried and operated by a single soldier on the battlefield, or several can be carried on multiple launchers attached to armored vehicles.
Turkish news agency Daily Sabah reported that a Turkish defense firm is also developing 170 mm long miniature rockets for mini UAVs, having a shooting range of 2 kilometers. The mini rockets can also hit and destroy fixed targets such as light unarmoured or armored vehicles and small structures.
India is also in the race to develop mini-drones. According to the Defence Research and Development Organisation (DRDO), three Micro & Mini UAVs namely Black Kite, Golden Hawk, and Pushpak are under development for the military.
READ MORE
---