A giant cat looking at passers-by from atop one of Tokyo's busiest railway stations seems like a fitting tribute to Town of Cats by celebrated Japanese novelist Haruki Murakami. 
Arch-Rivals India & Pakistan To Accelerate 'Naval Missions' With US-Made P-8 Poseidon & Embraer Lineage
"There shouldn't be any humans here … there's no way humans could get into this town of cats", an excerpt from the novel reads. Japan's new addition to the world's modern smart tech seems to be bringing life to such vignettes of imagination. 
This 3D billboard is due to launch by July 12, but the test broadcast has captured viewers in awe. A video of the marvelous technology behind this lively cat mural has taken the internet by storm. 
"This is a video taken locally around 3:30pm today (July 5). The crowd is unexpectedly noisy, so I have to adjust the volume of my voice. Be careful of the volume during playback!" reads a tweet as one can see the cat prancing back and forth to assume a dignified stance.
今日の15時半ごろに現地で撮られた映像です。雑踏が思いのほかうるさいので、声の大きさは調整しなきゃ。再生時、音量注意です!⚠️ pic.twitter.com/8OsmcyyVOo

— 新宿東口の猫 (@cross_s_vision) July 5, 2021
The video garnered over 5 million views and about 141,000 likes. Twitter users flooded the comment section expressing amazement at the realistic reproduction of the feline. 
"A cat in Shinjuku looks sleepy at night", read the caption to another 14-second clip in which the feline rests her head on her paws, yawns, closes her eyes, and goes to sleep. 
To promote the incredible "Shinjuku Cat" further, one of the companies behind the display, Cross Space, has decided to live-stream the billboard view on YouTube. 
Symbol Of Good Luck?
Cats have often been associated with good luck in Japan. The ubiquitous Japanese Maneki Neko cat is arguably one of the most widely used Feng Shui symbols in the world today. Be it contemporary comics like A Man and His Cat, the famous Japanese cat shrines, or the folk culture, there exists a sense of pervasive mysticism and fascination around cats in the Japanese culture.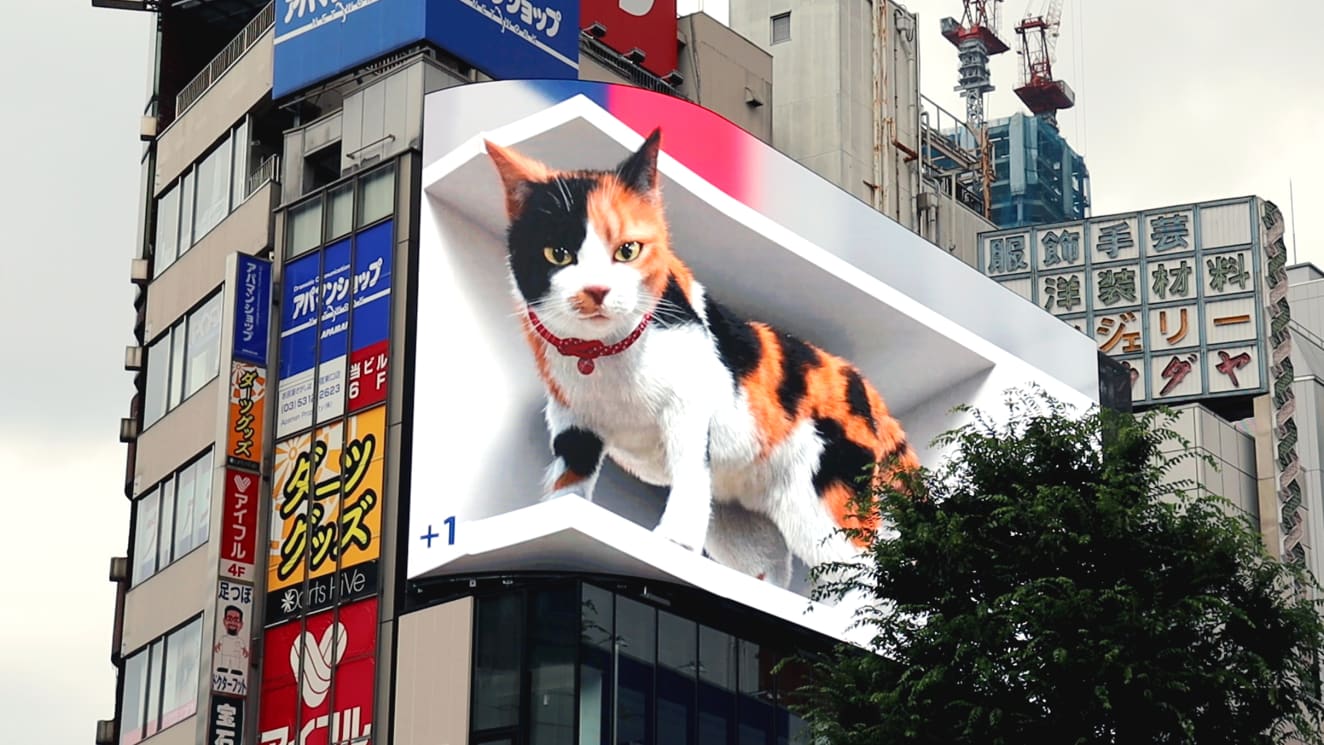 The cat, which roams and meows at a 1664 square foot curved LED screen, essentially portrays a high-definition 3D video from 7 am until 1 pm each day.
"From the beginning of the design of cross Shinjuku vision, we have been conscious of the installation position and shape suitable for viewing from the east exit square of Shinjuku station, and it is possible to promote and market using high-impact 3D images," said the official release.
The real-life cat billboard in question is passed by an estimated 190,000 people every day as it is situated near the east exit of the bustling Shinjuku train station. This virtual reality feat comes at a time when an increasing number of Asian countries have shown interest in the industry. 
China And South Korea 
Early this year, reports of a gigantic lion being displayed on a 90 degree curved LED wall in Chengdu, China took social media by storm. This digital public installation showcased a lion growling, chasing, and breaking out from the screen. A 1.04-minute clip with a lady's reaction to the same went viral on YouTube.
More recently, a giant wave appeared on an LED façade in Seoul, Korea. The largest advertising screen in South Korea now serves as an aquarium for a simulated ocean wave perceived in constant motion by the passers-by. Set in the Gangnam-gu area, it is considered the country's first outdoor advertisement zone. 
This anamorphic projection illusion has been aptly named 'wave'. To witness the 'wave' is a mesmerizing audiovisual experience as it makes the water seem to just about break the glass and flood the Korean street.
Written by Anshruta Banerjee
Read More
Watch: The Ultimate Dogfight Between US & Russian Fighter Jets Over A 'Top-Secret' Air Base In Nevada
---
30 Times Faster Than Speed Of Sound: Is China Really Winning The Hypersonic Race With Its JF-22 Wind Tunnel?