By  Neeraj Rajput
India's maritime surveillance operations and anti-submarine warfare capability were significantly boosted when a US-made MH-60R helicopter undertook its first sea landing onboard an Indian Navy warship.
India has procured 24 such helicopters, popularly known as 'Romeo,' from the US in a deal worth US$2.6 billion.
"In a significant milestone for the Indian Navy, MH-60R helicopter undertook maiden landings on the indigenously designed & constructed destroyer, INS Kolkata. This achievement significantly boosts the Indian Navy's Anti-Submarine Warfare capability," a senior official of the Indian Navy said in New Delhi.
MH-60R helicopter is a versatile platform known for its exceptional ASW (Anti Submarine Warfare), surveillance, anti-shipping, and Search and Rescue (SAR) capabilities. US aviation company Lockheed Martin manufactures these MH60R helicopters.
"Integration of MH-60R with Indian Navy warships would further strengthen the Navy's capability to counter underwater threats, monitor maritime activities, and conduct surveillance operations," the official added.
"Designed and built to US Navy specifications, the 'Romeo' aircraft is rugged, powerful, and reliable. Whether operating from shore or ship, MH-60R operators can confidently prosecute the mission and return home safely," claims Lockheed Martin on its website.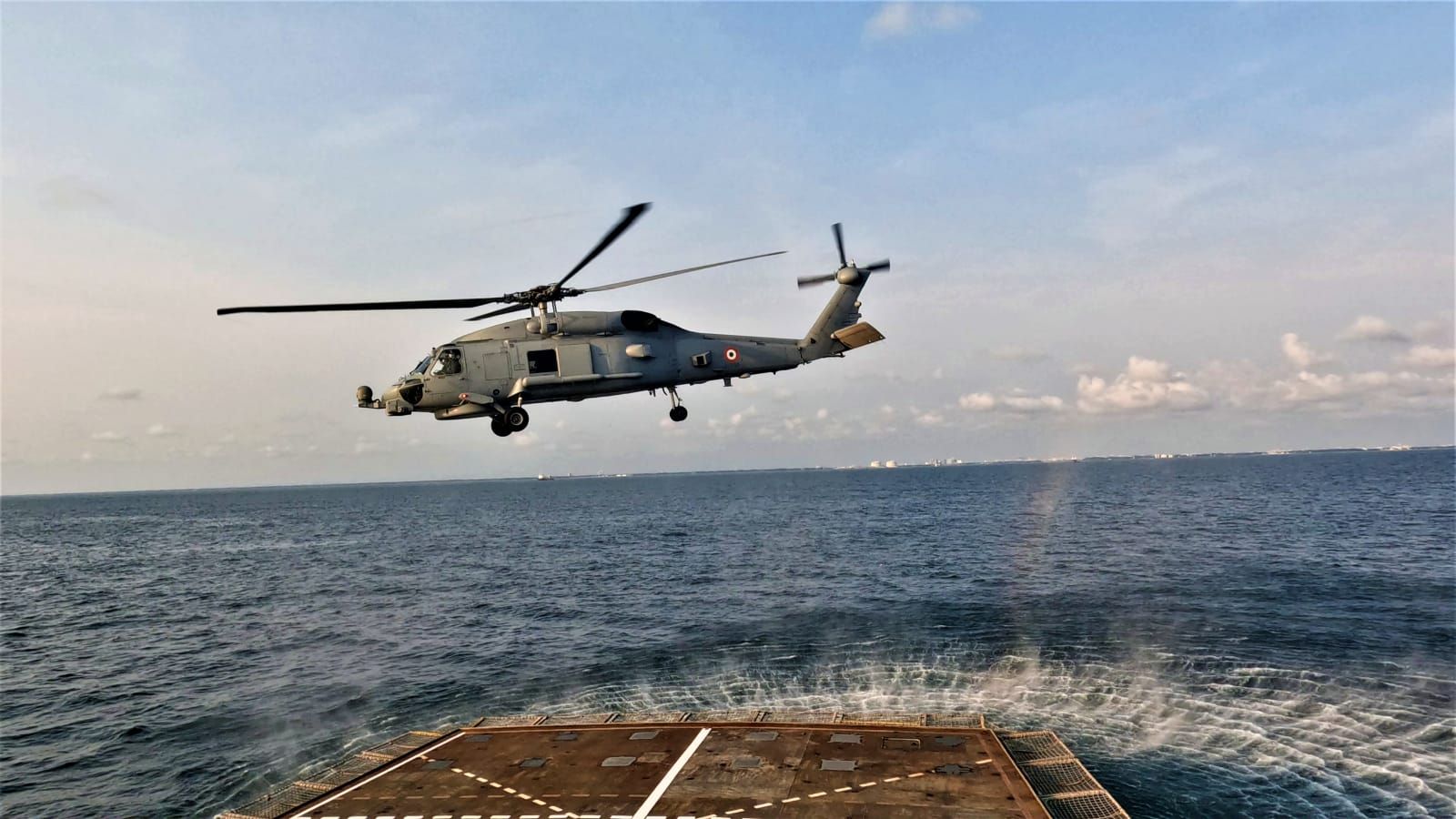 The MH-60R helicopter is equipped with advanced digital sensors, including multi-mode radar, electronic support measures system, electro-optical/infrared camera, datalinks, aircraft survivability systems, dipping sonar, and sonobuoys.
The fully-integrated mission system processes sensor data to build a complete situational picture of the ocean surface and subsea domain.
With actionable knowledge, the crew of MH60R can track, target, and engage ships or submarines effectively and efficiently.
The chopper's weapons include torpedoes, air-to-ground missiles, rockets, and crew-served guns. The MH-60R Seahawk helicopter brings transformational anti-submarine (ASW) and anti-surface warfare (ASuW) capabilities to global navies, says Lockheed Martin.
Letter of Offer and Acceptance (LoA) for procurement of 24 MH 60R multi-role helicopters was concluded with the US Government in February 2020 at the cost of more than Rupees 14,000 crores ($1.7B). The deal under Foreign Military Sales (FMS) was announced when then-US President Donald Trump visited India on an official tour in February 2020.
The first three MH 60Rs were delivered to India in the San Diego base of the US in 2021 and were utilized for training the Indian Navy crew. These three Romeo helicopters were given to India from the quota of the US Navy so that Indian Navy personnel could get training in advance for the actual delivery of the Romeo helicopters.
The next three MH 60R helicopters were delivered by Lockheed Martin at Kochi (Kerala) in 2022. It is one of these three helicopters which undertook a sea landing onboard INS Kolkata, which the Indian Navy announced on May 19.
The delivery of all 24 MH-60R helicopters will be completed by 2025. The induction of state-of-the-art mission-capable platforms will significantly boost the integral ASW capability of the Indian Navy.
Neeraj Rajput is a Senior War-journalist with more than two decades of multimedia experience in defense, conflict, security, strategic affairs & geopolitics.
Please mail us at etdesk (at) eurasiantimes.com
The author tweets at @neeraj_rajput