Japan's Ministry of Defense (MoD) latest white paper has revealed a new image of the Aegis System Equipped Vessel (ASEV). Appearing similar to the Japan Maritime Self-Defense Force's (JMSDF) existing Aegis-equipped destroyers, the ship's development is in line with the security vision Japan shares with the United States (US) and their highly integrated military technology alliance.
According to a report in Naval News, the ship is primarily a Ballistic Missile Defense (BMD) vessel, an alternative to Japan's now-canceled land-based Aegis Ashore BMD system.
This is meant to counter the persistent missile threat from North Korea and China. Pyongyang's relations with Tokyo and Washington have been downhill in response to a US-Japan-South Korea axis.
Beijing's ties with Tokyo and Washington have also been worsening over its territorially assertive behavior over the last few years. Far East Asia is now the biggest tinderbox in the world, with three flashpoints alone – the Korean Peninsula, the South China Sea, and the Taiwan Straits.
The boats would have 128 Vertical Launch System (VLS) cells, more than its existing Maya-class 96 VLS cells, and the 112 VLS cells on China's Type 055 destroyer, the world's most heavily armed and advanced. The Maya is also the largest Aegis destroyer in the Japan Maritime Self-Defense Force (JMSDF).
Japanese Navy Packs A Punch
On July 4, it was reported that Japan's MoD signed a contract with Mitsubishi Heavy Industries (MHI) for the detailed design of the first ASEV and Japan Marine United (JMU) for the same of the second ASEV.
In 2023 Japanese MoD allocated $1.58 billion to procure two additional ASEVs with SM-3 Block IIA and SM-6 missiles. The first ASEV is expected to be commissioned by the end of March 2028, with the second vessel to be inducted by March 2029.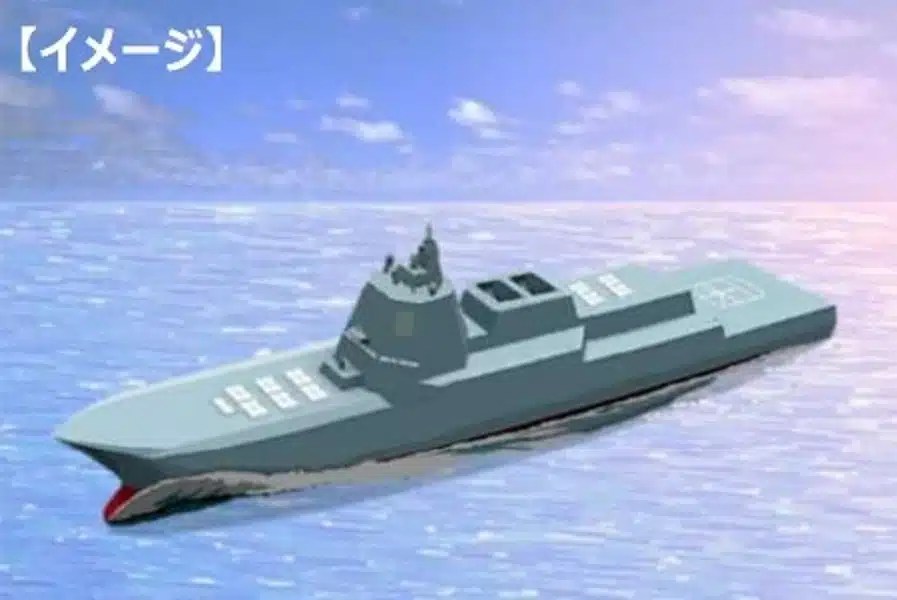 Japan has eight Aegis destroyers equipped for air and missile defense. But the country decided to build two more dedicated missile defense ships centered around the Lockheed-Martin SPY-7(V)1 radar that was originally meant for the two land-based Aegis Ashore missile defense facilities.
The report in Naval News added that the ASEV's 128 VLS cells would provide the ASEV with improved interception capabilities against conventional ballistic missile warheads and hypersonic glide vehicles (HGVs).
The MoD explained in its budget request for FY2023 that the new ships will be 210 meters or less long, 40 meters or less wide, and have a standard displacement of 20,000 tons. In comparison, the two Izumo-class helicopter carriers, currently the biggest ships in the JMSDF, are 248 meters long, 38 meters wide, and have a standard displacement of 19,500 tons.
However, following criticism over their size, lack of maneuverability, and cost, the JaMoD revised its construction plans to make it smaller. The Asahi Shimbun reported on November 2022 that the ASEV is expected to be still larger than the Maya-class, the largest Aegis destroyer of the JMSDF (standard displacement of 8,200 tons, length of 170 meters, width of 21 meters).
The ships will each have a crew complement of 110 and carry Standard Missile-6 (SM-6) for air defense and the indigenous Type 12 anti-ship missiles.
North Korean Missiles A Threat
On July 24, North Korea fired two ballistic missiles into the sea off its east coast, South Korea's military said, hours after a US nuclear-powered submarine arrived at a naval base in the South. JaMoD also said the launch of what it said were two ballistic missiles by North Korea, both of which fell outside its exclusive economic zone (EEZ).
Before that, on July 21, North Korea fired several cruise missiles toward the sea west of the Korean Peninsula. This was preceded by the July 19 launch of two ballistic missiles, hours after the US nuclear-armed ballistic missile submarine (SSBN) USS Kentucky surfaced for a rare visit to South Korea.
Following the July 21 launch, Pyongyang also warned that deployment of US aircraft carriers, bombers, or missile submarines in South Korea could meet the criteria for its use of nuclear weapons. A week before that saw North Korea testing the Hwasong-18 intercontinental ballistic missile (ICBM), which Pyongyang said was a warning to the United States and other adversaries.
This is not to mention heightened Chinese and Chinese-Russian naval activity around Japanese waters. People's Liberation Army Navy (PLAN) warships regularly keep transiting the Miyako Strait, while the Japanese routinely intercept Chinese drones or watch Russian and Chinese Tu-95 and H-6K bombers undertake "strategic coordination" patrols.
The two countries recently concluded their Interaction 2023 series of naval maneuvers, including rare live missile firings and interceptions. A EurAsian Times analysis pointed to how the drills served as a major signal to Japan and the US, which have historically adversarial relations with Moscow, Beijing, and Pyongyang.
The visit by Russian defense minister Sergei Shoigu to North Korea, where he met President Kim Jong-un and attended an arms exhibition, clearly indicated that Russia and China are coordinating their actions.
Defense White Paper
Japan's latest defense white paper thus called the North Korean security threat bigger than "ever before" in a "new era of crisis." "North Korea's military activities pose an even more grave and imminent threat to Japan's national security than ever. It is believed that North Korea can attack Japan with nuclear weapons fitted to ballistic missiles."
It also said China's military activities posed "an unprecedented and the greatest strategic challenge" to Japan, pointing to its military drills with Russia. Japan, the US, and South Korea have also undertaken BMD drills before the North Korean threat, with the last such maneuver in mid-July. This was following Pyongyang's firing of its Hwasong-18 ICBM.