US Navy's only forward-deployed aircraft carrier, USS Ronald Reagan was spotted in formation with the Australian Navy warship HMAS Perth, fast-attack submarine USS North Carolina, guided-missile cruisers USS Robert Smalls, and USS Antietam, during Talisman Sabre 2023 military drills.
WATCH- US Navy's only forward-deployed aircraft carrier, USS Ronald Reagan sails in formation with the Royal Australian Navy ship HMAS Perth and other vessels during US-Australia Talisman Sabre military exercise 2023.#TalismanSabre2023 #Australia #US #USNavy #USSRonaldReagan… pic.twitter.com/gqAmpuTBdj

— EurAsian Times (@THEEURASIATIMES) July 28, 2023
USS Ronald Reagan is the sole aircraft carrier forward-deployed in the region. It is expected to be succeeded in that role next year by the USS George Washington, another Nimitz-class carrier.
Talisman Sabre 2023 is being held across northern Australia from July 22 to August 4, with more than 30,000 military personnel from 13 countries directly participating.
Australia, Canada, Fiji, France, Germany, Indonesia, Japan, Papua New Guinea, New Zealand, the Republic of Korea, Tonga, the United Kingdom, and the United States are full participants, with the Philippines, Singapore, and Thailand attending as observers.
Earlier, Japan's Ground Self-Defense Force (GSDF) test-fired its Type-12 anti-ship missile for the first time in Australia as part of the Talisman Sabre military exercise.
The live-firing was part of joint anti-ship drills presumably held with China in mind. Japan, the United States, and Australia improve tactical skills and interoperability in anti-ship operations by cross-utilizing each other's weapons and technologies.
Japan is in the midst of a significant missile development and procurement program as a part of its 'counterstrike' doctrine against rising challenges from China and North Korea.
Fired from a truck-mounted system at the Beecroft Weapons Range in New South Wales, the 200-kilometer-range missile, which did not include explosive ordnance, was launched at an unmanned target in the East Australia Exercise Area off the coast of Jervis Bay.
The Type-12 Firing
Japan had begun working on an improved variant of the ground-launched Type-12 system to defend its remote southwestern islands better. A shipborne and extended-range version of the missile that could reach 1,000 kilometers is expected to enter service by 2026. At the same time, Tokyo plans another 1,500-kilometer range variant and an air-launched version.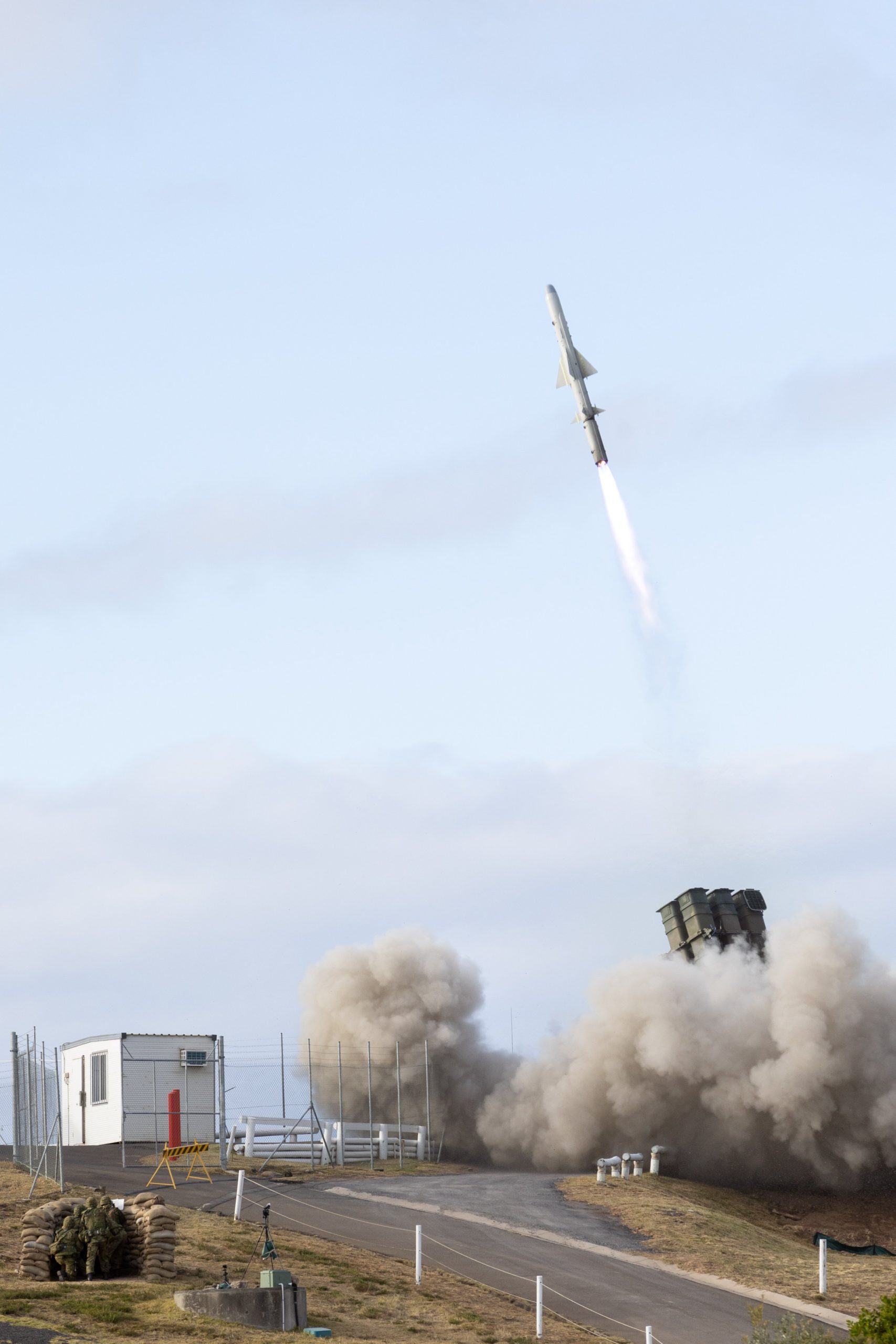 According to a report in Japan Times, the test used targeting data gathered from the first overseas flight of the GSDF's Scan Eagle II. Before the firing, GSDF Chief of Staff Gen. Yasunori Morishita told the Australian Broadcasting Corporation that Tokyo is stepping up defense cooperation with like-minded countries to help "maintain and strengthen a free and open Indo-Pacific."
"By conducting the missile firing, the GSDF took advantage of the relatively open space off the coast of Jervis Bay, as opposed to the crowded waters around Japan," Guy Boekenstein, an Indo-Pacific adviser with the Cognoscenti Group, told the Japan Times. 
"The launch not only demonstrates how the Japan-Australia defense relationship is maturing but also helps the public in both countries get used to seeing their militaries working closer together and maybe one-day becoming formal allies," he added.
Brig. Damian Hill, Talisman Sabre exercise director, described the move as "another example of how our partnership continues to grow and deepen" in a report on the Australian Department of Defense website.
"Australia and Japan work closely together to support a secure, resilient, prosperous Indo-Pacific region. We undertake military training exercises with Japan and other partners regularly, but Exercise Talisman Sabre is a good opportunity to conduct more complex training activities together, like this missile firing," Hill added. 
Japanese Military Participation
The firing and the supporting statements indicate serious plans to jointly field and fire from naval platforms, lending the other either weapons or targeting support. 
https://twitter.com/DefenceAust/status/1683431866559258625?t=pOwyonGD2HDn5uxrB3oHwg&s=19
Beside the Type-12 demonstration, GSDF units are also expected to participate in amphibious and anti-air exercises, the latter of which will include firing the Type 03 medium-range air-defense system.
The overarching objective is to use "the excellent training environment of Australia" to develop operational capabilities, tactical skills, and interoperability in "multilaterally integrated operations," the GSDF said.
The Maritime Self-Defense Force (MSDF) will also take part in amphibious operations, saying in a statement that the Izumo helicopter carrier and Shimokita tank landing ship will train together with the GSDF's Amphibious Rapid Deployment Brigade and 1st Helicopter Brigade.
Roughly 480 GSDF and 610 MSDF personnel are participating in this year's iteration of Talisman Sabre, which is the largest to date. About 30,000 military personnel from 13 nations are participating in this year's event, almost double the number involved in 2021.
"The scale and design of this year's training opportunities increase the depth, complexity, and challenge for exercise participants," Hill said, adding that the exercise would test the two countries' "respective forces in planning and conducting multinational and multi-service task force operations."
The activities will be held primarily in Queensland and Western Australia, the Northern Territory, and New South Wales. Also, Chinese warships sailed international waters off Australia to monitor the military exercises, as was reported in the EurAsian Times. However, the Chinese spy ship snooping on the exercise has been described as non-threatening by the Australian military. 
Tokyo Is Arming Itself With Missiles
Japan has been aiming to invest heavily in developing land attack and anti-ship cruise missiles with ranges comparable to the Tomahawk Land Attack Missiles (TLAM). 
This effort originated from concerns over North Korea's nuclear and missile programs and regional tensions involving China. Tokyo is also exploring the integration of long-range cruise missiles into its current and future submarine fleet.
In December 2022, Japanese Prime Minister Fumio Kishida directed his defense and finance ministers to allocate funds to raise Japan's defense budget to 2% of the current GDP by 2027.
In addition to Japan's efforts in developing indigenous missiles, Prime Minister Kishida revealed in February that the country is set to procure up to 400 Tomahawk cruise missiles from the United States. 
Tokyo's ongoing military buildup occurs against rising tensions with China, which has been bolstering its naval and air presence in regions near Japan. 
Beijing's assertive actions include claiming sovereignty over the Senkaku Islands, an uninhabited chain controlled by Japan in the East China Sea.