India is likely to receive the final batch of Rafale fighter jets from France by year-end. Coming at a time when India and China are locked in a protracted border standoff, Dassault Rafales would provide much relief to the Indian Air Force, which is managing a depleting fleet of warplanes.
Eurofighter Typhoon To Add Powerful 'SPEAR-EW' System To Its Arsenal As It Challenges Rafales, F-35s For Global Sales
Exuding confidence in the IAF fleet, an Indian defense expert, Air Vice Marshal Manmohan Bahadur (retd), said the country is well-prepared to respond to any threat. 
On June 28, Indian Air Force chief, Air Chief Marshal RKS Bhadauria, formally inducted Rafale aircraft into No. 101 Sqn at AFS Hasimara in Eastern Air Command.
Out of 36 Rafales ordered by India, France is expected to complete the delivery of 36 aircraft by year-end and the last fighter jet would land in January 2022, The Hindustan Times reported.
Dassault Aviation has so far delivered 26 fighter jets, while two are in France aiding the training of IAF pilots and technicians. Along with the Rafales, the reported technology transfer with the French firm, Safran Aircraft Engines, is further expected to strengthen the ties between India and France.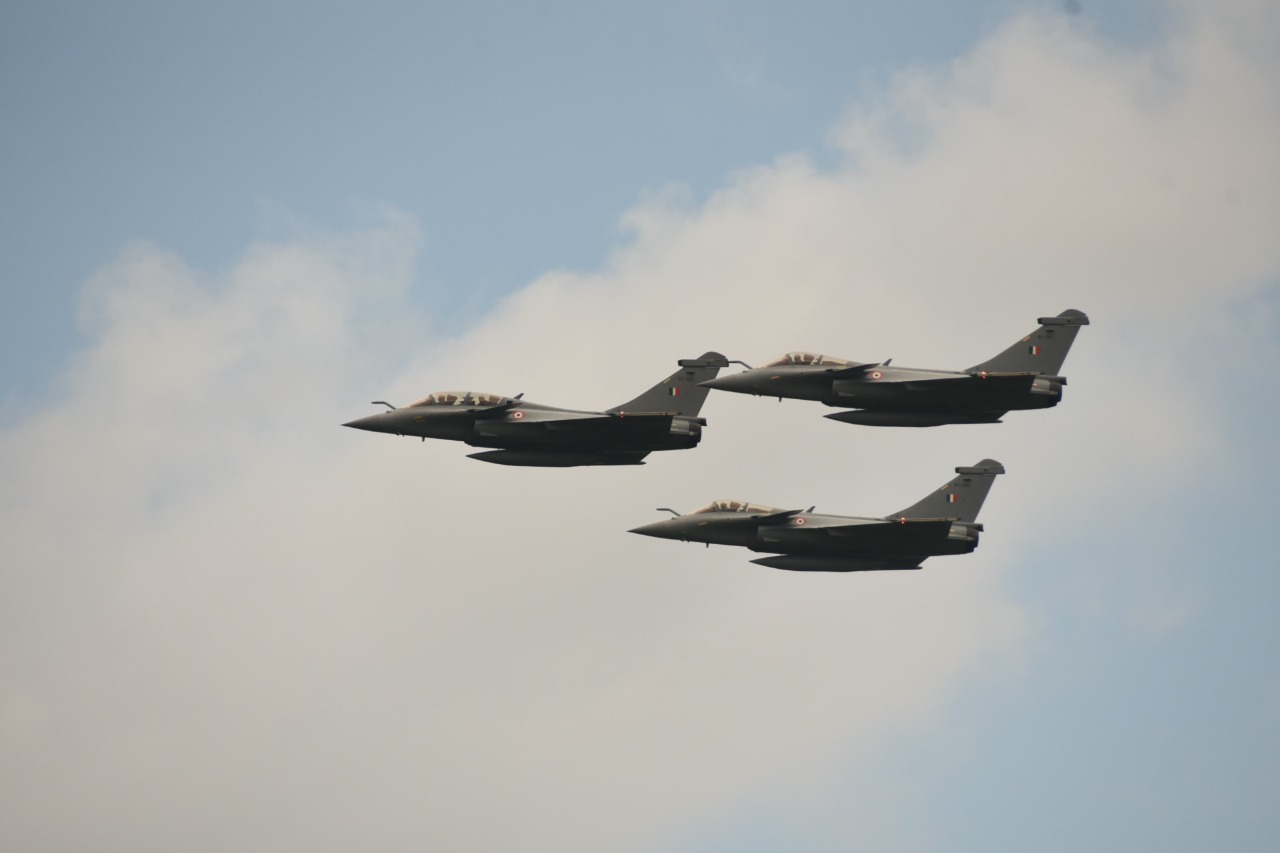 According to Nitin J Ticku a defense expert with the EurAsian Times, there are indications that the Indian Air Force is exploring to acquire additional 36 Rafale jets from France while the Indian Navy is seriously evaluating Rafale-M for its first indigenous aircraft carrier (IAC-1), INS Vikrant likely to be commissioned next year.
It is believed that the weight-to-power ratio and its maritime strike capabilities work in favor of the French aircraft's possible induction into the Indian Navy. The other top contender for the Indian Navy carrier-based jet is the American F-18 Super Hornet and Russian MiG-29.
India's Fighter Requirement
The EurAsian Times' defense writer Younis Dar earlier reported that IAF is facing an acute shortage of aircraft, as most of the in-service fighters are slated to be retired soon. The IAF's operational capabilities have declined drastically over the past two decades.
Boeing's F-18 Super Hornets 'Super Confident' Of Beating French Rafale Jets To Grab Indian Navy's Fighter Jet Deal
At present, the squadron strength of the IAF is reportedly 30, against a required strength of 42. This deficit in the operational capability may lead to a capability imbalance between India and its neighbors — Pakistan and China, Dar wrote.
According to experts, amid the year-long border conflict with China in Ladakh, such a deficit in Air Force capability may prove disastrous in the case of a two-front war, involving both China and Pakistan.
The last of the existing MiG-21 squadrons will be retired in 2024, which could further compound the problem. The Soviet-era MiG aircraft had been inducted into the IAF in the 1960s. They were expected to retire by the mid-1990s, but were later upgraded to Bison standard, reported Business Standard.
They have been prone to accidents; 482 out of 872 MiG-21s procured crashed between 1971 and April 2012 — a loss of 12 jets each year. It is believed that after repeated upgrades, the MiG-21s, MiG-23, and MiG-27 will be phased out from 2022 onwards.
The Rafale Jets
Manufactured by Dassault Aviation, the 4.5-generation Rafale jets cruise at almost double the speed of sound, with a maximum speed of 1.8 Mach. It is equipped with multi-role capabilities, including electronic warfare, air defense, ground support as well as in-depth strikes. It can also be deployed in nuclear deterrence role.
Analysts say the jets are equipped with the longest-range air-to-air Meteor missile, Hammer air-to-ground smart munition, and long-range SCALP air-to-ground weapon.
Earlier this year, India's state-owned Hindustan Aeronautics Limited (HAL) signed a Memorandum of Understanding (MoU) with the French firm Safran Aircraft Engines.
According to the MoU, the Smecma M88 engines used in the Rafale jets will be assembled and manufactured in India.
E-4B Nightwatch – US' Doomsday Aircraft Lands On A Secret Military Base Near Area 51 With A 'VVIP' On Board
Reports suggest there could be a significant transfer of technology in the assembly and manufacturing programs in the future.
The MoU also includes "collaboration between Indian state-owned firm – HAL and Safran Aircraft Engines for indigenization programs relating to design and development of high thrust engines of 110 kN power and above with transfer of key technology in the framework of this development".
'Rafale Delivery Is On Schedule'
Air Vice-Marshal Manmohan Bahadur (retired) told The EurAsian Times that India is expecting a timely delivery of the Rafale jets by the end of the year, as France has been able to maintain the schedule that was revised due to the Covid-19 pandemic.
10 Reasons Why India's LCA Tejas Could Be 'Shot-Down' By Pakistan's JF-17 Thunder In Global Arms Market?
On the second squadron of Rafale being located in the Hashimara airbase in West Bengal, he said, "The Air Force has its own basing plan to meet the threats. Mirage 2000 is such a potent aircraft, but it is based way back in Gwalior.
It is not Hashimara, which is important, or Ambala which is important… it is how we deploy them.
More Rafale Jets For India
Earlier, as EurAsian Times reported, France had pitched an exciting offer to revive plans to develop the indigenous Kaveri jet engine as part of the Rafale offsets deal. A thorough presentation on creating an aircraft engine ecosystem in India was proposed.
French engine manufacturer Safran, which makes the engines and electronics for the Rafale jets, pitched to co-development of the Kaveri engine for the Indian Light Combat Aircraft (LCA) program which at present used GE engines.
LCA Tejas To Be Powered By New GE-404 Engines; Experts Say Deal Could 'Kill' India's Fighter Jet Program
Indian Economic Times in a report stated that Paris had assured to transfer more work for the production of the M-88 engine that powers its Rafale jets, only if India orders 36 more jets.
France, according to the report, indicated that India would the only nation that was being offered such advanced technology transfer and this would guarantee that New Delhi would attain complete 'sovereignty' in aero-engine technology.
Pakistan Air Force Deploying JF-17 Jets Near Ladakh Border – Reports
Ticku emphasizes if India needs to evolve as an aerial super-power, HAL needs to develop its own engines. Rafales are battle-proven fighter jets and India is already in the process of acquiring additional 114 warplanes as part of the MMRCA 2.0 contract.
Despite extortionate costs, additional Rafales jets, likely to be 36, will do a lot of good to the Indian Air Force, HAL and India's ambition to build 100% Make in India aircraft.