US aerospace giant Boeing seems confident about F-18 Super Hornets winning the Indian Navy's carrier-borne fighter jet contract, outpacing the French Dassault Rafale fighter jets, according to the latest reports. 
E-4B Nightwatch – US' Doomsday Aircraft Lands On A Secret Military Base Near Area 51 With A 'VVIP' On Board
In January 2017, the Indian Navy issued an RFI (Request for Interest) to acquire 57 multi-role carrier-borne fighters, after long delays and technical glitches in building the indigenous HAL-Tejas for the Navy.
Among the four contenders in the race, the Boeing F/A-18 Super Hornet and Dassault Rafale navy-variant are head-to-head in winning the ₹24,000 crore deal, given the Indian Navy's twin-engine preference. The other two are Sweden's SAAB and Rosoboronexport of Russia.
Both Dassault and Boeing are marketing their fighters as suitable for the Indian Navy, claiming their respective aircraft can be easily integrated with India's first Indigenous Aircraft Carrier (IAC-1), named Vikrant, set to be commissioned in 2022-23.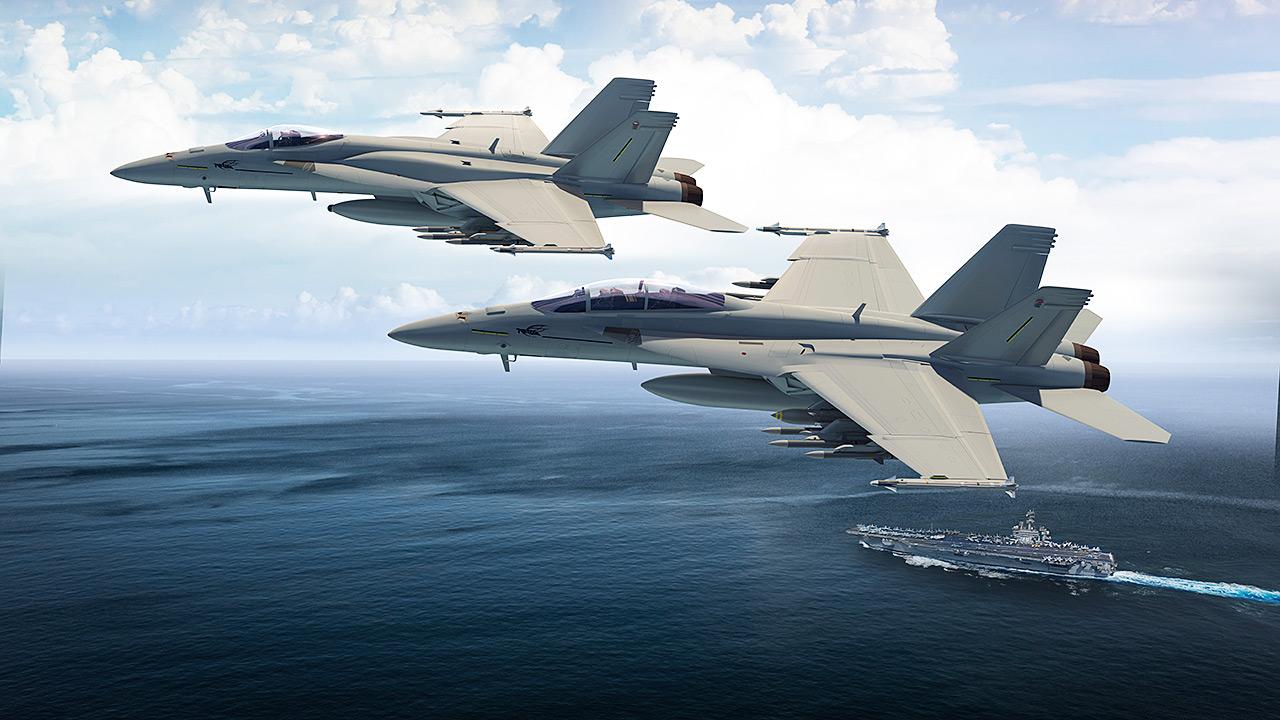 The Indian aircraft carriers — INS Vikramaditya and to-be commissioned INS Vikrant — are Short Take-Off But Arrested Recovery (STOBAR) carriers, which means they utilize the deck of the aircraft carrier for take-off and landing purposes.
While Dassault claims that Rafale can operate from STOBAR aircraft carriers, and can take off using a "ski-jump" with no modifications, Boeing demonstrated the jet's capability to launch from a land-based ski-jump in 2020.
Boeing's 'Super Hornet'
The twin-engine, multirole F/A-18E/F Super Hornet fighter has a top speed of 1190 miles per hour and is armed with AIM-9 Sidewinder, AIM-7 Sparrow, and AIM-120 AMRAAM missiles.
The fighter was one of the exhibits at the Aero India 2021, held in Bangaluru in February.
Our F/A-18 #SuperHornet demonstrates the ability to operate from @indiannavy aircraft carriers during its successful and safe launch from a ski-jump ramp. pic.twitter.com/92V14EXV9M

— Boeing India (@Boeing_In) December 21, 2020
According to Boeing India's press release, "The Super Hornet's unique differentiators for the Indian Navy include its two-seater carrier-compatibility capability which provides operational flexibility and opportunities to integrate future technologies related to manned-unmanned interface from aircraft carriers".
Describing it as an "enabler to secure Indo-Pacific", Indian analysts have shown confidence in the Super Hornet's capabilities and suitability for the Indian Navy.
US' Most Spectacular F-35B Jets That Can Land & Take-Off Vertically Finally Gets A New Challenger
Angad Singh, Project Coordinator with the Observer Research Foundation's (ORF) Strategic Studies Program, told Forbes that Boeing will become the frontrunner since "they have done the most work toward de-risking and validating their offering and are the only ones to have done physical flight testing."
Recently, Ankur Kanaglekar, the Head India Fighters Sales, Boeing Defense, Space and Security in an interview with Financial Express reiterated the air superiority role of the F/A-18 Super Hornet, calling it fully compliant with INS Vikramaditya and IAC-1 Vikrant aircraft carriers.
"The [US Navy] will operate Block III Super Hornets for decades to come. With its rapid technology insertion plan, Block III will outpace threats for decades to come. This next-generation aircraft is ready to protect Indian armed forces from current and future threats," he said.
Talking about the two-seater variant of Super Hornet, Kanaglekar said that it offers several unique advantages to the Indian Navy including "flexibility, higher utilization of the fleet, ability to embark certain missions from the carrier that benefit from having the second crew and opportunity to develop an interface between manned & unmanned systems in a carrier environment".
In addition, carrier-based naval aviation technologies related to the manned-unmanned interface can also be effectively operationalized through a two-seater version, he explained.
According to the Boeing official, the Super Hornet's lesser costs per flight hour, 10,000 hours durability and the world's most powerful engine — the GE F-414 engine — makes it more attractive than the Rafales for the Indian Navy.
We're honoured to deliver @indiannavy's 10th P-8I. The #P8 is capable of:
✅ Maritime surveillance
✅ Anti-submarine and anti-surface warfare
✅ Search and rescue operations pic.twitter.com/Wfu7pWPnks

— Boeing India (@Boeing_In) July 13, 2021
The Indian Navy recently received its tenth Boeing P-8 maritime surveillance aircraft, which is also operated by two other QUAD members — the US and Australia — and the acquisition of Super Hornet will make it the third country to operate both P-8 and F/A-18, joining the other two.
Russia Officially Pitches Its MiG-35 Fighter Jets To The Indian Air Force Under MMRCA 2.0 Tender
Dassault Rafale
Several military experts have highlighted that the Rafale may have an edge over the Super Hornet, given the government's $8.7-billion deal with France for 36 Rafale warplanes for the Indian Air Force.
The French Navy already operates a single-seat version of the Rafale, known as Rafale M which has a stronger airframe, longer nose gear leg, and a larger tailhook between the engines.
The jet is equipped with SPECTRA internal Electronic Warfare (EW) system, "which is the cornerstone of the Rafale's outstanding survivability against the latest airborne and ground threats," according to Dassault Aviation.
Dassault has made a case to equip the IAF and Navy with the same platform, for better logistics, maintenance, and industrial support.
At €7.8B, Why Indian Rafale Jets Are 'Double The Cost' Than Egyptian Rafales?
"Dassault with joint venture partner Reliance has a Make in India proposal already in place and envisages all 57 aircraft to be delivered from its facility at Mihan (near Nagpur)," as reported by Business Standard.
The Indian Navy's Fighter Fleet
The Indian Navy operates two squadrons of MiG-29K, a twin-engine, supersonic carrier-based aircraft that India first received in 2011. One of the squadrons already operates from INS Vikramaditya.
E-4B Nightwatch – US' Doomsday Aircraft Lands On A Secret Military Base Near Area 51 With A 'VVIP' On Board
After importing a total of 45 jets, reports suggest that India is likely to procure additional MiG-29K jets.
At the Aero India 2021 airshow, Vladimir Drozhzhov, Deputy Head of the Federal Service for Military-Technical Cooperation (FSMTC), said that Russia has responded to a preliminary request from India for additional MiG-29K/KUB fighters.
In 2019, India's Chief of the Naval Staff Admiral Karambir Singh had stated that INS Vikrant will carry MiG-29K.
The Indian Navy describes MiG-29K aircraft as "a state of the art, all-weather, carrier-based, air dominance fighter specially built for the Indian Navy".
Armed with some of the most sophisticated weapons in the world, the Russian jet is fully equipped to dominate by engaging targets in the air, at sea or on land, taking the Indian naval aviation from a defensive stature to one of dominance.
However, the recent loss of three of its MiG-29 jets has compelled New Delhi to seek a new fighter for its aircraft carriers in the foreseeable future.
The state-owned defense manufacturer Hindustan Aeronautics Limited (HAL) along with DRDO's Aeronautical Design Agency (ADA) is reportedly developing a fifth-generation Twin Engine Deck-Based Fighter (TEDBF) jet to replace the MiG-29s.
Indian LCA Tejas Or Pakistani JF-17: Who Is Winning The Malaysian Fighter Jet Contract?
While a prototype of the naval version of the LCA Tejas landed and took off from INS Vikramaditya in August 2020, reports suggest that the TEDBF would weigh a ton less than the naval variant given the removal of heavy reinforced landing gear required for operations from the deck of an aircraft carrier.
The twin-engine, carrier-based, multirole TEDBF fighter will be a canard twin-engine variant of the Tejas fighter jet and was recently showcased at the Aero India 2021.
The Eurasian Times earlier reported that India's upcoming indigenous TEDBF fighter is expected to be fifth-generation aircraft, giving a stiff competition to Rafale and Super Hornet.
The Indian fighter is said to have a higher thrust and payload capacity with the ability to carry out multiple missions such as combat air patrol (CAP), interception, ground attack, maritime strike, reconnaissance, electronic warfare (EW), and buddy-refueling.
Sources expect the new fighter to be ready between 2026 and 2032, depending upon the funding and progress of the program.
"A twin-engine deck-based variant of the Tejas would be in the class of the Rafale, extremely nimble with excellent sensor fusion," the designers working on the plans for the futuristic fighter told NDTV.
"The fact that this would be entirely designed and developed in India would be a huge boost for our ambitions in being an aerospace power," they said.