Along with the technological prowess of the Rafale fighter jets, France would like India to take into consideration the factor of it being the most dependable Western ally while choosing the fighter aircraft for the Indian Navy's aircraft carriers.
The two aircraft in the race include American Boeing's Super Hornet or F/A-18 jets and French Dassault Aviation's Rafale Marine.
The French strategy to cultivate India has seen a series of high-profile visits of French officials and ministers to the Indian capital and an impressive number of military exercises the French security forces have had with their Indian counterparts in the last few months.
And all this followed "the highly successful meeting "between Indian Prime Minister Narendra Modi and French President Emmanuel Macron in May this year.
As French Ambassador to India Emmanuel Lenain says, France wants to be India's "best partner" in boosting its defense manufacturing and has decided to share the best technologies and equipment in sync with the growing "trust" between the two sides.
Incidentally,  French Minister for the Armed Forces Sebastien Lecornu has just concluded his three-day visit to India (November 26-28). Along with Indian Defence Minister Rajnath Singh, he co-chaired the 4th India-France annual defense dialogue in New Delhi on November 28. The two discussed various bilateral, regional, and defense industrial cooperation issues.
Calling the discussions with the French minister of armed forces "warm and fruitful," Rajnath Singh, in a tweet, said, "Had warm and fruitful discussions with the Defence Minister of France, Sebastien Lecornu during the fourth India-France Annual Defence Dialogue in New Delhi today. A wide range of bilateral, regional & defense industrial cooperation issues was discussed during the dialogue."
Ambassador Emmanuel Lenain said in a tweet that Rajnath Singh and Sebastien Lecornu discussed various issues, including Indo-Pacific, "Make in India" projects, and joint drills.
Lenain stressed that the two sides agreed to strengthen the defense ties between India and France and tackle common challenges and "to strengthen our defense coop in all areas crucial for strategic autonomy & tackling our common challenges."
France is said to have committed to India for jointly developing aircraft engines, aircraft, submarines, and missiles under the "Aatmanirbhar Bharat" (self-reliant) route with Indian private sector participation.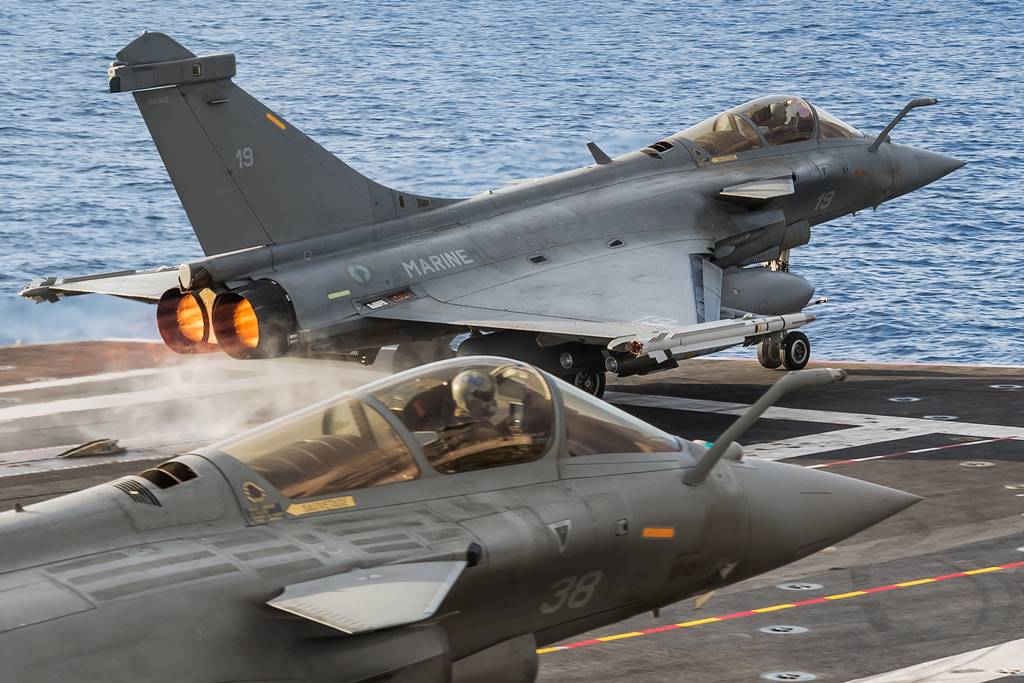 It is ready to jointly develop and manufacture higher-thrust aircraft engines with Safran as a lead partner. It has also agreed to help India in the joint design, development, and manufacture of long-range submarines and missiles.
Lecornu also met with India's National Security Advisor, Ajit Doval. Both shared close assessments of global and regional security concerns and agreed to intensify counter-terrorism cooperations in the Indo-Pacific.
This meeting was considered important as a precursor to the visit of Emmanuel Bonne, diplomatic advisor to French President Macron, for a "strategic dialogue" meeting with Doval that is expected in the first week of January 2023.
By the way, Lecornu's India visit followed his colleague and the French Foreign Minister Catherine Colonna's three-day trip to India (September 13-15). She had met Prime Minister Modi, External Affairs Minister S Jaishankar, and NSA Ajit Doval and discussed bilateral, regional, and international issues of mutual interest. She had also traveled to Mumbai for engagements with industry leaders.
It is important to note that Lecornu's sojourn to India included his visit to India's first indigenous aircraft carrier INS Vikrant in Kochi. In a tweet, Ambassador Lenain revealed, "In #Kochi, French Min @SebLecornu visits #IACVikrant.
He praised India for joining the club of nations capable of building aircraft carriers & highlighted the central role of naval cooperation in France's strategy for the #IndoPacific." On the INS Vikrant, Lecornu said, "France and India are united in their resolve to defend their maritime sovereignty and guarantee freedom of navigation in the Indo-Pacific region."
The latest manifestation of the Indo-French resolve to safeguard maritime security was seen early this month (November 9-11) when the two countries had intensified their strategic engagement, with Indian Navy's Boeing P8I and French Navy's Falcon 50 conducting joint surveillance and ocean mapping of the Mozambique Channel, Mauritius, and South-West Indian Ocean.
The joint surveillance aimed to combat piracy, drug trafficking, arms smuggling, and the presence of extraneous powers on the eastern seaboard of Africa.
It is to be noted that joint exercises between the defense forces of France and India have been an important feature of the deepening security cooperation between the two countries.
Prime Minister Modi and President Macron noted in their May 2022 joint statement the importance of such joint exercises as Shakti, Varuna, Pegase, Desert Knight, and Garuda). These are "efforts towards better integration and interoperability wherever possible," they had said.
The two countries had held their joint air force exercise involving 16 days from October 26 to November 12. The Garuda VII exercise was held in Jodhpur, in the western Indian state of Rajasthan. The Garuda series, it may be noted, had begun in India in 2003. It is being held alternatively in France and India.
This time, it involved the participation of a contingent of 220 personnel from France, with four Rafale fighter aircraft and one A-330 Multi Role Tanker Transport (MRTT) aircraft. The Indian side was said to have included the participation of Su-30 MKI, Rafale, LCA Tejas, Jaguar fighter aircraft, the Light Combat Helicopter (LCH), and Mi-17 helicopters.
Indian defense ministry's press release also mentioned India, including combat-enabling assets like airborne refueling aircraft, AWACS, and AEW&C.
The Garuda VII Exercise followed the 20th edition of the India-France naval VARUNA exercise conducted in the Arabian Sea in March-April 2022. These exercises have been conducted since 1993.
According to the Indian Navy, the goal of the VARUNA has been "to enhance and hone their operational skills in maritime theatre, augment inter-operability to undertake maritime security operations and demonstrate their commitment to promote peace, security, and stability in the region as an integrated force."
In yet another manifestation of the close naval interactions, Indian and French navies had undertaken a Maritime Partnership Exercise (MPX) in July in the North Atlantic Ocean.
They engaged in a replenishment at sea operations, followed by a joint air operation involving the "maritime surveillance aircraft Falcon 50 participating in multiple simulated missile engagements and air defense drills."
Besides, in August, a contingent of the French Air and Space Force (FASF), including three Rafale fighter aircraft, made a strategically important halt at the IAF's Sulur base in Tamil Nadu to a major military exercise, Exercise Pitch Black 2022 in Australia.
This was done per the mutual logistics support agreement signed by the two countries in 2018 to strengthen military cooperation.
Incidentally, in one of the most candid speeches focusing on the French view of India, French Foreign Minister Catherine Colonna  has outlined various dimensions, of which three  are particularly noteworthy:
One, France, like India, is an Indo-Pacific nation with overseas territories in the two oceans (La Réunion, Mayotte, les îles Eparses in the Indian Ocean, New Caledonia, French Polynesia, and Wallis et Futuna in the Pacific, not to mention territories in Antarctica).
They account for 93% of France's exclusive economic zone (EEZ), the second largest in the world. Around 2 million French citizens are living in the Indo-Pacific. Besides, France maintains a permanent military presence, with more than 7,000 personnel stationed in its overseas territories, Djibouti and the UAE.
India and France have a shared vision of international relations, the rule of law, and multilateralism. And both are committed to retaining their "strategic autonomy" at the highest level. If India is at the forefront of the strategic evolutions of the Indo-Pacific, so is France.
Three, the Indo-French strategic partnership is based on four "pillars":  strategy: security and defense; economy and connectivity; multilateralism and the rule of law; climate change, biodiversity, and sustainable management of the oceans.
It is noteworthy that France's steadfastness as a military ally contrasts strongly with that of the United States, which does not have a good record of being a reliable supplier of military items and technologies not only to India but also to its traditional allies during crises.
The US, in the past, had also vetoed or slowed components for LCA Tejas that India is developing. It had otherwise imposed an arms embargo on India following its nuclear tests in 1998.
Though things have improved of late, the US still has reservations about the technology transfer, particularly if India is engaged in a war with some country because there are US laws that prohibit deliveries of weapons and spares during wars.
On the other hand, there have been no such restrictions from France. Of course, all these strong features in its relations with France do not necessarily guarantee that India will eventually prefer Rafale to F/A-18 jets.
But France has a strong case.
Author and veteran journalist Prakash Nanda has been commenting on politics, foreign policy on strategic affairs for nearly three decades. A former National Fellow of the Indian Council for Historical Research and recipient of the Seoul Peace Prize Scholarship, he is also a Distinguished Fellow at the Institute of Peace and Conflict Studies.
CONTACT: prakash.nanda (at) hotmail.com