Russia is ramping up its unmanned military system. The state media announced that Russia's armed forces would be fielding long-range armed drones in 2021. Although, the identity of the new drones to be fielded has not been revealed yet.
Russian Fifth-Generation Su-57 Jets Ready To Challenge US' F-35s, F-22s By End Of 2020
"Next year, the troops will start receiving multi-purpose long-range Unmanned Aerial Vehicles (UAV), capable not only of conducting aerial survey but also of striking enemy facilities with high-precision projectiles," said Deputy Commander-in-Chief of Russia's Aerospace Forces Lt. Gen. Sergei Dronov, quoted in TASS.
As reported earlier by EurAsian Times, Russia has sped up the delivery of the first Sukhoi S-70 Okhotnik ("Hunter") attack drone in 2024. According to the Ministry of Defence, S-70 Okhotnikis powered by an AL-31 turbojet engine and is equipped with electro-optical targeting, radio, and "other types of reconnaissance equipment". It made its first flight on August 7, 2019, flying for 20 minutes and reaching an altitude of 600 meters (1,970 feet).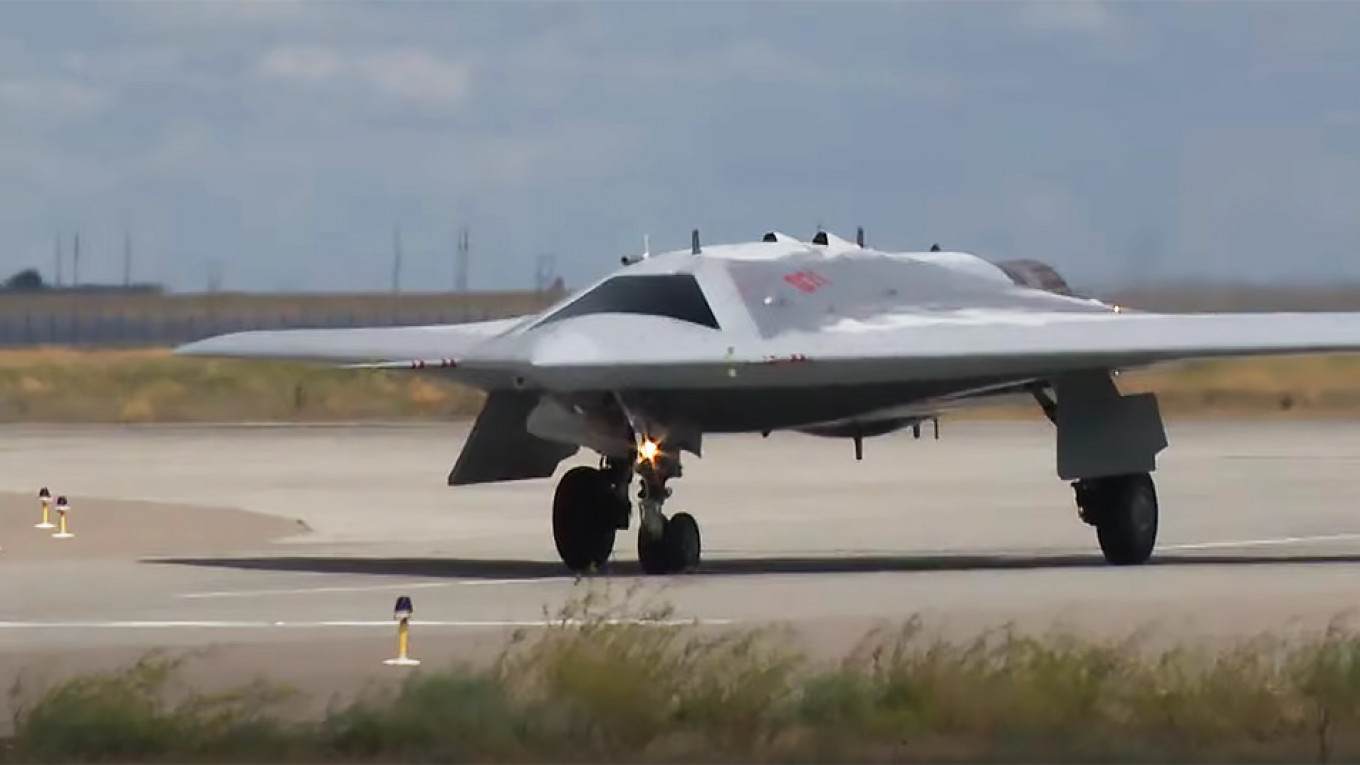 Dronov said that currently, the Russian military has short and medium-range UAVs in service. He also added that the use of combat UAVs in Syria demonstrated their capacity to carry out high-precision strikes. 
Samuel Bendett, an adviser to the think tank CNA's Russia program and a specialist in Russian unmanned military systems, lists down a number of likely candidates that the Russian military can field including Forpost-R, Orion, Korsar and the Orlan-30.
The Russian version of Forpost first flew last year, and there are ten on order. It has a maximum speed of 125 miles per hour, a mission endurance window of about 18 hours, and a service ceiling up to 20,000 feet. It is based on the IAI Searcher from Israel that first flew in 1998.
The Orion UAV is classified as a medium-long duration aerial vehicle. It is assumed that the maximum duration of its flight is not less than 24 hours, while it can fly at a maximum altitude of about 8,000 meters. According to the project of the drone, Orion's weight should be about 1 ton.
"Several were already acquired by Ministry of Defence for testing and evaluation this year, and it was tested in Syria in combat mode," said Bendett. "The Russian defence industry began to design munitions specifically tailored to this UAV type."
The Korsar's fuselage length of the drone is 4.2m, while its wing span is 6.5m. The take-off weight of the UAV is 4.2m. It is a smaller multipurpose drone. The Orlan-30, which is an upgraded version of Orlan-10, weighing about 30 kg (66 lb), it cruises at 150 km/h (81 kt) at altitudes up to 4,500 m (15,000 ft) and can loiter for over five hours at a distance up to 300 km (162 nm) from the launch point. 
"At this point, the U.S. and Israel have several decades more of actual experience in using drones in different roles," said Bendett. "But the learning gap in using such technology can be closed rapidly by nations willing to put their technology in the field." "We will see Russia rapidly innovating in combat drone development as a significant mission multiplier," he added.