On July 17, when India and China held their 16th round of military talks to ease tensions along the border, the Indian Air Force (IAF) chief Air Chief Marshal VR Chaudhari stated that IAF was closely monitoring Chinese air activity across the Line of Actual Control (LAC). A few days later, news reports indicated that the PLA Air Force's J-11 jets had been flying close to the LAC.
---
Chinese fighter jets have repeatedly been flying close to the Line of Actual Control (LAC), provoking the Indian forces deployed at the contested border in the eastern Ladakh region, Indian media has reported.
The J-11s appear to be a know belligerent. In a separate incident, the J-11 aircraft of the PLA Air Force entered Taiwan's southeastern ADIZ along with the Y-8 reconnaissance aircraft on July 25 as the island nation kicked off the Han Kuang military drills.
According to Taiwan's Defense Ministry, the J-11 entered Taiwan's Air Defense Identification Zone twice this month- July 8 and July 15.
Despite India, China border talks, there has been a rise in Chinese military activity along the border in what is believed to be an attempt at assessing the Indian defense capabilities in the region.
According to reports in Indian media, New Delhi could deploy its second squadron of S-400 Triumf air defense systems along the border with China in the next couple of months. However, EurAsian Times could not independently verify these claims.
Recently, cases of violations of the Confidence Building Measure (CBM) line of 10 kilometers have been reported. These alleged provocative activities come after a Chinese fighter jet was reported flying too close to a friction site in June.
Government sources told Indian News Agency – IANS that the Chinese fighter aircraft, including the J-11, often fly close to the LAC.
According to reports, the Indian Air Force has also taken decisive action in response to these provocations by relocating its fighter jets, like the MiG-29 and Mirage 2000, to advanced bases where they can quickly respond to Chinese missions.
The two fighters were also deployed to the region at the height of the dispute in 2020.
Earlier, the IAF Chief had stated that the Indian side takes appropriate measures by scrambling their fighters or putting their systems on high alert, which has deterred the Chinese to quite an extent. There have not been reports of any encounter between the fighters of the two sides so far.
Sources accessed by the Indian media added that the IAF is watching Chinese flight patterns in the area where they are flying at both low and high altitudes and that the IAF was responding to these actions in a calibrated manner.
IAF's latest and most modern fighter jets, the Rafale, are also extensively flying along the Eastern Ladakh sector. The IAF has a full-combat strength squadron of Rafale at the Ambala Air Force Station, from where they can mobilize and fly to the Eastern Ladakh sector at relatively short notice.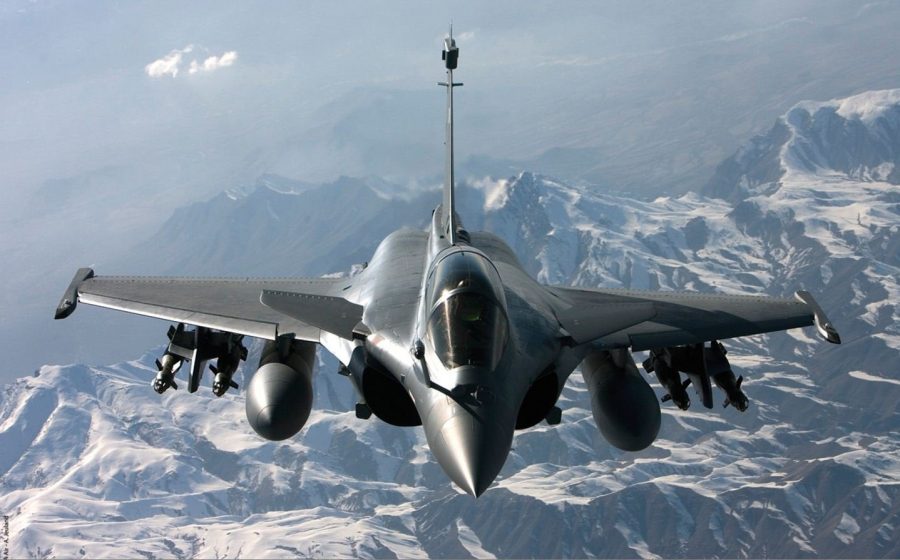 J-11 Fighters – China's Aggressor
The J-11 fighter jets have become China's aircraft of choice for causing provocations along the LAC and ADIZ (Taiwan Strait) despite having the cutting-edge, radar-evading stealthy J-20 fighter jets or the Su-30 and Su-35 heavy-duty aircraft in its arsenal.
EurAsian Times had earlier reported that the PLA Air Force has around two dozen frontline combat aircraft stationed at its Hotan air base in the Eastern Ladakh sector, including the J-11 and the J-20 stealth fighters jets.
"The Chinese earlier used to maintain detachments of MiG-21 class fighters there, but they have now been replaced with more capable and sophisticated aircraft and in larger numbers," government sources had said in June. The ongoing provocation started almost a month ago.
When asked why China chose the J-11 despite having warplanes like the J-20, J-10 (that it also gave to Pakistan), and the electronic warfare capable J-16, military analyst Joseph Chacko said: "They have J-7 and J-11 deployed in Hotan and Gargunsa, close to the Eastern Ladakh area, and flown up to 30 kilometers away from the perceived LAC.
In the last five years, they have stationed J-10 and even J-20 in the region. These deployments are rotational and familiarisation deployments. Notably, the J-11 type has seen a more prolonged deployment. It may be a coincidence or by design.
J-11 can fly farther and has a higher Maximum Takeoff Weight than J-10. J-20 is far less in numbers and has more pressing requirements near the Eastern shores. One can infer that Flanker and its derivatives may be the most suitable aircraft for the Chinese against India."
It is worth noting that the PLA Air Force also sent its J-11 warplanes to Taiwan before the first provocation was reported along the LAC on June 24-25.
Taiwan's Ministry of Defense revealed that 29 Chinese aircraft had infiltrated the southwestern part of the air defense detection area on June 21. The intruding aircraft included six nuclear bombers, 17 J-16s, 5 J-11s, Sukhoi-30 fighter jets, and a refueling aircraft. This was the highest number of aircraft intrusions reported since May 30.
29 PLA aircrafts (Y-9 EW*1, Y-8 ELINT*1, H-6*6, Y-20 Aerial Refueling*1, KJ-500 AEW&C*2, Y-8 ASW*1, J-16*8, SU-30*4, and J-11*5) entered #Taiwan's southwest ADIZ on June 21, 2022. Please check our official website for more information: https://t.co/RfUBzENnI5 pic.twitter.com/2WDnOva1zO

— 國防部 Ministry of National Defense, R.O.C. ?? (@MoNDefense) June 21, 2022
In addition, the Chinese People's Liberation Army Air Force (PLAAF) conducted a cross-regional, day-and-night exercise in March 2022. Various fighter jet types flew more than 5,000 kilometers in less than 20 hours.
According to reports, a brigade connected to the PLA Air Force launched warplanes such as the J-11B and J-11BS from a site in Central China and traveled thousands of kilometers to an unknown destination.
The drill included various terrains, including plateaus and the sea, and it showed off the aircraft's and pilots' excellent capabilities and the numerous air bases' logistical support capacities. This could indicate that the PLA Air Force has been preparing its fighter jets to take on India and Taiwan when needed.
J-11 Fighter Jets Of The PLAAF
Chinese multirole fighter aircraft J-11 is manufactured by Shenyang Aircraft Corporation (SAC). It is a licensed version of the Sukhoi Su-27SK fighter, known by the NATO code name 'Flanker.' The highly maneuverable Shenyang J-11 can perform ground and air superiority missions.
The J-11 aircraft, however, has had a troubled past in China. After Beijing was accused of violating co-production agreements with Moscow, the second batch of the indigenously built and properly licensed J-11A/Su-27SK was suspended.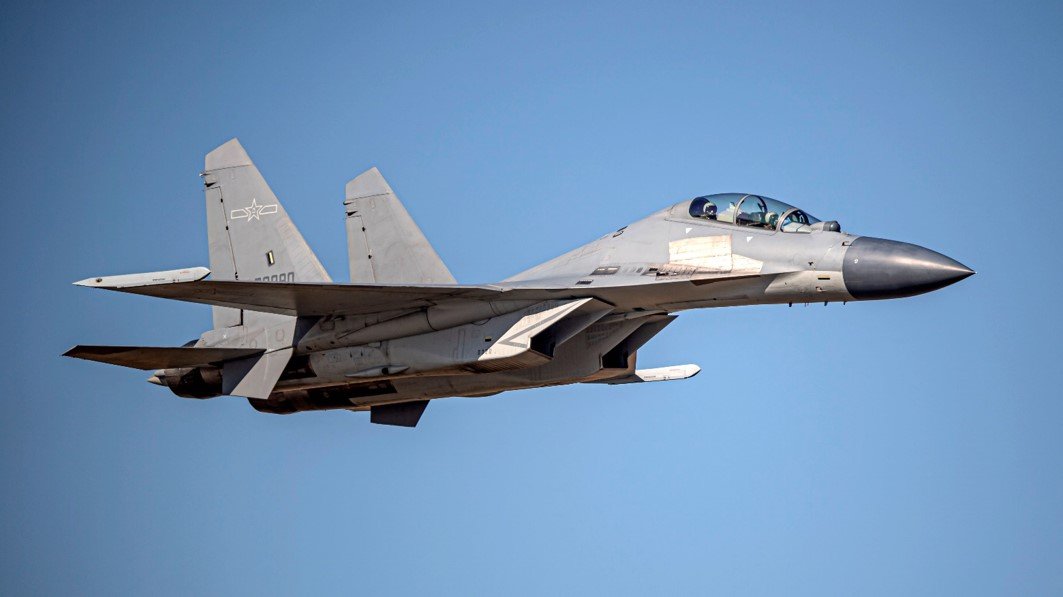 Beijing moved ahead with creating the J-11B, an improvised and more domesticated version that used Chinese avionics rather than Russian ones to reduce dependence on Russia following J-11's operational success.
Among the Chinese subsystems on the J-11B are a type 1474 radar, a 3-axis data system, a power supply system, an emergency power unit, a brake system, a hydraulic system, a fuel system, an environment control system, oxygen generators using molecular sieve technology, a digital flight control system, and a glass cockpit.
Regarding air-to-air and assault capabilities, the J-11B is widely considered one of the most capable fourth-generation combat planes in service and serves as the backbone of China's heavyweight fighter jet fleet.
The PLA Navy has also received an updated variant of the J-11B fighter jet, with at least one of them taking part in a mock combat drill over the South China Sea sometime in March 2022, Global Times reported.
The report had indicated that the J-11 B's radar had been upgraded, possibly moving from the previous Pulse-Doppler radar to the modern Active Electronically Scanned Array (AESA) radar.
The upgraded J-11B with light grey radom is named J-11BG. pic.twitter.com/t6b6JtFVBQ

— dafeng cao (@dafengcao) November 4, 2019
Chinese analysts have since predicted that Air Force (PLAAF) and the Navy (PLAN) would receive the improved J-11B. In addition, the PLA Navy's J-11Bs will also be equipped with China's domestically built WS-10 engines.
According to military observers, the fourth-generation J-11B will grow to a fourth-plus generation level due to the upgrades and will continue to serve in active duty for a considerable amount of time with a high degree of competitiveness. Going by these predictions, it might even be able to challenge India's 4.5th generation Rafales or Taiwan's F-16 Vipers.