Ukraine continues to be a testbed for defense firms to test their latest, untested weapons on an actual battlefield. Currently, videos making the rounds on social media purport to show thermite weapons falling from the night sky in the Ukrainian city of Donetsk. 
---
The Donbas region, which includes the provinces of Luhansk and Donetsk, is where Russia had concentrated its offensive efforts since April, when it withdrew from northern Ukraine and the capital, Kyiv. 
The region comprises both Kyiv-controlled parts as well as Russia-backed separatist-controlled areas. In the most recent video, streaks of white light can be seen falling in Donetsk, a city under the control of Russian-backed separatists. 
Another video. 2/https://t.co/4PhaGoiMTzhttps://t.co/23FUpvbMcMhttps://t.co/4PhaGoiMTz pic.twitter.com/d5ESRMAIF2

— Rob Lee (@RALee85) July 23, 2022
Rob Lee, a Russian defense policy specialist at King's College London's Department of War Studies, tweeted a video with the caption, "There are a number of videos showing what looks like incendiary munitions used on Donetsk tonight."
Incendiary weapons can ignite objects or injure humans with burns or respiratory injuries using heat, flame, or a combination of these. These weapons or munitions are produced when a flammable substance undergoes a chemical reaction. 
Some believed the munitions in the latest video contained white phosphorus, a chemical that self-ignites and has a burning temperature of up to 4,800 degrees Fahrenheit. Others claimed it was thermite, an explosive substance that burns at a temperature of more than 4,000 degrees Fahrenheit.
Aric Toler, a researcher at the investigative journalism group Bellingcat, tweeted, "Skies over Donetsk, crazy. I'd say this looks like CGI if it weren't filmed by lots of different people. Thermite, not phosphorus." 
Skies over Donetsk, crazy. I'd say this looks like CGI if it weren't filmed by lots of different people. Thermite, not phosphorus (thanks @obretix) pic.twitter.com/MbQrU1wWmW

— Aric Toler (@AricToler) July 23, 2022
It is unclear who carried out the attack, given Russia and Ukraine have incendiary weapons. Previously, on May 15, a video surfaced showing the Azovstal plant in Mariupol being shelled by what seem to to be incendiaries. 
At the time, warfare experts conjectured on social media that white phosphorus-filled shells were used in the bombardment. But it was also believed that Russian 9M22S incendiary munitions from Grad multiple launch rocket systems were used in the attack. 
In March 2022, a non-governmental think tank, Ukrainian Military Center, concluded that Russia had used 9M22S incendiary munitions in Popasna, in the province of Luhansk. They claimed that "these flammable and lighting munitions are often confused with phosphorus munitions" in their effects.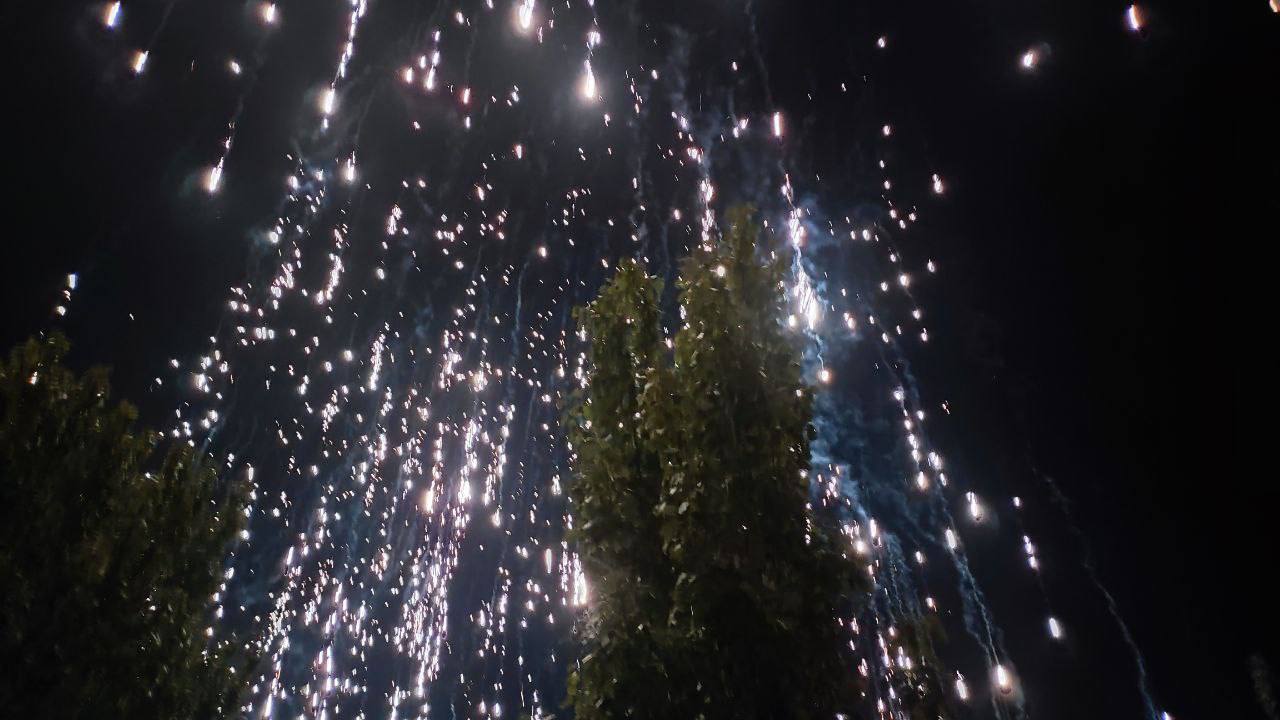 On May 15, the Ukrainian Security Service made public what it claimed to be a phone call that had been intercepted and in which a Russian soldier admitted using weapons restricted by international treaties.
He was reportedly heard saying, "Phosphorous bombs, cluster munitions – they have allowed us to use everything that is banned."
Incendiary Weapons
Protocol III of the Convention on Conventional Weapons (CCW) prohibits using incendiary weapons in armed conflict. The convention forbids the use of incendiary weapons dropped from the air in regions with significant civilian populations. 
However, Human Rights Watch notes that it permits using ground-launched incendiary weapons in the same circumstance when the military target is "clearly separated from the concentration of civilians, and all feasible precautions are taken." 
Incendiary weapons "inflict excruciating burns, sometimes to the bone, and can cause respiratory damage, infection, shock, and organ failure, HRW said in a 2020 report. Few countries have used these weapons against their adversaries in the past. 
From 2012 to 2019, Human Rights Watch recorded approximately 150 incendiary weapon attacks by the Syrian-Russian military alliance utilizing ground-launched rockets and air-delivered weapons in Syria. 
In the late 2000s, images of Israeli forces firing white phosphorus projectiles in Gaza's densely populated area caused outrage on a global scale. The event reportedly resulted in civilian casualties and harmed a school, market, a warehouse storing humanitarian aid, and other civilian infrastructure.
According to Human Rights Watch, Turkey allegedly used white phosphorus in its military offensive in northeast Syria in 2019. In contrast to chemical weapons, which cause harm because of the toxicity of the chemicals they release, incendiary weapons generate heat and fire through the chemical reaction of a flammable substance. 
Nonetheless, fires started by incendiary weapons have the power to destroy civilian buildings and property, harm crops, and even claim the lives of livestock. The inadequate resources further complicate the already tricky process of treating severe burns that medical professionals in armed conflict environments have access to.