Wargaming is proving to be a powerful tool for educating soldiers, developing military doctrine, and determining future investment strategies. It is evident from the fact that a series of military exercises have been taking place all over the world of late.
A notable feature is that the United States is a leading partner in almost all of them. But do they not have limitations in the ultimate analysis with faulty or unrealistic battle plans?
Before answering this question, one may enumerate the exercises that are going on and have just ended. Right now, the United States is hosting (it started early this month) a set of "tabletop" exercises in Germany over five weeks, designed to help Ukraine map out the next stage of its battle to reclaim territory from dug-in Russian troops.
The sessions, attended by senior US generals responsible for American efforts to help Ukraine, are meant to strategize how to map out the risks and benefits of various moves that Ukraine might make against Russian positions in the coming months.
Gen. Mark A. Milley, the Chairman of the Joint Chiefs of Staff, who has already attended the exercises, is quoted to have described a massive table with maps, icons, and other military paraphernalia meant to represent potential battles.
"The Ukrainians are moving things around on these maps to determine their best course of action, and they determine the advantages and disadvantages of the associated risks," Gen. Milley said. "It's a common thing that all militaries do."
Similarly, Gen. Daniel R. Hokanson, chief of the US National Guard Bureau, told the New York Times, "We are delivering the training they (Ukraine) have asked for and the training they need."
It may be noted here that the US had given such training to Ukraine before and after the Russian invasion of Ukraine. So much so that when once Ukraine prepared its counteroffensive by engaging in several wargaming exercises with the United States that helped shape its eventual battle plans, it had initially favored a broader counteroffensive.
However, settling on a more limited approach focused on retaking Kherson from the Russians was advised. This plan proved successful in the field, it is said.
The United States is also participating in or planning similar exercises in the Indo-Pacific. Currently, it is conducting with South Korea "the Freedom Shield exercise" (the 11-day event that started on March 13) to strengthen the defense and response capabilities of the two countries against any misadventure by North Korea or China.
The EurAsian Times has already reported how this exercise will integrate "live exercise" elements with constructive computer simulations.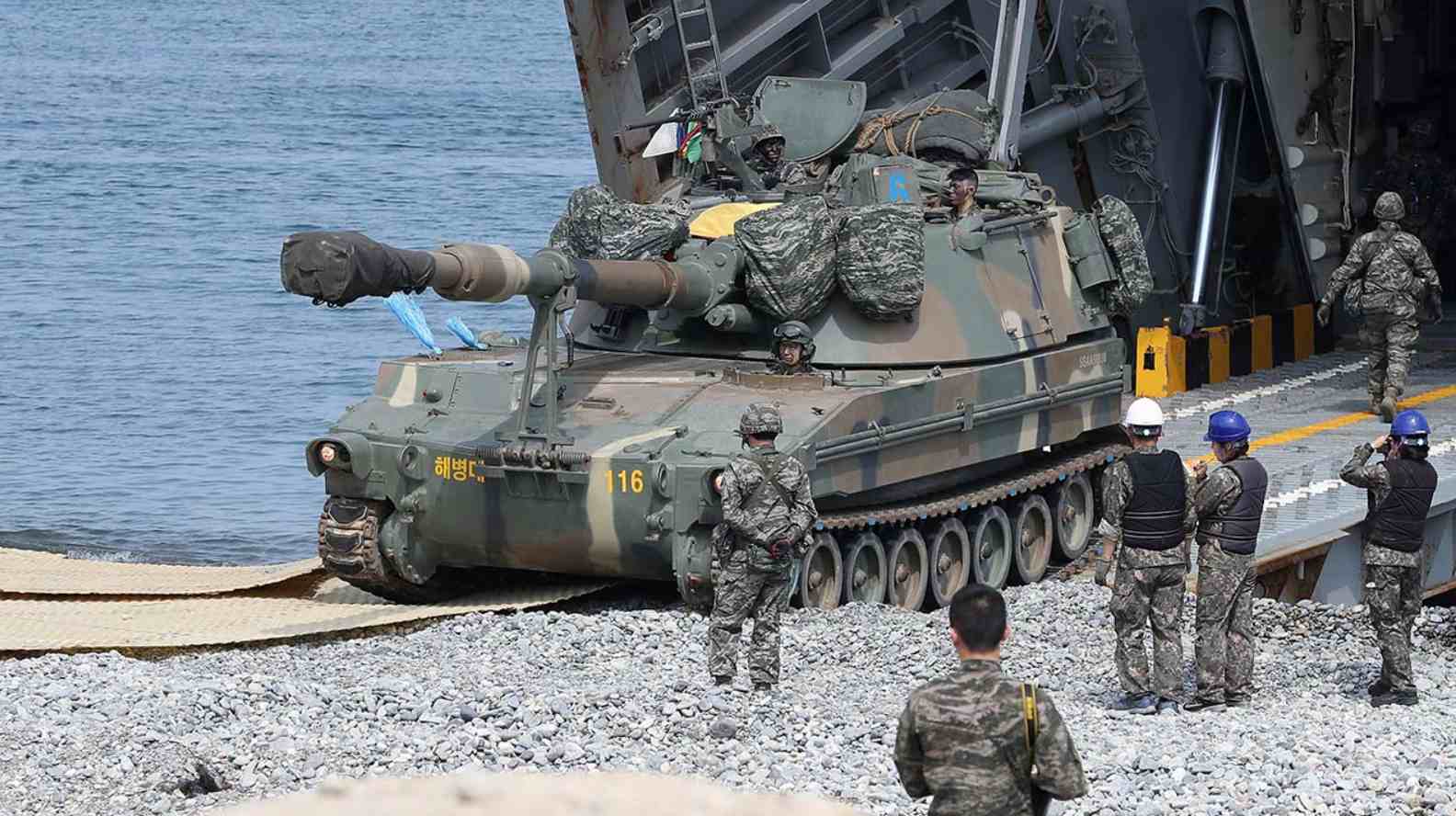 On March 13, the France-led 5-nation naval exercise "La Perouse" kicked off in the Indian Ocean, the other participants being the United States, India, Australia, and Japan.
The two-day multilateral event, which happens to be its third edition, is aimed at enhancing maritime domain awareness and optimizing marine coordination among the participating navies in the Indo-Pacific Region.
According to a statement released by the Indian Navy, "The two-day exercise provides an opportunity for the like-minded navies to develop closer links in planning, coordination and information sharing for seamless maritime operations. The exercise will witness complex and advanced naval operations, including surface warfare, anti-air warfare, air defense exercises, cross-deck landings, and tactical maneuvers.
"Indigenously built guided missile frigate INS Sahyadri and fleet tanker INS Jyoti will participate in this exercise edition. Participation of the Indian Navy in the exercise showcases the high levels of synergy, coordination, and inter-operability between the friendly navies and their commitment to a rules-based international order in the Indo-Pacific region."
Next month, from April 11 to 28, the Philippines and the United States will hold their largest "Balikatan" annual wargames, with 17,600 troops (About 12000 US troops and 5000 Philippine soldiers). A few hundred from the Australian Defense Force will also participate in this exercise in the face of an aggressive China.
It may also be noted that the US and Thailand have just completed on March 10 the "Cobra Gold," one of the Indo-Pacific's most significant military drills, along with other allies. It began on February 28 and brought personnel from Singapore, Indonesia, Malaysia, South Korea, and Japan to participate in the exercises, which spanned air, land, and sea and featured a jungle survival course.
Specifically, American, Thai, and South Korean soldiers launched a joint amphibious operation near a navy base in the country's east. Jet fighters screamed overhead, and tanks rumbled over the sand.
Against this background, one may now address the question raised at the outset – limitations of such wargames or exercises. To begin with, purists among military experts would like to distinguish "wargames" from the commonly used term "exercises."
As Taylor Grossman, a  Senior Researcher at the Center for Security Studies (CSS),  Zürich, points out, military professionals have preferred terms like "exercise" or "scenario" because they are less politically charged and nearer to reality. On the other hand, wargames include an element of narrative creation, whereby players become immersed in the game's world and influence its outcome.
Unlike a simulation, the inputs do not set the game's outcomes entirely. The wargame's authors devise the broad mechanics of gameplay, but the players can always change the exact course.
However, such fine distinctions are mainly academic. Practitioners do not see much difference and interchangeably use "wargames" and "exercises." After all, these are a matter of strategy and preparing the participants for its implementation.
Scholars say that such strategy games were developed in India during the Gupta Empire in the sixth century BCE; the game was called "Chaturanga." Other examples have been traced back to ancient Greece (Pessoi), Egypt (Senet and T'au), and China (Wei-chi).
Notable contemporary examples of wargames include those focused on the post-9/11 scenario in which the soldiers learned to adapt to hybrid threat environments. Emphasis was on new, unconventional tactics and enemies, from terrorist actors to irregular fighting forces. In fact, as militaries are becoming smaller and budgets leaner, wargames are now used to employ joint operations and coalition partnerships in the field.
As Grossman says, "Wargaming has become an international enterprise: more and more countries participate in major American wargames, and NATO has become a significant wargaming outfit. China and Russia have also frequently held joint wargames called Peace Mission, often involving over 150,000 troops."
Modern wargames result in the evolution of joint doctrines of forces. They are also shaping policy development and technology investment, with policymakers and military strategists utilizing them as opportunities to test many different configurations quickly and cheaply before settling on a specific course of action.
And they also prove to be occasions when one can rapidly probe the strengths and weaknesses of new technologies before they are integrated into military systems.
It is said that in the United States, the Air Force Research Laboratory has frequently used wargames to test the battlefield utility of future technologies and then invested accordingly.
The Pentagon has acknowledged in a memo that "When done right, wargames spur innovation and provide a mechanism for addressing emerging challenges, exploiting new technologies, and shaping the future security environment.
They can make the difference between wise and unwise investment trajectories and make our forces more successful in future conflicts."
Military leaders and policy analysts have employed various wargames to simulate possible scenarios, determine technology investment pathways and develop tactical and strategic war plans.
But, as Grossman has cautioned, given their experimental designs, wargames can "distort or reinforce long-held perceptions and false assumptions about future outcomes.
Poorly designed or intentionally manipulated wargames can lead players to draw the wrong conclusions. Wargames also have inherent scoping limitations depending upon which level or kind of military operation they are set to explore.
"For example, a tactical wargame focusing on troop movements and maneuvers is unlikely to result in reliable strategic conclusions. And if used in isolation – particularly without considering the political realities within which actual militaries operate – wargames can justify incomplete and incoherent battle plans."
For example, "false or misleading assumptions can lead players to arrive at incorrect conclusions. The US Dark Winter wargame of 2001 is a classic example of such design flaws.
The game, which simulated a terrorist attack that released smallpox across North America, was sharply criticized at the time by public health experts and social scientists for using a very high transmission rate for the disease, likely overestimating the effects of the outbreak and distorting the players' responses", the Swiss scholar reminds, adding how Germany's wargames in 1941 before invading Poland proved self-defeating.
One could argue in the same vein the case with the American invasion of Iraq under the notion that Baghdad was developing chemical and nuclear weapons.
Viewed thus, one may agree with Grossman when he says, "wargames should also be recognized for their limitations. A poorly developed wargame can lead to incomplete or even incorrect conclusions. A tactical wargame cannot provide insights beyond its scope.
"Wargames can provide useful lessons, but they are not conclusive evidence in and of themselves. Rather, they can be a fruitful testing ground for new ideas and technologies and help develop stronger military doctrine in the future."
Author and veteran journalist Prakash Nanda has been commenting on politics, foreign policy, on strategic affairs for nearly three decades. A former National Fellow of the Indian Council for Historical Research and recipient of the Seoul Peace Prize Scholarship, he is also a Distinguished Fellow at the Institute of Peace and Conflict Studies.
VIEWS PERSONAL OF THE AUTHOR
CONTACT: prakash.nanda (at) hotmail.com