Last year, France received a massive setback when Australia junked the 'Attack-class' submarine project with Paris and signed the AUKUS pact with the US and the UK to acquire nuclear-powered underwater vessels instead.
Five months later, 10 Australian defense personnel still remain in Cherbourg, France's shipbuilding city, doing "final closure activities", after the $90 billion French submarine program was scrapped in September last year, said an exclusive report by ABC News.
The abandoned deal with France's Naval Group, which was supposed to supply up to 12 submarines to replace the aging Australian Collins-class fleet, cost around $2.4 billion to the Australian government.
While officials continue to work out the details of the large contract's formal cancellation, the ABC has learned that a third of the "defense resident project team" is still in Cherbourg.
There were 33 Department of Defense personnel at Cherbourg at the time of Australia's AUKUS announcement, but 23 have since returned home.
"These members are supporting the closure of program activities in Cherbourg, having completed the handover of Hughes House to Naval Group in December 2021," a Defense Department spokesperson said. "All but two are scheduled to return to Australia by the end of March 2022, with the last remaining members due to return to Australia in June 2022 on completion of final closure activities."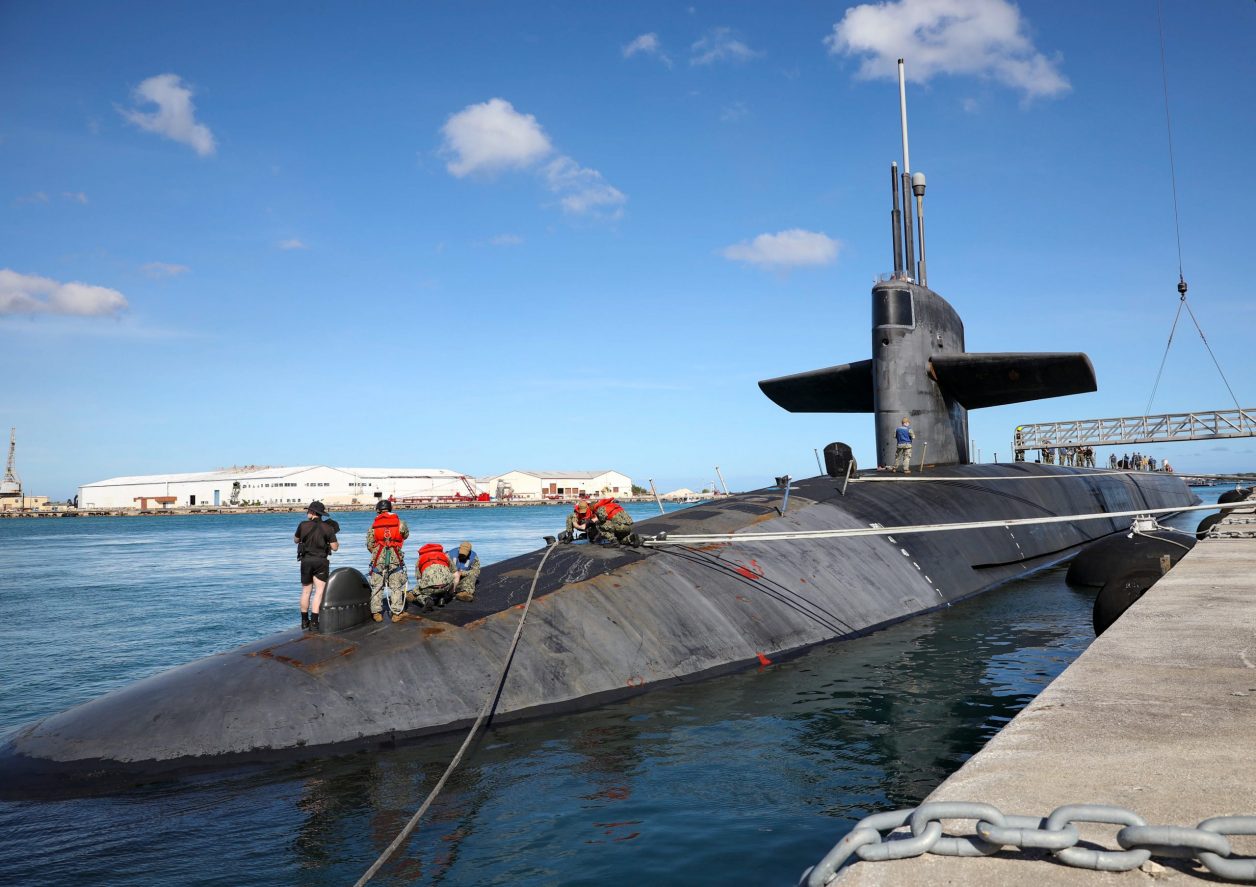 Tony Dalton, the Defense Department's deputy secretary in charge of naval shipbuilding, said at a Senate estimates hearing that negotiations on the cost settlement to cancel the French project were "ongoing".
Dalton answered, "We're going to do everything we possibly can," when asked by Labor senator Kimberley Kitching if the settlement could be completed before the end of this fiscal year.
The Cost Of Cancellation
Shortly after the project was scrapped, the French defense contractor Naval Group had threatened to sue Australia for tens of millions of Euros in compensation for a canceled A$90 billion (US$65.4 billion) submarine deal, as previously stated by the Financial Times.
French officials and executives had then asserted that Australia must repay money already spent and cover the costs of winding down a large design and engineering operation to build the vessels after canceling the order for 12 diesel-electric submarines for strategic reasons, rather than finding any fault on the part of Naval Group.
Even if all of its costs are finally covered, the cancellation of Naval Group's flagship project has dealt the company a serious blow. It accounted for 10% of income, or around €500 million each year on average in the next years, according to Pierre-Eric Pommellet, chief executive of Naval Group.
Apart from the Naval Group, the other contractors were Thales and Lockheed Martin.
Dalton stated that the Department of Defense was "near to finalizing the agreements" with Lockheed Martin Australia, which was chosen as the combat system integrator for the now-decommissioned Attack-class submarines.
"It's a complex and sensitive process that we've been working our way through pragmatically and cooperatively with both Naval Group and Lockheed Martin Australia – the two prime contractors that were involved in the Attack-class submarine program," according to Dalton.
Even though the exact terms of settlement and break-up could not be independently verified, a previous report of ABC Network had mentioned that Australia would also be liable to pay penalty over and above the winding-up costs.
Australia's ABC Network previously said it had obtained a portion of the strategic partnering agreement signed in February 2019 showing that if Canberra decided to cancel after Naval Group had submitted a basic design; it would be liable for a €90 million "break payment," rising to €250 million for a detailed design.
The Submarine Project That Sank
Australia decided to cancel the contract signed with France for conventional diesel-powered submarines in favor of nuclear-powered subs owing to its security needs and threat perceptions. To that end, it signed a strategic pact with the United States and the United Kingdom, a move that was termed as "stab in the back" by France.
The Ambassador now describes the "stab in the back." He says only Australia intentionally deceived France because it wasn't sure the AUKUS submarine deal would come to fruition. He points out only weeks before the 2 + 2 reaffirmed the importance of the program 3/ pic.twitter.com/BwepvRYmWY

— Stephen Dziedzic (@stephendziedzic) November 3, 2021
In 2016, France won the contract against bids from Germany and Japan. The short-fin Barracuda was supposed to be a nuclear submarine with a diesel engine on the surface and a battery beneath. The contract was clinched by the Naval Group in 2019.
The abrupt termination of the contract triggered a diplomatic crisis following which France recalled its ambassador from Australia and the US.
However, Prime Minister Scott Morrison claimed that France knew that Australia had "deep and grave concerns" that a submarine fleet the French were creating would not fit Australian demands.
The switch was attributed to a deteriorating strategic environment in the Indo-Pacific, according to Morrison. He's made no mention of China's vast military expansion, which has accelerated in recent years.
A diplomatic crisis between the U.S. and France over a U.S.-Britain-Australia security deal which sank a French submarine contract with Australia threatens to blow up President Biden's China-focused alliance rebuilding with France and Europe, analysts say https://t.co/3tlFsLiPi4 pic.twitter.com/ANW9xXdLLg

— Reuters (@Reuters) September 19, 2021
There have been fears that a defense capability gap would emerge that the aging Collins-class conventional submarines will be unable to fill. The first nuclear submarines for Australia are not projected to arrive until around 2040.
While Australia's fleet is being developed, Defense Minister Peter Dutton indicated his government is willing to lease nuclear submarines from the US, according to The Economic Times.
Five months after the contract was terminated, tempers have cooled down on all sides. France is also now pitching its submarines to other friendly countries. However, there could be months before the settlement process finally gets over.