The upcoming Dubai Airshow 2023 is poised to witness a significant showdown as India's Tejas fighter jets gear up to compete for attention with Chinese J-10C and Pakistan's JF-17 Thunder Block-3 fighter aircraft.
Scheduled from November 13 to 17 at the Dubai World Central, this airshow is hailed as one of the world's most prestigious aviation events, offering a platform for a wide array of commercial, business, and military aircraft. 
India, China, and Pakistan are among the nations ready to pitch their indigenous aircraft, emphasizing their capabilities to the global audience. 
While the Tejas fighter jet is domestically produced in India and the J-10C fighter jet is indigenously manufactured in China, Pakistan's JF-17 fighter jet is a collaborative effort between the Pakistan Aeronautical Complex and China's Chengdu Aerospace Corporation. 
Nonetheless, these neighboring nations aim to flaunt their locally manufactured aircraft, asserting their position in international aviation.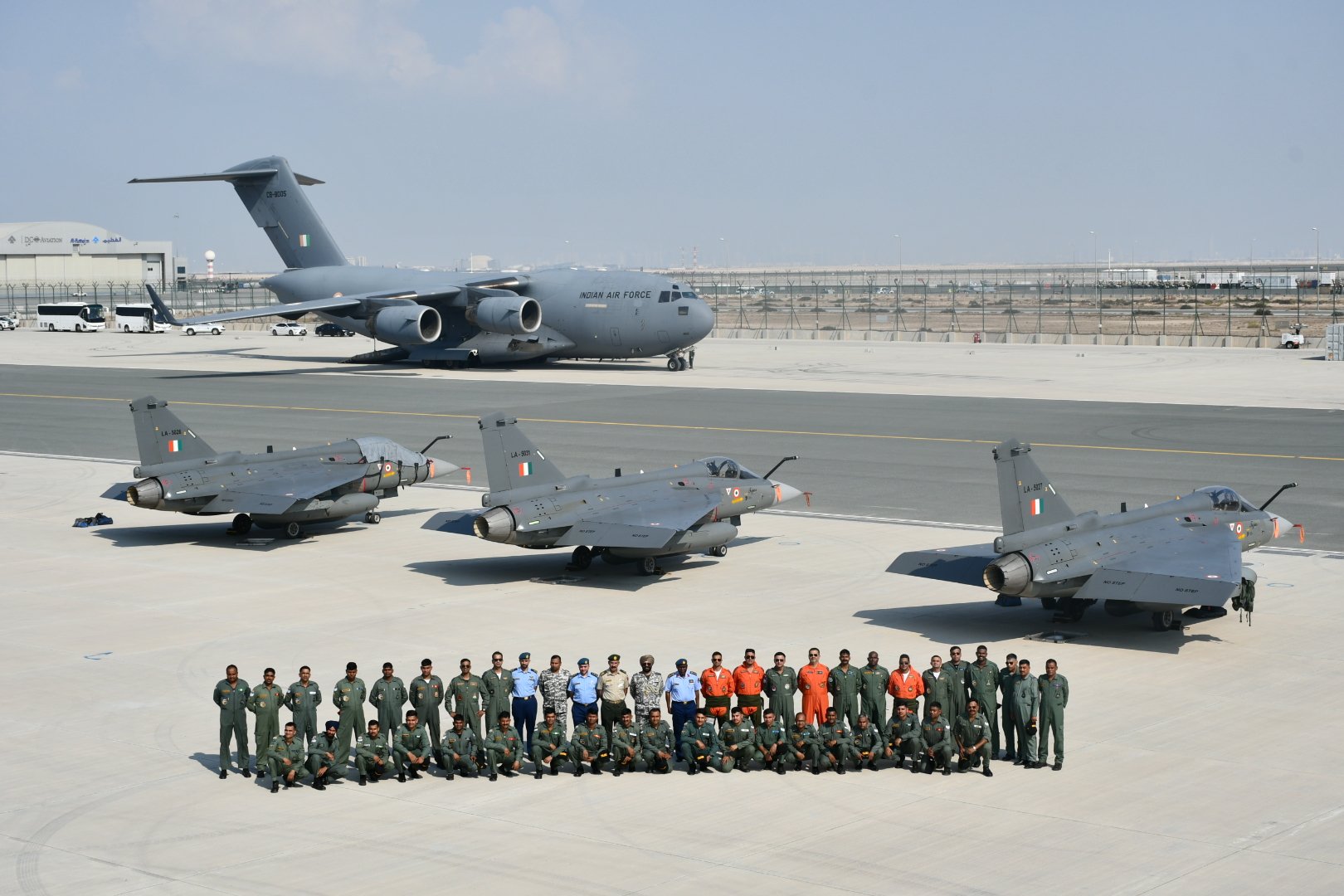 On November 8, the Indian Air Force officially confirmed that the indigenous LCA Tejas aircraft has arrived at the Al Maktoum International Airport in Dubai and is poised to captivate audiences at the Dubai Air Show. 
The service also released images showcasing three Tejas fighter aircraft positioned next to each other. The Tejas will participate in static displays and aerial performances throughout the Airshow. 
On the other hand, the Pakistani Air Force has not officially confirmed the JF-17 Thunder Block-3's participation. However, the Dubai Air Show's website has listed the Pakistani fighter aircraft among the lineup of showcased planes. 
The website also noted that the Pakistani fighter aircraft will be part of the flying display, allowing spectators to compare it with the Indian fighter aircraft directly. 
Regarding the Chinese J-10C fighter jet, seven multi-role jet fighters from the Chinese Air Force's August 1st Aerobatics Team are set to participate in the Dubai Air Show. 
This marks the first appearance of the PLAAF's Aerobatics Team at the show since 2017. This occasion will also mark the J-10C's first public display in the Middle East after undergoing a significant upgrade in 2018.
The Peculiar Tale Of JF-17 And Tejas
India's Tejas and Pakistan's JF-17 are frequently viewed as rivals on the global stage, often competing against each other in various international bids. 
Yet, the JF-17 fighter jet, a Sino-Pakistani aircraft, has a track record of withdrawing from International Air Shows, where it was set to be showcased alongside India's Tejas fighter jet. 
This pattern began at the Bahrain Air Show in 2016 and recurred at Malaysia's Langkawi International Maritime and Aerospace Exhibition (LIMA) in 2019. Similarly, at the Dubai Air Show 2021, Pakistan's JF-17 unexpectedly pulled out at the eleventh hour without providing a clear explanation. 
The JF-17's absence from these events seems deliberate, avoiding direct comparison with the Tejas, which has gained notable recognition as a flagship of India's indigenization initiative. 
Rahul Manohar Yelwe, a Senior Research Fellow at the Center for Security Studies, told EurAsian Times that the fundamental objective of a country's indigenous fighter jet participating in any international or domestic exhibition is to showcase its capabilities and potential.
He highlighted that the Tejas boasts superior technology by incorporating high-grade components from Israel, the West, and India. In contrast, Pakistan's JF-17 primarily relies on Chinese components, often deemed less reliable. 
Yet, Yelwe portrayed the JF-17 as a success story, emphasizing its export to several countries. He also pointed out that Pakistan is showcasing the JF-17 Block III variant in Dubai. In contrast, he noted that India is still in the developmental phase of its Tejas Mk1A fighter aircraft. 
Yelwe further said that for new players entering the export market, the primary focus often revolves around targeting low-income countries. Hence, the Dubai Air Show, renowned as the largest airshow in the region, stands as the perfect avenue for India and Pakistan to showcase their respective aircraft. 
He elucidated that low-income countries typically veer from technologically advanced aircraft due to potential cost escalation. For these nations, quantity often takes precedence over advanced features to deter regional threats, making the JF-17 an ideal choice.
Recognizing that the JF-17 isn't exclusively a Pakistani creation, as the country primarily assembled it using components acquired from China, Yelwe also noted the benefit of economies of scale. Pakistan's production of over 100 units of this fighter jet has provided them with a competitive edge in the export market. 
China Aims To Market J-10C In The Middle East
In contrast to the lightweight Tejas and JF-17 fighter aircraft, China's J-10C Vigorous Dragon belongs to the medium-weight fighter aircraft category. Typically, Vigorous Dragon is compared to the US F-16 multi-role fighter or the French Dassault Rafale fighter jet.
China's J-10, also called the "Firebird" by NATO, entered service with the Chinese Air Force in 2005, marking a significant milestone as China's maiden domestically-produced advanced jet fighter. 
This medium-weight single-engine jet fighter boasts all-weather capabilities, and its latest iteration, the J-10C, was introduced in 2018, equipped with cutting-edge features such as an advanced electronic warfare system, infrared tracking target system, and active electronically scanned array radars.
Nonetheless, China's move to dispatch seven J-10C fighter jets is perceived as a strategic effort to explore opportunities in the Middle East market. 
The latest model, equipped with a more potent WS-10B engine and PL-15 air-to-air missiles, underwent modifications by its manufacturer, the Chengdu Aircraft Industry Group, to attract foreign buyers.
Pakistan became China's first international buyer of the J-10C in response to India's procurement of Rafale fighter jets. In 2020, the country placed an initial order for 25 J-10Cs with an option for an additional 11. 
Yelwe suggested that China might be aiming to leverage the opportunity created by the aftermath of the United States imposing severe sanctions on Russia following its full invasion of Ukraine. 
He commented that nations such as the UAE and Saudi Arabia have prominently favored technologically advanced American and European fighter jets, recognizing them as the cornerstone of their countries' airpower.
For example, Yelwe highlighted that when the UAE acquired F-16s in the early 2000s, they opted for the Block 60 variant.
The expert stated that middle-income and low-income countries may find advanced Chinese fighter jets appealing due to the absence of political conditions or requirements attached to their purchase.
What sets these aircraft apart is that a significant portion of their components, including engines, are mainly manufactured within China.
This offers a distinct advantage because it streamlines the procurement process for customers. Instead of relying on multiple suppliers from different countries, these nations can obtain everything from a single production line.