The first-ever in-person summit of the Quad leaders that was hosted by President Joe Biden at the White House on September 24 seems to have fulfilled the immediate goals of the host, PM Scott Morrison of Australia, PM Narendra Modi of India, and PM Yoshihide Suga of Japan when they had met last, virtually on March 12.
If the long joint statement from the leaders following their summit and the accompanying 'Factsheet' — a rare occurrence in diplomatic parleys — are any indication, the Quad is no longer "a work in progress"; it is going to remain a defining geopolitical feature of the India-Pacific.
This development is bound to add to the discomfiture of China, which had described, just before the two-hour-long summit meeting of the four leaders commenced on Friday, the group to be "exclusive", and that it was "doomed to fail".
The joint statement of the Quad (Quadrilateral Security Dialogue) leaders clearly mentions that "We will continue to build habits of cooperation; our leaders and foreign ministers will meet annually and our senior officials will meet regularly. Our working groups will continue their steady tempo to produce the cooperation necessary to build a stronger region."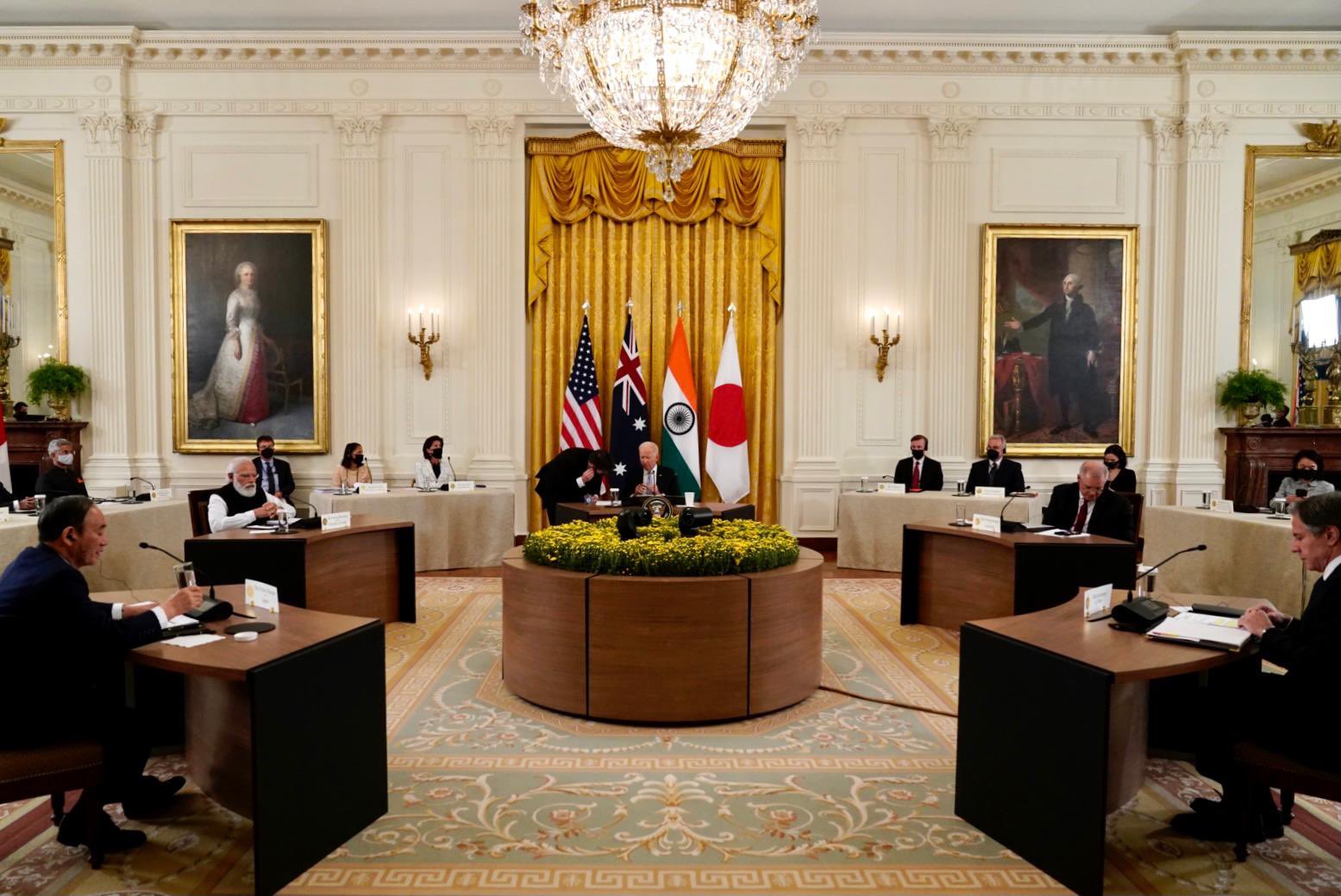 It means that henceforward the heads of the government of the US, India, Japan, and Australia as well as their foreign ministers will meet every year. In other words, though the Quad at the moment may not be a formal coalition with its own secretariat, meetings of their leaders becoming annual features is a big development in that direction.
China Has Reasons To Worry
China, of course, has reasons to worry, because the formation of the Quad (the process began way back in 2007, with the initiative of the former Japanese Prime Minister Shinzo Abe), all told, was a reaction to China becoming increasingly assertive.
China has been extending its influence across the Indo-Pacific and around the world. Each of the four Quad members and their friends and allies has been increasingly facing China's wrath either in the military or in economic terms.
China's territorial revisionism and its attempts at weaponizing economic interdependence and rewriting international norms as per its wishes are increasingly becoming global concerns.
Understandably, the four leaders in their joint statement have said: " Together, we recommit to promoting the free, open, rules-based order, rooted in international law and undaunted by coercion, to bolster security and prosperity in the Indo-Pacific and beyond. We stand for the rule of law, freedom of navigation and overflight, peaceful resolution of disputes, democratic values, and territorial integrity of states."
However, every attempt has been made by the Quad leaders not to project the group as a security alliance, though they have not compromised on that aspect by finding bilateral routes and other alternate regional mechanisms to face Beijing's growing military might.
They have projected the Quad as having an inclusive agenda that is beyond military and defense. Both the joint statement and fact-sheet have talked of "working together and with a range of partners" on a vast range of issues such as health, education, infrastructure, trade, finance, foreign investment in sensitive sectors, commercial technology, information security, and climate goals.
The four leaders have pointed out how they, since their virtual meet in March, have relentlessly worked to make considerable progress in tackling some of the world's most pressing challenges: the COVID-19 pandemic, the climate crisis, and critical and emerging technologies.
Covid Cooperation
They said: "We launched the Quad Vaccine Experts Group, comprised of top experts from our respective governments, charged with building strong ties and better aligning our plans to support Indo-Pacific health security and COVID-19 response. …. we have actively improved coordination of our efforts to support safe, effective, quality-assured vaccine production and equitable access, in close collaborations with multilateral efforts including the COVAX Facility.
"In addition to doses financed through COVAX, Australia, India, Japan, and the United States have pledged to donate more than 1.2 billion doses globally of safe and effective COVID-19 vaccines. And to date, we have delivered nearly 79 million safe, effective, and quality-assured vaccine doses to countries in the Indo-Pacific as part of those commitments.
"Thanks to the Quad Vaccine Partnership's financing of increased manufacturing capacity at Biological E LTD, additional production in India will come on line later this year. In line with our March announcement, and recognizing the continuing global supply gap, we will ensure this expanded manufacturing is exported for the Indo-Pacific and the world, and we will coordinate with key multilateral initiatives, such as the COVAX Facility, to procure proven safe, effective and quality-assured COVID-19 vaccines for low- and middle-income countries. We also recognize the importance of open and secure supply chains for vaccine production.
"The Quad also welcomes India's announcement to resume exports of safe and effective COVID-19 vaccines, including to COVAX, beginning in October 2021. Japan will continue to help regional partners purchase vaccines through $3.3 billion of COVID-19 Crisis Response Emergency Support Loan. Australia will deliver $212 million in grant aid to purchase vaccines for Southeast Asia and the Pacific. In addition, Australia will allocate $219 million to support last-mile vaccine rollouts and lead in coordinating the Quad's last-mile delivery efforts in those regions."
The second notable decision that the four leaders have taken is to inaugurate "the Quad Fellowship", stewarded by Schmidt Futures, a philanthropic initiative, and with generous support from Accenture, Blackstone, Boeing, Google, Mastercard, and Western Digital.
This pilot fellowship program will provide 100 graduate fellowships to leading science, technology, engineering, and mathematics graduate students across the four Quad countries.
The idea is that "through the Quad Fellowship, our next generation of STEM talent will be prepared to lead the Quad and other like-minded partners towards the innovations that will shape our shared future", the joint statement said.
The third major initiative that the four leaders have taken is to map capacity, identify vulnerabilities, and bolster supply-chain security for semiconductors and their vital components. This is an area where China has a disproportionate ascendance or monopoly over others, thereby making the rest of the world over-dependent on Beijing. This initiative will help ensure Quad partners support a diverse and competitive market that produces the secure critical technologies essential for digital economies globally.
All these are the areas that few can find fault with. And these have the potentials to bring other major powers to partner with. As it is, all the four Quad countries have already worked with New Zealand, South Korea, and Vietnam on the Covid-19 vaccine development.
The Quad states have also been talking with Brazil and Israel on medical cooperation, economic recovery, and travel protocols. Similarly, the United Kingdom is willing to work with the Quad nations on 5G technology and Artificial Intelligence.
Veiled Warning To Pakistan?
This is not to suggest that on September 24, the Quad leaders did not discuss security issues. They, in fact, reaffirmed that "Afghan territory should not be used to threaten or attack any country or to shelter or train terrorists, or to plan or to finance terrorist acts, and reiterate the importance of combating terrorism in Afghanistan."
Without naming Pakistan, the Quad leaders said, "We denounce the use of terrorist proxies and emphasized the importance of denying any logistical, financial or military support to terrorist groups which could be used to launch or plan terror attacks, including cross-border attacks."
If this reiteration was of extreme significance for India, Japan was comforted by the collective urge to North Korea to engage in diplomacy over its nuclear weapons and ballistic missile programmes, which Pyongyang has refused to do unless international sanctions are dropped. They also decided, in what was a clear message to China, to meet challenges to the maritime rules-based order, including in the East and South China Seas.
Speaking at the Quad leaders meeting. https://t.co/bQzenzUlQa

— Narendra Modi (@narendramodi) September 24, 2021
But then, for meeting the Chinese military threat, the Quad is not becoming what some critics, including Beijing, apprehend to be an Asian NATO. As Kunihiko Miyake, a special adviser to Japan's cabinet and former diplomat, says, "What we are pursuing is not a monolithic, unified, NATO-type collective security alliance. Rather, it's a multilayered system, consisting of various groupings and entities."
The Quad and other entities, such as the "Five Eyes" intelligence-sharing group and the newly formed AUKUS, share certain values and objectives — one of which is to send a message of deterrence to Beijing, he adds.
Contrary to apprehensions in some quarters that AUKUS dilutes the significance of the Quad, the reality is that they complement one another. It brings the UK, a European power, to the Indo-Pacific. In fact, the ongoing voyage of Britain's new aircraft carrier from the Mediterranean into the South China Sea provides better insight into the substance of the UK's Indo-Pacific tilt.
In any case, while declaring the formation of the AUKUS, President Biden, Australian Prime Minister Harrison, and British premier Boris Johnson had clearly emphasized the importance of the Quad.
True friendship always stands the test of time. Over the past seven decades, #China and #Pakistan, from "friends in need" to "friends of common development," have always understood and supported each other, setting a good example of state-to-state relations. https://t.co/mDybMxWc0o

— Spokesperson发言人办公室 (@MFA_China) September 23, 2021
Even otherwise, bilaterally and multilaterally the Quad members do undertake various joint military exercises such as Malabar naval drills in order to strengthen interoperability to respond to a range of possible contingencies that might emerge in the region.
India and Japan have conducted their first bilateral air and ground exercises. Australia and India have recently signed a new logistics agreement. Canberra and New Delhi regularly share shipping and maritime data.
In sum, the Quad is finding its purpose. It has come a long way since it was rooted in the joint disaster relief after the Asian tsunami almost 17 years ago.
Author and veteran journalist Prakash Nanda has been commenting on politics, foreign policy on strategic affairs for nearly three decades. A former National Fellow of the Indian Council for Historical Research and recipient of the Seoul Peace Prize Scholarship, he is also a Distinguished Fellow at the Institute of Peace and Conflict Studies. CONTACT: prakash.nanda@hotmail.com