China's People's Liberation Army Navy (PLAN) will soon have up to two squadrons (36 units) of the Russian-made co-axial (or contra-rotor) Kamov Ka-52K 'Katran' attack helicopters to operate from its Type 075 Landing Helicopter Dock (LHD).
The development assumes significance as it comes against the backdrop of China's ongoing conflict with Taiwan, which Beijing sees as a breakaway province and wants to reunite with the mainland.
In the past 6-7 months, China has stepped up what is seen as intimidatory tactics by sending warplanes into Taiwan's Air Defense Identification Zone.
With the lack of a heavy assault helicopter to operate from ships for amphibious operations and ground attack, primarily stemming from the inability of China's domestic aerospace industry to make one, the only possible scenario in which the Ka-52K can conceivably be used is a possible invasion of Taiwan.
Priced at $20 million each, the decision was taken when a Chinese delegation visited the Kamov's production line in Primorye Krai in Russia's Far East.
The Ka-52K
The Ka-52K is a naval version of the lethal Ka-52 Alligator, able to carry heavy anti-ship missiles with ranges over 100 km, air-to-ground missiles, rocket pods for ground attack, a 30mm gun, and radars with ranges over 200 km.
This makes it virtually a 'multirole' helicopter, capable of providing close air support as a heavy helicopter gunship and a reconnaissance/scout helicopter, providing targeting data and battlefield surveillance.
It features folding rotor blades, folding wings, and life-support systems for the crew members, who will fly in immersion suits. The fuselage and systems have special anti-corrosion treatment for operating in sea conditions.
While China's own Harbin Z-10 attack helicopter is considered a no less formidable platform, it still falls in the light/medium weight attack helicopter category, primarily owing to its engine power.
Even the latest variants continue to be powered by WZ-9 turboshaft engines, as the WZ-16 engines are still under development and are yet to enter serial production.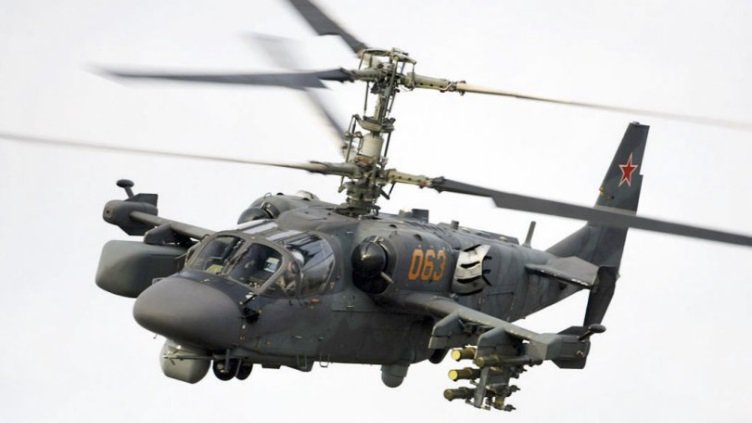 Issues with the engine's performance were one of Pakistan's reasons to reject the Z-10 and chose the Turkish T-129 ATAK attack helicopter. Compared to an output of 1,300HP produced by the WZ-9 turboshaft engine, the Klimov VK-2500 that powers the Ka-52K produces nearly double the amount at 2,500HP.
It also could not carry its designated maximum payload of 16 HJ-10 anti-tank missiles. Likewise, even the armor panels are made of lightweight graphene, since the engines can't lift the added weight.
The same problem apparently also plagues China's jet engines; the WS-15 engine that had been in development for many years is believed to be lacking the cutting edge supercruise performance of American (Pratt & Whitney, General Electric), British (Rolls Royce), France (Sagem-Safran) or Russian (NPO Saturn, Tumanksy, Klimov) engines.
This bears how aviation power plants remain the most sophisticated and heavily guarded secrets of aerospace technology.
The Ka-52K is also heavier at 12 tonnes, compared to the 7-tonne weight of the WZ-10. While both are twin-engine helicopters, the need for a heavily armed and armored helicopter that can both give and take punishment cannot be met by the Z-10.
Chinese war games and exercises have long envisaged busting medium and heavily armored ground targets in the event of a land invasion (which could be none other than Taiwan).
While the PLAN and the PLA Air Force (PLAAF) can knock out Taiwanese air and naval assets, smaller sea and land targets will need to be engaged by heavier attack helicopters when a land invasion begins.
The chopper can withstand 12.7 mm armor-piercing rounds and 23 mm projectile fragments, with even the rotors themselves said to be capable of taking small arms fire.
Thus Taiwanese anti-aircraft units will have a tough time fighting these flying machines, which knowing China's penchant for overwhelming and confusing enemy forces, will be used in tandem with other air and ground assets.
Amphibious Warships
These are expected to operate off the Type-075 LHDs that displace over 40,000 tonnes, making them among the largest amphibious warships after the ones possessed by the US Navy.
Besides helicopters, troops and cargo, they can also carry tanks, armored/infantry fighting vehicles, tracked and towed artillery, and smaller ground tactical vehicles.
Zhou Chenming, a researcher with the Yuan Wang Military Science and Technology Institute in Beijing was quoted as saying, "The People's Liberation Army has studied the possibility of buying Russian Ka-52Ks for quite a long time.
The Type 075 landing helicopter dock needs a heavy attack helicopter. The Ka-52K is the Russian Navy's first ship-borne attack helicopter with folding blades and wings with higher take-off weights, which can save space and fulfill the needs of the PLA's Type 075 LHD."
A derivative of the Ka-50 and the Ka-52 attack helicopters, which are in service with the Russian army, a defining feature of Ka-52K is its contra-rotor (or co-axial) system that has two main rotors, one above the other, spinning in opposite directions.
Eliminating the need for a tail rotor, gives the helicopter tremendous maneuvering and aerobatic abilities, besides saving 30% engine power. The helicopter can perform loops, rolls, and the 'funnel' (circle-strafing). Here, the aircraft maintains a line of sight to the target while flying circles of varying altitude, elevation, and airspeed around it.
But their most unorthodox feature is the ejection seat, which like jets, can propel pilots out of the cockpit, by first blowing off the main rotors by small explosives in the rotor assembly, making the Ka-50/52 series the first helicopters with such a capability.
Parth Satam is a Mumbai-based journalist who has been covering India's defense sector for more than a decade. He maintains a keen interest in defense, aerospace and foreign affairs and can be reached at satamp@gmail.com