If one goes by the statements of Indian leaders and officials in recent years, it becomes apparent that Vietnam is India's "most trusted friend and ally" in Southeast Asia.
It is also said to be "a central pillar of India's Act East Policy," which, in its evolution from being "Look East" to "Act East", has been primarily marked by the components of "defense," along with "energy" and "economy."
India's increasing military collaboration with Vietnam has, perhaps, not received the due attention it deserves. Let us see three important developments recently in this regard.
On July 22, India transferred an indigenously built in-service missile corvette, INS Kirpan, from the Indian Navy to the Vietnam People's Navy. This was "the first-ever occasion that India is offering a fully-operational Corvette to any Friendly Foreign Country," according to Admiral R Hari Kumar, Chief of the Indian Navy.
It was, in fact, Admiral Hari Kumar himself handed over INS Kirpan soon after decommissioning it from the Indian Navy at an impressive ceremony at Cam Ranh, Vietnam.
"It is a matter of great honor for me to be a part of the handing over ceremony of one of the finest and longest-serving warships of the Indian Navy – Kirpan, to the esteemed Vietnam People's Navy," he said.
INS Kirpan, since commissioning in 1991, has been an integral part of the Indian Navy's Eastern Fleet and has participated in many operations over the last 32 years. Manned by about 12 officers and 100 sailors, the ship is 90 meters long and 10.45 meters in width, with a maximum displacement of 1450 tons.
The  "gifting of INS Kripan" was as per the decision arrived at during Indian Defence Minister Rajnath Singh's meeting with his Vietnamese counterpart General Phan Van Giang, in New Delhi on June 19.  It is described to be symbolizing "the status of the Indian Navy of being the 'Preferred Security Partner' in the Indian Ocean Region."
Secondly, the 3rd India-Vietnam Maritime Security Dialogue was held on 31 May 2023 in New Delhi. The Indian delegation was led by Ms. Muanpuii Saiawi, Joint Secretary (Disarmament & International Security Affairs), Ministry of External Affairs, and the Vietnamese delegation by Ambassador Trinh Duc Hai, Vice Chairman, National Boundary Commission.
During the dialogue, the two sides conferred on ways to sustain a secure maritime environment conducive for inclusive growth and global well-being. They reviewed ongoing cooperation initiatives in the maritime domain and avenues of reinforcing international and regional mechanisms for comprehensive maritime security.
Both sides vowed to further strengthen their shared efforts and existing frameworks in areas such as marine scientific research, Humanitarian Assistance and Disaster Relief (HADR), maritime connectivity, and maritime security, including Navy and Coast Guard co-operation, maritime law enforcement, and capacity building.
Thirdly, Prime Minister Narendra Modi met his Vietnamese counterpart Pham Minh Chinh on 20 May 2023 in Hiroshima on the sidelines of the G-7 Summit. The two leaders noted the steady progress achieved in the bilateral Comprehensive Strategic Partnership.  Among others, they discussed important opportunities in the field of defense.
It may be noted that defense has played an important role in upgrading the "Strategic Partnership" between India and Vietnam that was established in 2007 to a " Comprehensive Strategic Partnership" in 2016.
Defence Cooperation signed between the Ministries of Defence of the two countries in 2009 and "the Joint Vision on Defence Cooperation signed by the Defence Ministers in 2015" has provided the institutional framework.
Notably, the visit of India's Defence Minister Rajnath Singh to Vietnam in June 2022 further enhanced the defense cooperation, including the signing of a new "Joint Vision Statement on India-Vietnam Defence Partnership towards 2030" and a "Memorandum of Understanding on Mutual Logistics Support."
The text of the 'Joint Vision Statement" is not in the public domain, but it is said that it is to "enhance the scope and scale of existing defense cooperation." But "the Memorandum of Understanding on Mutual Logistics Support"  stated officially that  "In these times of increasing cooperative engagements between the defense forces of the two countries, this is a major step towards simplifying procedures for mutually beneficial logistic support and is the first such major agreement which Vietnam has signed with any country."
Singh's visit to Vietnam in June last year also facilitated  12 High-Speed Guard Boats built by Indian manufacturer M/s Larsen & Toubro being handed over to Vietnam.
Defense cooperation between India and Vietnam has now diversified to wider military-to-military dialogue and exchanges, training programs, and bilateral exercises. In fact, bilateral military exercises are held periodically, besides multilateral ones. The naval ships of the two countries visit one another regularly.
Significantly, Indian naval warships have been granted permission to drop anchor at the Na Trang port in southern Vietnam. The Indian Navy is said to be the only foreign navy in the world to have been granted such a privilege at a port other than Halong Bay near Hanoi,  thereby facilitating the presence of the Indian Navy in the South China Sea and enabling a greater strategic role for India in Southeast Asia.
This allows New Delhi to monitor the South China Sea side of the Straits of Malacca ( the other side is monitored from its own territories at Andaman and Nicobar).
The most distinguishing feature of the defense cooperation between India and Vietnam is probably the one that talks of New Delhi contributing towards the enhancement of Hanoi's "capacity-building" in the military arena. India's familiarity with Russian weapons, on which Vietnam also depended for years, came handy in this regard.
India has supplied spare parts to Vietnam, apart from providing its service of Soviet-origin defense equipment on a commercial basis.
Way back in 2000, when the late George Fernades became the first Indian defense minister to visit Vietnam, it was agreed to assist the latter in the process of setting up its defense industry and supply defense items.  India also decided to open its doors to the research done by the Defence Research and 10 Development Organization (DRDO).
Besides this, India also agreed to a line of credit (loc) of $100 million for defense procurement to Vietnam during late President Pranab Mukherjee's visit to Vietnam in 2014. And then Prime Minister Modi, during his visit to that country in 2016,  announced a new $500 million line of credit for Vietnam to facilitate the procurements of defense equipment from India.
Reportedly, the loc has not been properly utilized as the two countries have not always agreed on what major Indian items need to be exported to Vietnam.  India is said to have offered Vietnam BrahMos cruise missiles, Akash (Sky) missile air defense system, Varunastra (Water Weapon) anti-submarine torpedoes, and coastal radars.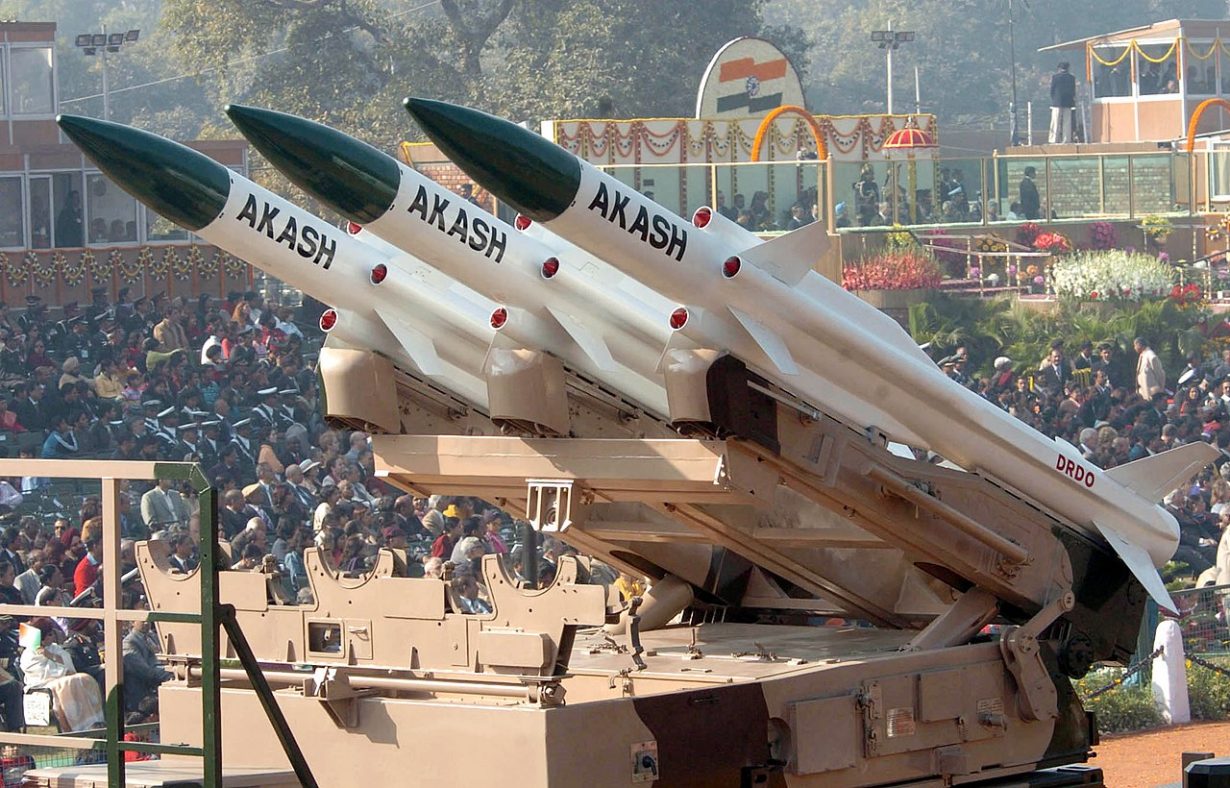 Interestingly, India had offered Vietnam BrahMos and Prithvi missiles way back, following Fernades' visit during the first NDA government headed by Atal Behari Vajpayee. But when this government was succeeded by the one of  UPA led by Manmohan Singh, Vietnam did complain that India was not showing the same interest in giving these missiles.
It was said that the UPA government's major thrust was on economic cooperation and that the BrahMos must first be fully inducted into the Indian Armed Forces, and if there was any surplus, then it would be considered for Vietnam.
However, this mindset by the UPA government had changed by 2011, and India did enter into negotiations with Vietnam to sell its first BrahMos cruise missiles to an outside country. But so far, nothing concrete has happened, though recent media reports say that  Vietnam is expected to place an order between three to five units of BrahMos missiles, each priced at  $125 million.
Apparently,  Vietnam is also talking of local joint production of  Indian items like Akash missiles with the transfer of technology, something that is remarkably similar to India's own approach while acquiring Western arms and ammunition.
As it is, there is already an Indian presence in Vietnam's defense industry. India is reportedly upgrading Vietnam's Petya-class light frigates for anti-submarine warfare and expanding existing services to upgrade the current stock of Soviet-era military equipment, including thermal sights fire control systems for armored vehicles, T-54 and T-55 tanks, and M-17/MI-8 helicopters.
India is also providing training on Russian aircraft Su-30 Fighter and Kilo Class submarines to Vietnam.
Admittedly, the 'China factor' has played (and continues to play) a major role in improving the military ties between India and Vietnam. If India has longstanding border issues with China, Vietnam is uncomfortable with the Chinese hegemony in the South China Sea, which is vital to the Vietnamese economy and security.
There is also the shared goal of counterbalancing Beijing's fledging military prowess in the region.
And this growing strategic convergence between India and Vietnam seems to have support from other major powers in the Indo-Pacific such as the US, Japan, and South Korea.
All have a shared goal of keeping the vital sea lanes of the Indo-Pacific, including the  South  China Sea,  safe, secure, open, and accessible to all, a concept under increasing threats from China today.
"A strong India in the Indian Ocean region and a strong Vietnam in the South China Sea area"  has, thus, become the common imperative.
Author and veteran journalist Prakash Nanda is Chairman of the Editorial Board – EurAsian Times and has been commenting on politics, foreign policy, on strategic affairs for nearly three decades. A former National Fellow of the Indian Council for Historical Research and recipient of the Seoul Peace Prize Scholarship, he is also a Distinguished Fellow at the Institute of Peace and Conflict Studies. 
CONTACT: prakash.nanda (at) hotmail.com