Is the future of the F/A-18 E/F Super Hornet — one of the world's most lethal, combat-proven, multi-role frontline fighter jets — hanging in balance? While the US Navy plans to take the jet off-grid, lawmakers are persistent for it to stay.
US Army's Mighty Abrams Tanks Could Be 'Sitting Ducks' For New-Age Adversaries — Expert Panel
Member of the US House Armed Services Committee, which is currently debating the military budget for FY2022, Rep. Vicky Hartzler, wrote in an op-ed for the St. Louis Post-Dispatch,
"These Super Hornets are a proven platform that will make up the vast majority of the strike fighter force for at least the next decade. Modernizing in this regard is a positive step. However, doing so without plans to replace the lost capability is why we need the Super Hornet".
Though more than 700 F/A-18 Hornets and Super Hornets are in operation today, only two foreign militaries have purchased the fighters — Australia and Kuwait.
US Defense Giants Lockheed, Northrop 'Locked In Battle' To Develop Australia's Integrated Missile Defense System
However, despite uncertainty, Boeing remains hopeful to bag a deal with the Indian Navy for its acquisition of 57 multirole carrier-based fighters.
US Congress Vs Navy
An intense discussion has erupted in the military circles on the future of the Super Hornets since the US Navy's announcement last year that it would stop buying F/A-18E/F Super Hornets starting in FY22.
Why An 'Inferior' SAAB Gripen Jet Could Beat US' Most Powerful Fighter Aircraft For Indian Air Force Tender?
This came after the 2019 budget release, in which the US Navy rolled out an ambitious plan to buy 110 Block III Super Hornets over the next five years.
Among the supporters of the fighter jet are US lawmakers who want the Navy to purchase more fourth-generation fighters.
The EurAsian Times earlier reported that the US lawmakers had expressed concern over shifting resources from in-production fighters to the Next Generation Air Dominance (NGAD) program.
Panel Chairman Rep. Donald Norcross of the Subcommittee on Tactical Air and Land Forces, (D-N.J.) said he found it "unacceptable" that the Navy and Air Force were divesting current aircraft like the A-10 and F/A-18E/F that are still valuable for service to invest in next-generation aircraft when F-35 costs weren't under control.
On the other hand, the US Navy officials argue that the fourth-generation fighter might not remain viable against any threat in the 30-year timeframe, taking the fighter's life to the 2050s.
Russia To Induct World's Heaviest Ballistic Missile By 2022 While The US Still Looks To Troubleshoot Its Hypersonic Technology
"If Congress mandates the Navy keep buying the current F/A-18E/F Super Hornets, the airframes will be in the fleet into the 2050s. But by then, the fourth-generation fighters likely couldn't stand up to future threats," a Navy official told USNI News.
The Chief of Naval Operations, Adm. Mike Gilday, made similar comments while criticizing defense lobbyists for pushing Congress to purchase Navy platforms that the service does not want to buy.
"It's not the 90s anymore. If you go to the tri-service strategy, we really try to punctuate the sense of urgency that we feel every day against China to move, to move the needle in a bureaucracy that's really not designed to move very fast," Gilday said.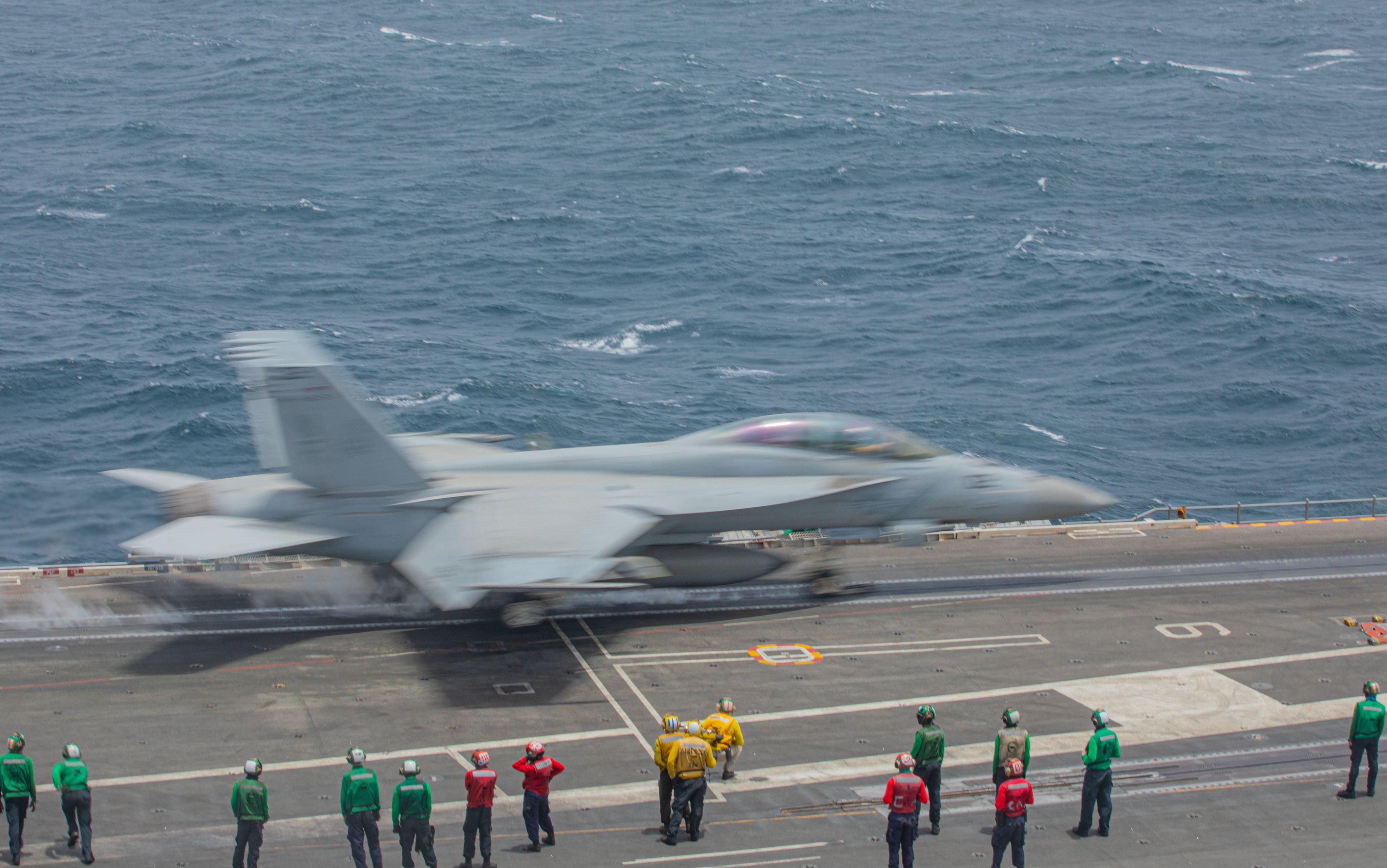 Rear Adm. Andrew Loiselle, who leads the chief of naval operation's air warfare Directorate (OPNAV N98), informed the committee members that instead of buying new airframes of Super Hornets, the Navy's choice is to pursue the service life modifications for the Super Hornets, giving him the flexibility to update more of the fourth generation aircraft if the service needs them.
"Given a limited funding environment, the choice was made to put that money against increases of lethality in the weapons and [research, development, test, and evaluation] needed to ensure that the viability of the fourth/fifth generation mix and the weapons needed to be fully capable as a fifth-generation, moving into sixth-generation capabilities," Loiselle said.
Turkey In Talks With 10 Nations Including Pakistan To Sell Its Most-Powerful Drone – Bayraktar TB2 UCAV?
Global Customers
In 2010, Boeing announced a "Super Hornet International Road Map" highlighting a set of potential enhancements to the F/A-18E/F Super Hornet to increase its export prospects.
The elements under the road map included a next-generation cockpit, enclosed weapons pod and an enhanced performance engine (EPE) version of the GE F414 among other upgrades.
However, despite a promising deal with the Australian Air Force of A$2.9 billion to acquire 24 F/A-18Fs, the Super Hornet could not impress upon other foreign customers.
In 2018, Kuwait became the second country to award a $1.5 billion contract to Boeing to build 28 F/A-18E/F Super Hornets for the Kuwait Air Force. The delivery is expected by the end of 2021.
First photos of Kuwait Air Force F/A-18E Super Hornet Block III. Kuwait will purchase 22 single-seat E and 6 two-seat F Super Hornet to replace the KAF Legacy F/A-18C/D Hornet Fleet which was purchased after Desert Storm. Kuwait will purchase 28 Eurofighter Typhoon as well. pic.twitter.com/C52RXZuFW2

— MiG-29 Fulcrum (Izdeliye 9.12/9.13/9.51) (@StefanKnippsch3) September 28, 2020
Lately, Boeing has lost major export deals to its opponents like F-35s, Rafales, and Saab Gripens.  In 2013, Super Hornet lost the deal to Saab JAS 39 Gripen, when Brazil dropped the fighter from its final list. Similarly, in 2016, the Danish government recommended procuring 27 F-35As over Super Hornets.
In 2019, Poland too chose F-35 over the Super Hornet for its Air Force similar to the UK Royal Navy when it opted for the carrier-based "C" variant of F-35 for its Queen Elizabeth-class aircraft carriers.
Important day for Royal Danish Air Force as the first Danish pilot flew an F-35 fighter jet on Friday ✈️ pic.twitter.com/uVzL3SHYIH

— Denmark at NATO (@DK_NATO) January 16, 2021
This year in June, Switzerland confirmed the purchase of Lockheed Martin F-35s over the Super Hornets for its fighter fleet.
Among prospective deals, Canada remains one of the countries with which Boeing is looking to seal the Super Hornet deal. To replace its fleet of CF-18 legacy Hornets, the Royal Canadian Air Force (RCAF) is eyeing land-based variants of the F/A-18E/F Block III Super Hornet along with the opponents Lockheed Martin F-35A and Saab Gripen E.
Earlier this year, Admiral Timothy Keating, a former commander of USNORTHCOM and NORAD commented on Canada's future fighter capability at the Ottawa Conference on Security and Defence.
US Developing An Ultimate 'Air Warrior' That Can Hunt-Down Most Advanced Fighter Jets Without A Blink – WATCH
"The Super Hornet can carry more, it can fly longer in terms of time and longer in terms of distance, and those are factors that are of surpassing importance to the battle room commander," he said.
The other prospective customer for F-18s is India, to which Boeing has offered the naval variant of Super Hornet fighters under the RFI (Request for Information) to acquire 57 multi-role carrier-borne fighters for India's first indigenous aircraft carrier (IAC-1), named Vikrant, set to be commissioned in 2022-23.
Indian Navy
Both Indian aircraft carriers are short take-off but arrested recovery (STOBAR) carriers, which means they utilize the deck of the aircraft carrier for take-off and landing purposes.
To adapt to India's needs, Boeing demonstrated the jet's capability to launch from a land-based ski jump in 2020.
Our F/A-18 #SuperHornet demonstrates the ability to operate from @indiannavy aircraft carriers during its successful and safe launch from a ski-jump ramp. pic.twitter.com/92V14EXV9M

— Boeing India (@Boeing_In) December 21, 2020
According to Boeing India's press release, "The Super Hornet's unique differentiators for the Indian Navy include its two-seater carrier-compatibility capability which provides operational flexibility and opportunities to integrate future technologies related to manned-unmanned interface from aircraft carriers".
Recently, Ankur Kanaglekar, the Head India Fighters Sales, Boeing Defense, Space and Security showed confidence in winning the Indian Navy's fighter jet contract, outpacing the opponents such as French Dassault Rafales, Sweden's SAAB, and Rosoboronexport of Russia.
"The USN will operate Block III Super Hornets for decades to come. With its rapid technology insertion plan, Block III will outpace threats for decades to come. This next-generation aircraft is ready to protect Indian armed forces from current and future threats," he said.
Dassault's 'Irresistible Offer' To India: Will IAF Acquire 36 More Rafale Fighter Jets From France?
Interestingly, the Super Hornet is also offered to the Indian Air Force under the RFI acquisition of 114 medium fighters in a contract worth an estimated $20-30 billion. However, experts suggest the likelihood of the F-15EX replacing the Super Hornet in Boeing's offer to the Air Force is very high.
It appears that a contract with the Indian Navy could be a lifeline for the legendary Super Hornets.