French President Emmanuel Macron recently announced that Ukraine has already received the French-Italian SAMP/T Mamba surface-to-air missile (SAM) system, which is "operational (while) protecting key facilities and lives." 
France announced the supply to Ukraine of this missile defense system, which is an analog of the American Patriot system.
SAMP/T can destroy aircraft at a distance of 3 km to 100 km and ballistic missiles at a distance of 3 km to 25 km.
French reports said that it is the first medium-range anti-missile system developed in Europe. It is already deployed in Romania to protect the strategically important Black Sea port of Constanta.
Macron made the statement in the closing speech of a conference in Paris gathering defense ministers and other representatives of 20 European countries, according to the Associated Press (AP). 
With this, the SAMP/T will join other Western air defense systems already provided to Ukraine, including the German IRIS-T; the American Patriot Advanced Capability-3 (PAC-3) & NASAMS, and the MIM-23 HAWK; the Italian Aspide delivered by Spain; and other French-made Mistral and French Crotale NG.
New Threat For Russia?
The transfer of the AD platform serves Ukraine's air-denial strategy of making it difficult for Russian military aircraft to operate freely in Ukrainian skies over the war zone and its cities.
Moscow has addressed this handicap by firing long-range air and sea-launched ground attack cruise missiles and Geranium-2 kamikaze drones from within its territory that hit both Ukrainian civilian-military targets and its SAMs.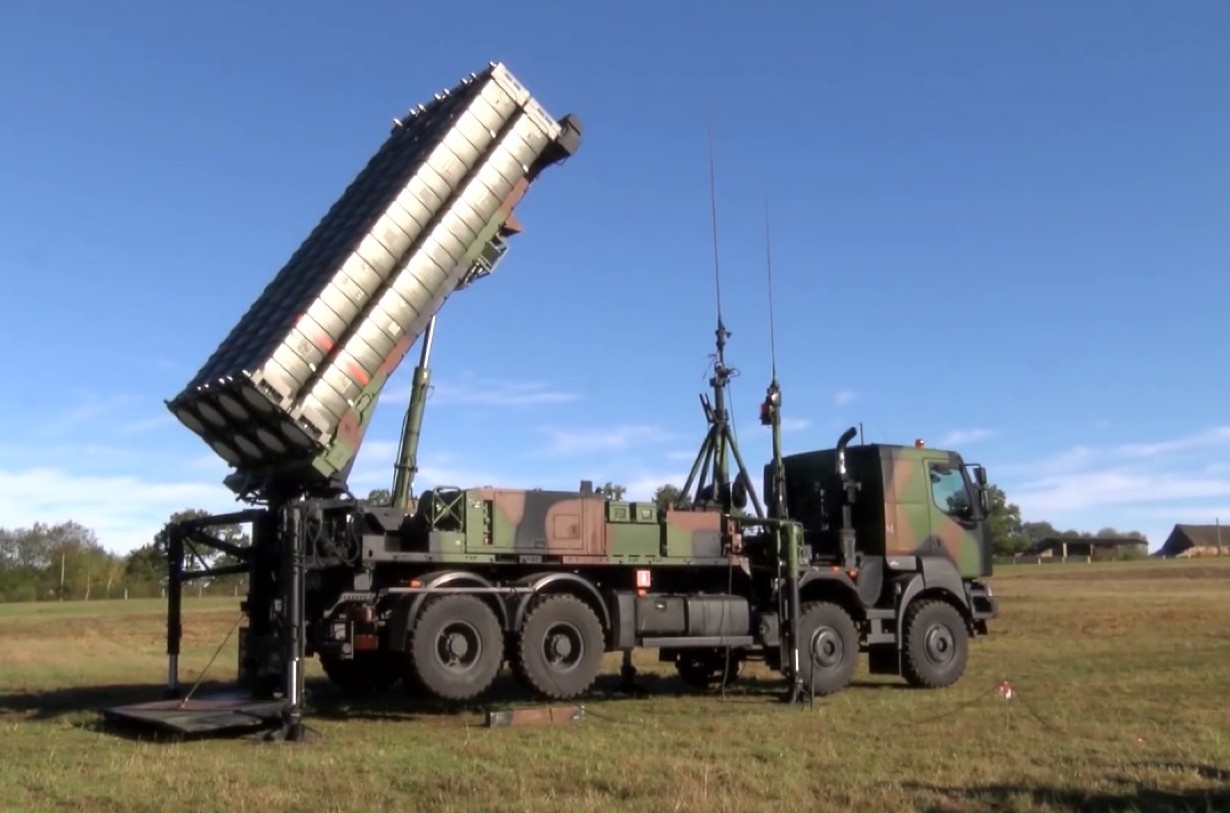 Ukraine also employs Soviet-origin S-300 and Buk-M1 systems. One way is by hitting them directly where the drones and missiles interchangeably SAM platforms into 'lighting up' as decoys and then strike the revealed position. 
The other approach is to enter Ukrainian air space in large continuous volleys or swarms that draw their missile fire and exhaust their stocks, touched upon in a previous EurAsian Times analysis. 
This has led the US to periodically replenish and deplete Ukrainian stock of such weapons, like the Patriot, from its inventory. It forebodes a scenario where the next batch of rearmament would take longer, as it would have to be freshly manufactured.
The number of SAMP/T Mamba batteries sent to Ukraine and the number of missiles is unknown. But Ukraine will certainly employ it sparingly and not fall for Russian missilery drawing their fire. 
The delivery of the system was announced by France and Italy in February, with the leaked US intelligence documents saying it was slated to arrive in Ukraine in June. A report on Yahoo said that Ukrainian troops completed training on the system in March. 
Later in May, Ukrainian Force spokesperson Yurii Ihnat again urged for the speedy delivery of the SAMP/T and more Patriot batteries. 
Europe's First All-European Anti-Air Missile
SAMP/T Mamba is the first medium-range anti-missile system developed in Europe. It is already deployed in Romania to protect the strategically important Black Sea port of Constanta, according to Ukrinform. 
Manufactured by Eurosam, a 50:50 joint venture between MBDA and Thales, it is meant to defend against airborne threats like cruise missiles, manned and unmanned aircraft, and tactical ballistic missiles. It can function in areas with heavy electronic countermeasures and extreme clutter and is interoperable with other NATO air defense systems. 
It comprises the Aster 30 interceptor missile and the Arabel multi-purpose radar. The Aster 30 missile can travel at a speed of 1.4 kilometers per second and can intercept targets at altitudes from 50 meters to 20 kilometers. It is a two-stage missile in which the booster steers the missile toward the target and separates a few seconds following the launch.
In addition, the SAMP/T system can be used with different long-range radars, such as the Thales GM400 long-range radar, which has a detection range between 300-400 kilometers.
Macron Wants European Weapons To Protect Europe  
The event also saw Macron calling for Europeans building their own air defense weapons and the continent's defense majors to relocate production on the continent. He further criticized the German-led European Sky Shield air defense system, which is expected to be primarily based on US and Israeli military technology, the AP report added. 
In a press conference with North Atlantic Treaty Organization (NATO) Secretary General Jens Stoltenberg last week, German Chancellor Olaf Scholz celebrated how the European Sky Shield Initiative brought "together European states to jointly increase protection against ballistic missiles, cruise missiles, and drones." 
The German-led plan is expected to feature the Israeli Arrow 3 system and further develop US Patriot missile capabilities. Scholz did not refer to Paris' objections to the initiative.