The world's fastest electric ship, the Candela P-12 Shuttle, is slated to enter Stockholm's waters in 2023, in an effort to shape the future of water transportation. 
The archipelago of 14 islands makes up the Swedish capital and is connected by 57 bridges. The Swedish capital has long been home to marine transportation.
The country has one of the largest per capita recreational boating industries in the world, with an estimated fleet of 756,000 leisure vessels. 
However, there is a significant environmental cost to this. Fast-moving boats pose a risk to the seabed, while engine noise disrupts marine wildlife.
The Candela P-12 Shuttle is advertised by its manufacturers as the most energy-efficient electric ship ever built, in addition to being the fastest of its kind. 
The Candela P-12 can travel 50 miles (80 kilometers) on a single charge. Its battery can be recharged in just one hour. These electric passenger ferries, which were unveiled on June 22, are anticipated to begin sailing in 2023.
The company has already had some commercial success, claiming to have sold more than 100 of its 28-foot leisure boat, model C-8, within six months of its launch (August 2021). Candela's founder and CEO, Gustav Hasselskog, said that he was inspired by electric carmaker Tesla.
"What Tesla did was to add a lot of style to electric cars. We want to make a very attractive product because that's going to drive the move towards sustainability in a much faster way," Hasselskog says. 
A 'Flying Boat'
The water-borne shuttle is equipped with three carbon-fiber wings that extend from beneath the hull, enabling the ship to raise itself above the water, reducing drag and boosting speed and stability. 
The shuttle, which will "fly" across the water, will transport commuters between Ekerö, a rapidly growing neighborhood in Stockholm's suburbs, and the city center "faster than the subway and bus lines it competes with, as well as car travel during rush hour,"  said the company in a statement.
The Candela P-12 Shuttle travels the 15-kilometer route in only 25 minutes, saving passengers approximately 50 minutes per day. The boat creates a "near-zero wake" due to its innovative design, and it has been granted an exemption from the Region of Stockholm's 12-knot speed limit.
That means it can navigate at full speed and fly into the city center without going to cause wave damage to other vessels or sensitive shorelines.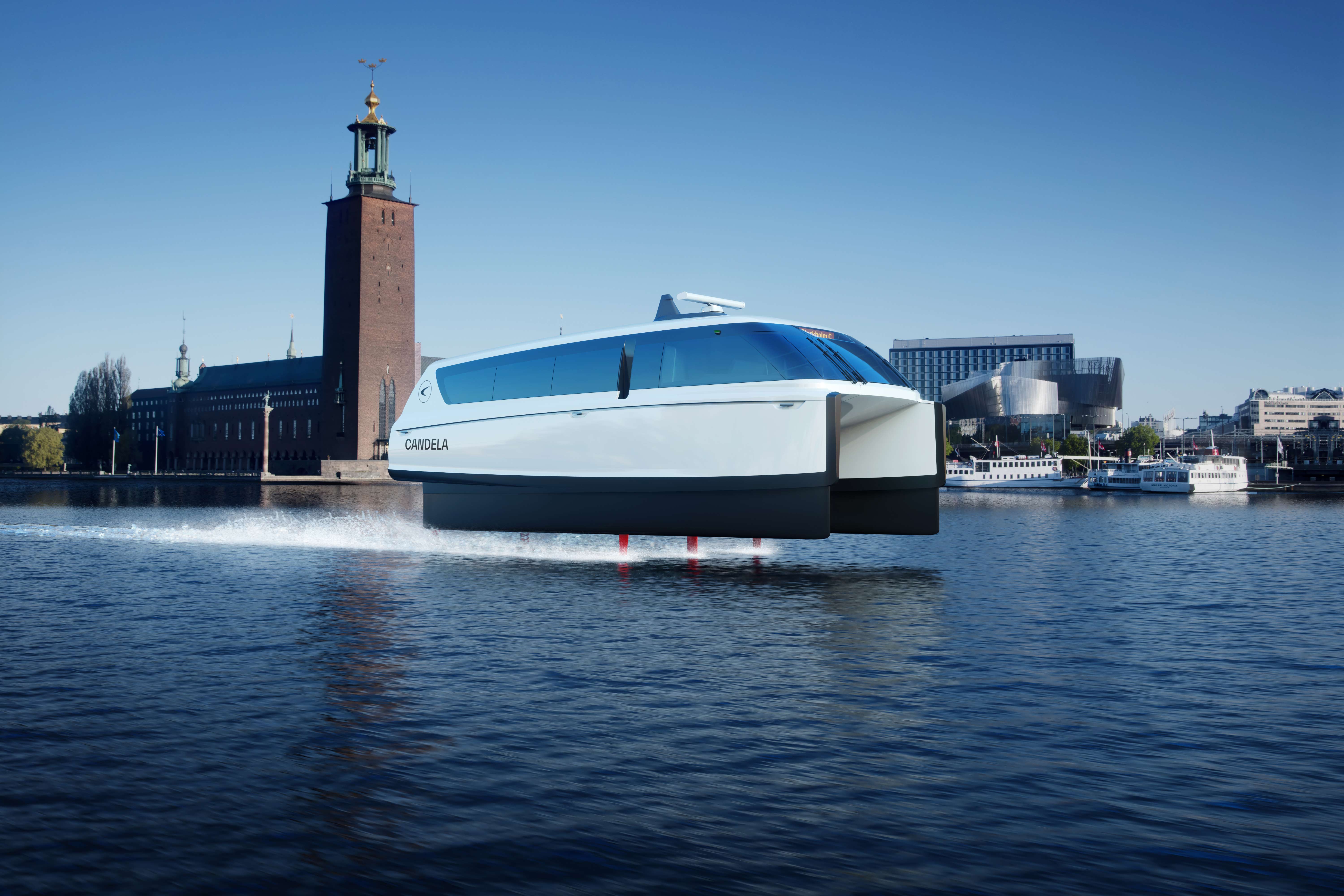 "There's no other ship that has this kind of active electronic stabilization. Flying aboard the P-12 Shuttle in rough seas will feel more like being on a modern express train than on a boat: it's quiet, smooth and stable," Erik Eklund, Vice President of Commercial Vessels at Candela, said.
The world's fastest electric ferry can also stay competitive on mileage costs and can be placed on new routes without massive infrastructure investments because all it requires is a dock and electricity. 
In 2023, the Candela shuttle will start a nine-month trial period. If it lives up to the high expectations set for it, the hope is that it will eventually replace the city's fleet of more than 70 diesel-powered vehicles. 
Future Plans
In two funding rounds, Candela is believed to have raised a total of €32 million ($34.3 million), of which €24 million ($25 million) came from venture capital firm EQT Ventures in 2021. 
This boat does come at a high price tag, though. The C-8 leisure boat costs over €300,000 ($320,000) at retail, which is comparable to the cost of other electric leisure boats on the luxury market. However, Candela claims that compared to boats powered by combustion engines, operational costs can be reduced by up to 90%.
According to Hasselskog, boating enthusiasts are keen to join the EV revolution. There are currently 200 units reserved in addition to the 100 C-8 models that have already been sold, and several orders for its P-12 passenger ferry have already been received from Norway.
In order to scale up production to meet this demand, Candela is moving to a new facility that is four times as large as its current one and expanding its 30-person team to 100 people. The boating industry typically has a small scale of production, and much of the work is done by hand.
Thus, Hasselskog is looking into ways to automate Candela's production process in an effort to lower the cost of future models. "(We want) to really push down the cost, so that we can go head-on with combustion engine boats," he said. 
Other firms are also developing high-end battery-powered leisure boats. Arc Boats, founded by former SpaceX rocket engineers, will launch its 24-foot aluminum boat later this year.
X Shore, another Stockholm-based startup, has raised more than €71 million ($74.8 million) to increase the production of its electric boat, which has a range of approximately 100 nautical miles.
On a global scale, although electric ferries are unlikely to compete with trains or buses, they could nonetheless be used as another tool for cutting emissions from the transportation sector.