With Turkey and Israel set to overcome their differences and get their ties back on track, experts believe that Pakistan would be watching anxiously as Israel and its key ally India having already pulled Islamabad's strongest ally – the UAE and Saudi Arabia on its side would be gunning for Turkey?
Israel has started to be recognized by prominent Islamic nations including the UAE, Bahrain, Sudan, while it has stuck a partial deal with Morocco with the help of Donald Trump. Many experts believe that once Saudi Arabia joins the list, it could open doors for more Islamic nations to join in including Pakistan.
Before the peace deal signed by the UAE, Sudan, and Bahrain, no Arab country except Egypt and Jordan had any formal relations with Israel. Others have been reluctant to accept Israel unless a two-state solution is reached.  
According to media reports, Turkey has appointed an ambassador to Tel Aviv more than two years after it cut off diplomatic ties. There had been no ambassador in either country since May 2018, after the United States in 2017 decided to recognize Jerusalem as Israel's capital. The United Nations had then passed a resolution condemning Trump's move.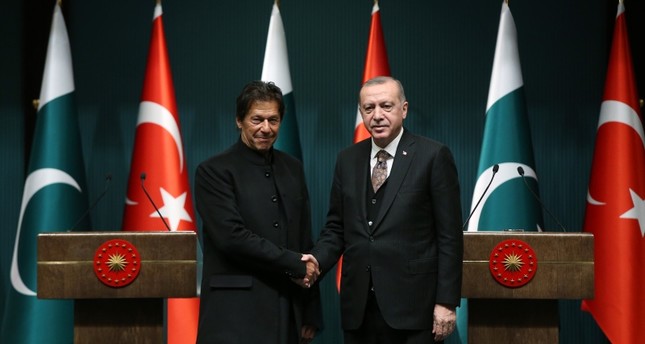 Turkey has now selected a new ambassador to Israel, Ufuk Ulutas, 40, who is currently serving as the chairman for the Center for Strategic Research at the Turkish Foreign Ministry, said a report in Al-Monitor, citing "well-placed sources." 
Media reports claim that the reason behind this move could be to please Washington. Days before Joe Biden takes over as US President, the Trump administration imposed sanctions on Turkey under the Countering America's Adversaries Through Sanctions Act (CAATSA) over the latter's acquisition of the S-400 missile system from Russia.
Rift With Saudi Arabi And UAE
Despite several efforts, Islamabad failed to receive any support from Saudi Arabia on the Kashmir issue. At the Organisation of Islamic Cooperation (OIC), Riyadh turned down Pakistan's request to convene a session. 
Angered over Pakistan's pressure to support its Kashmir stance, Riyadh withdrew a $1 billion interest-free loan it had extended to Islamabad and also refused to renew a deferred oil payments scheme, which was meant for easing their import bill.
Over the years, Saudi Arabia and Pakistan have enjoyed fruitful relations with Riyadh extending financial aid and oil supply to Pakistan. 
Not just Saudi Arabia, but Pakistan is now at loggerheads with the United Arab Emirates (UAE) as well. After the UAE and Israel signed the peace deal, brokered by Washington, Pakistani Prime Minister Imran Khan has refused to establish any ties with Israel until the Palestinians get their rights.
There have been reports of a split between the Saudi Arabia royal family as King Salman remains firm on his stance of the boycott of Israel unless Palestinians receive a separate state. However, the crown prince is in favor of normalizing the kingdom's relations with Israel, said a report in the Wall Street Journal.
Experts' Take
Abhijit Iyer Mitra, a senior fellow at the Institute of Peace and Conflict Studies, told EurAsian Times that Turkey never broke off ties with Israel; they just called their ambassador back. Now sending a new one again is "purely a secretarial task".
Analysts believe that the dilemma that Pakistan faces is that, if it gives in to Israel, then a precedent would be established on the Kashmir issue as well.
"They can't grasp the Arab inwardness that ignores Kashmir, which they often equate with the Palestinians living under 'Israeli tyranny," wrote Khaled Ahmed, consulting editor, Newsweek Pakistan.
However, Iyer-Mitra says there is no connection between Kashmir and the Palestinian issue.
"The greatest sentiment issue for the Palestine issue was in Kuwait, Bahrain, Qatar, the UAE, and Saudi Arabia. After normalizing relations with Israel, have you seen any violent protest in Sudan, the UAE, and Bahrain due to this?" he asked. 
On being asked whether Islamabad's foreign policy may see a change with respect to Israel, Iyer-Mitra said that Pakistan can't change its foreign policy, unlike all these other countries that have now normalized ties with Israel, and are much more developed and "don't have strong terror outfits as in Pakistan".
Japan, Vietnam PM' Meet In Hanoi; Vow To Collaborate On South China Sea
"The UAE and Saudi Arabia's disappointment with Pakistan has nothing to do with Israel and is a bilateral issue," Iyer-Mitra argued. "Even if Pakistan normalizes relations with Israel, it won't solve its problems with Saudi Arabia.
Moreover, Pakistan's refusal to send its army in the Yemen war has also created a distance between the two allies," Iyer-Mitra stated.
He concluded King Salman might be willing to overlook Pakistan's actions due to "the old affection between the states" but the crown prince and de facto King of Saudi Arabia, Mohammed bin Salman, is "not willing to forgive Pakistan's actions".
"Even King of UAE, Khalifa bin Zayed Al Nahyan has an anti-Pakistan stance for a long time but he plays number two to Saudi Arabia," he said.
With Turkey normalizing ties with Israel, Nitin J Ticku, an expert on international affairs believes that this could be another attempt by Israel to pull Turkey on its side after winning the Arab world.
Not only there are ongoing efforts to pressurize Pakistan to recognize Israel but there would be attempts to improve ties between Turkey and India in order to isolate Pakistan and snatch-away Islamabad's new best buddy.
I hope we all remember how Malaysia completely changed its policy overnight after the departure of Mahathir Mohamad. This could also be the case with Turkey and once Erdogan departs, Pakistan would have to start from scratch, Ticku concluded.
---