Despite its impeccable record of military neutrality, Sweden is a military powerhouse. Since Sweden submitted its papers for admission into the NATO alliance, experts have emphasized that the country is "armed and ready to fight" any country that threatens its security.
Sweden is a large manufacturer of weaponry and military equipment despite being non-aligned and having never fought a war in its 150-year history. Several years ago, the country was such a massive military empire that it dared to invade Russia of that time to expand its influence.
Under Charles XII, the Swedish military of the time suffered huge losses and went back while the Russians triumphed. After a long lull, relations strained again in 2008 when the Russian military intervened in Georgia, which caused Abkhazia and South Ossetia to secede from Georgia.
Sweden has opposed Russian designs in the region as a neutral state, and following Moscow's invasion of Crimea in 2014, it fully changed its stance.
The Russian invasion of Ukraine, when Europe as a continent believed that the era of conventional military wars was behind it, served as the last straw for Sweden, which felt threatened by Russia's expansion and aggression and decided to side with NATO alongside Finland.
Despite its previous reluctance to join NATO, it has continued to accrue the military capability required to thwart any aggression by Russia in the region. In a global firepower review (GFR) conducted for 2023, Sweden ranked 37 out of the 145 countries evaluated.
The Swedish Air Force, for one, is among the strongest in the world. The service reportedly has around 94 Gripen C/D variants developed by SAAB in service today, which it is working to replace with the newer E/F versions. These are helicopters, special mission aircraft, and tanker aircraft.
"An educated guess would place it at approximately 1,000 to 1,200, thus making the Swedish Air Force one of the strongest on Earth," defense analyst Stefan Geisenheyner claimed, but the official number of fighter jets in the Swedish Air Force remains a secret, reported express.co.uk.
The Swedish Air Force uses the Saab JAS 39 Gripen, a small, single-engine, multi-role fighter plane touted as best for Ukraine due to its ability to conduct dispersed operations. It is one of the world's most well-known and reasonably priced non-stealth aircraft.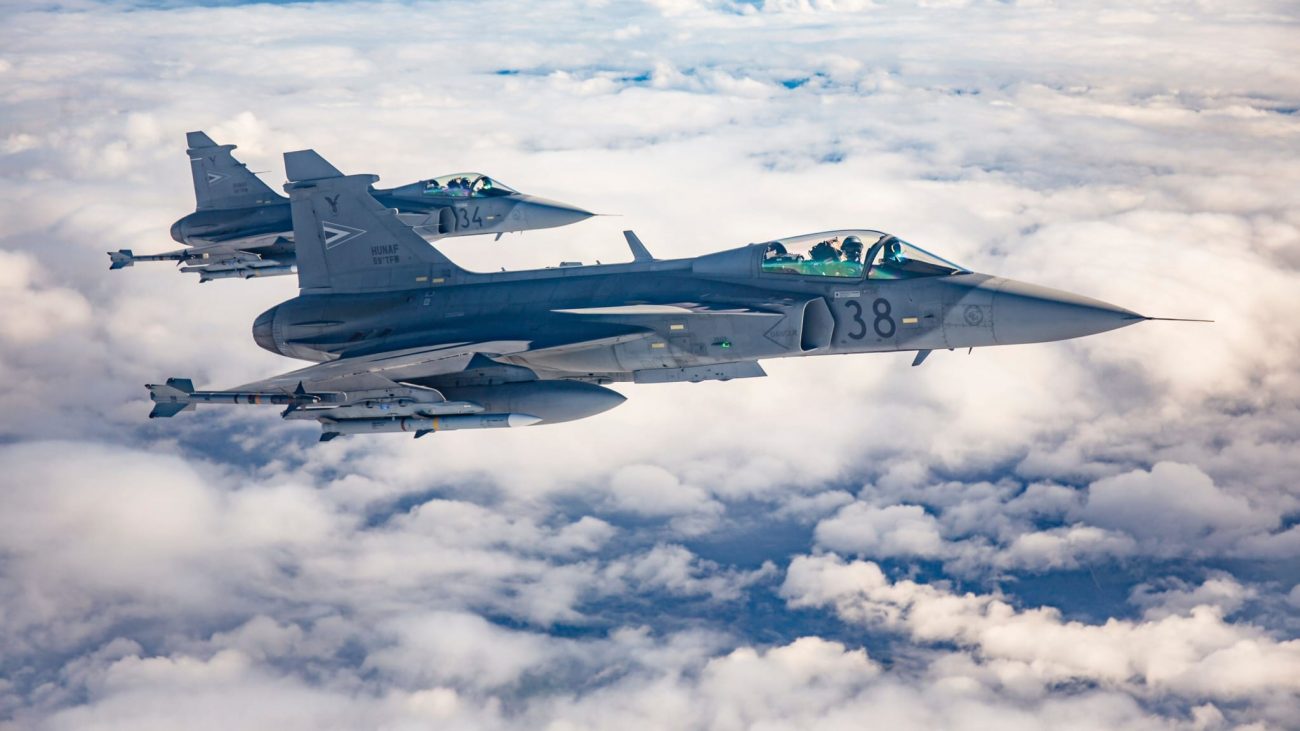 It was the first fighter jet in history to be outfitted with the deadly Meteor air-to-air missile, a beyond visual range (BVR) armament that could track and kill targets up to 80 miles away. The Gripen E can carry seven Meteor missiles, compared to the Gripen C's four.
The Saab Gripen C is one of the most reliable combat aircraft available today and has been a part of successful NATO-led missions and several air policing requirements worldwide. In fact, since the Russian invasion, the aircraft have been scrambled to intercept Russian warplanes on multiple occasions.
Besides its fighter jets that will certainly significantly bolster NATO's collective air power against a formidable enemy in Europe, the Swedish Army is also considered a modern fighting force. According to the GFR, the service has over 121 tanks, 14,088 combat vehicles, and 48 self-propelled artillery vehicles.
Although the figures for readiness may vary from these actual numbers, it would be a massive addition to NATO's power, nonetheless.
The Swedish Navy, even though not very huge in terms of numbers, has the key capability of possessing modern submarines, including the diesel-fuel-powered Gotland-class submarines, the world's first to feature a Stirling engine air-independent propulsion (AIP) system, which was previously only available to nuclear-powered subs.
Besides the Gotland, the Blekinge-class submarine is the next generation of submarines currently under construction. In addition to submarines, the Swedish Navy has seven corvettes, and 298 patrol vessels, according to the Global Firepower Review.
Moreover, the military assistance provided by Sweden to Ukraine to aid its fight against Russia has also led to its military systems standing vindicated.
The list, exhaustive of course, includes RBS 70 MANPADS, the CV90 infantry fighting vehicles (also known as the Stridsfordon 90 in Sweden), Leopard 2 tanks (also known as the Stridsvagn 122 in Sweden), and Archer self-propelled 155mm howitzers. Ukraine has deployed all these systems with considerable combat success, further proving the mettle of Swedish weapons.
Sweden's Military Industry
The country has powerful defense companies, including Saab, BAE Systems, and its subsidiary, Bofors. Saab is a Swedish Aerospace company that manufactures Gripen fighter jets, one of the best fourth-generation combat aircraft in the world today.
On the other hand, the Swedish company BAE Systems Hägglunds is an expert in creating and improving vehicle systems for both military and commercial use. These include armored personnel carriers, armored engineering vehicles, and top-tier fighting vehicles.
The international defense company BAE Systems Land & Armaments division's Weapon Systems company section includes BAE Systems Bofors. It creates, produces, sells, and supports various weapon systems, including air defense systems, artillery systems, combat vehicle turrets, remote weapon systems, and naval weapons.
The Bofors multi-target Naval Gun Systems of 40mm and 57mm caliber with their programmable 3P Ammunition, the 155mm Wheeled Howitzer Archer, the Bofors LEMUR series of Remote Weapon Systems, and intelligent artillery ammunition are the main products of the company in Sweden.
Sweden Is Now Expanding Military Power And How!
Since Russia's annexation of Crimea in 2014, the Swedish government has built up its military and resurrected its civil defense plans with wide bipartisan support.
The defense budget has increased annually since 2015, although admittedly beginning at a low level, and it will climb up by 95% by 2025. Additionally, the administration has now vowed to adhere to the NATO requirement that members spend at least 2% of their GDP on defense.
Sweden is increasing its "home guard" and active-duty military from about 55,000 to 90,000. A new mechanized brigade, Patriot air defenses, new fast patrol boats, upgraded tanks, offensive mine-laying capabilities, a new division-level command structure, and strengthened defenses for the strategically significant Baltic Sea Island of Gotland are just a few examples of the new capabilities.
To top it all off, in 2018, conscription was reinstated in a modified form after being abolished after a century in 2010.
2019 saw the reopening of Sweden's massive Muskö underground naval facility, located south of Stockholm. The facility was carved out of a rocky island in the 1960s to give Swedish ships underground docks where they could be repaired and improved without being attacked from above. If Sweden joins NATO, these facilities will provide a massive strategic advantage to NATO forces over Russia.
In a nutshell, Sweden's military is enlisting personnel, setting up facilities, and acquiring modern equipment after years of austerity as the region's relations with Russia worsen in the face of the invasion of Ukraine.
Sweden expects to complete its year-long membership application as the 32nd member of NATO at a NATO summit in Lithuania in July after neighboring Finland joined the alliance in April. With its significant military power, it is expected to give a massive shot in the arm of NATO, especially in protecting the Baltic states.
However, the ball of Sweden's membership is still rolling in Turkey's court.