In August 2022, Taiwan flaunted its most advanced fighter jet, F-16 Viper, in a rare nighttime demonstration in what appeared to be a stern response to China's unprecedented drills that lasted for several days.
At the time, the Taiwanese Air Force announced that Taipei carried out its own set of drills to simulate defense against a potential invasion by China. The Air Force personnel reportedly outfitted an F-16V fighter with a US-made anti-ship missile as part of a "combat readiness" exercise.
The island state awaits the US delivery of about 66 F-16V fighter jets. However, it is also concurrently facing a personnel shortage that could materially reduce the democratic island's capacity to defend itself in the event of an attack from China, The Washington Post reported.
The report states that the Taiwanese military has struggled for years to meet its recruitment goals due to declining birthrates, the military's declining appeal, and the increasing likelihood of a conflict. Due to this, the government even increased the necessary military service from four months to one year in December 2022.
This remains an overarching concern for all branches of the military. However, the issue is particularly acute among Taiwan's best fighter pilots, who must contend with almost regular incursions by Chinese airplanes.
This has also led to extreme fatigue among the limited pool of skilled pilots regularly dispatched to intercept and escort PLAAF jets.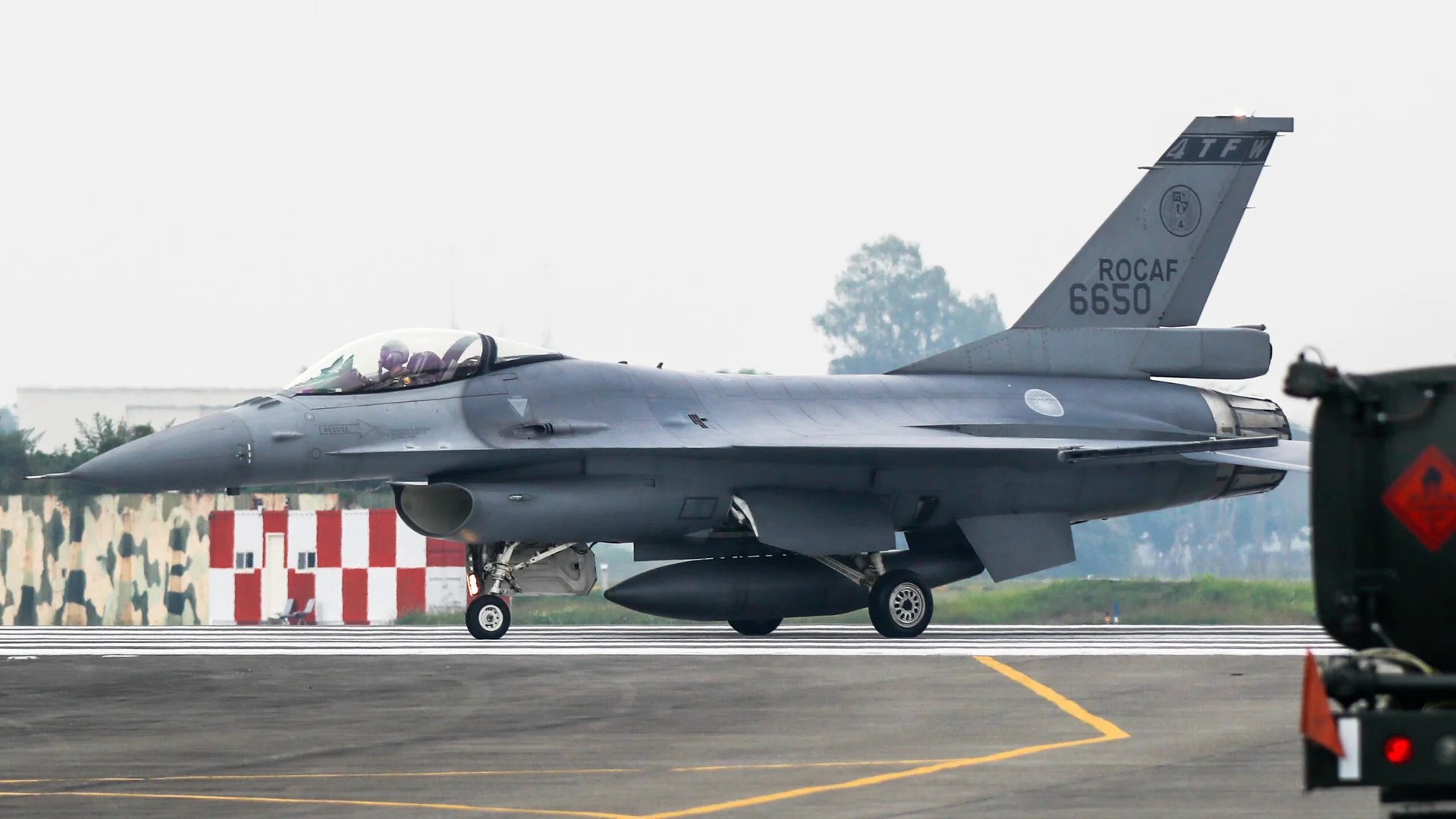 In effect, Taiwanese fighter pilots jump into their American-made F-16s almost daily to intercept Chinese fighter jets flying over their country. The encounters test the island's defenses and make the pilots on both sides watch out for errors that could cause a crisis to get out of hand.
For instance, in late December last year, about seventy-one Chinese air force aircraft, including fighter jets and drones, entered Taiwan's ADIZ in the biggest-ever incursion until then. Of these, at least 43 also crossed the Taiwan Strait's median line, an unofficial buffer between the two sides within the defense zone.
Chinese military aircraft regularly cross the median line, reinforcing Beijing's repeated warnings that it will occupy and unite the Taiwanese island with the Chinese mainland one day. This posturing has, in turn, forced Taipei to undertake a massive military modernization.
Taiwan is upgrading 141 F-16A/B jets into F-16Vs. It has ordered 66 new F-16Vs with enhanced avionics, missiles, and radar systems to counter PLAAF fighters, including the J-20 stealth aircraft and the J-16s, the most regular visitors to the Taiwanese ADIZ.
When Lockheed Martin delivers the 66 F-16s in the next three years, the Taiwanese Air Force will have more than 200 fourth-generation fighter jets. This will make it the largest F-16 fleet in the Asia Pacific region. Ironically, it would still not have enough experienced pilots to fly the Vipers.
Taiwan's Pilot Shortage Woes
To fend off a Chinese military invasion, Taiwan has recognized that it is crucial to have highly maneuverable aircraft that can detect, track, and attack targets at large distances. However, according to the latest report, the country won't have enough pilots to fly those aircraft at the current rate.
Assistant professor at Tamkang University's Graduate Institute of International Affairs and Strategic Studies Chieh Chung told The Washington Post that filling that gap in the upcoming three years would be quite challenging. "The number of our senior pilots will be even more insufficient, and their burden will be even heavier."
Taiwan will require roughly 100 new pilots to operate the jets that will arrive in three years, but data from Taiwan's legislature indicates that the Air Force added a net total of just 21 F-16 pilots between 2011 and 2019.
It is pertinent to note here that senior pilots are also responsible for instructing recruits and intercepting PLA military aircraft, dramatically adding to their responsibilities. Previous reports have also indicated that regularly undertaking interception missions has increased fatigue among fighter pilots. This was listed as a reason for last year's F-16V crash in January.
Earlier, media reports in August 2022 also warned that although Taipei is guarded by a sizable and contemporary fleet of fighter jets, the democratically-run island may require up to 50 years to train enough pilots to fill the cockpits of the jets they are to receive by the middle of this decade.
It further warned that Taiwan might not be afforded that kind of time. Chinese President Xi Jinping may be able to intervene across the Taiwan Strait in as little as five years, according to American military commanders, and the daily incursions are wearing down Taiwan's pilots and the jets they fly.
"Taiwan has put a lot of emphasis on military preparation," said Jang Chyi-lu, a TPP lawmaker. "A bigger problem, though, is who can fly the planes?"
Last year, the Air Force said, "The Air Force is actively increasing recruits, raising the distribution ratio of pilots to F-16 fleet and enhancing staff's willingness to stay, and these measures can satisfy demands for future pilots."
Military experts have warned that Beijing employs "gray zone tactics" by Beijing, which are coercive actions that stop short of outright war but are intended to scare and wear down an adversary, including intrusions by Chinese bombers.
According to reports, senior pilots who double up as fighter pilot trainers are being prevented from passing on their knowledge to the upcoming fighter pilots as they must undertake interception sorties regularly and at short notice.
The Air Force has decreased admissions standards, such as eye-sight requirements and test scores, to attract more pilots. Officials emphasize that since the training standards are unchanged, this will not impact the caliber of pilots.
In addition to the criteria for basic training, students training to fly F-16s must accrue at least 250 hours of flight time. The entire process of becoming a fully combat-ready F-16 fighter pilot might take up to five years. But, even though there are more recruits, there is still the same number of teachers.
Against that backdrop, despite boasting of a large fleet of upgraded F-16V combat jets, Taiwan is woefully short of fighter pilots and the trainers required to train the newer pilots joining the service.
With the Chinese threat looming large, this could severely curtail Taiwan's warfighting capability despite receiving cutting-edge military equipment from the United States.
Contact the author at sakshi.tiwari9555 (at) gmail.com